Feel like you're always working?
Most years there are 365 days in a year, but knowing how many days you are actually working can help you plan your year and income. So between holidays and weekends how many days are left to work?
Total business days in 2020
There are 252 working days in 2020.
Let's dive into how we determine these numbers and why this information should be important to you.
How many work days in a year?
252 workdays in 2020. If you think that seems like a lot, you're right.
The United States has a higher number of workdays compared to most countries. Depending on how you look at it, those numbers can be alarming or assuring. It's scary to know that people spend most of their year working, yet if you're getting paid fairly for your work, it's nice to know you're making money all of those days.
The holidays remain the same from year to year, but leap years change the number of working days.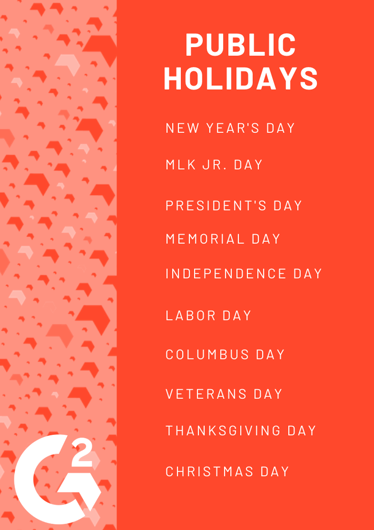 Days in 2020
From Wednesday, January 1, 2020, to Wednesday, December 31, 2020, there are:
366 days
252 working days
104 weekend days
10 public holidays
Why the extra day? The year 2020 is a leap year!
Why is this important?
You know the number of days for the current year and the next, but this knowledge can help you improve work-life in small ways.
Manage productivity
You have 252 days to get things done next year. It's simple to tell others, and yourself to be productive, but it's another thing to actually be productive. In fact, only 60% of work time is spent being productive. That means that about 100 days in the year are unproductive. This startling fact is costing companies millions every year.
Combat the lack of productivity with collaboration and productivity software, which automate tasks and helps make decisions more efficiently. Easy-to-use software combined with something like focus music can make all the difference.
Yearly planning
Making a plan and sticking with it is half the battle. Every department head in a company is responsible for determining goals and plans each year. These plans are based on the number of working days.
One way to manage and align financial management, human resources, and supply chain management is through ERP systems (or enterprise resource planning systems). Collaboration between company departments enhances workflow and increases efficiencies, helping make the most of all the workdays.
The clock is ticking
As professionals begin to think about the end of the fiscal year, knowing the number of working days can streamline determining pay periods and get you prepared for the year to come.
Labor Day is a public holiday, but why do we get the day off and how did it get started?