As a business grows, the need for a central customer relationship management (CRM) system becomes a higher priority.
Updated: July 2019
To help small businesses, we created a list and in-depth analysis of the best free CRM software, based on real user reviews, ordered by highest user satisfaction.
Startups and small businesses look to CRM software products to handle their growing lists of customer contacts and make sure invaluable leads are accounted for. However, especially for smaller small businesses, buying and implementing a CRM system can be expensive and time-consuming.
The need for a central software-as-a-service (SaaS) customer relationship management system becomes a higher priority the larger a business becomes. Keeping accurate records of customer interactions becomes more difficult as the volume increases; without a place to house all that information, prospects, leads and potential revenue inevitably slip through the cracks. A cloud-based platform can keep this data stored as well as make it easily accessible to your entire workforce no matter where they are. Some CRMs may even have a social integration to make this easy.
Small businesses and startups need a place to conveniently store their customer data, help forecast for the future and assist in marketing efforts.
Free CRM Product
Number of
users
Number of
contacts
Storage
included
HubSpot CRM
Unlimited
1 million
n/a
Freshsales
Unlimited
Unlimited
Unlimited
Zoho CRM
3
n/a
1 GB
Really Simple Systems
2
Unlimited
100 MB
Workbooks.com
2
n/a
1 GB
Insightly
2
n/a
n/a
Apptivo
3
Unlimited
500 MB
Capsule CRM
2
250
10 MB
Zoho ContactManager
1
500
n/a
RAYNET CRM
2
150
50 MB
Agile CRM
10
1,000
n/a
Luckily, based on reviews from real G2 users, we have compiled a list of the 11 best (based on user satisfaction) free CRM tools! While many of the online CRM companies on the list have a free trial service, a handful of services go as far as offering a completely free CRM tool. If you're looking for a freemium CRM offering, this is the list for you. Use the free features until your business outgrows them, and then choose from more robust paid plans as your need grows. Some tools may even be open source, allowing you to customize them to your specific business requirements via user-created modules or through your own in-house development team.
TIP: Companies rely on CRMs for a variety of different use cases – such as contact management, lead nuturing, mail marketing, and sales forecasting. Learn more ways to get cross-team buy-in for CRM software.
We've made this list to help today's small-business professionals manage their customer relationships without breaking the bank — so buckle up, and get ready to unlock the wonders of free CRM systems in 2019 with this in-depth analysis from real-user reviews!
Best free CRM software for business in 2019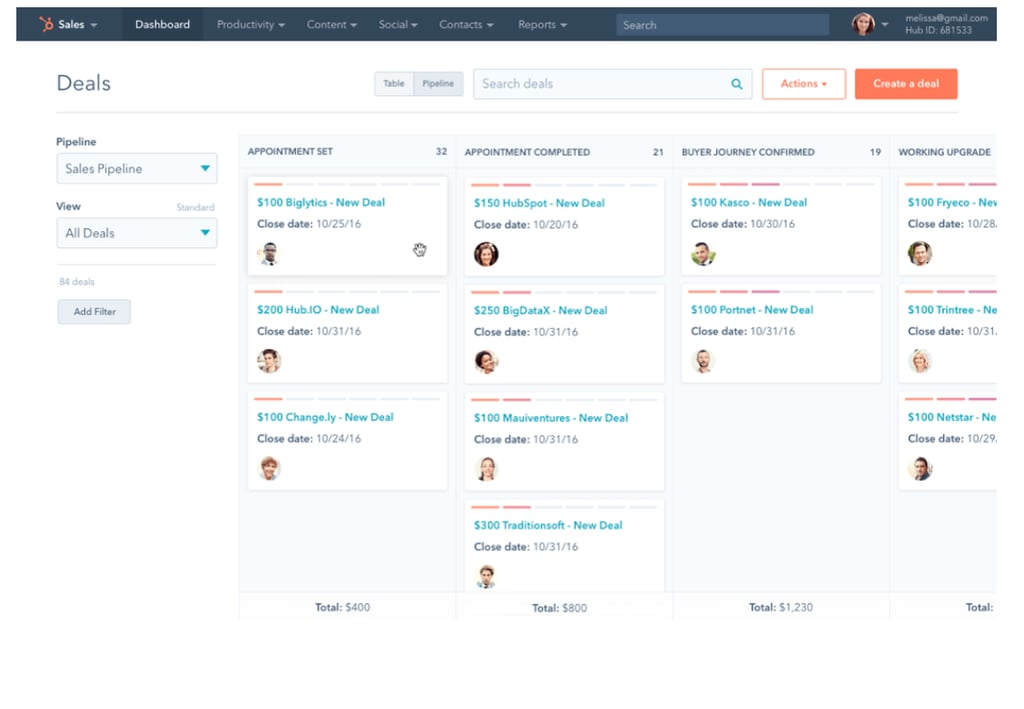 Free plan: HubSpot CRM gives you everything you need to organize, track and nurture your leads and customers — oh yeah, and it's totally free with unlimited users and up to one million contacts. Not to mention it provides tools to help track and run email marketing software campaigns, and has the ability to integrate with your choice of marketing automation software. Sounds too good to be true, doesn't it? Fortunately for small businesses, it is 100% real and 100% free, forever.
TIP: HubSpot users are syncing their account with G2 to never miss another opportunity to attract, convert or retain customers.



What users say: HubSpot CRM is the most popular system on this list, with more than 2,000 reviews coming from small-business users. Overall, it boasts more than 3,000 CRM reviews in total and has excellent marketing automation feature ratings, earning a high email marketing rating at 87%. Users also noted the Lead Management features and Reliability as reasons why they love this platform.
---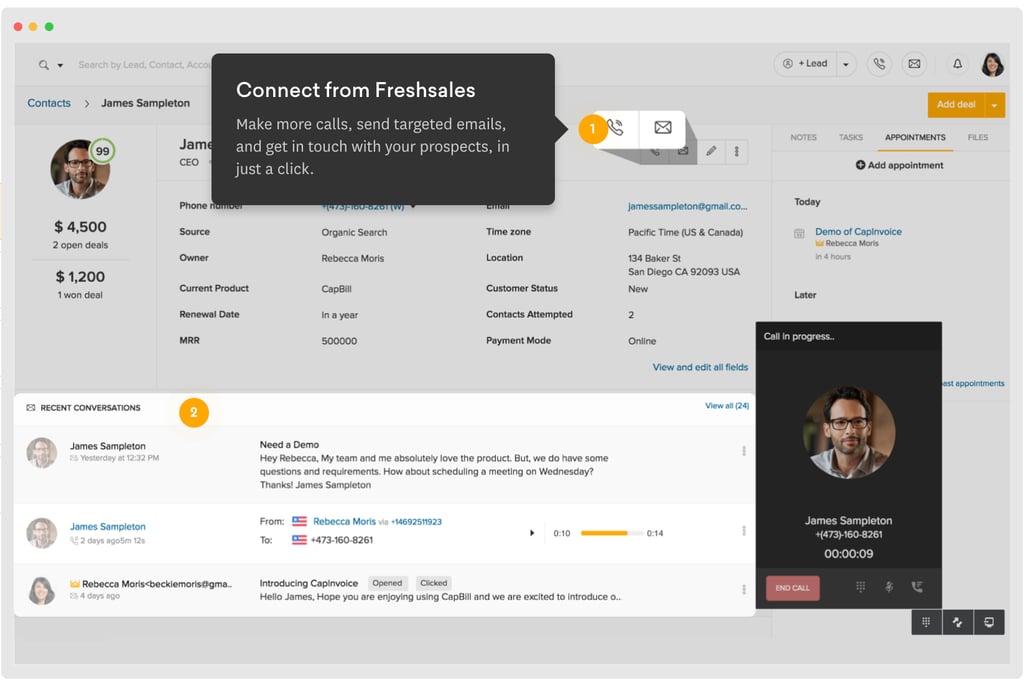 Free plan: The free CRM offering from Freshsales includes excellent features for the small-business user, helping manage leads, contacts and sales. It also offers integrations to Zapier for data integration, Freshdesk for help desk and ticketing, Mailchimp for email marketing, and Google Apps. These integrations help tie more aspects of your business together. Freshsales' free CRM allows access for unlimited users, making it a great choice for a growing sales team.
What users say: Freshsales is one of the highest-rated CRM systems in both satisfaction and feature ratings — it has a rating of 94% for Ease of Use (category average: 92%) and 91% for Ease of Setup (category average: 90%), with 91% as well for Performance and Reliability.

---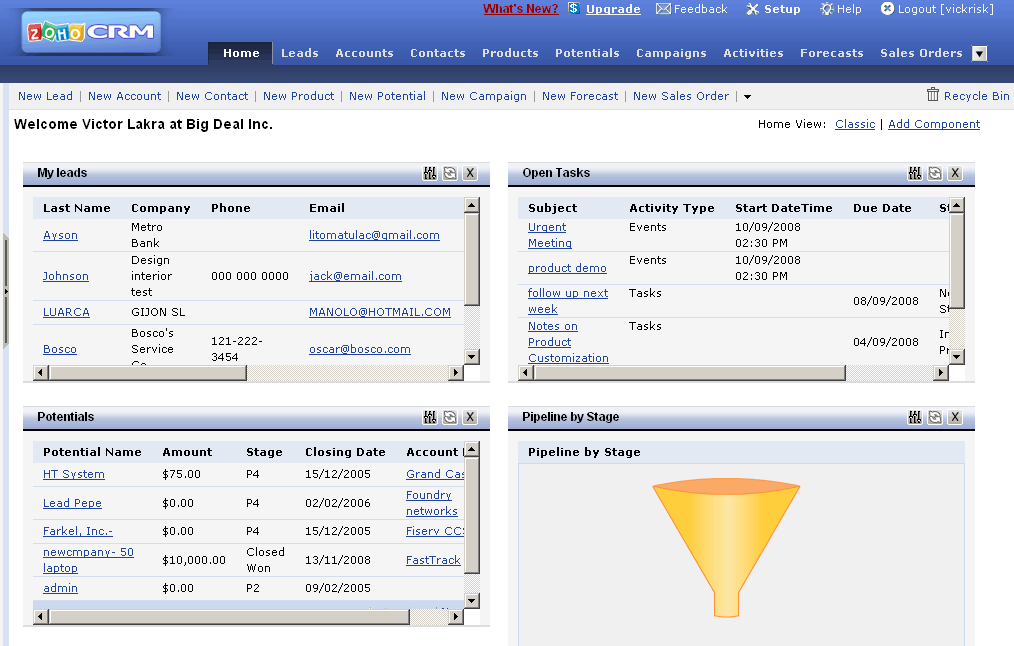 Free plan: Zoho's name is heard often in the small-business world, and its free CRM tool is a great option for SMBs and startups alike. It provides detailed reporting features and has the ability to scale with you as your company grows. Zoho's CRM free edition is good to go for up to three users.
What users say: Users are relatively happy with Zoho's free CRM offering, commenting that it provides small businesses with plenty of integrations to take advantage of as your company gets bigger. Some featured integrations include Zoho Desk for help desk and ticketing, the accounting software Zoho Books and Zoho Campaigns for marketing purposes. This integrated approach allows users to effectively coordinate prospect information and opens communication lines across your entire sales department.

---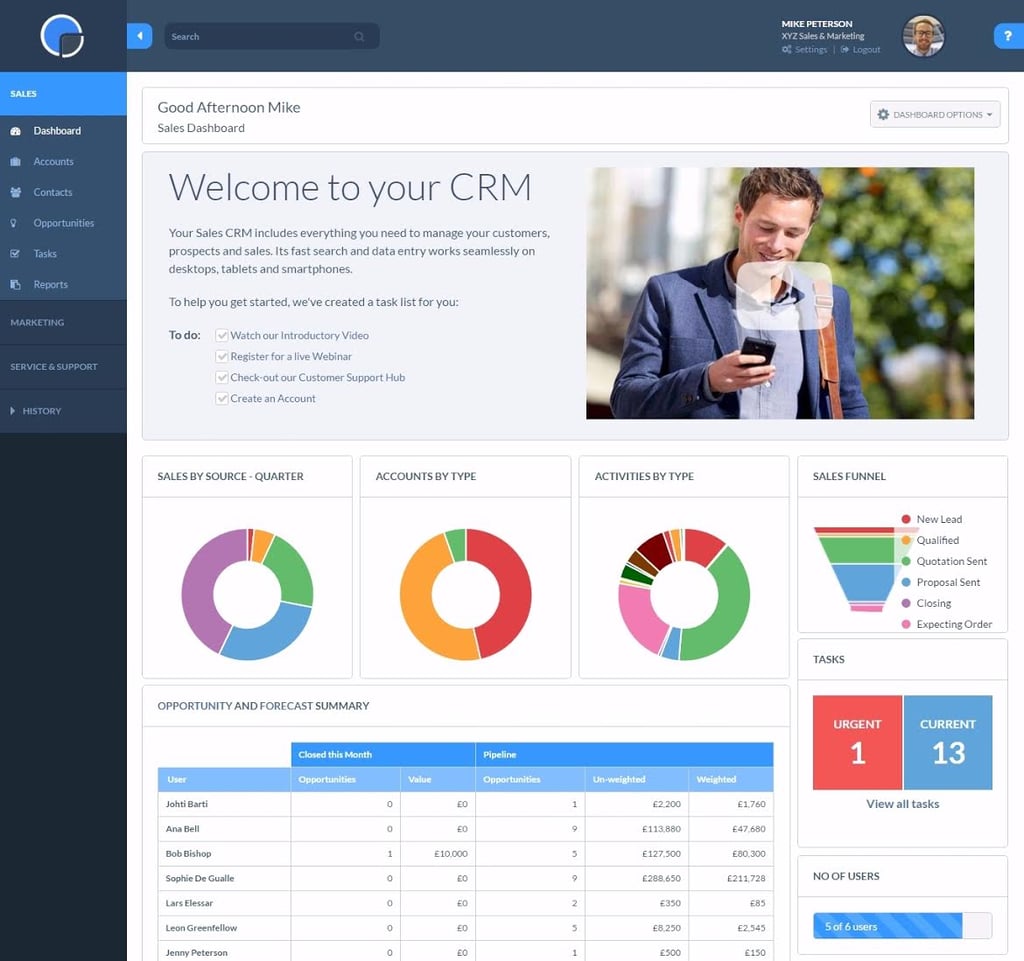 Free plan: The free CRM offering for Really Simple Systems is intended for small businesses, with the goal of making it, well, simple to use and providing all the tools necessary to kick your sales into hyperdrive. The free CRM is available for up to two users with no commitment period, so you can use it for free for as long as you like.
What users say: With more than 90% of reviews coming from small-business users, Really Simple Systems' free CRM certainly lives up to its name. It's just plain easy to use! It is rocking above-average scores for Ease of Admin with a rating of 92% (category average: 91%), along with a rating of 92% for Performance and Reliability. Plus, the no-strings-attached model doesn't hurt anything.

---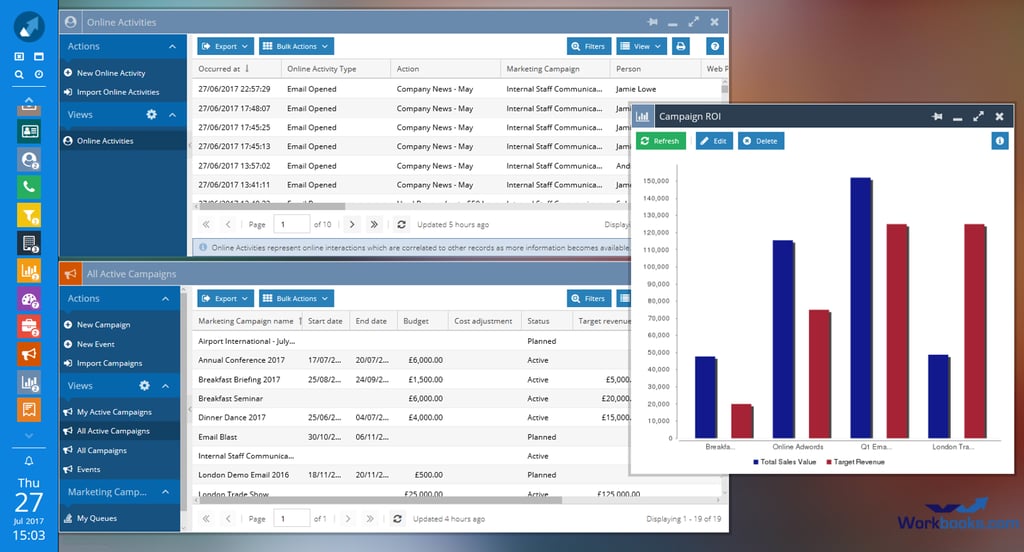 Free plan: Workbooks.com's free CRM looks to bring sales reps, marketers and customer service reps closer together, all for free! Its free offering includes a two-user cap, but the platform gives you plenty in return. Workbooks.com helps track your leads, run and analyze your marketing campaigns, and build an inquiry database to improve customer relationships.
What users say: Workbooks.com's free CRM gives you a great deal of flexibility, and it's easy-to-use interface makes the complications of CRM tools much easier to manage. Users commented on how wonderful the customization features are, making it simple and quick to manage leads and build reports. This shows through in the data, with Workbooks.com earning a rating of 85% for the Customization feature question as well as Performance and Reliability.



---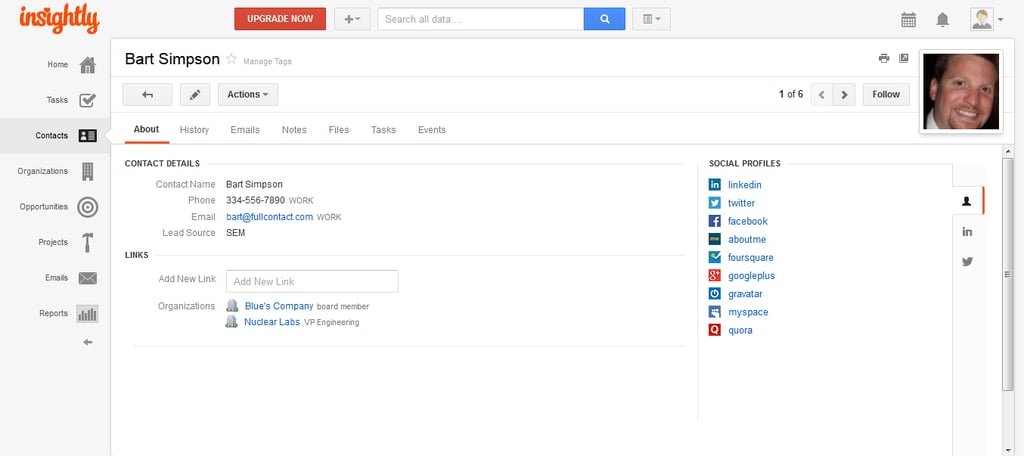 Free plan: Insightly's free CRM offering gets you up to two users and has solid contact management features to build and nurture customer relationships. It also comes set with the capability for accounting integrations and custom email templates to stay on brand when reaching out to your customers.
What users say: The free CRM offering from Insightly provides many functions to small-business users, allowing for smoother integrations with other marketing and customer service solutions. Reviewers mentioned the online interface as a positive feature, as well as the responsiveness and quality of customer support.

---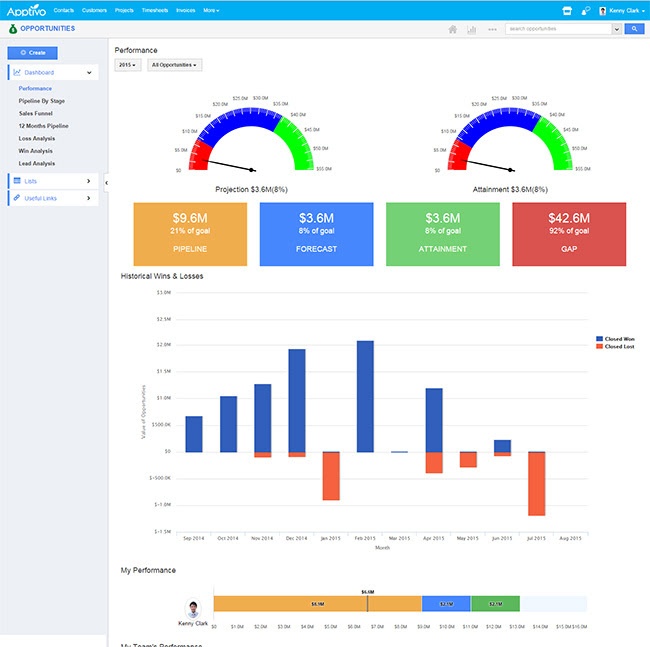 Free plan: Apptivo is truly a "do-it-all" type of solution, with its free CRM offering mainly basic functions such as reporting, advanced search features, and saved views, which are definitely helpful from those new to a CRM system. The free version caps users at three and allows for 500MB of stored data.
What users say: While Apptivo's free CRM solution might not be the choice if you are planning on loading it with customer data, it can be an efficient hub for smaller sales teams. Users rated it highly for Collaborative Project Planning (90%) as well as Performance and Reliability (93%). It also received high ratings for its client invoicing capabilities, with 92% for Client Invoicing and Delivery and 93% for Electronic Payments.

---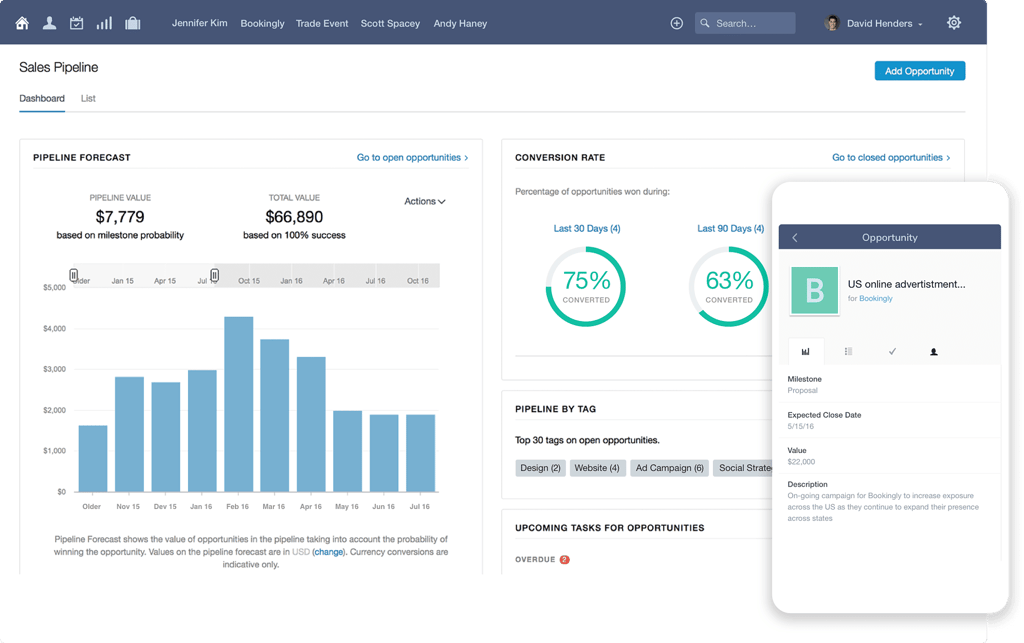 Free plan: The free edition of capsule CRM gives users an overall view of everything you know about your customers, prospects and other companies you do business with. The free CRM offering can be used by one or two users, provides your small business with 10MB of storage, allows for up to 250 contacts to be plugged into the system and provides custom fields.
What users say: The free edition of Capsule CRM may be small on data storage, but users find it to be incredibly efficient. This product has an impressive Performance and Reliability rating (94%), and multiple reviewers commented on how quick and easy it is to get up and running. This is another solid choice for the smaller small-business person.

---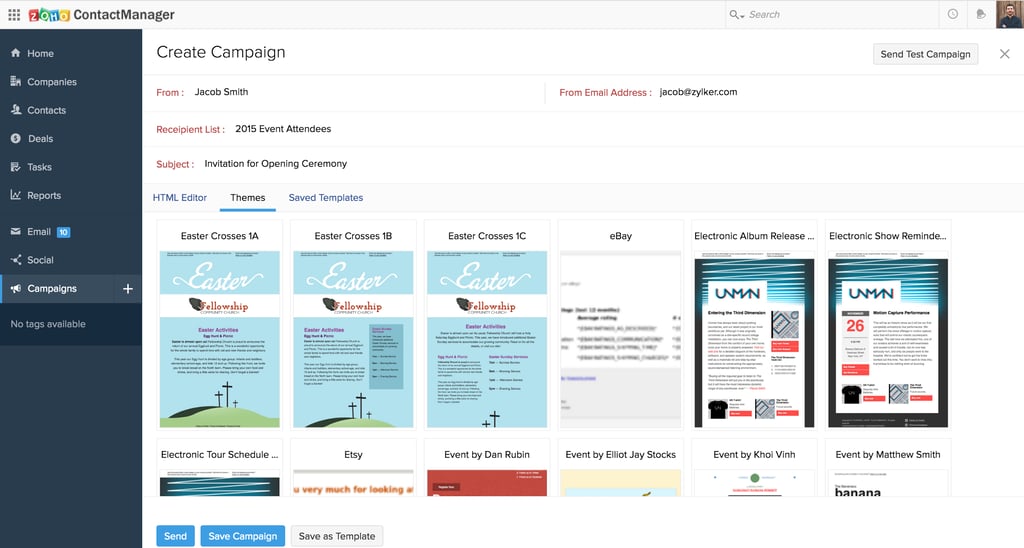 Free plan: Zoho ContactManager's free CRM offering is, at its core, an online contact management solution which helps you organize contacts, tasks, leads and sales in a central place. It is free for only one user and lets you input up to 500 contacts and 10 deals, making this potentially a good option for the smallest sales department.
What users say: Though it doesn't have as many reviews as Zoho CRM, Zoho ContactManager's free CRM solution is generally liked by users. Many reviews pointed to how this free offering helped streamline their contacts and track future interactions with potential customers. The Contact & Account Management features have a solid 88% rating based on user reviews.

---
Free plan: RAYNET CRM's free plan allows up to 2 users to maintain up to 150 accounts with 50 MB of storage. It also includes customer support from the Florida-based RAYNET team.
What users say: Though it currently has far fewer reviews than the other products on this list, RAYNET CRM boasts a 100% rating for its Contact & Account Management features, which is impressive to say the least. Its Customer Support Portal is also rated at 100%, while its Reporting and Forecasting are close behind at 98%.
---
Free plan: Agile CRM is free for up to 10 users, providing up to 1,000 contacts and companies, custom data fields, lead scoring, appointment scheduling and email tracking. The free version also includes marketing tools such as a landing page builder and up to 5,000 branded emails.
What users say: Many users praise Agile CRM for being simple and easy to use. Ideal for small businesses, Agile CRM may not have as many robust features as other CRM tools, but users appreciate the breadth of functionality for the price point.

---
Choosing a low-cost CRM
The upfront costs of most CRM systems can be intimidating and in some cases unattainable for startups and small businesses. The CRM tools above provide small businesses with valuable lead management and contact management functionality while staying within a tight budget.
All of the information above comes directly from real G2 Crowd users, all of whom have used and experienced the benefits of these free CRM tools.
Check out our category page to learn more about CRM software and read the thousands of real-user reviews of customer relationship management software from sales professionals.
Next step with your free CRM software
There are other types of business tools that can be used in conjunction with one of the best free CRM tools highlighted in this list.
Startups and small businesses with little budget in 2019 can look at other free lists with insights from real users to solve business problems and help organizations get the most out of the best free CRM tool they choose.
Looking for more free software solutions for your business? Check out others including:
Free project management software
Free accounting software
Free social media monitoring software
Want to learn more? Read up on CRM analytics or check out our list of the best free office software.