Operating a business can't be done alone.
Of all of the moving parts involved in business operations, a company needs a reliable analyst that can sift through laws, restrictions, and other compliance regulations to ensure that a business is on the right path, legally. Enter a corporate counsel.
What is a corporate counsel?
A corporate counsel is a lawyer that works only for a single business or organization. They typically provide legal advice, protection, and interpretation for their employer.
What is a corporate counsel? Definition, responsibilities, and careers
A corporate counsel works directly for a company to help with any intersections with the law or legal proceedings that a company may encounter in operating. We'll take a look at some of the responsibilities they face and different aspects of a career in corporate law below.
Responsibilities
The responsibilities of a corporate counsel are all tied directly to the needs of the particular business or company that employs the counsel. Typically, a lawyer will work for a variety of clients, however in the case of a corporate counsel, they'll devote all of their time and energy to a single employer.The scope of a corporate counsel's work is providing legal protection and services both to individual employees and the company as a whole.
This work can include:
Legal research
Insight on contracts
Property laws
Collective bargaining agreements
Government regulations
Patents
Essentially, any intersection with the law that a business encounters in how it operates is run by a corporate counsel for advice.
We break down some of these responsibilities here: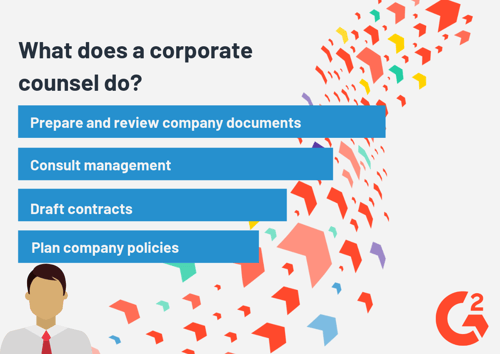 Preparing and reviewing company documents
A corporate counsel is well-trained in reviewing documents to determine their specific legalities and meanings. These documents can include employee contracts, proposals, and other legal documents such as bylaws and non-disclosure agreements.
Consulting
A corporate counsel will also be available to consult with management, tax experts, accountants, and other employees or advisors. The weight of importance placed by companies on GRC is evident in every decision a business makes, from hiring to marketing to sales. Having a corporate counsel on staff clears up any grey areas or questions a business may have about operating in line with the law.
Drafting contracts
Drafting, as well as negotiating contractual agreements such as real estate, property, or equipment leases, are also a key responsibility of corporate counsel. A business is natural in wanting the best deal possible when negotiating any type of lease related to its ability to operate, and using a corporate counsel to dissect and interpret any and all types of leases is necessary for many companies' ability to reach fair lease agreements.
Planning company policies
Corporate counsels also play a role in developing a company's policies on industry-specific issues, corporate governance, and regulations. Corporate compliance contains many moving parts and at times, challenges when trying to keep your company's profitability and efficiency in balance with legal safety. Corporate counsels help negotiate these at times contrasting elements of operating a business.
TIP: There are plenty of automated solutions that can assist corporate counsels in addressing compliance issues, such as HR compliance software.
Careers
First off, anyone desiring a career as a corporate counsel must first obtain a Juris Doctor (J.D.) and pass a state bar exam. In order to obtain a Juris Doctor by going to law school, you must first possess a Bachelor's degree. It can be of particular help as a prospective corporate counsel to have studied corporate law or specialized in this field during an undergraduate career or in law school.
To be licensed to obtain a job in corporate law, you must be licensed and admitted to the American Bar Association. Each state offers a specific written exam, as well as an ethics test and a federal law exam.
A position as a corporate counsel can land you a salary somewhere around an average of $115,260, according to Payscale. Salaries for this position generally range from $74,000 up to $175,000.
According to the U.S. Bureau of Labor Statistics, employment of lawyers is expected to grow eight percent from 2016 to 2026. To take an example from just one industry alone, think of all the up and coming startup companies entering the tech space. These companies need legal advice and representation, and an expansion of more and more businesses entering emerging industries is creating growth in the employment statistics of corporate counsel.
Next steps
If your interest in business operation stems from the intersection of a company's interests and the law, a career as a corporate counsel could be a great fit. From providing insight on internal documents to representing a company in court, a corporate counsel impacts a business in a variety of ways. It is a quintessential business operations position, and will continue to be necessary as long as businesses need to balance their commercial interests with lawful compliance.