For many people, social media has become the outlet for sharing news, ideas, discoursing topics, and so much more.
Social media has also become a place to share how we feel about brands. This sentiment – whether positive or negative – can help brands shape their content and engage with users.
Gathering social data, however, isn't an easy task. For brands with larger social media followings, this task can be even more daunting. Doing so manually is just not feasible.
This is where social media monitoring tools, which automate the social data collection process, come in handy.
In this brief article, we'll go over the basics of social media monitoring, how it works, and why more brands are using it today.
What is social media monitoring?
If you've ever engaged with a brand over social media platforms like Twitter, Facebook, and Instagram, your interactions are likely being tracked by social media monitoring.
What is social media monitoring?
Social media monitoring is used to collect and track comments, mentions, topics, and more. These tools typically offer analytics into social media engagement as well.
Social media monitoring is sometimes interchanged with social listening, however, the two serve different purposes.
Social media monitoring – Social media monitoring is reactive. By monitoring streams of comments, mentions, topics, and other messages, brands can engage with users more efficiently.
Social listening – Social listening is proactive. By dealing with larger sets of data, brands can use social listening for sentiment analysis, topic affinity analysis, and to see how competing brands are performing. This insight can be passed on to social media analytics to identify any patterns or trends.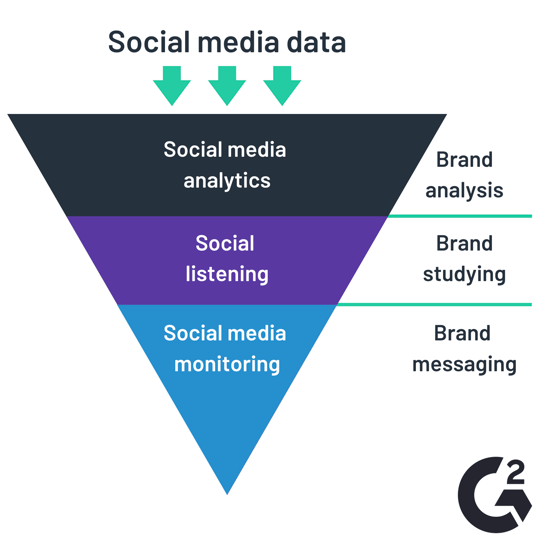 It's worth noting that some social media monitoring tools offer social listening capabilities, but the separation between the two should still remain.
How does social media monitoring work?
Social media monitoring is pretty straightforward. A business first finds a tool that fits their needs, syncs social profiles they'd like to monitor, and begins collecting data.
Once everything is up-and-running, you can then put the tool to work. Below are some capabilities and examples of social media monitoring:
Collecting mentions
Collecting comments and mentions pertaining to your brand is the main role of social media monitoring. Your tool should automatically track any social activity with your brand. This activity may even be filtered and organized based on things like followers, likes, retweets, and other metrics.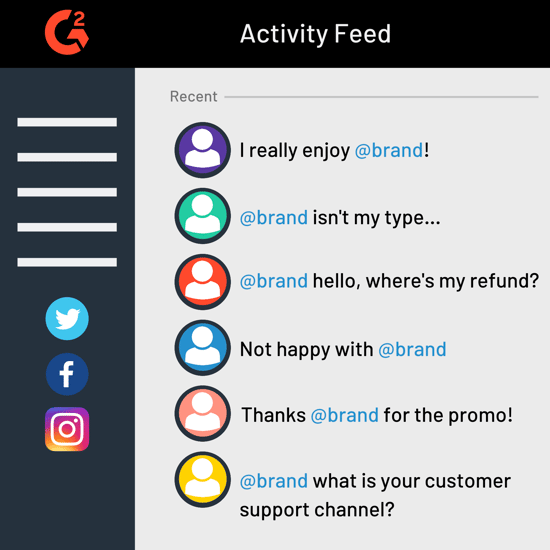 After comments and mentions are tracked and collected, there are a few actions that are commonly taken by social media marketers.
1. Building brand advocacy
Every brand is bound to have loyal customers and advocates. When these users interact with your brand through social media, it's worth recognizing them and cultivating that relationship. A simple message acknowledging their support can go a long way.

Also, feel free to re-post user-generated content. Might as well take advantage of the free publicity.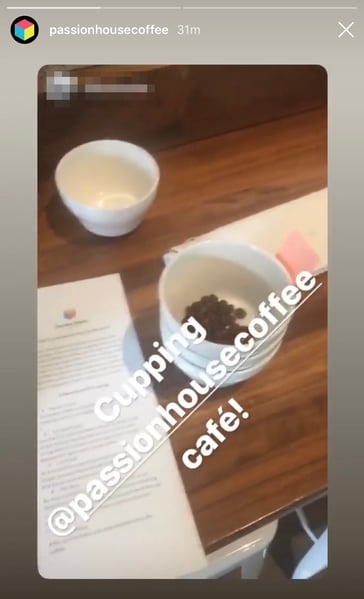 2. Resolving complaints
It'd be nice if every user that came across your social channels was an advocate, however, we know that's not the case. It's common for dissatisfied customers to take their gripes to social media. When this happens, you'll want to use your social media monitoring tool and be proactive.
An estimated 90 percent of social media messages to brands go unanswered. This will undoubtedly lead to more complaints down the road and negative brand sentiment.

3. Sending and receiving feedback
Another way to engage with users on social is to both send and receive feedback. For example, if you're rolling out a new app update and users comment with questions, it could be beneficial to answer a few. This increases brand transparency.

Tracking topics
In addition to tracking your brand, you can use social media monitoring to track trending topics and hashtags. Having your ear on the pulse will allow you to chime in when it's most opportune – spreading brand awareness. See how Chips Ahoy! does this below: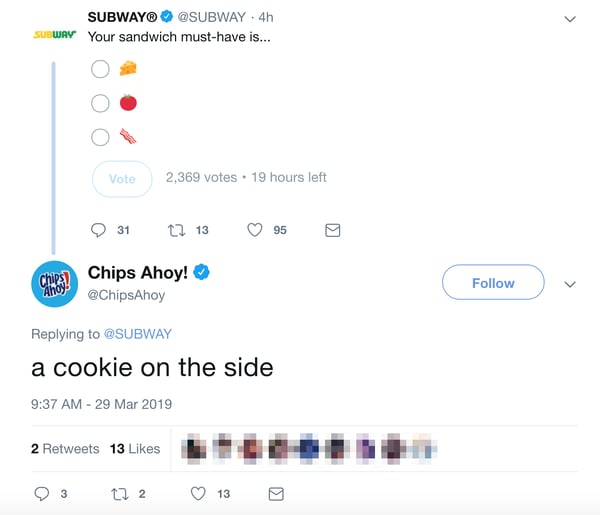 What are some challenges of social media monitoring?
Relying on insight from social media isn't perfect, and there are some challenges that come with these tools.
The first and most obvious challenge is being able to sort through spammers and bot accounts – this is especially true on a platform like Twitter, with millions of active bots today. Fake accounts and fake reviews could skew insight.
Also, it could help to make decisions that are backed by data. This is made easier by pairing with the right social media analytics software.
Why are more brands using social media monitoring?
First off, the convenience of the tool. Because everything is consolidated into one space, social media monitoring often ends up being a brand's main platform for engaging with users.
Then there's brand advocacy.
According to our social media statistics roundup, 63 percent of marketers find social media to be useful for building a loyal fanbase. Since users take to social media to express their views and opinions, it only makes sense for brands to meet them there.
With creativity, timeliness, and skill in social media marketing, monitoring tools can elevate social presence pretty effectively.