The property management industry is on the up and up.
If you look at the data, demand for quality property management services is showing no signs of slowing down. According to IBISWorld, the industry has seen a steady 2.7% employment increase since 2014.
With this in mind, the idea of opening your own property management company might seem enticing, especially if you have a background in real estate or business. That being said, you don't need a specific background to run a successful property management business. In fact, you don't need much at all.
How to start a property management company
Set your business up as a legal entity
Open a commercial bank account
Find an office space
Kick off a marketing strategy
Provide exceptional service
If you're considering taking the plunge, it's best to have an idea of what you're getting yourself into first. In this article, we'll discuss the steps you'll need to take to start a property management business from the ground up, and share a few helpful tips along the way.
How to start a property management company
A property management company is just like any small business - it's going to take some work to get it off the ground. You won't be a millionaire overnight, but with the right resources, you'll be on your way to generating a profit in no time.
Let's get to it.
Step 1: Set up your business as a legal entity
To start a business, there are some initial legal hurdles you need to cross. The first step is to determine the appropriate type of business ownership. Each business structure is a bit different, and will depend on your specific company and business plan.

At a glance, here are the five types of business ownership structures:


A sole proprietorship is the most common form of business ownership wherein the business is owned by one individual and is not considered a separate business entity.
A partnership is similar to a sole proprietorship, but is owned by multiple people.
In a limited liability company (LLC), the owner's personal and professional assets are kept separate.
A corporation is a legal entity that is separate from its owner. There are several different types of corporations that serve slightly different legal functions.
A cooperative is a private business that is owned and operated by the owners, for the owners.
Choose wisely. The business structure you register your company as will determine how profit is distributed internally and which taxes you'll be paying to the IRS. The process of registration is fairly straightforward and doesn't require an attorney. Just head over to your state's website and follow the guidelines that are outlined. In most states, you'll have to fill out some paperwork and pay a startup fee.
TIP: Most property management companies operate as LLCs, which helps protect your personal assets if your business ever files for bankruptcy or gets sued.
Step 2: Open a commercial bank account
Once you've legally registered your property management business, it's time to get your financials in order. When you formally register as a business entity, the IRS assigns your company a unique Employer Identification Number (EIN). You need to use your EIN to check off the next task on your to-do list: opening a business bank account. You will want to open both a checking and savings. These accounts will operate similarly to personal banking accounts, but will allow you to keep your business financials separate.
Note: You also have the option to open a credit account so you can start building business credit, but tread cautiously, as it can get you in hot water if you're not able to pay off your debts.
Step 3: Find suitable office space
Here comes the first part: setting up a home base. As head of your own property management company, you will spend most of your time here, so you want to make sure it's a suitable work environment for both you and your future employees. When you're just starting out, this could be as simple as setting up a room in your house as a home office. If that's the case, you may want to consider getting a P.O. box to keep your home address private.
In the spirit of getting administrative duties taken care of, now is the right time to order office supplies, buy business cards, get a work email address, and purchase property management software.
Step 4: Kickstart your marketing strategy
Now that you've got all your ducks in a row, it's time to let the world know about your business. In the world of property management, competition is fierce. It's important to hone in on a marketing strategy that tells your audience why they should choose you over the others. With the right guidance and resources, you can kickstart your marketing efforts with little to no budget. Here's how: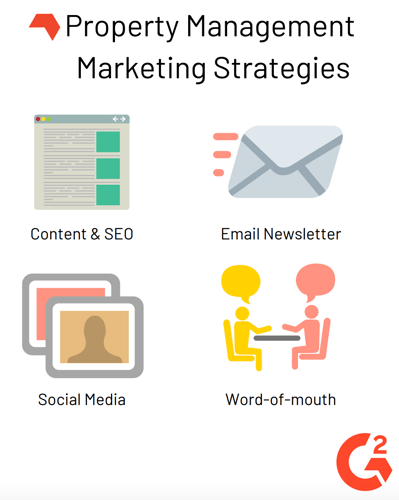 Nowadays, it's imperative to have an online presence if you want to reach your target audience. Start by registering a domain name and building a property management website. Learn the basics of SEO and start creating purposeful blog content that your audience will find useful. Create social media handles for your business, where you can share content and engage directly with prospective clients and tenants. Building an email newsletter is an effective way to deliver content and share relevant company updates.
Outside of the digital sphere, focus your efforts on referral marketing. In real estate, word-of-mouth is the name of the game. Be active in your local community to expand your professional network. Attend events where you can meet and network with property owners and local residents. People are much more likely to seek out your services if they're familiar with your company and your brand resonates with them in a positive way.
Step 5: Provide exceptional service
At the end of the day, your property management business is only as strong as the quality of service that you provide to your customers. Starting a company may be difficult, but keeping it afloat is the real challenge.
Strive to out-perform your competitors and provide the best possible experience for customers when they choose to hire you for their property management needs. Additionally, be open to feedback. Ask your customers and tenants to leave online reviews so you know what you're doing well and where you need to improve.
On the up and up
As you know by now, starting a property management business isn't a piece of cake. But if you're willing to put in the time, money, and effort, you can establish a long-lasting real estate career as your own boss. So, what're you waiting for? The ball is in your court.