Gaining visibility on leads, tracking agent performance and activity, centralizing operational and financial tasks, and equipping agents with market intelligence so that they can provide their clients the best possible level of service.
Nope, we're not talking about the daily responsibilities of an account executive or sales representative. These are all daily tasks of real estate agents.
Real estate agents must deftly juggle the sales funnel lifecycle, maintain and sustain their branding efforts, keep track of listings, and field back-and-forth communications between various clients, property managers, and leasing agents.
What are the 12 best free real estate CRM, marketing, and sales software in 2019?
Freshsales
Insightly
Podio
Bitrix24
Renderforest Video
CamScanner
Zillow Premier Agent
Reiance
RealOffice360 CRM
Nekst
Open Real Estate CMS
RPR App
On top of that, they cannot afford to burn out.
Comprehensive real estate management software does exist — helping agents coordinate everything from tracking agent sales performance and client information to streamlining contract and document management to simplifying transactions and other accounting tasks. But such a platform isn't wholly necessary for automating workflows and relieving agents from unnecessary busywork. Any real estate tool or software that reduces time-consuming labor and manages the intricacies of the real estate industry can be helpful for real estate agents.
What tools can real estate agents use?
When your real estate business is small or just beginning, you may not always have the budget for an expensive real estate CRM, transactions management software, commissions tracking tool or brokerage management software. And while investing in a solution can actually save your business money by automating tasks and freeing up resources, you may not always have the time, ability or financial resources to prove that. In the meantime, free solutions are an effective way to figure out what aspects of your business would truly benefit from the benefits of software.
Real estate management software differs slightly from property management software, in terms of focus. While they both deal with the ins and outs of real estate properties, the former is designed for real estate companies and agents, while the latter is designed for landlords and property owners.
Real estate management software vs. property management software
Real estate management software is specifically concerned with the management of a real estate office, firm, agency or brokerage. Property management software streamlines the day-to-day management of commercial or residential properties.
G2 has already rounded up the 7 best free property management software for your consideration. Now it's time to take a look at the free solutions that will benefit real estate agents, brokers, investors and non-property manager professionals.
The following products are a roundup of tools that are not exclusive to the Real Estate Activities Management category on G2. They're not exclusive to this particular category because the scope of a real estate agent does not begin and end in an office. Effective and beneficial tools for real estate agents, REALTORs, and brokers can be found outside of the real estate software categories. CRMs, video production platforms, multiple listing services, and industry-specific mobile applications can all be leveraged to optimize and streamline the myriad responsibilities of a real estate professional.
The list we've outlined here includes any real estate solution with an available free offering. It should be noted that this does not include products that are only free on a temporary basis, such as limited trial versions for new users. They may only support one user or one project, but they're truly free offerings. Scaling, however, will often require full investments.
G2's Real Estate category features over 2,000 products. The products featured on this list have well over 1,600 validated user reviews on G2 as of May 22, 2019, and only represent a small portion of the 22 Real Estate category classifications listed on G2. Products are ranked by number of reviews.
For each product we provide:
An overview
Highlighted features
Free and paid options details
For products with G2 verified user reviews, we have included:
G2 star rating
Reviews highlighting what users like and dislike
User recommendations for these considering the product
Best free real estate software
1. Freshsales
Product name: Freshsales
G2 star rating: 4.7 out of 5.0 stars
Total reviews: 482
Freshworks supplies real estate agencies with a specialized CRM that helps agents focus on posting listings, nurturing prospects and closing deals. Freshsales automates and simplifies back-office operations. Freshsales can be used by both commercial and residential real estate companies, and by agents, brokers or developers.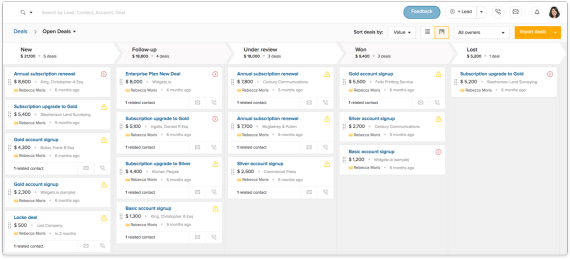 Screenshot courtesy of Freshworks
Free option
Sprout is Freshsales' "free forever" startup plan
Designed for businesses that are just getting started
Unlimited users
Unlimited contacts
Unlimited support
Paid option
Blossom: $12/user/month, designed for small teams
Garden: $25/user/month, designed for growing teams
Estate: $49/user/month, designed for large teams
Forest: $79/user/month, designed for enterprises
Features
Lead tracking, scoring, and intelligence
360-degree view of clients and sales activity
Visualizes and reports on sales pipeline
Integrate with third-party apps to expand functionality
2. Insightly CRM
Product name: Insightly CRM
G2 star rating: 4.0 out of 5.0 stars
Number of reviews: 456
Insightly's CRM can be used to organize real estate businesses and streamline processes. This CRM automates workflows, provides comprehensive lead nurturing functionality, triggers necessary projects after deals close, and integrates with third-party tools to encourage normal operations. Real estate companies can leverage Insightly to organize tasks and stay on budget.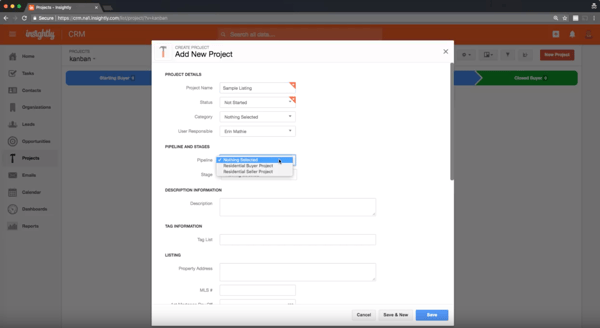 Screenshot courtesy of Insightly
Free option
Free for two users
No-frills plan
Paid option
Plus: $29/user/month, provides remote access and collaboration features
Professional: $49/user/month, adds lead management and intelligence functionality
Enterprise: $99/user/month, supports complete business management needs
Features
Lead distribution
Workflow automation
Automated email delivery tracking
Project management
Data visualizations and business intelligence dashboards
Android and iOS mobile applications
Open API
3. Podio
Product name: Podio
G2 star rating: 4.1 out of 5.0 stars
Number of reviews: 257
Real estate investors, brokers, and agents use Podio's CRM workflow building capabilities to optimize lead nurturing and transaction management, ultimately streamlining business activities. With Podio, real estate professionals can better nurture prospects, close deals and avoid missing out on opportunities. Podio is an extremely mobile-friendly solution, fitting the on-the-go needs of most real estate investors and agents.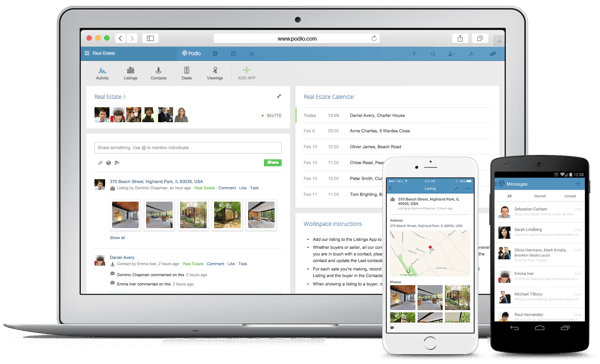 Screenshot courtesy of Citrix Podio
Free option
Free for up to five users
Task management
Provides apps and workspaces that enable productivity
Paid option
Basic: $9/user/month, adds user management and an unlimited number of external user access to the free plan
Plus: $14/user/month, adds automated workflows to the Basic plan
Premium: $24/user/month for a full suite of features
Features
Online workplace for collaboration
Project tracking and task management
Integration with file storage and sharing software
Appointment scheduler
Lead contact recording and management
4. Bitrix24
Product Name: Bitrix24
G2 Star Rating: 3.9 out of 5.0 stars
Number of Reviews: 193
Bitrix24 provides free solutions that enable and optimize internal communications, client relationships, project management and overall business management. Bitrix24 offers a real estate-tailored CRM that can be used for agent performance tracking and comprehensive agency management. Bitrix24's lead management functionality ensures that prospecting efforts aren't wasted. The product's email marketing functionality centralizes messaging and correspondence. Its integrated telephony functionality tracks and records phone calls and its reporting functionality identifies the best- and worst-performing agents.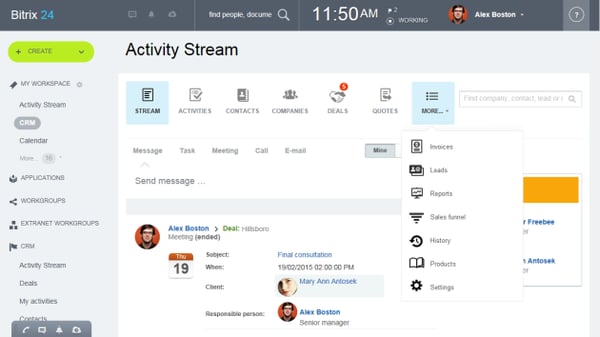 Screenshot courtesy of Bitrix24
Free option
Free for up to 12 real estate agents
Integrated telephony
5 GB of online storage
Unlimited client records and custom fields
Open API, CMS and open-source code
Paid option
$99/month for unlimited agent license
Contact Bitrix24 to purchase a self-hosted edition
Features
Email marketing
Lead generation and nurturing
Incoming and outbound call tracking
Agent performance reports
Document workflow automation
Android and iOS mobile app
5. Renderforest Video
Product name: Renderforest Videos
G2 star rating: 4.7 out of 5.0 stars
Number of reviews: 155
Renderforest Videos provides online branding and video-making tools for marketing and advertising. Renderforest Videos can be leveraged by any business in any industry, including real estate. Renderforest Videos provides templates for effortless creation and marketing of real estate listing videos. With Renderforest Videos, you can create engaging corporate real estate listings and promote on social media.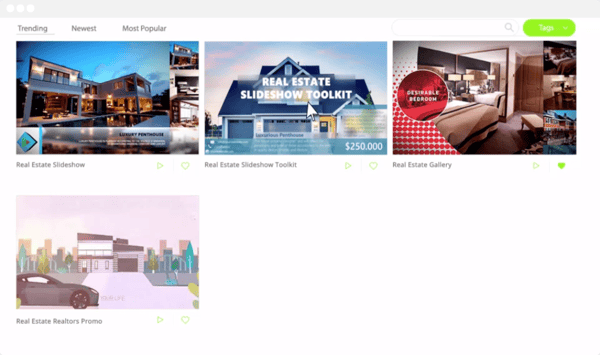 Screenshot courtesy of Renderforest Video
Free option
Unlimited number of 360p videos
Supports up to three minutes of content
500 MB storage
Limited number of music tracks
Watermarks
Provides PNG logos
Paid option
Amateur: $14/month, increases the offerings of Free, and is good for individuals who need to occasionally create a few videos
Pro: $29/month, increases the offerings of Amateur, and is good for YouTubers and other businesses who regularly create videos
Popular: $39/month, increases the offerings of Pro, and is good for resellers and businesses who create a high volume of videos
Agency: $49/month, increases the offerings of Popular, and is good for companies that generate a high volume of videos
Features
Templates for video, animation, presentations and promos
Supports the creation of mobile app videos
Provides access to music tracks
Unlimited web exports
Provides access to royalty-free stock footage
Publishes to YouTube or Facebook
Supports the import of media from social media channels
6. CamScanner
Product name: CamScanner
G2 star rating: 4.6 out of 5.0 stars
Number of reviews: 93
CamScanner is a mobile photo document scan and capture tool that can be used on both Android and iOS devices. It is excellent for any industry and facilitates the easy storing and sharing of sensitive documents even on the go. CamScanner adds a polished look to scanned PDFs as well as providing OCR functionality to convert any images or characters to easy-to-read text.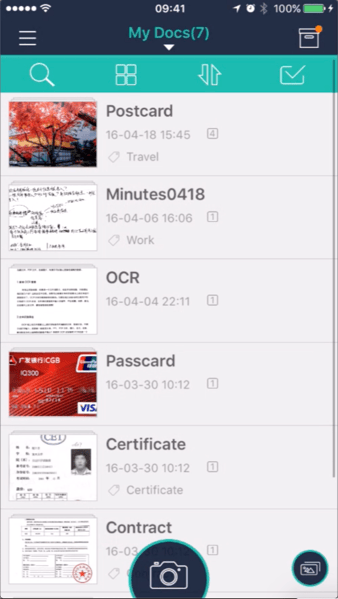 Screenshot courtesy of CamScanner
Free option
Free to download
Provides auto OCR
200MB cloud storage space
Document synchronization across devices and file storage and sharing solutions
Custom watermarks
Paid option
Premium: $4.99/user/month, adds premium features to the free version
Business: $6.99/user/month, enables collaboration and group management functionality to the Premium version
Features
Mobile scanner
Supports faxing, cloud syncing and sharing via social networks
Auto enhances and crops quality of scanned images
OCR feature
Supports handwritten annotation and editing
Generates customizable watermarks
7. Zillow Premier Agent
Product name: Zillow Premier Agent
G2 star rating: 2.9 out of 5.0 stars
Number of reviews: 26
Zillow Premier Agent is a free real estate CRM, lead generation solution and branding tool. It allows individual real estate agents to create a Zillow.com profile to advertise on Zillow.com. Zillow Premier Agent provides email templates, automated follow-ups and an easy-to-use client management database. The agent profile allows real estate agents to create an "About Me" section and showcase their service areas, sales history and active listings. Additionally, their clients can review the agent's level of service right on the profile.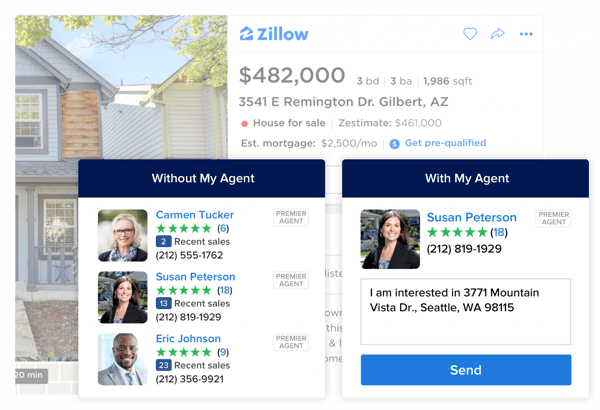 Screenshot courtesy of Zillow.com
Free option
Free agent account to build a unified brand across Zillow Group sites
Free CRM to manage leads on your Zillow agent profile
Paid option
Users can upgrade to a paid version of Zillow Premier Agent if they want to highlight their agent profile on Zillow listings for exclusivity. The cost of upgrade depends on zip code.
Features
Agent profile creation
Lead contact database
Lead intelligence, management and basic reporting
Email templates and autoresponders
Integration with Gmail, dotloop, and 35-plus lead generation tools
Features:
2D CAD design
Metric and imperial units
Powerful drawing tools and editing functionality
Architectural design symbols
Dimension tools
8. Reiance
Product name: Reiance
G2 star rating: 5.0 out of 5.0 stars
Number of reviews: 1
Reiance is a real estate deal management system that organizes information and data flow between agents. Reiance provides a platform to unify all types of property information, making it easy for team members to collaborate on deals, avoid gaps in contact management, and increase market intelligence. Reiance is designed specifically for real estate investors, agents and brokers.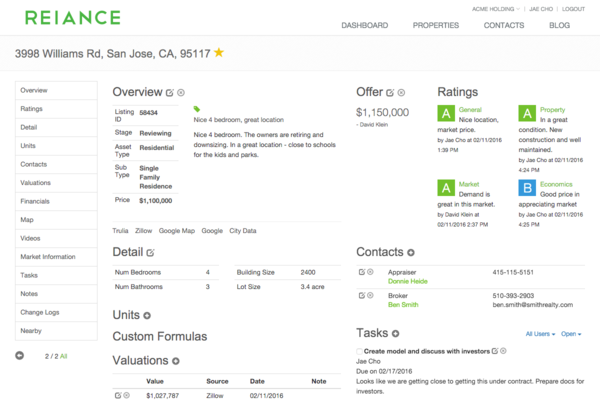 Screenshot courtesy of Reiance
Free option
Free real estate CRM and contact management for small teams, up to three users
Paid option
Basic: $25/user/month for basic real estate tracking and contact management, up to six users
Pro: $50/user/month for complete deal management and sophisticated tools, designed for growing real estate businesses
Unlimited: $200/user/month for unlimited features, designed for real estate enterprises
Features
Property information database
Contact management
Centralized deal collaboration
Task management
Change logs
9. RealOffice360 CRM
Product name: RealOffice360 CRM
G2 star rating: N/A
RealOffice360 is an easy-to-use real estate CRM that's designed specifically for real estate agents. The product is hosted on Amazon AWS. With RealOffice360, both real estate agents and brokers can better manage client relationships, keep track of leads and prospects, keep a close eye on deals, and even launch customizable IDX websites. RealOffice360 helps real estate agents be more productive and avoid having to use ugly, clunky solutions.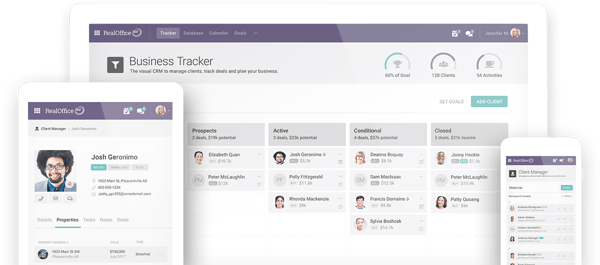 Screenshot courtesy of RealOffice360
Free option
Unlimited clients
Online lead capture
Five opportunity cards
24 hours of limited customer support
100 MB file storage
Paid option
$19/month for premium
Includes all features from free plan
Unlimited opportunity cards
Priority customer support
50 GB file storage
Integration with Mailchimp
Mailing address labels
Features
Client database
Contact manager
Sales pipeline visualization
Property information database
Task reminders and notifications
Mobile-friendly
10. Nekst
Product name: Nekst
G2 star rating: N/A
Nekst is a powerful real estate transaction management solution that also provides business coordination functionalities. With Nekst, your real estate agency can set reminders for tasks, create emails, automate follow-ups, and send agents daily to-do lists. Nekst enables real estate professionals to remain organized and productive.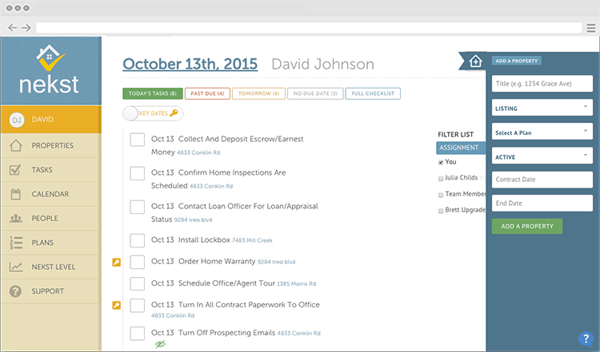 Screenshot courtesy of Nekst App
Free option
"Agent Lite"
Supports up to five properties
Generates one custom plan
Unlimited contacts
Provides four pre-loaded plans
24/7 customer support
Paid option
Agent Pro: $15/month, supports an unlimited number of properties and custom plans
Team Pro: $39/month, adds to Agent Pro by supporting an unlimited number of team members
Assistant/TC: $7/property, designed for task and project coordinators
Features
Email automation
Task management
Automated follow-up emails
Process plan sharing
Calendar sync with tasks
11. Open Real Estate CMS
Product name: Open Real Estate CMS
G2 star rating: N/A
Open Real Estate CMS offers real estate businesses a free script for creating a comprehensive web platform and client-facing website. With Open Real Estate CMS, your business can connect agencies and agents with real estate owners and buyers. Additional paid modules do exist, expanding the functionalities of the platform with add-ons and supplemental integrations.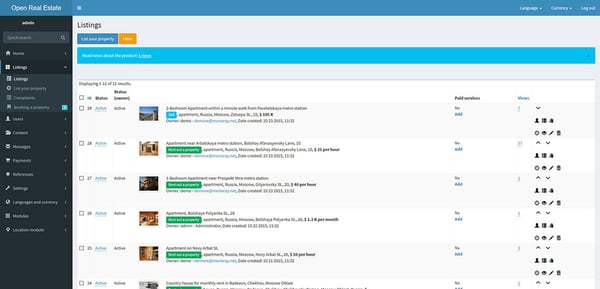 Screenshot courtesy of Open Real Estate
Free option
Supports one web domain
Lifetime license
Provides access to the web CMS script
Paid option
BASIC: $217, one-time fee. Supports one web domain, provides two months of free support, offers SEO optimization, and provides a variety of language and currency settings
PRO: $359, one-time fee. Offers BASIC features as well as a complete set of modules and add-ons, and RTL language support
ULTIMATE: $674, one-time fee. Offers PRO features as well as an unlimited number of web domains
Features
Simple property listings
SEO optimization
Modular architecture
Supports several languages and currencies
12. RPR App
Product name: RPR App
G2 star rating: N/A
RPR App is a market intelligence application that provides real estate agents with the data they need to navigate the market and provide clients with the best listings and service. RPR is offered exclusively to Realtors as a member benefit. The app gathers all available property data, contextualizes it with MLS and public records and mortgage data, and generates customizable reports that are ready to be presented to clients.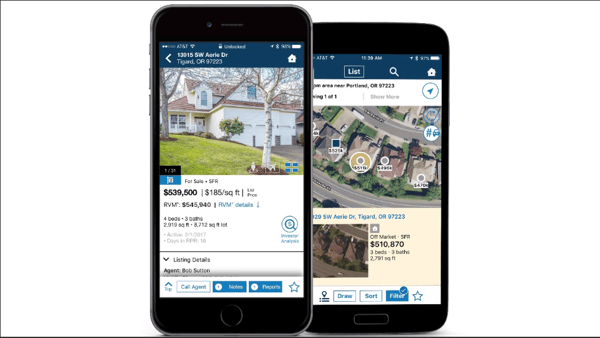 Screenshot courtesy of REALTOR Property Resource
Free option
Available to Realtors at no additional cost
Desktop app
Mobile iOS and Android app
Paid option
Features
Reports are customizable and branded
Dynamic data sets
Supports both residential and commercial real estate markets
*Please note: Reviews have been edited for spelling, grammar and clarity.
Next steps for selecting the best free real estate software for agents
Find out what your real estate business needs to be made more efficient or what skills are going unused. Then consider whether you want to ease it into the deep end with one of the above free solutions. Take a look at the myriad real estate solutions featured on G2 to determine whether there are other solutions, free or not, that may better fit your business' needs.