We sure do spend a lot of time signing on.
Not only is it time-consuming, it's often a humbling experience. (For example, how often have you asked yourself something like, "Was the 'B' in this password capital or lowercase?" quickly followed by "Am I losing my mind?")
Single sign-on software offers a solution for business users struggling to keep track of their umpteen different logins—191 on average, according to a 2017 report by LastPass. With one rock-solid set of credentials, or even a face scan, users of this software can access all of their important apps and databases.
How single sign-on helps your business
Except for a few masochists out there, the daily routine of logging into a million different accounts is a chore at best. Single sign-on solutions is one way around it.
Whether you're seeking added convenience for your clients or for your office staff, these free single sign-on tools can help eliminate the time and stress that goes into entering passwords. And for IT teams, these products can help add a layer of control and security to your network's daily technology usage.
To sweeten the deal, there are several worthwhile options on the market that are free to download and use.
What are the 8 best free SSO tools in 2019?
JumpCloud
Microsoft Azure Active Directory
IBM Cloud Identity
FusionAuth
Auth0
Gluu
JOSSO
Keycloak
SSO software is not to be confused with password managers, which helps users remember their respective logins for different accounts and autofill them when desired. If password managers were like a map to help you find your way, SSO is like a key that opens all the doors at once. "One and done," as they say.
The benefits of single sign-on technology are especially realized with interlinked, on-premises systems or families of software. Some platforms are designed to be used with certain brands or software types, and a number of platforms in this category are multipurpose security tools that fall into other categories as well.
Whatever the case may be, a successful deployment of SSO in your business—with a little help from your IT team—can be a shot in the arm to your team's productivity. In some cases, developers will use these tools to add convenience and security to their customer-facing apps. In other cases, SSO can be a saving grace in one's personal life, consolidating the time spent pounding the keyboard and preventing a headache or two in the process.
To help get you started, we've assembled a handful of SSO platforms that don't require a financial commitment. The products featured here have more than 120 verified user reviews* on G2 as of July 9, 2019, and represent only a portion of the 90 products in the Single Sign-On category.
For each product we provide:
An overview
Highlighted features
Free and paid options details
The list we've outlined here includes any SSO software with an available free offering. This list does not include products that are only free on a temporary basis, such as limited trial versions for new users.
Keep in mind there are paid upgrades to certain products, and we'll make a point to call those out. There are also dozens more solutions to consider depending on your budget if you desire certain features. But the zero-cost solutions here are suitable starting points for those seeking the benefits of SSO.
The best free SSO software in 2019
Here are the top-rated free SSO tools to help bolster your security and simplify your password management.
1. JumpCloud
Product name: JumpCloud
G2 star rating: 4.5 out of 5.0 stars
Overview
JumpCloud is a "directory-as-a-service" product based out of Boulder, CO. This multifaceted platform allows IT specialists to manage user identities across an organization, with helpful tools such as single sign-on and cross-platform system management.
Free option
JumpCloud's fully featured product is available for free for up to 10 users.
Paid option
The One Protocol plan is available for $3/month per user billed annually, or $4/month per user billed monthly.
The Pro plan is available for $9/month per user billed annually, or $12/month per user billed monthly.
Special plans are available with reduced pricing for nonprofits, education, and high-volume users. Contact JumpCloud for pricing.
Features
Centralized user management for up to 10 users
Cross-platform system management
SSO
Cloud LDAP
Server access and management
Multi-factor authentication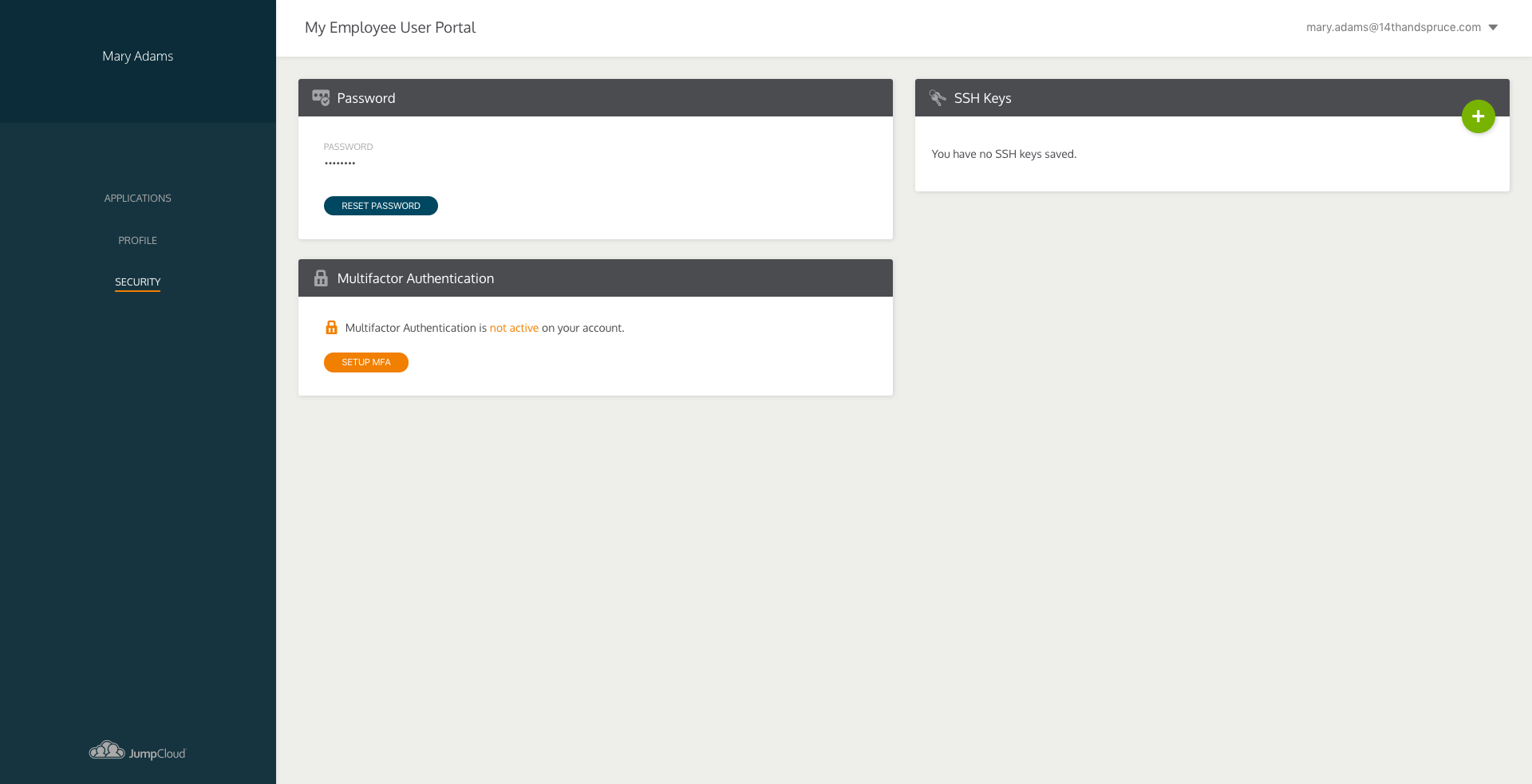 Image courtesy of JumpCloud
What users say
"I love the ease of administration, rolling out new users, handing out machines, and remotely managing our workforce that is across the country. The tie-in to G Suite and Office 365 make managing usernames/passwords so easy for our team."
— JumpCloud review from Jonathan T.
2. Microsoft Azure Active Directory
Product name: Microsoft Azure Active Directory
G2 star rating: 4.3 out of 5.0 stars
Overview
Microsoft Azure Active Directory helps business users seamlessly connect with their apps and data. The platform features prebuilt integrations with thousands of software tools, but is designed with other Microsoft products in mind. It offers features such as user provisioning and enhanced security with access options based on location, device and app context.
Free option
The platform's free plan is available with an SSO limit of 10 apps per user.
Paid option
The Basic plan is available for $1/month per user.
The Premium P1 plan is available for $6/month per user.
The Premium P2 plan is available for $9/month per user.
Features
500,000 directory object limit
SSO with 10 apps per user
User/group management and provisioning
B2B collaboration
Self-service password change for cloud users
Basic security and usage reports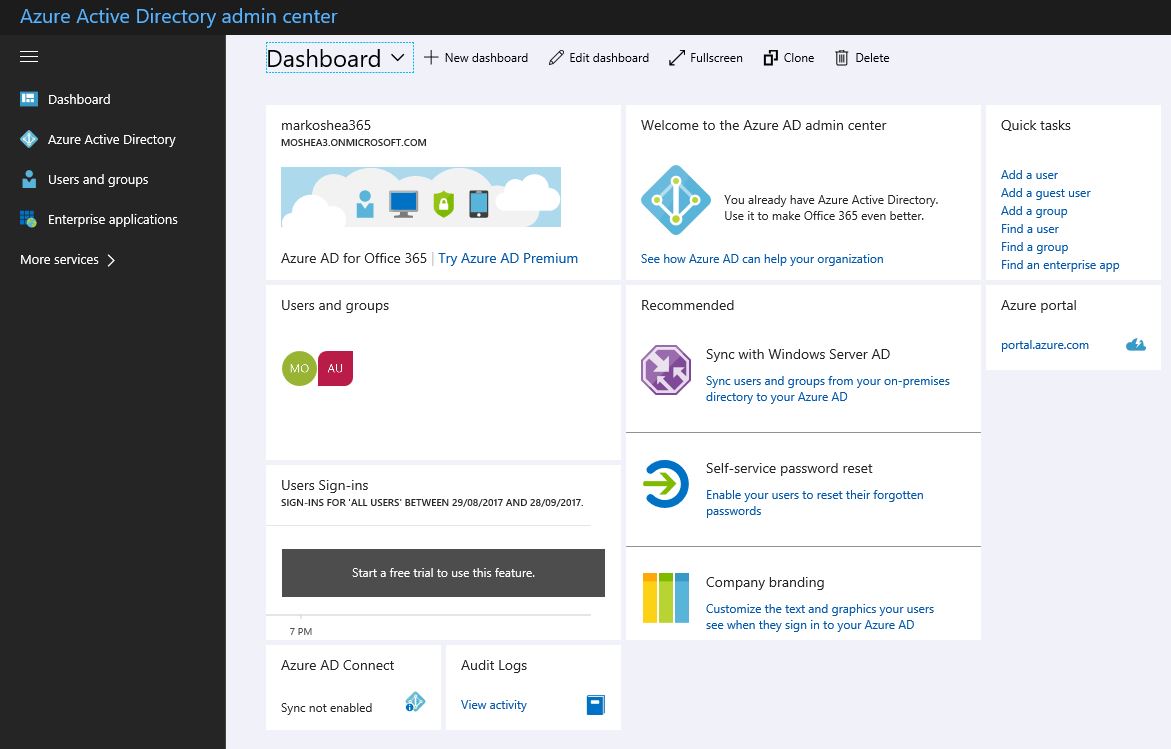 Image courtesy of TechNet Blogs
What users say
"I love the fact that I can extend the Azure AD in a B2B fashion to other SaaS products. I give my users just one credential and I can repurpose it to log on to 3,000-plus other SaaS solutions out there. This is truly single sign-on at its best."
— Microsoft Azure Active Directory review from Thierry M. V.
3. IBM Cloud Identity
Product name: IBM Cloud Identity Service
G2 star rating: 3.8 out of 5.0 stars
Overview
IBM Cloud Identity helps IT teams establish a secure user network with SSO, multi-factor authentication, and identity governance capabilities. It includes thousands of prebuilt connectors for popular third-party apps as well as templates to help integrate in-house apps.
Free option
The free version of IBM Cloud Identity allows for up to five connected applications for unlimited users.
Paid option
IBM Cloud Identity offers unlimited SSO for cloud and on-premises apps starting at $2.50/month per user.
Unlimited multi-factor authentication is available starting at $5/month per employee.
Unlimited provisioning is available starting at $4/month per employee.
Features
Federated SSO for cloud applications
Employee launchpad
Online connector catalog
Application delegation
Limited to five applications for SSO and MFA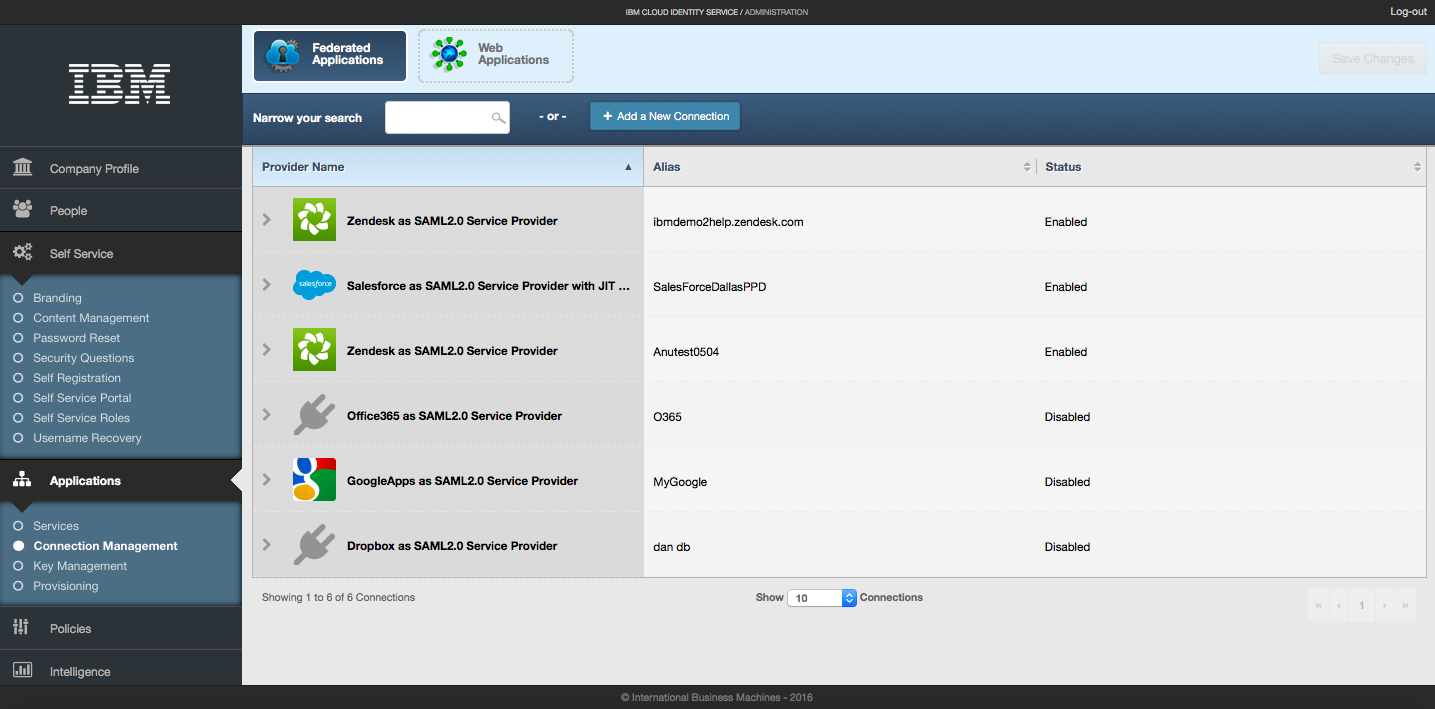 Image courtesy of IBM
What users say
"Probably one of the best access/secure management systems I've ever used."
— IBM Cloud Identity Services review from a user in hospital and health care.
4. FusionAuth
Product name: FusionAuth
G2 star rating: 4.5 out of 5.0 stars
Overview
Based out of the Denver area, FusionAuth is an identity and access management tool designed with developers in mind. It allows development teams to quickly add authentication and authorization measures to applications, including single sign-on and password-less login.
Free option
FusionAuth is completely free to download for unlimited users and includes community support.
Paid option
FusionAuth offers premium support starting at $250/month and enterprise support starting at $500/month.
FusionAuth offers basic hosting starting at $100/month, premium hosting starting at $250/month and enterprise hosting starting at $500/month.
Features
Multiple application support
Authentication for web, mobile, desktop, and console applications
Authorization and permission control
REST API
User moderation tools
Password control
User data and reporting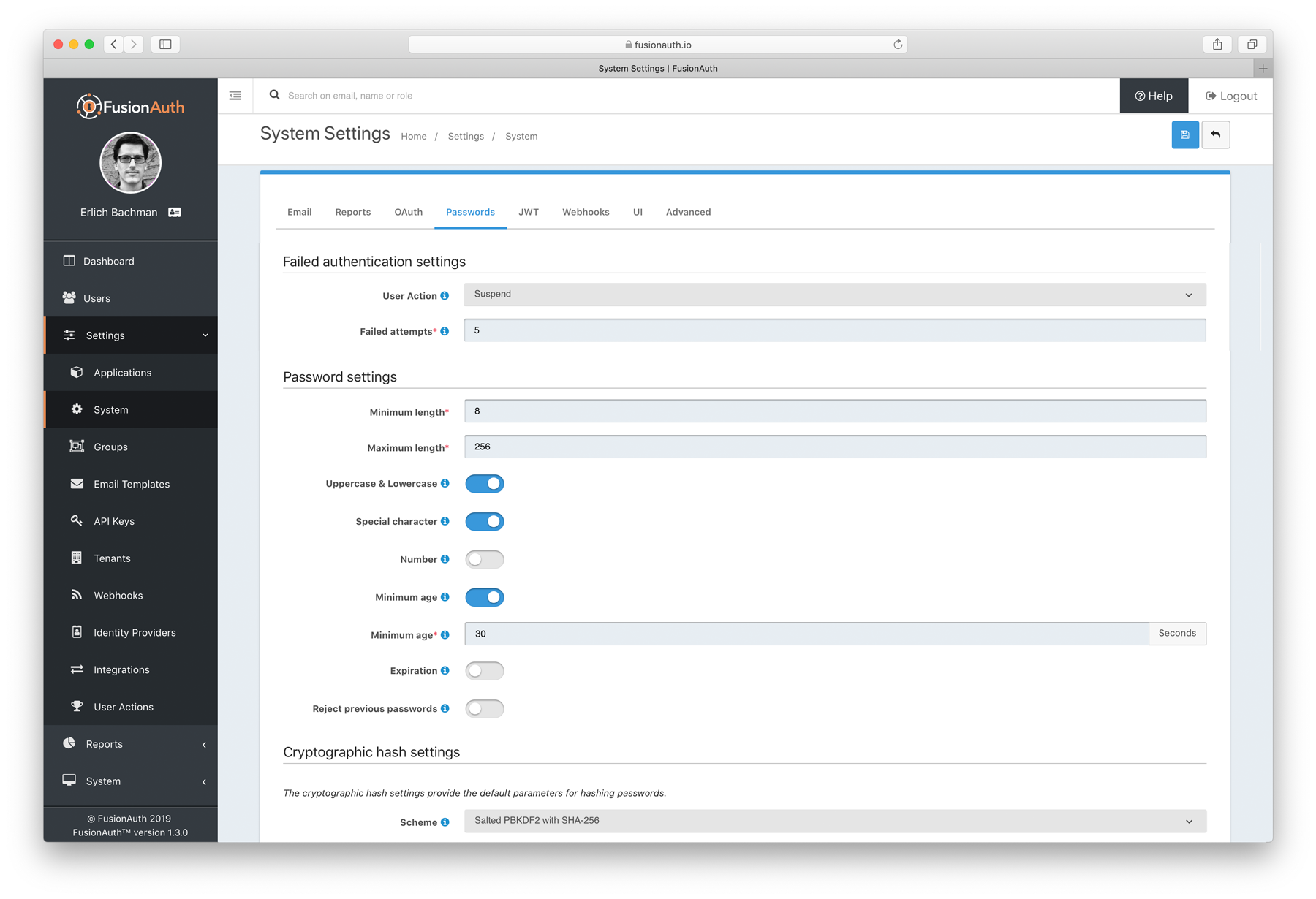 Image courtesy of FusionAuth
What users say
"Very easy to use and easy to navigate. Love this program."
— FusionAuth review from an anonymous user.
5. Auth0
Product name: Auth0
G2 star rating: 3.7 out of 5.0 stars
Overview
Auth0 is another SSO platform designed especially for developers, though companies' non-developers can make use of the product's features as well. Other security-focused capabilities of the tool include breached password detection and multi-factor authentication.
Free option
The free plan of Auth0 allows for 7,000 active users and unlimited logins.
Paid option
The Developer plan is available starting at $13/month for 1,000 active users, with the price increasing based on the number of users.
The Developer Pro plan is available starting at $745/month for 5,000 external users, and $600/month for 500 internal users (employees).
Enterprise plans are available with custom pricing. Contact Auth0 to request a quote.
Features
Password-less login
Lock for web, iOS, and Android
Up to two social identity providers
Unlimited serverless rules
Community support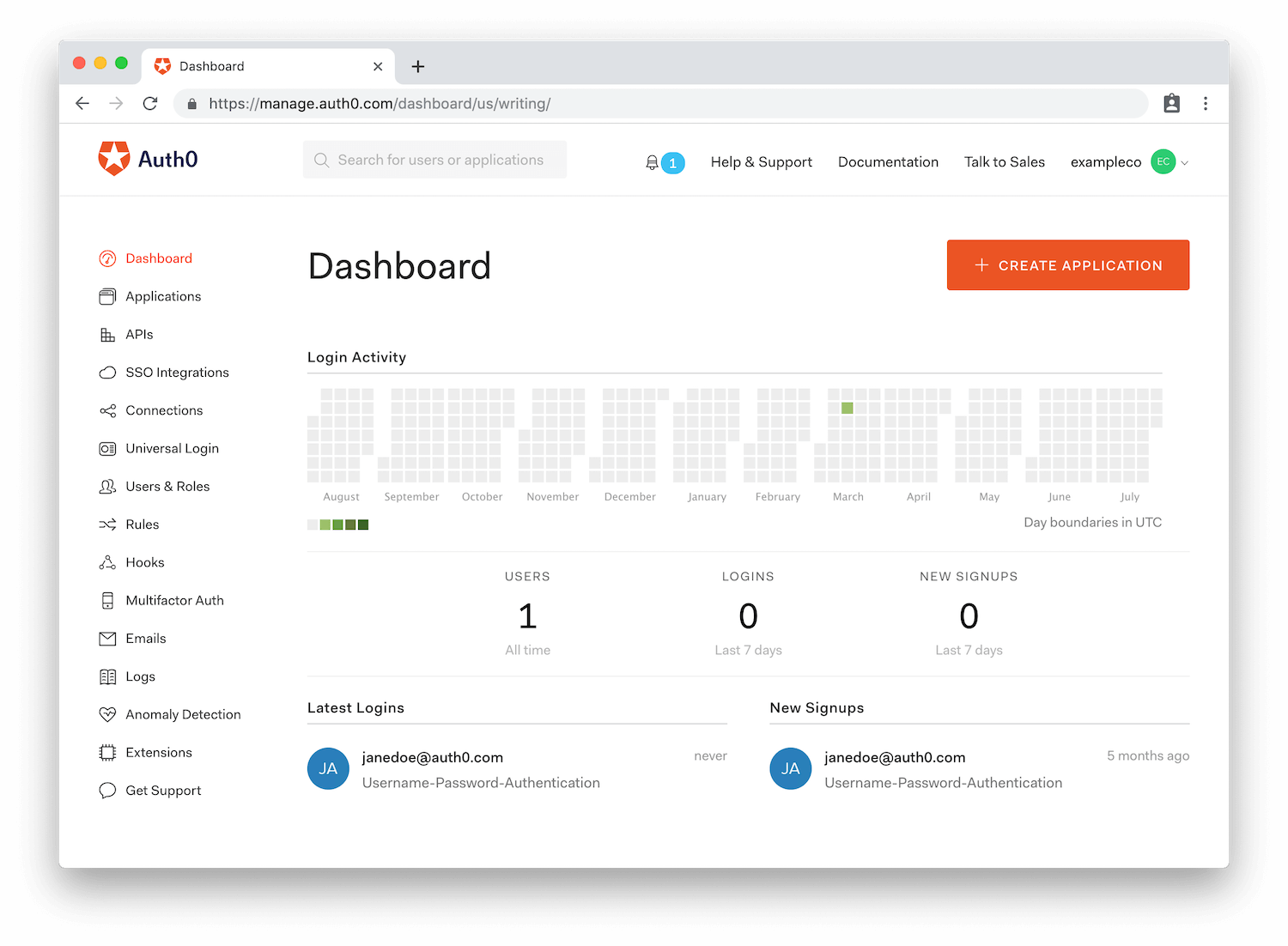 Image courtesy of Auth0
What users say
"Auth0 really provided a boost in development time and was a good solution to our authentication problems. It has nice features like great customizability for emails, login pages, etc. I like how easy it is to set up users in Auth0. If it was any easier I wouldn't have a job anymore. It is that easy."
— Auth0 review from an anonymous consultant.
6. Gluu
Product name: Gluu
G2 star rating: N/A
Overview
Gluu is an open-source SSO platform with a wide range of features for authentication and access management. Users of the free edition receive access to the Gluu community, where they can troubleshoot the product on public forums and access the community knowledge base to help master the tool's capabilities.
Free option
The Community Edition of Gluu is completely free, including forum support from fellow users.
Paid option
The VIP subscription adds enterprise tools and features, as well as 24/7 support. Contract Gluu for pricing details.
Features
SSO to web and mobile apps
Inbound SSO
Social login
Strong authentication
Access management
Identity management
Directory integration
Community support and knowledge base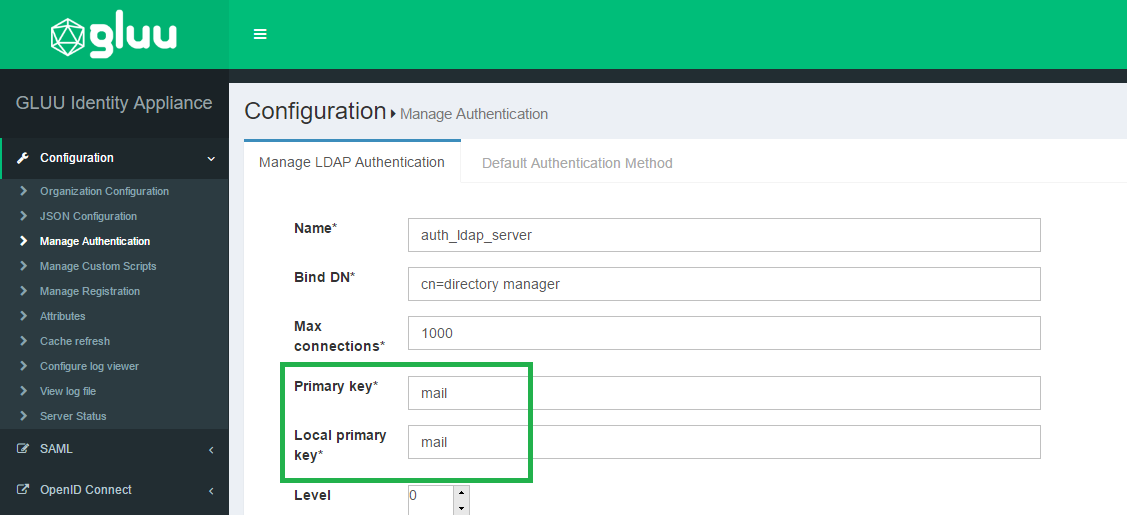 Image courtesy of Gluu
What users say
Be the first to review Gluu!
7. JOSSO
Product name: JOSSO
G2 star rating: N/A
Overview
Launched in 2004, JOSSO is another open-source program with a number of features for identity and access management. In addition to SSO, JOSSO includes functionality for system monitoring, user provisioning and more.
Free option
JOSSO is a completely free, open-source product.
Paid option
The vendor's enterprise solution, AtricoreID, is available starting at $8,900.
Features
Simple setup
Organization-facing ad cloud SSO
On-board apps built on open-source platforms
Access to source code for customization
Community support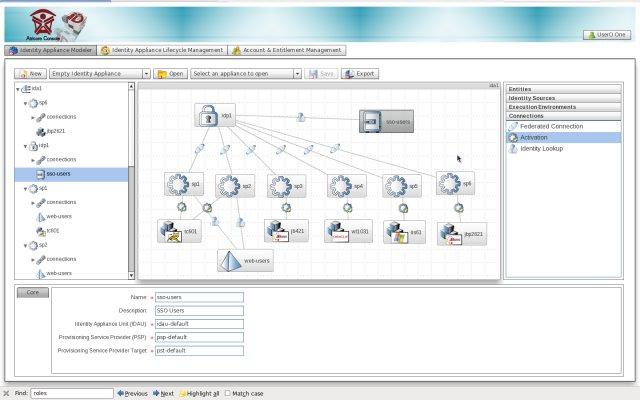 Image courtesy of SourceForge
What users say
Be the first to write a JOSSO review!
8. Keycloak
Product name: Keycloak
G2 star rating: N/A
Overview
Keycloak is also an open-source platform, now in its sixth full release. In addition to the extensive features that are included out of the box, users can download extensions from the Keycloak website and receive support from the community.
Free option
Keycloak is a completely free, open-source product.
Paid option
There is no mention of a paid upgrade on the Keycloak website.
Features
SSO
Social login
Centralized management
Identity brokering
Themes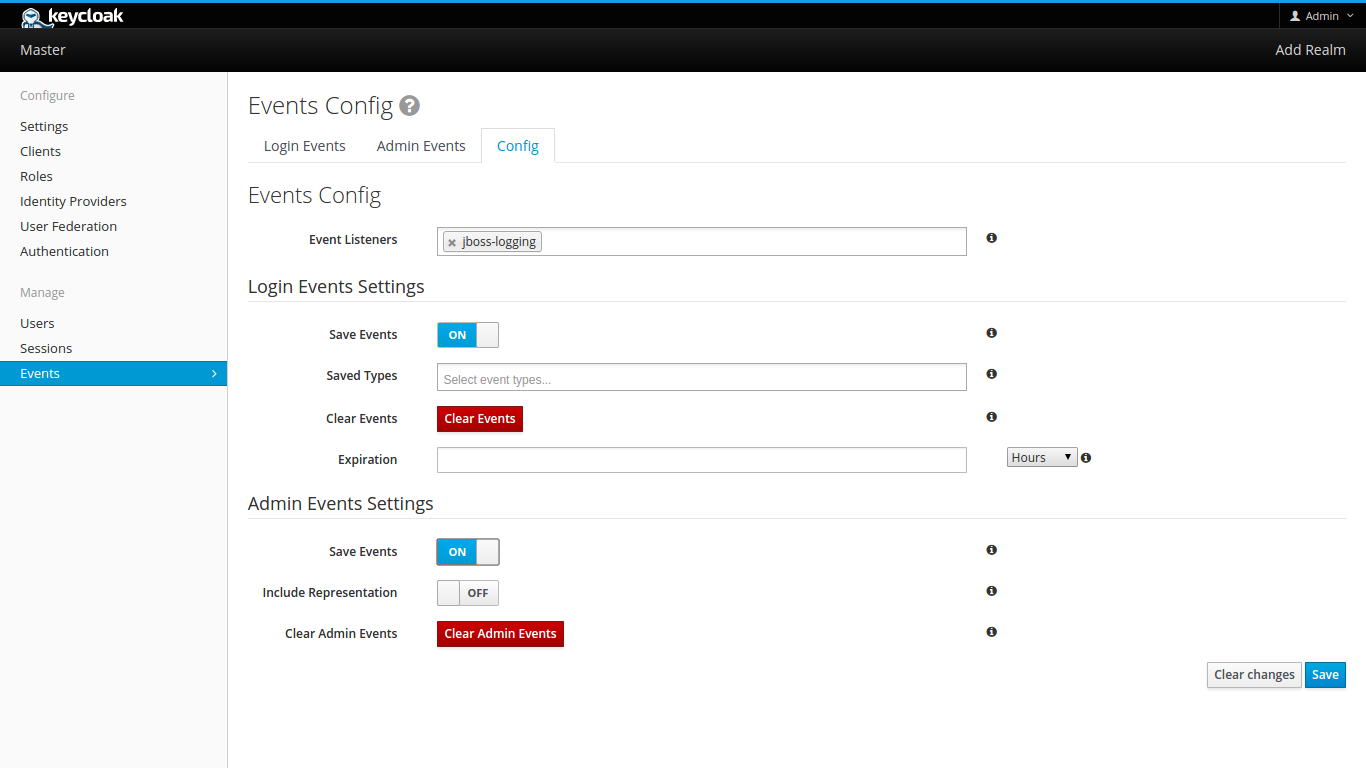 Image courtesy of JBoss
What users say
Be the first to write a Keycloak review!
Check out our list of the overall best single sign-on solutions for enterprise if the free options aren't able to meet your organization's needs.
*Reviews may be edited for spelling and clarity