So you think your enterprise team needs a single sign on solution. But first, what is SSO compared to other popular identity management tools such as federated identity management or password management?
What is a single-sign on provider?
A single-sign on, or SSO, allows professionals to use one single login and password (or other means of authentication, such as a smart card) across an organization to access many different systems.
Federated identity management is similar, but slightly different. This allows for a single sign on solution but for multiple organizations or enterprises.
General password manager tools that allows users to store their passwords in a password bank that automatically signs into different systems for them. A password management tool gives users the ability to have a master password and stay up to date on the most secure general password protection practices.
Many times, the types of organizations that are looking to implement an SSO solution are enterprise companies. Enterprises have multiple systems but have a much more focused IT department on overall security.
If it's time for your enterprise to look for a single sign on tool, we've put together seven best SSO solutions ranked based upon real-user satisfaction. Below is a graph featuring sign sign on products based on enterprise-user Satisfaction, May 12, 2019.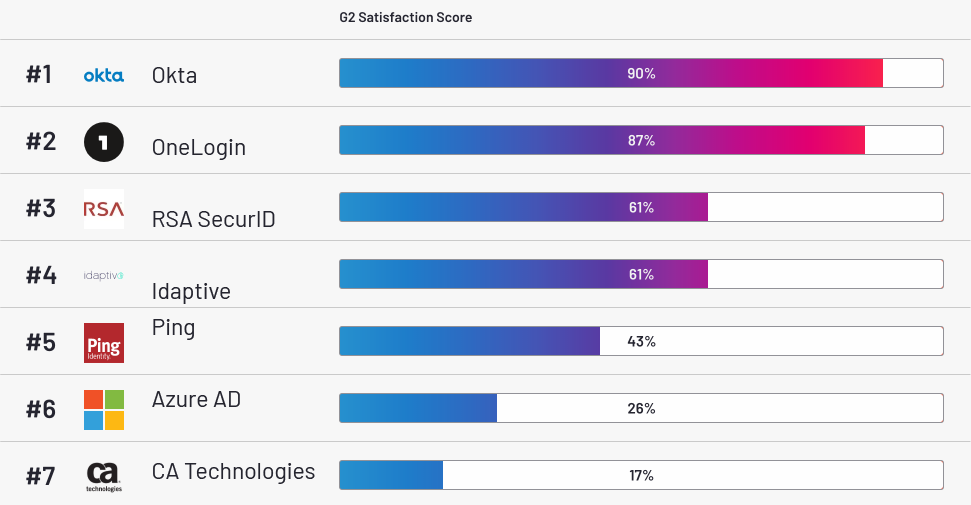 (A product's Satisfaction score is calculated by a proprietary algorithm that factors in real-user satisfaction ratings for a number of use-related review questions.)
What are the best single-sign on solutions in 2020?
Here is a more in-depth look at the 7 single sign on solutions for enterprise based on real-user reviews in 2020.
1. Okta
Okta acts as more than just a single sign-on solution, but it's a great tool for SSO nonetheless. It has the most SSO reviews of any product in the category.
Users called out multiple features they enjoy about the product, but the two that stand out are Okta's straightforwardness and flexibility, as well as its two-factor authentication.
The added security of the two-factor authentication protects business data, gives software access to the correct employees, and gives peace of mind to customers and clients.
Okta is overwhelmingly used by enterprise users, with only 7% of Okta's reviews come from small businesses (fewer than 50 employees).
TIP: Get added transparency and data security by integrating your Okta account with G2 Track. Protect yourself from fraudulent charges, measure how employees are using your software subscriptions, and ensure your software vendors are compliant.
2.
OneLogin
OneLogin is a SSO solution has a significantly smaller market presence than Okta, but scored nearly as high in terms of satisfaction. OneLogin was the only SSO solution on this list used mostly in the education industry. 22 reviews came from users employed by education management and higher education businesses. Its highest-rated features were its ease of installation on a server and its password policy enforcement capabilities.
3. RSA SecurID Access
RSA SecurID Access has a similar market presence to that of OneLogin but doesn't score as high in terms of satisfaction. Reviews for SecurID were more evenly spread across industries, with insurance, information services, and financial services the most represented. The highest-rated features for RSA SecurID Access include support for required authentication methods, self-service password administration, and multi-factor authentication capabilities. Out of all the products included in this list, RSA SecurID Access was the only product to score a 100% Satisfaction rate with enterprise users for its Ease of Admin.
4. Idaptive Next-Gen Access
Idaptive Next-Gen Access is an SSO solution with additional capabilities for adaptive authentication, multi-factor authentication, user provisioning and identity analytics. Idaptive scores in the High Performer quadrant, indicating high satisfaction, but it has a small market presence. Idaptive users spanned across many industries and scored above-average in all satisfaction categories aside from Ease of Setup, Meets Requirements, and Ease of Admin. The product's top features include support for required authentication methods, federation/SAML support and quick login.
5. Ping Intelligent Identity Platform
Ping Intelligent Identity Platform is the first product on this list to score in the Niche category, indicating small market presence and low satisfaction. While it is listed in the Niche quadrant, the product did score at or above average for all of the satisfaction categories.
Only two reviewers for Ping's reviews came from employees at businesses with fewer than 50 people. The reviewers, though, spanned a number of industries, the greatest being IT and software related. Ping's highest-rated features were support for required authentication methods, support for multiple operating systems, and endpoint access.
6. Microsoft Azure Active Directory
Microsoft Azure Active Directory also has more identity management features than just single sign on, but many users implement Azure Active Directory for its SSO features only. As a Microsoft tool, it has easy integrations and capabilities interacting with other Microsoft SaaS products, including the Office 365 suite. Many users stated the simple integration between 365 and Azure Active Directory as their favorite feature of the tool. Like Okta, Microsoft's SSO tool is enterprise-focused, with over half of its reviewers coming from employees at companies larger than 1,000 people.
7. CA Single Sign-On
CA Single Sign-On is the single sign-on tool from CA Technologies, also known as SiteMinder. Like both Salesforce and Microsoft's SSO solutions, CA's tool allows for easy integration with the suite of other CA products a company is using. Users also praised the ability to use social media login credentials for a single sign on for other applications. All but two reviews come from enterprise companies with more than 1,000 employees, showing that CA Single Sign-On SiteMinder is a great choice for enterprise users.
Top-Rated SSO Software - Non-Enterprise
Rippling
Rippling specializes in employee management for HR and IT departments. The product has received more than 100 reviews across nine categories. Its 16 reviews for SSO have earned it the third-highest overall rating in the category. Still, the majority of its reviews come in the form of payroll and Core HR reviews. Multi-factor authentication, self service password reset, and security audits are just a few of the platform's highest-rated features.
JumpCloud
JumpCloud offers Directory-as-a-Service® (DaaS) as a single point of management for access, authorization and authentication. The do-it-all platform provides cloud directory services, single sign on, privileged access management, and user provisioning capabilities. JumpCloud's ten reviews help them rank as the sixth-best overall SSO tool listed in the category. Its highest-rated features are its cloud directory, security, and on-premise identity repositories.
SailPoint IdentityIQ
SailPoint IdentityIQ came in right behind JumpCloud as the seventh-highest-rated SSO product listed on G2. Unlike some competitors, IdentityIQ is a pure play SSO solution. Its highest-rated features are partner access control, ease of server installation, and failover protection.
SSO Tools Previously Included
Products previously included in the post may have been assigned to new categories or may no longer publicly available.
Salesforce Platform: Authenticator
Salesforce Platform: Authenticator is the two-step authentication and SSO tool from Salesforce. Like Microsoft's offering, Authenticator easily syncs with all of Salesforce's apps (including the ever-popular Salesforce CRM). Users also talked about the added security that comes with Salesforce's Authenticator, saying that while it is heavy, it is also flexible and gives a high level of security and control. The SSO tool is also one of the only single sign-on solutions that has a majority of reviewers from small businesses, with over half coming from companies with fewer than 50 employees.
Meldium
Meldium has features in simple password management for businesses, but also has SSO solutions. Unlike the enterprise companies on this list, Meldium targets smaller businesses. While it may not be the typical enterprise solution, its small-business users love the product's ability to share login credentials across team members, as well as the product's simple UI.
AuthAnvil
AuthAnvil from Kaseya acts a little differently that the other SSO solutions on this list. Without being an enterprise company itself, Kaseya's AuthAnvil focuses on being a single sign-on provider to other small businesses. Users cite the SSO tool's security features that provide token passwords to its clients and users as super easy to use without sacrificing security.
CloudEntr
CloudEntr users point to the product's reliability and ease of use, as well as a simple but secure login automation. Users say it is a great SSO solution for managing dozens of web-based applications for multiple team members.
Next steps choosing an SSO provider
There are over 80 SSO providers listed on G2, but also many other similar password protection and identity management tools.
If your team needs an SSO solution, learn more about all other identity management software solutions on G2.