Pick a job you love, they said. You'll never work a day in your life, they said.
Well, I've been around the sun enough times to know—that is a load of bull crap.
First of all, choosing a job you love is easier said than done. Most people need to go out and have a few job experiences before they decide what they really want to do.
Second of all, once you decide on the job you love the most and want to pursue as a career, you're most likely going to have to work your way up to it. That part isn't always fun.
Even once you achieve your dream job, finding a work-life balance that allows you to lead a healthy, hobby and happiness-filled life is essential to your physical and mental health.
Working on the content marketing team at G2 is an amazing opportunity and a pretty fun job thanks to some great coworkers and sweet perks. Rest assured though, reader, it still feels like work.
One of those sweet perks of working at G2 is a flexible schedule and the opportunity to work from home most days if needed. After working from home for a full week for #WFHWeek, one bonus perk became clear: improved work-life balance.
Work-life balance when you work from home
Here are some of the ways that #WFHWeek made my life feel more balanced while I remained productive (and how you might benefit if you worked from home more often).
You get way more sleep
As a result of the one-and-a-half hours I saved each day by not commuting, I not only slept a little more on average, but I felt better when I woke up considering my oft-delayed commute was not in my future.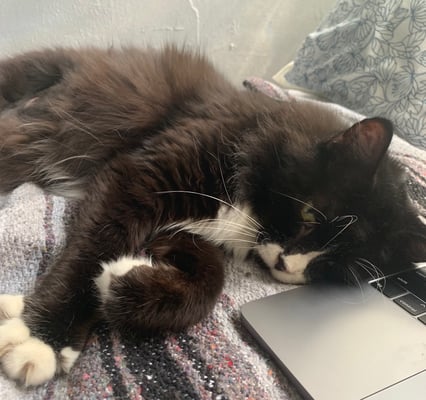 Your pets will thank you for the extra cuddle time too.
Just knowing that all I had to do was brush my teeth, grab breakfast and coffee, and open up my laptop was a relief. A well-rested, stress-free start made all the difference to my productivity and general attitude throughout the day.
You eat healthier
About that breakfast—I was able to eat a lot of the fresh fruits and veggies that usually go bad in my fridge or on my counter. As a vegetarian, my office diet is not always the healthiest. #WFHWeek helped me regulate what I was eating and how much, which in turn helped me feel better all-around.
You feel more relaxed
Stress is a big factor in my ability to focus and stay productive, and an office environment is not always conducive to stress-free work. Maybe it boils down to self-consciousness, but working at my desk alone in my room, away from the hustle and bustle of the office seemed to take some of the pressure off—not to mention the comfy clothes and lack of bra. Altogether, the WFH environment helped me stay attentive to my work tasks and not stress out about my clothes, coworkers, or commute.
You aren't exhausted by the end of the workday
This is the kicker. Outside of work, I am active in the local music scene and had a lot going on during WFH Week. Over the course of the week, my band finished writing and recording a new song and finalized our set for a show the upcoming weekend.
Not to mention, I had a DJ gig at a bar that Tuesday as well. I was able to tend to all my obligations that week without a hitch (read: without feeling tired the whole time), thanks to work-from-home flexibility.
The new song didn't turn out half bad!
All work and no play makes G2 a dull job
While I missed the energy of working in the office, WFH Week shed a light on the work-life balance advantages of working from home. When you have a lot on your plate both inside and outside of work, the extra time, sleep, and energy make all the difference.
Now that you know the work-life balance benefits of it, check out our guide on how to work from home.