As an only child, family means the world to me.
Yes, my family is small -- I have a grand total of two cousins -- and spread out, with one in Colorado and one in Boston.
So when the opportunity to see any of our tight-knit group presents itself, I always jump at the opportunity.
At G2 we are fortunate to have the flexibility to work remotely as needed. It's a perk I don't take for granted and utilize strategically to maximize time with my coworkers.
That being said, this summer, I found myself with a dilemma: my family from out West would be visiting my parents in Wisconsin.
Option 1: I could work remotely at the beginning of the week and see three of my family members.
Option 2: I could work remotely at the end of the week and enjoy a weekend on the shores of Lake Michigan with my 13-year-old cousin's son Odin.
While debating which option to choose, our team received a wonderfully-timed announcement: We would be working remotely the exact same week my family was in town. I could have my cake and eat it too. (Which, as it turns out, I did while also celebrating my Dad's birthday.)
How did it go? Well, between the memories made, family history learned, and my sore muscles from the jet-ski, I'm thrilled to say work from home week was a highlight of my summer.
Lessons on how to balance work and family
Before getting too far into this recap, it's work noting: Family has many definitions, and they all apply to this article.
Work from home has a lot of benefits. While, in theory, the flexibility and being surrounded by loved ones (including those of the four-legged variety), it can be tricky to turn off that laptop, especially when to-do lists seem to get longer rather than shorter.
For example: She may not be human, but my dog Bella is a member of the family, as are the two dogs and two cats who love to take over my childhood bedroom.
As you can see, Bella was a big fan of Work from Home Week!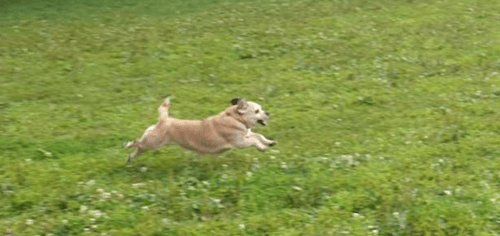 Close friends are also family; another fact which, as an only child, is not up for discussion.
How to balance work and family
Decide your core values, then stick to them
Embrace the unexpected moments
Move from work-life balance to work-life integration
Work from anywhere, whenever it works
Communicate your calendar
Have a Plan B (Or at least a good data plan…)
Accept that family distractions will happen
Practice gratitude
Use these lessons to find balance with work and your family, however you define them.
1. Decide your core personal values, then stick to them
At G2, our employee success team put together a time management workshop. One of the first steps was determining your top four or five core values.
As it turns out, this was trickier than I imagined. There are so many values we all aspire to, there is plenty of self reflection when choosing the four that mean the most to you.
The list of potential values is endless, but here are a few to get you started: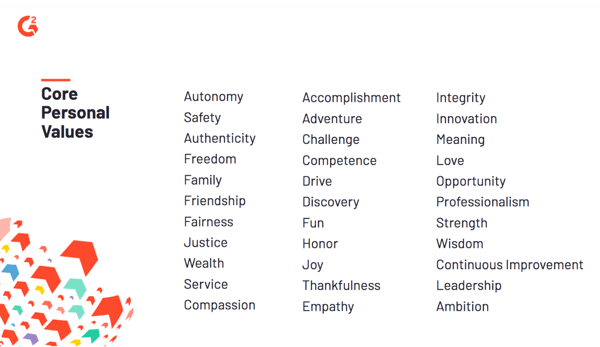 Once you've narrowed down your personal values, use them to guide your decision making process.
When you're working at home, there are plenty of decisions to make. They can be as simple as:
Do I want to work from the couch or at my desk?
Should I work inside or outside?
Do I feel like having the TV on in the background when I work?
Will I leave the house to go get lunch?
How long should I walk my dog for?
Am I going to get dressed or work from my pajamas?
Various sources, including Roberts Wesleyan College, state that adults make approximately 35,000 remotely conscious decisions per day.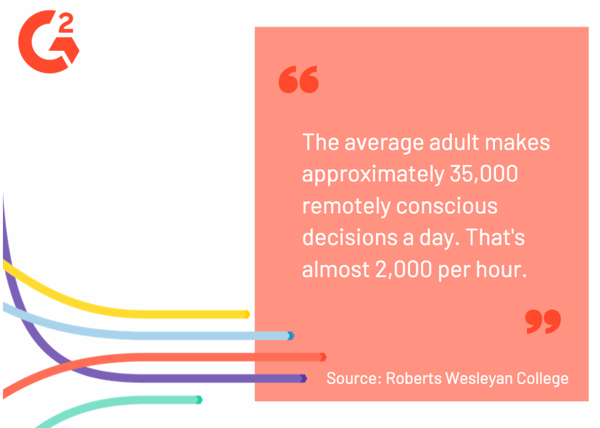 However, not all decisions are as simple as whether or not to turn on the TV. In my case, while it was Work from Home Week, I had a work-related function to be back in Chicago for.
Knowing that family is one of my core values, I made the decision to travel back and forth between Wisconsin and Illinois for the week, and I couldn't be happier that I did.
I mean, who wouldn't want to spend time with this group? (Okay, I admit, Bella looks a little like "What are these weirdos doing," but as soon as food or a ball came out she was thrilled!)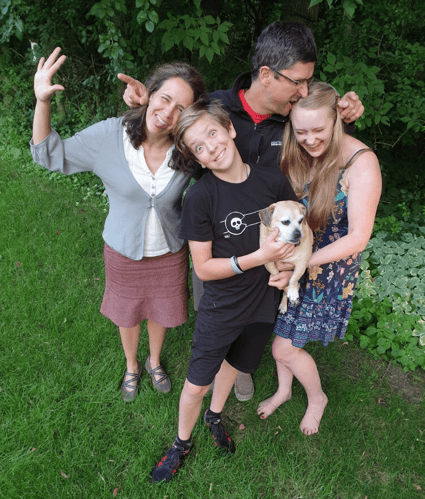 2. Embrace the unexpected moments
I had one night to spend with my cousin Sarah and her husband Dean before they left town, with Odin remaining in Wisconsin to spend the next ten days with my parents.
As that one evening arrived, I hadn't finished all the work I had hoped to do for the day. I was planning to duck away after dinner and finish up tasks for the next day, when conversations around family history began. Before I knew it, old photo albums were pulled out, and it was family time that could not be missed.
This photo wasn't even staged!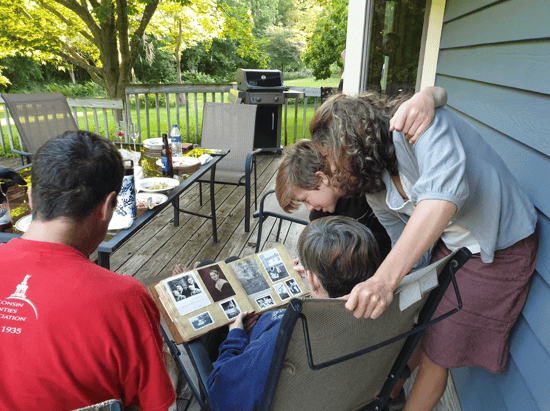 As the pictures were shared, I learned family history I've never heard before, and wouldn't want to miss.
As we looked through the faded black and white photos, there were a number of Iowa. In one of them, my grandmother had block-lettered the words "my stepsister."
To which I responded, "Grandma had a stepsister? What….?"
As it turns out, during the Great Depression, in order to feed her family, my great-grandmother, living in Sheboygan, Wisconsin, answered an ad in the newspaper to marry a man, move to Iowa, and take care of his family and the farm.
As soon as World War II started, and there were jobs in Wisconsin, my great-grandmother moved her four children back to Wisconsin, which is why I never knew about this extended arm of my family.
Had I not taken the time to focus on my family, I would have missed these special moments and an important part of my family history. Looking back, I can now understand why my grandma's talk of the Great Depression, and why I'd get lectures if I didn't eat my crust.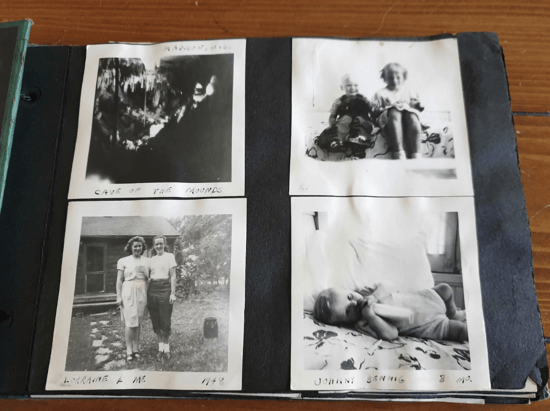 It goes back to defining your values: When those spur-of-the moment decisions need to be made, if you have the opportunity to savor special moments with family and friends, don't let it slip through your fingers.
3. Move from work-life balance to work-life integration
As work-life balance grows, a new phrase, work life integration, has emerged. As shown in this image, courtesy of BerkelyHass, the "life" part of work-life balance has more than one element.

This can mean working hours outside of nine-to-five.
When those unexpected moments come up, by all means savor them. However, that doesn't mean that your work can slip.
If a family emergency comes up, let your co-workers know you won't be available. Internal communications software is a great way to do this.
Set your boundaries for when you're going to work, but know that work-life integration can mean making allowances in your schedule.
4. Go beyond work from home and work from anywhere
Software and technology have played a vital role in executing work-life integration. These tools are something we can all be thankful for when working remotely!
My Work from Home week found me taking the train to and from Wisconsin four times: I went from Chicago, to Sheboygan, back to Chicago, Sheboygan again, to finally finish in Door County.
Thankfully, Amtrak's quiet settings meant I could still conduct efficient work.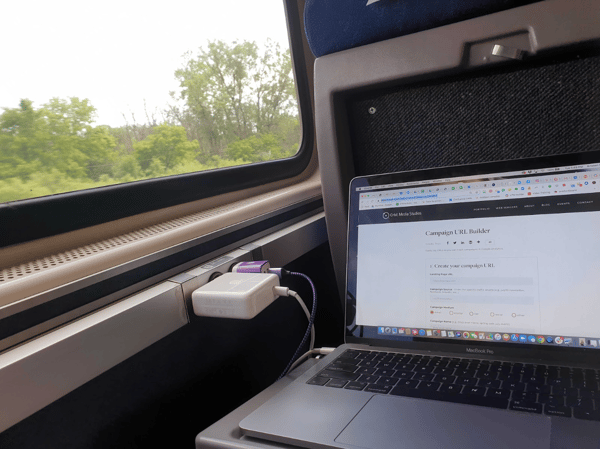 In fact, thanks to the lack of distractions (including those little decisions while at home!), I often find the hour-and-a-half ride to be my most productive period.
When balancing work and family, look for the opportunity to work where you can whenever it works. When mapping out my third day of the week, this meant working from on the train 8 to 9:30 PM, making up for an hour of lost to driving time earlier in the day.
Life is flexible, and tech companies are designed to be agile. This means work hours can be agile, too.
For example, I have friends who bring their lap to every dance class or gymnastics lessons, and finish their work from the waiting room. If you're sitting there anyway, why not work?
5. Communicate your calendar: set expectations for family and co-workers
I know a lot of moms who love work remote jobs because they can be there for their families. While I don't yet have kids, I do understand the need to help get family members to the right place at the right time.
With a mom who is disabled due to chronic back pain, I found myself driving her and Odin. (And sometimes the animals, too!)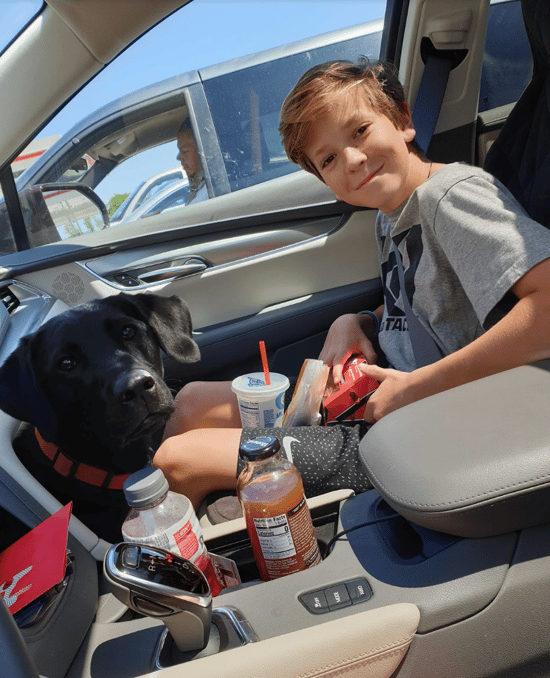 When you've made the decision to put family first, and you aren't going to be available during regular business hours, be sure to let your co-workers know.
Leading up to my week of working remotely, I made sure my Google calendar was up to-to-date with when I would be driving or on the train. While Amtrak is ideal for me to work on my laptop, it's not the best place to join a meeting via video-conference!
6. Have a plan B (or at least a good data plan…)
It's always fun when your Wi-Fi gives up on you during Work from Home Week. Even more so when it turns out that it's not just the Wi-Fi that crashes, but your entire router is dead. (Fun fact: My router is still dead as I type this a week later…)
Thankfully, I have a good data plan, enabling me to stay connected. I did, however, have to go outside and work to get a strong enough signal. Bella didn't seem to mind!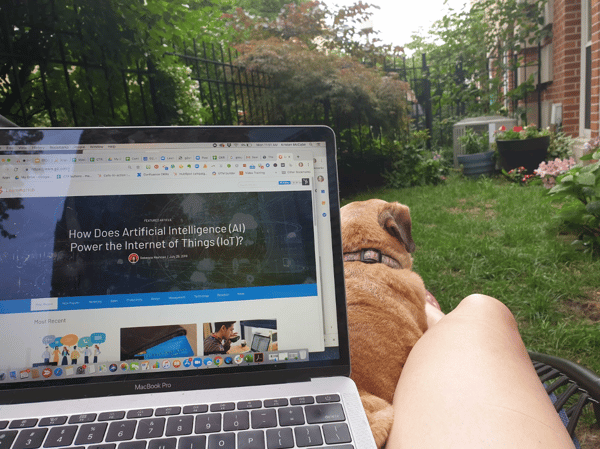 When you plan on a work-life integration that has you working from the train, a cafe, child's dance class, or anywhere else, don't depend on free Wi-Fi. Amtrak's, for example, cannot be trusted. I don't even try anymore, and go straight to my phone's data plan.
Talk with your company's HR team. Depending on how much you're working remotely to support your family, you might be able to expense part or all of your phone bill. Expense management software makes this an easy process.
7. Don't fight it: accept that family distractions will happen
Who can forget Professor Robert Kelly's children interrupting him during his live BBC news interview?
It's a moment we love, and one that any family can relate to.
Work from home research shows the best way to be productive is to create a non-interruptive work environment.
However, as any parent will tell you, kids will do what they want, regardless of deadlines or if you are in a meeting. (And regardless of if that meeting happens to be broadcast on national television and ends up with over 31 million YouTube views!)
Do what you can to minimize distractions for yourself and for those on the other end of the call. In my case, that means having my meetings on mute, should a delivery arrive from Amazon, causing Bella to jump into guard dog mode.
She looks sleepy, but as soon as that doorbell rings, she makes herself known to any and all in hearing range!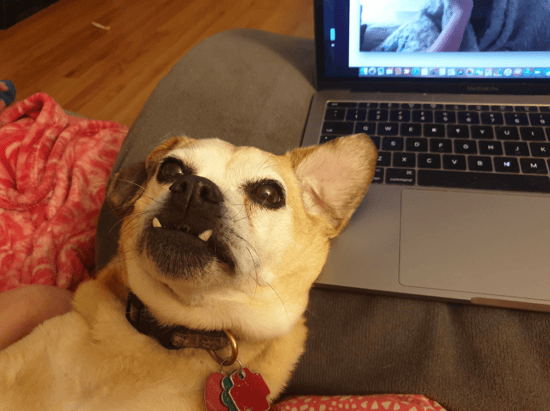 If you find yourself in the position of Professor Kelly, don't fight it: Acknowledge it and embrace it.
When Bella goes nuts barking at the doorbell or another neighborhood dog, I laugh it off, then do what I can to minimize the distraction for others.
8. Practice gratitude: appreciate the people and places around you
No matter where you are working, at home or in the office, it's easy to forget what's around you. We get caught up in to do lists, emails, meetings, and questions from coworkers.
They are all valid, but don't let them distract from what really matters in your life: Go back to your values, and what brings you joy. When I've worked remotely, I need to remind myself: It's okay to leave my computer and take a ten minute walk with my Dad.
Whether it's being able to sift through family photo albums, make an afternoon performance at your kids' school, or drive a parent to a doctor's appointment, appreciate the opportunity to have your loved ones around you. The fact that you can be there for them is a gift.
Being thankful for your friends, family, and home office surroundings will help you keep a positive state of mind. And, as you juggle work and family priorities, you'll discover multiple benefits.
According to Harvard Medical School, "In positive psychology research, gratitude is strongly and consistently associated with greater happiness. Gratitude helps people feel more positive emotions, relish good experiences, improve their health, deal with adversity, and build strong relationships."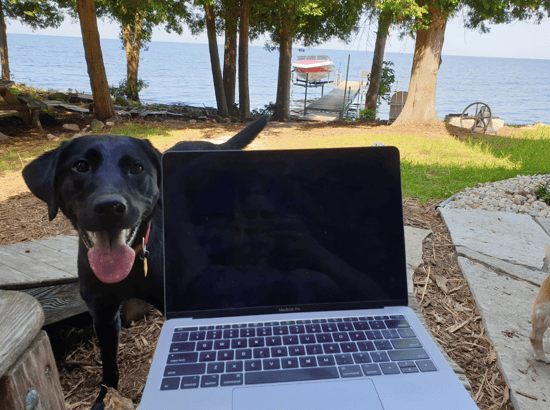 A Labrador and a laptop: Gracie's happy face, and the pure joy she lives with a simple tennis ball, continually remind me of all I can be thankful for when working remotely.
Even when it feels overwhelming, take a few deep breaths, and say out loud who and what you are grateful.
Learning to juggle work and family
Let's face it, adulting isn't easy. And, it's even more difficult when you're not just taking care of yourself, but you've got family to be there for.
Just ask any working mom how long her to do list is! Or, better yet, offer to watch her kids so she can take a nap.
While it has it's challenges, technology does enable us to be there for family and take work with us on-the-go. However, remember not to let work take over. When you carry email and work apps around in your pocket, set limits and know when to turn off that smartphone.
For more work from home insights, check out the other articles in the G2 Work from Home Week series.