If you're using Twitter for business, you'll want to get familiar with the analytics tool.
Maybe you've clicked around your analytics homepage and tracked some of your content's impressions but are unsure which metrics are the most useful to your business. If you're using other analytics tools in your social media marketing strategy, like Facebook Audience Insights or Instagram Analytics, I'm sure you know of Twitter's analytics tool. I'm here to make sure you know you're getting the most out of Twitter by reading and understanding your analytics.
What is Twitter analytics?
Twitter Analytics tracks and measures the engagement your content receives overtime, whether that be your words, photos, videos, or live streams. The tool acts as a report card and helps you to understand how the content you share helps you reach your audience and grow your business.
Whether you're just diving into Twitter marketing or running your twentieth marketing campaign, knowing how to access and understand your analytics is essential to grow your audience. Twitter is one of the most popular social media apps in the world with over 500 million tweets posted every day (6,000 a second)! Tracking your analytics can help you better understand what your business is doing right and what it could be doing better.
In this article, I'll take you through how to use Twitter analytics, the metrics you should be tracking, and the benefits your business can reap from using the tool.
Accessing Twitter Analytics
Monthly performance summary
Your Twitter engagement
Who is your audience?
What is your audience talking about?
How to use Twitter Analytics
Twitter analytics is free for anyone to use. No matter if you're tweeting as an individual or a business, you have access to a full analytics report.
Twitter basics
Before we jump into analyzing your engagement, let's backtrack. If you're new to social media, you may be asking yourself "What is Twitter?" If you have never visited the popular social site, you'll want to know how to set up a Twitter account before reading any further.
Related: If you're looking for ways to upgrade your existing Twitter marketing strategy, get inspired by checking out these 10 best Twitter ad examples.
Accessing Twitter Analytics
To access the analytics tool, click on your Twitter icon in the upper-right corner of your homepage.

A menu will drop down. From it, select Analytics.

You'll be taken to the analytics homepage. It can look a little confusing at first, so I'll take you through the metrics you'll need to pay attention to the most.
Monthly performance summary
Your Twitter analytics homepage will have a 28 day summary across the top of the screen. In this summary, you can see how many tweets you posted in that timespan, the number of impressions you received, profile visits, mentions, and the change in followers.

Twitter also lists the difference in engagement from the previous month. These stats are highlighted in green.
Your monthly performance summary is the perfect way to see a quick snapshot of how your content has been doing the past month. If you keep scrolling down, you'll be able to see your summary for previous months.
On this page, you'll see a few important metrics that Twitter has already tracked for you:
Top tweet: The tweet that saw the most impressions for the past month.
Top mention: The tweet that mentioned your handle and saw the most impressions that month.
Top follower: The Twitter user with the highest follower count that followed you within the month.
Top media tweet: The photo of video tweet that saw the highest number of impressions that month.
You may be wondering why this information is so important. Because you're able to see your "tops" of the month, these metrics are useful if you're tracking what content works best with your audience. If your top tweet was a video tweet, you may consider posting more video content to see that level of engagement again. If a notable Twitter account @s you, it's a good idea to reach out and create a relationship with them for future projects.
To the right of these metrics, you'll see some basic stats from your Twitter account for the past month. Tracking these month-over-month is a great way to keep track of your account's progress and motivates your team to keep exceeding those numbers.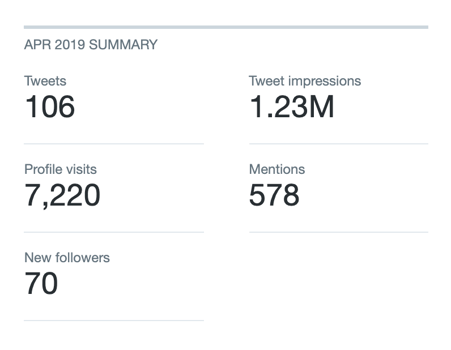 Your Twitter engagement
To move to the next section, click on the Tweets tab at the top of the page.

The Tweet activity section shows you your tweet metrics in a convenient bar graph. You can see the activity your tweets have gotten for the default past 28 days, or change the time period to analyze your content closer.

Twitter allows you go to day-by-day (in this graph's case, bar-by-bar) and see your tweet impressions for each day of the month.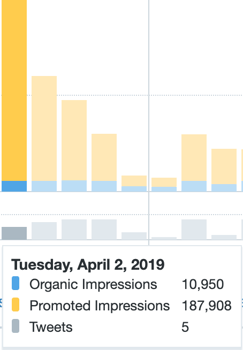 Below your Tweet activity graph, you'll see your content broken out into Tweets, Top Tweets, Tweets and replies, and Promoted. Twitter tells you how many impressions and engagements each tweet received as well as its engagement rate.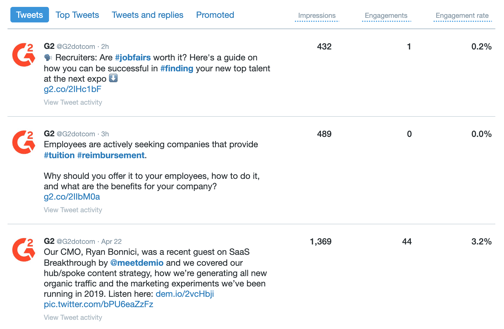 Additionally, you'll be able to see the tweets that are resonating with people on the Top Tweets tab. This dives deeper than just seeing the one Top Tweet we saw on the analytics homepage.
To the right, you'll see your Engagements broken down by Engagement rate, Link clicks, Retweets, Likes, and Replies. Just like the bar graph above, these engagement metrics are great when you're comparing your progress month-over-month.
Use the Tweets tab to evaluate your content and how your audience reacts to different types of media. If you notice something worked well, replicate it and see if you receive the same engagement. Referring to your analytics will help you to understand what your audience likes.
Check out our social media marketing hub to learn even more about social analytics.
Who is your audience?
It's time to get to know your audience. Click on the Audiences tab at the top of the page. Similar to your analytics homepage, Twitter auto-populates a snapshot of your audience's top interest, language, lifestyle type, buying style, and wireless carrier.

If you're looking for a more in-depth description of your audience, scroll down the page and you'll see a section titled Interests. Here, Twitter lists out all of the interests your audience has engaged with most on Twitter.
For our example, we can see that G2's audience is most interested in tech news, then science news, then dogs and so on.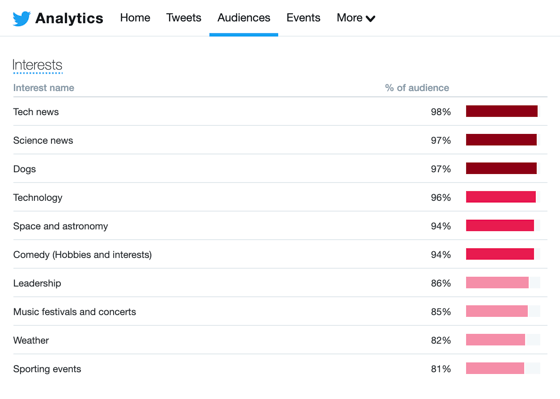 Because G2 is a tech company, it makes sense that our audience is most interested in tech news. But what about that 97% interest in dogs? Because our audience loves dogs so much, taking advantage of #NationalDogDay and creating a small dog-centered campaign that promotes our company in a fun way would be a good way to utilize our analytics information. We'd be confident that our audience would engage with our content because that interest percentage is so high.
Keeping your audience's interests in mind when brainstorming your next marketing campaign can be incredibly insightful. Each user that follows you is a person with likes and dislikes. Take their interests and turn them into successful content.
Below Interests is Occupation.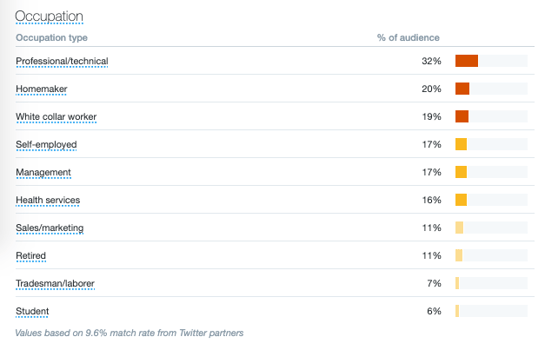 Just like before, Twitter breaks down the industries the people who follow you may work in. Having this information at your fingertips can help you relate to your audience and help you understand which tweets will see better engagement than others.
For example, a tweet about a new product launch or conference would do better than a tweet aimed at students in our scenario. If the latter tweet sees low engagement numbers, you'll now understand why.
Further down the page, you'll arrive at Consumer buying styles.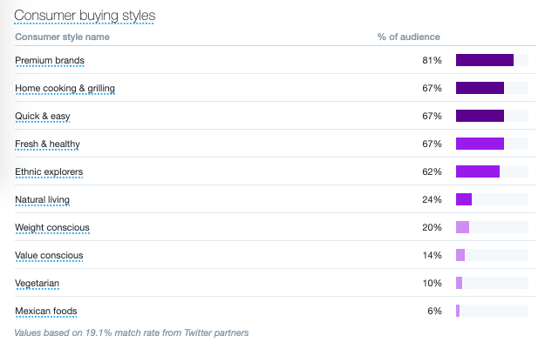 If your business sells products online, you can reference their buying style analytics to see which products they are most interested in purchasing.
On the right side of the page, you'll find a breakdown of Gender, Household income, Net worth, Marital status, Education level, and Home ownership analytics.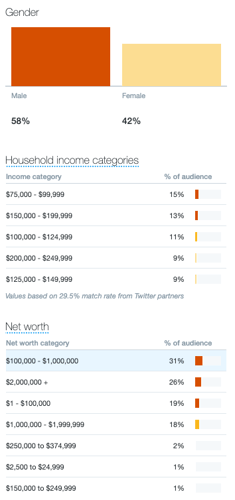 This data heavily details your following. Because audiences are always changing, referencing these analytics regularly will assure that you can understand where they're coming from and the kinds of lives they live, even if these stats shift in the future.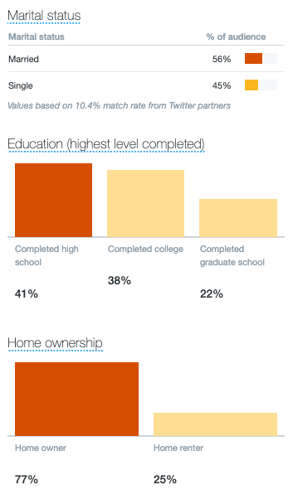 What is your audience talking about?
The last tab we'll be talking about is the Events tab.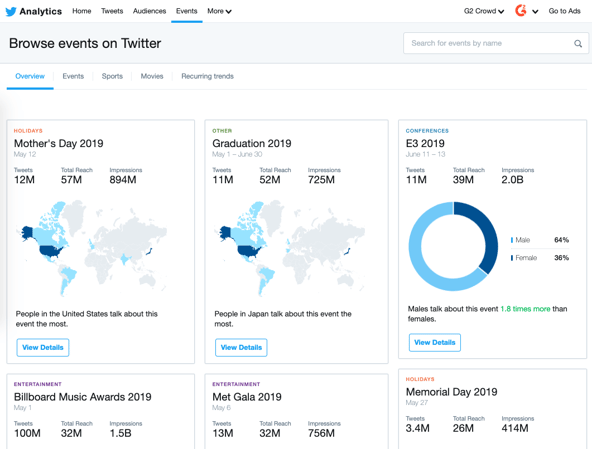 This section lists upcoming events, conferences, or holidays you should be aware of. If a tech conference is on the horizon, it would be wise for G2 to know about it and prepare content accordingly. This is just another way to interact with your audience in a timely and topical manner.
Twitter Analytics is useful but there are dozens of social media analytics software you can use. Read real customer reviews on G2 and choose the right social media analytics software for you.

Start analyzing
The best data is your own, so take the time to check up on it. If you haven't started using Twitter Analytics, you should consider at least taking a peek at them. They can help you decide what direction your content should go in and inform you of the most effective way to delight your audience.
If you want to keep exploring the world of social media analytics, read up on Facebook Analytics or discover the best time to post on Twitter.