Over the last decade, social media marketing content has blossomed into an ideal tool for engaging both B2B and B2C audiences on a tight budget.
Social content can be cheap to produce, free to post, and accessible to even the smallest of businesses. But don't let the bargain price tag deceive you; international brand behemoths like Taco Bell, Starbucks, J. Crew, and Calvin Klein are also rolling out incredible Instagram marketing campaigns to drive e-commerce sales each holiday season.
These brands are household names. It's safe to assume they wouldn't be curating cute online image galleries unless there was clear ROI. So what's the secret sauce? What kinds of social content are best for promoting your business? You can't achieve social media marketing success by using social sites the same way people do at home – or can you?
At first blush, social channels may look like just another way for your company to push out promotional content. The research, however, paints a different picture of what brands should or should not do. Forty-six percent of users will actually unfollow a brand if they post too many promotional messages.
In other words, content can't focus exclusively on selling if you want to succeed. Social content is all about mixing work and play. Take a page out of the home user's playbook. The Manifest offers insightful findings on how people interacted on social media in 2019:
94% of users post content on social media.
42% do so at least once per day.
The most popular content that people post are images (69%), life updates/announcements (47%), and videos (46%).
Facebook is the most popular channel.
48% are more likely to share someone else's content, and 24% are more likely to share their own.
What's really fascinating is that all of these would apply equally well as advice for your company's social media marketing content:
Social content can benefit nearly any business.
It's beneficial to post content frequently.
Text and links to product/service pages aren't enough. Images, news, and videos foster more social engagement.
Facebook has the largest audience (although your channel preferences will vary by business niche).
Social is great for distributing your own content, but much of what you share can be someone else's (i.e. external thought leadership).
The bottom line is to diversify your content by type, platform, and purpose. You've got a ton of options, each with their own strategic niche.
Types of social media marketing content
It takes more than simple text posts to build a following for your business's social page. Package something useful for your audience, something that will educate or entertain. Images, videos, links, downloads, influencer whitelisting, and other content can offer value and spur interaction: the two things you want most from social media marketing content. There are a ton of options, each with a nuanced role.
TIP: Find the right type of social media marketing software for your needs on G2.
Blogs
An active business blog is one of the best ways to drive traffic and boost SEO for your website. They're also hot material to share on social. "How-tos" and "listicles" do especially well; try building your title around a number of tips or examples.
Podcasts
Many people have transitioned from radio stations or music to online podcasts during their commutes and while exercising. Help them discover yours on social media to capture free downtime attention.
Webinars
You could initially gate "tickets" to the webinar behind a contact form to capture leads, then upload it to YouTube and share it on social once the live portion is over.
Infographics
This format is well-tuned to generate engagement and shares on social media feeds. It's eye-catching, informative, accessible, and neatly packaged.
Case studies
Show prospects how you've helped real people solve their problems in the past. These are great bottom-of-the-funnel content offers, and they double as powerful sales enablement resources.
Research reports
Whether it's your own research or a review of other publically available studies, this is the crunch that serious B2B prospects love. Don't have time for a full study? Try the popular bite-sized version: facts and stats.
Client testimonials
Similar to a case study, a testimonial is a customer telling the story from their perspective. It could also be a succinct, highly shareable quote.
eBooks
High-value educational content and guides to customer pain points can do a lot for lead generation when parked behind a contact information form on a landing page.
Interviews
Transcripts, video, audio...interviews are format-agnostic and versatile. Create versions appropriate to each social platform you use.
Demos
Bring the last advantage of brick-and-mortar online. Use a video, instructional graphic, or "book a meeting" link to give folks a chance to experience your product/service before they buy.
Product reviews
People trust friends, family, and other consumers most. This makes social media the perfect place to publicize positive reviews through product review syndication.
Whitepapers
The robust technical information in a white paper makes them a lower-funnel B2B standby. "Sell" them for the small price of contact information, and nurture those leads with more lower-funnel material.
Roundups
You might not conduct your own studies, but you can certainly round up a compilation of all the most impactful current info, quotes, or content in the industry into one, easily digestible list.
Checklists
This is a worksheet to help the reader follow a step-by-step process or evaluate a decision; they're great for product comparisons.
Audiobooks
If you've written an eBook, complement it with an audiobook that the audience can listen to on their way to work.
Memes
An image with a pithy caption (a meme) can play on your brand's sense of humor and make you feel more approachable and human.
PSAs
We live in an era of increased scrutiny on the social responsibility of businesses. A thoughtful PSA is both helpful and positive for your brand.
Quotes
Think inspiring, surprising, insightful, and relevant. Quotes are a popular format for social posts, and could come from industry leaders, influencers, celebrities, literature, history, or philosophy.
Videos and GIFs
Short-form video is versatile and ever-increasing in social popularity. Promotions are fine, but also try messages with a more educational, humorous, or personal touch. Even a brief custom GIF can be a huge spark for engagement.
Images
Combines well with quotes, brief testimonials, blogs...well, most content, really! Add visual interest to your posts to spur engagement.
Quizzes
These can range in purpose from fun (which product flavor are you?) to more practical (inquiring about business pain points to recommend a personalized solution).
Polls
Customer engagement at its finest! Roll out a campaign where customers have a vote, or just gauge interest and gather feedback for future initiatives.
Mixing the types of content you use is key. Some of it has to be freely accessible (i.e. blogs, pillar pages, in-post images), since instant access drives the most traffic and encourages shares. But it's essential that you dedicate some bandwidth to gated material (i.e. eBooks, whitepapers, research reports, webinars) so that your social media marketing content can also capture leads.
It's overused, but there's some truth to the old axiom ditch the pitch. Your content shouldn't always promote your brand or be used across all platforms. It pays to be strategic with the angle of your approach. Optimize for the audience and format of your social channel. For example, the health industry would benefit from patient survey software.
Which social media platform(s) are you using?
When you think about social media, Facebook is likely the first platform that comes to mind. And Facebook matters. But there are actually at least seven major social platforms that can offer real value to your business. Your social media content strategy should involve a combination of two, three, or more if you're going for maximum engagement.
The issue is that they don't all work the same. Each platform has a unique content niche: format, audience, engagement patterns – and your social media marketing content will have to cater to the platform's strengths.
Facebook
This one's still the big gorilla, even after so many years. And it's super versatile; you can post all kinds of content. Facebook posts are great for sharing blog articles, branded custom images, engaging short videos, and links to landing pages. Video has the most reach, followed by photos, then links, then text.
Facebook Marketing Expert Mari Smith offered these guidelines for balancing each format: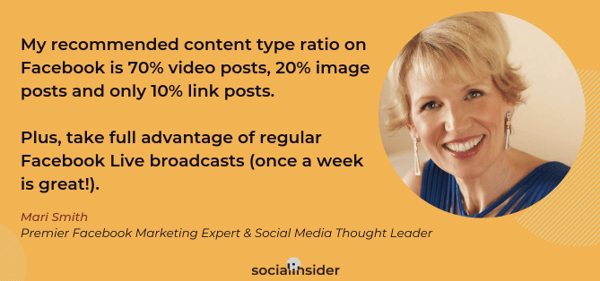 A study of 9,036,594 video posts on Facebook demonstrated that videos with 300-word descriptions get the most interactions. Don't forget that video and image posts can use that "caption" space to include links and CTAs. Engagement is great, but it's even better when your audience takes a desired action or jumps onto your company website.
Instagram
Quality content with the right hashtags can keep an Instagram feed post engaged for days. It's a visual platform, which makes it great for advertising. You don't need to be a photoshop expert to get started. A bank of high-resolution product images or striking, unique stock photos and a design tool with ready-made Instagram post templates will go a long way.
Product teasers and other promotions with thematic seasonal imagery do well. Don't limit yourself to still images, though; you can also leverage the power of Instagram videos via your posts, story, live videos, or IGTV (depending on the scope of the video). Each option has unique length requirements.
Video posts: 3 seconds to 1 min
Also, consider boomerangs (kind of like a playing-and-rewinding GIF) as a fun and trending short-form option.
Story videos: Up to 15 seconds
Stories are great for behind-the-scenes "insider" footage that might not be polished enough for a regular post. You also don't have to worry about story videos aligning with the long-term aesthetic of your brand's gallery, since they'll disappear.
Live video: Up to 60 minutes
The live format is perfect for coverage of a company event or trade show. Depending upon your market, you might also make a splash by hosting a webinar or AMA via live video.
IGTV: 15 seconds to 10 minutes (or up to 60 minutes if verified, with a large following)
This is essentially Instagram's answer to YouTube, so it can be used for similar strategies.
Twitter
Unlike other platforms, Twitter feeds move fast and have a brief half-life. This means you could even tweet the same thing at different times and days to reach a new audience. Photo and video have the best engagement. The extremely short format is also perfect for link sharing. Find industry-adjacent content and share it with your followers to establish your status as an in-the-know resource.
Content on Twitter should prioritize shareability (get those retweets!) and immediate engagement, since the tweets will fade into obscurity quickly. Use unique hashtags and incorporate interactive content, like giveaways, contests, surveys, questions, and polls, into your schedule.
Hashtag marketing is another relevant strategy born with Twitter and since expanded to other social sites. Some user bases make more use of hashtags than others, whether due to culture or the limitations of the platform.
For example, Facebook limits the character count of a hashtag, and Instagram has restrictions on hashtags that relate to specific subjects (like dating sites, weight loss products, modeling agencies, or violent, obscene, and drug-related topics).
Twitter and Instagram rely much more on hashtags than other sites. Tag your social media marketing content with trending, relevant hashtags for much more exposure. It's easy to research hashtag trends with hashtag monitoring software tools.
LinkedIn
As a professional-focused network, LinkedIn gives better traction to B2B companies that want to connect with other business owners than a more consumer-focused platform like Instagram.
Whitepapers, eBooks, research reports, industry news, webinars, and other informative long-form content will provide the value that your professional connections are looking for. Cater topics to subjects of professional interest: lessons learned, predictions, actionable tips, business trends, and other thought leadership pieces.
If you post video tutorials or presentations, take the extra time to include subtitles! Animoto surveyed 1,000 consumers, and 39% said they were more likely to finish a video if it included text so they could watch it silently.
YouTube
Many people forget that YouTube is not only a social platform, but the second-most trafficked site on the internet — with over 27 billion monthly visits in October 2019. Only Google had more. If you've got a minute, check out this mesmerizing time-lapse from FastCompany that shows YouTube's rise to dominance.
Branded content on YouTube has also surged exponentially since the platform took off in the late aughts. It didn't take long for the Global Top 100 Brands to get onboard.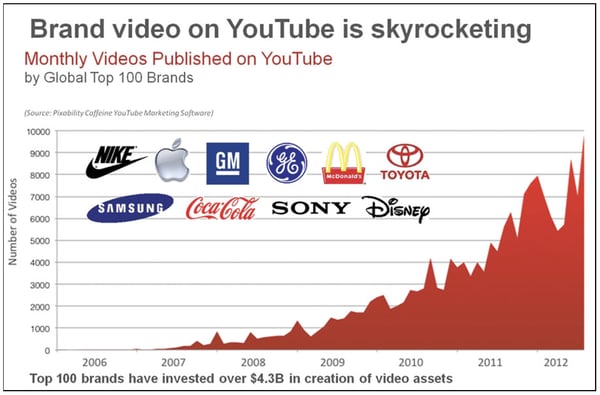 Video marketing statistics from more recent years continue to show this trend. For example, views of branded video content increased 99% on YouTube between 2016 and 2017. You can seize this opportunity by curating an active company YouTube channel. Try branded customer testimonials (great for building your credibility), demos, tutorials, and explainers that show your product or service in action. Not all brand content needs to center on your business, though. Interviews with thought leaders in your space can be very compelling top-of-funnel content.
Google (YouTube's parent company) recommends a three-tiered strategy with a mix of "Hero," "Hub," and "Help" branded video content.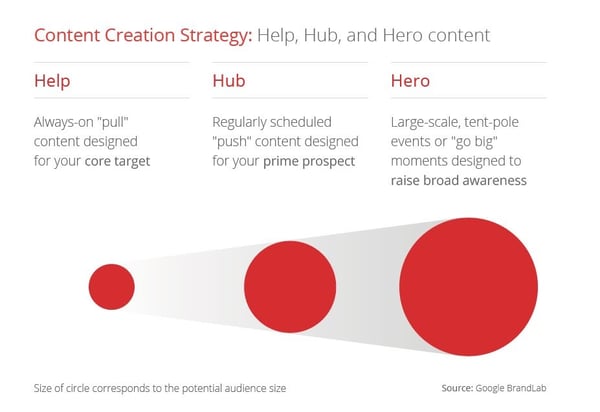 This breakdown will raise awareness, nurture prospects, and delight your core audience. Host the videos on your channel, but don't forget that you can also embed YouTube videos on your company website (as 61 of the top 100 brands, like Coca-Cola and Toyota).
Finally, engagement campaigns can really set your campaign apart by opening a dialogue with your audience that humanizes your brand. I always think about the "Mano a Mano in El Baño" campaign that pitted Fabio against "Old Spice Guy" Isaiah Mustafa in a series of funny video shorts where they engaged viewers directly and competed for the right to be Old Spice's official spokesperson. Old Spice said the Fabio campaign hit high marks for views, comments, shares, and followers.
Pinterest
The lifespan of social media content varies wildly by platform. Pinterest pins tend to last longer than social content on any of the other major social media sites; high quality pins can continue to garner repins and engagement for a year or more.
Like Instagram, it's a visual platform. Purchase intention is also much higher than many other channels. Due to the longevity of the content, however, it's less optimal for timely updates or short-term promotions.
Your best bet is bottom-of-the-funnel content like product images, branded merchandising, or user-generated photos of satisfied customers enjoying your product or service. The platform skews female, which is something to consider in how you position your Pinterest strategy.
Snapchat
Snapchat was by far the most popular social network among U.S. teens in 2019 (and has been since 2016). Teens in the Spring of 2019 preferred Snapchat over Facebook by a staggering margin of 41% to 6%. If your audience skews younger, this oft-overlooked platform is a must-have in your social media marketing content strategy.
Snapchat's "story" format (later adapted by Instagram and Facebook) is perfect for short how-to videos that divide steps naturally into a few brief snaps. You could also encourage 1:1 participation through games, interactive projects, or user-generated content.
What's the purpose of your social media content strategy?
Since you're creating marketing content, the end goal for your business is already clear. You're here to generate awareness, nurture leads, and (eventually) inspire conversion. But what are you trying to do for your audience? Most social media marketing content sets out to achieve one of these seven objectives.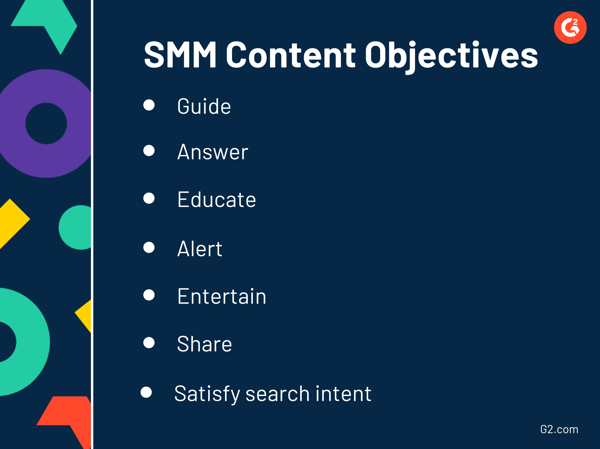 Your strategy may focus more heavily on a few of these tactics, or combine a lot of them, as appropriate to your product and brand. In any case, the purpose determines which types of social media content that will be most effective.
Guide
Guiding content helps your reader accomplish a specific task. Walk them through the step-by-step instructions to accomplish their goal. How-to guides (often in blog or eBook format) are a popular form of guidance-oriented social content. These offers benefit a ton from supporting visuals or checklists that aid comprehension and make it easier to follow along in the process.
Answer
Customers and clients come to you armed with questions. It pays to have ready-made content with the answers. Use short Q&A blog posts or infographics to answer common questions relative to your topic.
If you have enough of these short-form offers, you could even compile them into a FAQ section on your website. Link each question to a separate page with the answer (i.e. the blog post) to create additional indexed pages for Google to crawl while calculating rankings for SERPs.
Educate
The common example would be the "why" article. These informative pieces tell the story of why something is the way it is, and tend to be full of research and information that branches out into background and nuances within the subject. Design this type of content around a topic in which your audience has a vested interest/curiosity.
A how-the-sausage-gets-made article about your company, product, service, or industry could also be really compelling. Hunter Boots, for example, put together a really compelling behind-the-scenes piece around the making of The Original Boot.
This is different from an "about us" page, because the focus is on process, components, history, and other insights you'd expect in an educational lesson on Hunter Boots.
Alert
An alert is a heads up. Let your social audience know about a branded/sponsored event or a time-bound opportunity. You'll likely want to include a link to more info (on your website) and a place to sign up (perhaps a stellar landing page optimized for maximum conversions). It could also take the form of a company newsflash or press release with information your audience would want brought to their attention in a quick update.
Entertain
Social media is an excellent medium for finding the sense of humor in your brand voice. Make your target audience laugh. Content could include fun connections between unlike things, self-aware humor, and an opportunistic (but harmless) joke about common experiences this time of year. Don't belabor it with long content — humor is quick.
Short-form content options like captioned custom memes, popular or branded gifs, or humorous quotes, videos, and photos can have a lot of impact with a small time investment. Humor can also be powerful for diffusing a PR crisis with a humanizing touch, as KFC famously displayed in its cheeky apology for the UK chicken crisis, during which the brand temporarily ran out of fried chicken.
Share
Not all content needs to be your own! In fact, much of it probably shouldn't. It's easier to fill a content calendar and stay active if you can supplement it with interesting or useful industry articles that aren't promoting direct competitors. Outside thought leadership can build your audience by connecting your brand with one they've heard of and trust already.
Satisfy search intent
A cornerstone of content marketing is SEO. Find the keywords your audience is searching for, and write the content that they're trying to find. It should be easily linkable content, since backlinks can boost SERP rankings a ton.
Of course, targeting organic rankings on search engines is not inherently important for social media content, but you can kickstart content you wrote for SEO purposes by sharing it on social media. As interest in (and traffic to) the content grows, so will its search position. SEO keyword tracking software can help you create content with text that's optimal and visible for web crawlers (blogs, pillar pages, articles, listicles).
The best social media marketing content is...
Well, it's a combination of visual, emotional, interactive, shareable, and human. Not every content offer can hit all five of these qualities, but you're on the right track if you're addressing each one regularly. Again, certain types of social media content will offer unique advantages in each area.
1. Visual
Social platforms are more visually-driven every year. Take advantage of this trend with visual types of social media content, such as: video, vlogs, GIFs, social media stories, and supporting content with images.
Video
People now spend more time on smartphones than watching TV, and 79% of social media site visits in the USA are on mobile. Get the most out of social videos by optimizing for mobile. Only 15% of people watch Facebook videos with the sound on, so subtitles and soundless videos are in. An analysis of 43 million Facebook posts from the top 20,000 brands also showed that 79% of consumers would choose the vertical video format over horizontal content.
Vlogs
Video blogs are great for your brand's YouTube channel. Chat about the same topics you'd normally address in written blogs, post the videos to YouTube, and share links to your company's other social platforms. This adds a more personal touch than text-based content, and increases engagement/shareability.
Custom GIFs
Coca-Cola was one of the first major brands to dabble in cinemagraphs (GIF files). They posted this one to Tumblr in August 2012, and earned over 80,000 "notes" in the first two weeks.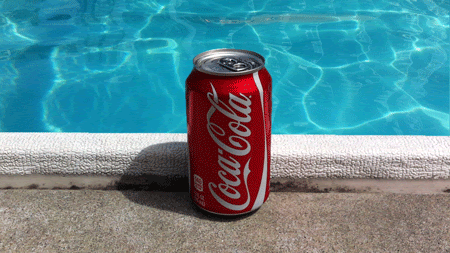 Stories
Snapchat, Instagram, and Facebook all have a roughly-analogous feature that hosts temporary social content. Interesting branded "story" content (enhanced with filters, captions, and stickers) is on the up-and-up. Daily active Instagram Stories users blew up from 100 million to 500 million in fewer than three years.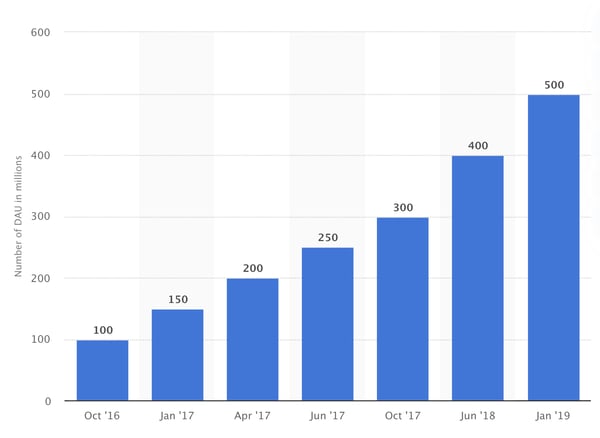 Supporting images
Even a text-based blog can benefit from a featured image and internal charts, images, and infographics. Images for social media earn 2.3 times more engagement on Facebook than text posts, so go visual to earn clicks for your written content.
2. Emotional
Research has shown emotional engagement is key to viral marketing – and positive content (like a heartwarming story) is much more likely to go viral than a negative message. Content that's awe-inspiring, funny, or surprising will have the highest chance of getting shared.
Chipotle, Charmin, and Taco Bell are all well known for their sense of humor. They were even voted "the sassiest brand on Twitter" in 2014. Does your company have a humanitarian mission? Show it with a heartwarming social campaign. Inspirational quotes or shocking statistics relative to your space are easy to dress up with visual flair and share for high social engagement.
3. Interactive
You'll earn more comments, likes, and shares if the format of your content is deliberately structured for engagement. Quizzes, polls, and AMAs are highly engaging, but here are three underused formats that are on the cutting edge of interactivity.
User-generated content (UGC)
There are many benefits of user-generated content, including increased time-on-site and return visits. It'll also save your content creation team valuable time. Try product review contests, story contests, caption contests, write-ups, or fan art from the public, customers, or influencers.

Live streams
Only 11% of brands go live, but users will tune in to a live video for 3 times as long as they'll watch a pre-recorded one. In other words, companies are missing a huge opportunity with services like Facebook live streaming. But before you go live, remember to build anticipation with other content that announces your intentions and hypes up the moment.

VR content
Virtual reality content is interactive, experiential, and drives incredible engagement. Social sites like Facebook and YouTube can help users interact with VR content even without a special headset. NASA made a splash when 360 panoramas from the Mars Curiosity Rover made the rounds on social media.
4. Shareable
The Journal of Marketing released a press release on research that proved positive news (which excites, awes, or delights) will stimulate more social sharing — so try to show the bright side. You'll also encourage shares if your content is actionable or practical (i.e. something the reader would want to give others to use).
Content that affirms and validates your target audience's beliefs also leads to more shares. Take time to recognize your audience, their real-life interests, day-to-day experiences, and relatable challenges.
5. Human
Social media is a platform for people. It often helps organically posted content when it doesn't look like a sales pitch or advertisement — modern audiences are pretty good at tuning these out. Try for a natural style, a personal perspective, and a friendly, welcoming tone.
It can also help if you hone in on a unique voice for your brand. Kiltman Kilts is a great example of a company that has developed an identity through its written voice; in this case, the on-brand persona of owner John Hawley. Their copy is clipped, snarky, and projects a no-nonsense, beer-in-hand machismo their audience loves.
Humor is also very human. Using humor to boost your social media profile works because it makes your brand more relatable, approachable, and fun.
Mix social media marketing content for best results
When it comes down to it, mixing your content is the best way to reach a broad audience. You'll want content that fits up and down the funnel, appeals to each of your marketing personas, and is optimized for a variety of social platforms. But don't mix and match at random; purposeful choices should reflect your brand and audience.
For example: B2B is more likely to get leverage from case studies, eBooks, and whitepapers, but B2C thrives on interactive content, videos, humor, and short-form content that's driven by an emotional CTA.
Even within your individual market there will be differences. If you're SaaS, how-to-webinars and demos will be in demand, whereas a hiking accessories company may get more mileage from user-generated images and inspirational testimonials.
Follow the data and keep an eye on what's trending on competitor social accounts. These channels are always changing. The best type of social media marketing content for your brand may turn out to be the next one.
Want to dive even deeper into all things social media marketing? Check out G2's SMM hub chock with 35 useful resources to help you keep learning!