Standing out is hard.
It doesn't matter what industry you're in, finding a way to separate yourself from the pack is becoming more and more difficult. If your market is saturated with competition, one of the best tactics you can use to find the spotlight is to use niche marketing.
What is niche marketing?
Niche marketing refers to the process of concentrating your marketing efforts on a small, targeted, and well-defined segment of the industry.
Rather than advertising to everyone within an industry, niche marketing focuses solely on one group of potential customers that are the most interested in a specific offering.
Niches can be identified by wants, needs, and requirements that are either being solved poorly or not at all by other companies. Brands that implement a niche marketing strategy aim to deliver a solution to the problem that a small number of people are having.
There are some key advantages that niche marketing can provide. In this article, we'll talk about how niche marketing can help your business and the steps you'll take to develop your strategy.
Niche marketing: how it stands out
Incorporating niche marketing into your strategy can help your business stand out in several areas. Where other companies may cater to the vast majority of their audience, you can target a specialized group of people that may have an obscure want or need.
A niche market can target groups of customers based on their:
Profession
Style
Demographic
Lifestyle
Geographic area
Activities
Culture
Age
The advantage of targeting one of these groups is the increased chance that they'll buy a product or service from you based on the scarcity of it in the industry. If you notice that there is a gap in the market for a certain product, your company can jump on it and be one of the few that offer it. When you do this, your company becomes the authority in that market and customers may not mind paying a little extra for your product because they are only able to get it from you.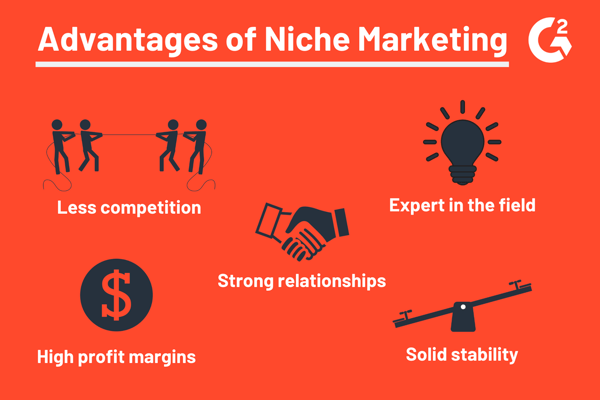 Because niche marketers patch the holes in the industry, many competitors don't find it worth their time to compete against them. It's another reason why using niche marketing within your business can help you build a strong relationship with your audience, leading to brand loyalty, while simultaneously catching sales the other businesses were going to miss out on.
How to find a niche market
To find an area in the industry (a niche market) that may need a solution in the form of a product or service, there a few steps you need to take.
1. Identify your company strengths
The very first thing you need to do is to assess what your company is good at. Gather your team together and brainstorm to come up with a list of core qualities and strengths that you already possess.
You'll also need to consider what group of people you are ready to cater to. Do you sell sports equipment? Think about all the problems an avid athlete may experience during the day and how your company can help.
What problems will you solve? Where can you exceed expectations with your customers and perform better than your competitors? What areas do you specialize in and how can you tap into them to serve a smaller group of people?
Ask yourself all of these questions before you decide on a product or service to offer.
2. Do your research
You can't start selling quite yet. First, do some industry research to evaluate if there are competitors in the space. If there are, take note of what those brands are doing and continue brainstorming ideas of holes in the market that are unattended to.
Software like the Alexa Audience Overlap Tool can help you find trends within your industry amongst your competitors.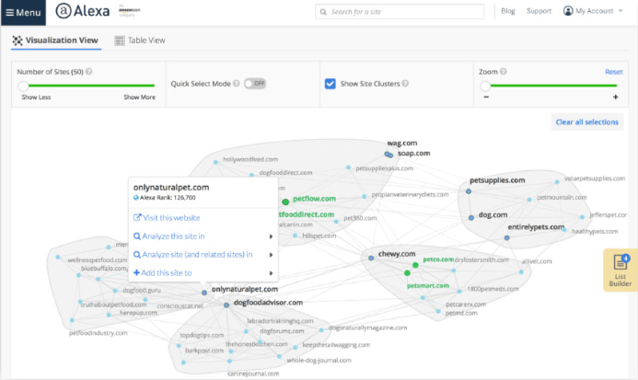 Source: Alexa.com
Simply enter your website and the tool will assist you in finding similar websites that may share overlapping audiences with yours.
You'll also have access to a visual map that highlights trends your audience might be interested in. From here, you can identify which areas your company can develop solutions for and be sure that there is an audience that will purchase the product or service.
3. Get to know your customer
Getting to know what your customer wants and needs is a great way to gain insight into how you can help them. By providing your customers with a place to leave reviews about your services, you can begin collecting buyer intent data and use that information to gain unique insights about who your next customers may be.
The more you know your customer, the more success you'll have marketing a niche product to that audience. 70% of customers say that the importance of a business understanding their needs and wants is vital.
4. Test and tweak
Just like any marketing strategy, you'll need to check up on your initial niche marketing tactics every once in a while to make sure they're giving you the results you want.
Maybe your first approach isn't working. Go back, take a look at your social media metrics and readjust your strategy. Just a small change can make a world of difference when it comes to optimizing your niche marketing approach. Some people may not be interested in chocolate covered popcorn but are more interested in receiving a coupon for a half-off bar of chocolate when they make a purchase at the popcorn shop. Reaching your ideal audience is about listening to their needs and making them a reality.
If you need a refresher on studying your company's analytics, enlist the help of social media analytics software. Browse a variety of tools on G2, read unbiased user reviews, and get a better grasp on your audience now:
Find your niche
Many companies don't bother utilizing niche marketing and that's the reason why you should consider it. Focusing on a smaller more dedicated group of people who need the same obscure problem solved can help your company become the sole authority of that market segment.
Start developing your strategy today and find your niche. The customers are out there and they'll thank you when you put a product or service on the market that addresses their needs.
Interested in learning more about your social media metrics? Click through to learn everything you need to know about Facebook Analytics and Instagram Analytics.