We've all heard that there's no such thing as bad press.
But if you can avoid bad press, I suggest you do. Earning good media coverage is hard work, but with the right knowledge, you can successfully get the right messages across. As media outlets continue to transform information delivery, knowing the ins and outs of gaining media coverage becomes more important.
What is media coverage?
Media coverage is content pitched by public relations professionals and produced by reporters and writers to discuss your brand or client.
Getting the word out with press releases, pitches, and press conferences seems intimidating, but you have to remember that journalists and reporters are people just like you. They have busy schedules, want to produce quality content, and only have time for extraordinary stories.
4 tips on getting quality media coverage
Journalists receive multiple pitches every day. Cutting through the clutter of messages in their mailboxes is tough, but implementing PR best practice tips will increase the amount of coverage for which you're aiming.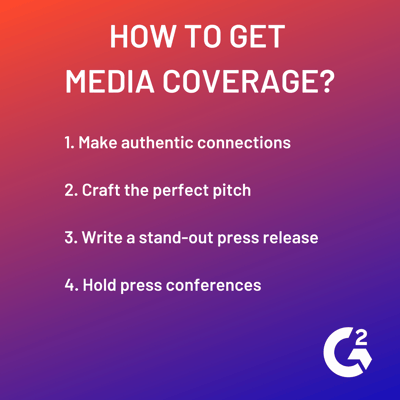 There are four types of press coverage, and the lines between them are becoming more blurred as journalists begin to implement omnichannel marketing plans. The four types of media coverage are television, radio, print, and online.
Especially in the startup world, it's assumed that the PR coverage will come with time, but most start soon learn otherwise. That's why startups need comms and marketing ASAP, so that they can develop and gain the media coverage they deserve.
Make authentic connections
Before you do anything, start connecting with journalists and thought leaders that align with your PR roles and responsibilities. For example, if you're representing a sports team, connect with reporters from ESPN, not Vogue. Follow relevant journalists and bloggers on Twitter, comment on their LinkedIn posts, and start learning about what makes them tick.
If you're really looking to go above and beyond— talk to them in person. I know this may sound crazy, but if you're in the same area, meet them for coffee and form an authentic professional relationship. Human interaction is still the most effective way to make connections. Imagine that.
Doing all of these things will help you avoid the cold outreach that's often times ignored. Because you've formed a true working relationship, you can pitch your content more comfortably. Reporters want help, and when you know them, you can make sure your pitches are catered to their needs.
Craft the perfect pitch
Most pitches are sent through a clear, concise and personalized email to a journalist, which will hopefully result in a PR professional gaining earned media for the desired topic.
The goals of a media pitch are to gain website traffic, be mentioned in the press, boost revenue, and get backlinks to content.
Learning how to write a pitch isn't easy, but once you nail down your own process you'll see that perfecting your pitching methods is crucial to getting replies, and eventually, media coverage.
A pitch should consist of an attention-grabbing subject line, followed by three paragraphs. The first paragraph needs to be personalized and concise, the second paragraph should include some original research, and the last paragraph should summarize your main points and conclude with a call-to-action.
Write a stand-out press release
Press releases are the age-old PR material that everyone loves to hate. Still extremely effective, press releases can secure media coverage when they're eye-catching and tailored to the reporter.
Your press release should make the journalist's job easier, not harder. Perfecting the ins and outs on how to make journalists want to cover your press release takes time, but when done right they make for highly successful PR campaigns.
If you haven't formed personal relationships with the media, you can use press release distribution software to mass-send your press release. That way, it can reach a large number of media outlets in the hopes that a percentage of them will cover your press release.

Hold press conferences
If, and only if, your event is breaking news, timely, and/or relevant should you hold a press conference. When overused, press conferences lose coverage and reporters lose trust in your PR abilities.
The easiest way to breakdown preparing for press conferences is dividing your plan into three stages: before, during, and after a press conference. That way you can focus your attention on one moving part at a time, instead of trying to juggle many things at once.
Most of the work is finished before the press conference even begins, with the most important part of preparation being media outreach.
Make an intriguing press conference topic the media feel they must attend your event. In short, give the press FOMO (fear of missing out) to get that media coverage.
Lastly, if the topic isn't interesting and exciting, then you probably shouldn't be holding a press conference in the first place.
Types of media coverage
There are four types of press coverage, and the lines between them are becoming more blurred as journalists begin to implement omnichannel marketing plans. The four types of media coverage are television, radio, print, and online.
Be real
You have to be real in the PR world. Real about expectations, real with your writing, and real when doing outreach. Journalists and clients can sniff out a lack of authenticity. Since building and maintaining relationships are the bread and butter of PR, it's your job to be as authentic as possible to get the media coverage you deserve.
Looking to get a deep dive into other PR materials? Check out how to make an EPK, media kit, and write a killer boilerplate.