So you want to become an event planner?
The event industry is fast-paced and high reward, and the appeal to be a part of it is obvious, but only for those who fit the bill.
It takes a very specific personality type to thrive as an event planner, but if you know you've got what it takes to handle it, and you possess the most basic event planning skills, then a career in the event industry is right up your alley.
How to become an event planner in 4 steps
Steps to become an event planner
Earn your degree
Gain valuable experience
Create your own event portfolio
Get certified
If you've ever talked with a handful of event professionals about how they got their start in the industry, then you'll know that there are many different directions you can take that will land you a career in the event space.
It can seem a little overwhelming at first, but this article will make the process as simple as it can be for you. Follow these four simple steps and you will be well on your way to becoming an event planner!
1. Earn your degree
A degree is not completely mandatory, but it is strongly encouraged and ensures you have a solid foundation to stand on when seeking jobs and inevitably competing with your peers to secure a new experience. There are many degrees you can choose from, and they will all get you on the right path towards the event industry.
Studying hospitality management, public relations, marketing, communications, or business are all valuable degrees and will prepare you for your future events job. You should also think about either minoring or taking additional courses in subjects such as accounting, finance, specialized event courses, and design classes. These are also very important skills you will need as an event planner.
2. Gain valuable experience
There are two important phases in this step.
Phase one: Internships, hands-on programs, and shadowing are invaluable to an aspiring event planner. This phase should be done while you are earning your degree, because the more experience you have upon graduation, the better. Not only do these things look great on your resume, but you will also get a taste at what a career in the event industry is really like. You will be exposed to things that you were never taught in the classroom, and it will be a great time for you to figure out what you like and what you don't like. This will better prepare you for when you're looking for a full-time job. The internships you have during your college years could even turn into a full-time job upon graduation if you're lucky!
Phase two: On to phase two; the real deal. Once you have earned your degree, your next natural step is to find a full-time job! Hopefully, your internships have prepared you, and you feel (somewhat) confident in the type of event job you're really excited about! During this phase, experiencing everything you can is crucial. Your first year post-grad and in the workforce is a crazy time for everyone. Take advantage of the chaos and get your hand in everything! This means learning about all the projects your new boss is in charge of, collaborating with other teams, and taking on small tasks from others on your team. Be a sponge during this time. It's the last time it will be "okay" to take the time you need to not know very much and learn from it.
TIP: Event planning is a stressful job, and it's easy to feel a bit overwhelmed when you're still so new in the industry. Take a look at the best event management platforms to help relieve just a little bit of your stress!
3. Create your own event portfolio
Now that you have valuable experience under your belt, it's time to create your event portfolio. This is something that you should have in its most basic form during the job hunt process as well, but it makes the most sense to put a lot of your time and effort into it in this step, now that you have legitimate experience to showcase.
Your portfolio is essentially your resume, but you'll want to include many elements that a resume typically doesn't house. Important pieces to include are photos of your past events, testimonials from clients and guests, and any materials that you designed, like an invitation, schedules, and brochures. It is also a great idea to highlight anything that you were able to overcome, like budget issues, time constraints, outlandish requests, and more! Make sure your portfolio includes all of your proudest accomplishments, and don't forget to continue to build it up as you gain even more experience!
4. Get certified
The last important step you should complete is obtaining as many certifications that are necessary to your specific field. Just like your degree, certifications aren't always mandatory, but they will help you immensely, especially with how competitive the market is.
Here are a few certifications that can help you:
Certified Meeting Professional (CMP)
Relevant to meeting, exhibition, and convention planners
Certified Government Meeting Professional (CGMP)
Relevant to local, state, or federal meeting planners
Certified Special Events Professional (CSEP)
Relevant to those who are looking to learn and develop professionally within the industry to increase performance.
Certified Professional in Catering and Events (CPCE)
Relevant to hospitality, catering, and event planners.
Certified Quality Event Planner (CQEP)
Relevant for entry-level event professionals looking to learn event fundamentals.
There are many more certifications than the general ones listed here. Talk to experts in your field to understand which certification is best for you.
Average event planner salary
The event industry is tricky to pinpoint average salaries. Typically, the caliber of your portfolio and years of experience reign supreme when determining your monetary value.
Another point to note is that event planners work in a variety of different ways. You can be an independent, or freelance event planner, work for an event agency, have an in-house role planning events strictly for your company, or you can even have a general marketing title with a focus on event planning.
According to Glassdoor, the average salary for an event planner in the United States is $50,688 with a range of additional potential earnings of $636 - $13,106. This range should not be relied on, but it is important to note that an event planning career is within the greater hospitality industry. This means that tips, commission, and performance bonuses are likely.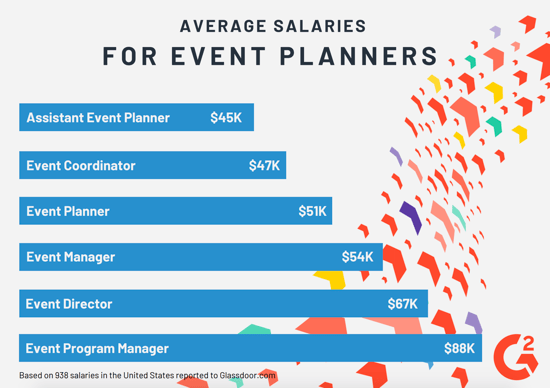 The possibilities seem endless, and the variation of titles creates a huge range of salary outcomes. Remember, these salaries are just averages. With a lot of hard work, dedication, and creative talent, there is truly no telling what your potential earned salary can be as an event planner!
Career advice from current event planners
Becoming an event planner is easier said than done. Sure, you know the proper steps to become one, but being successful takes a lot of time and practice.
To give you a leg up, I asked current event planners to share their best career advice they would give to those aspiring to break into the industry for the first time.
Here's what they said:
Get out of your comfort zone and network
"Early on in your event planning career, you will be forced to do a lot of things that fall outside your comfort zone. Working in this industry will help you learn a lot about yourself, and you may need to develop new personality traits to achieve success.
If your personality leans more introverted and reserved, get ready to challenge yourself and make friends in every corner of the industry. It's easy to lose focus on your goals if networking doesn't seem natural, but I can tell you from experience that it is the most fun and rewarding part of this industry.
Building great relationships with other event professionals will be crucial to the immediate success of your career. I know that I wouldn't have been able to develop an impressive client roster without reaching out to every single person in my existing network."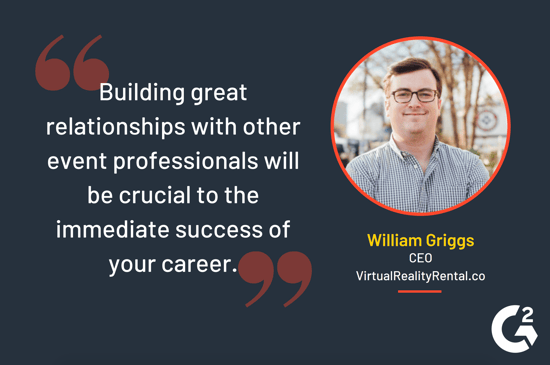 - Wiliam Griggs, CEO, VirtualRealityRental.co
Find a positive mentor
"I didn't find my first mentor until eight years in, and I wish I'd done it sooner. When you're starting out in event planning, especially as a small business owner, there are so many moving parts (branding, marketing, communication, budgeting, and much more). It helps to have guidance from someone with the experience you're looking to gain. The right mentor can advance your growth far quicker than trying to figure everything out on your own!"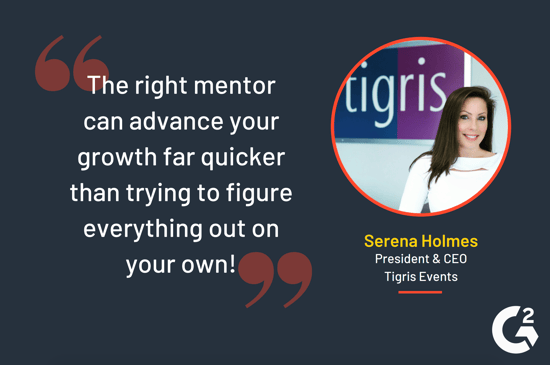 - Serena Holmes, President & CEO, Tigris Events
Ready to plan some events?
A career in the event industry is challenging, yet so rewarding. Did you know that almost 90% of event planners love their career? It's true! Making someone's dream become a reality is something that truly never gets old. So, what are you waiting for? Use these steps to get you started as an event planner and take the career advice seriously. It's what will catapult your career in the right direction.
Do you want to learn even more fascinating event industry statistics like the one above? Read 107 more here!