Some jobs are so coveted, so powerful, that people take to the internet to learn how to find them.
That's right folks, we're talking about becoming an editor.
You want to underline a letter three times to indicate it should be capitalized? You want to use symbols to indicate there should be a new paragraph? You think you can handle the responsibility of asking a writer to expand on a certain topic? Then editing is the job for you, and I'm going to tell you how to get there.
Ways to find an editing job
Visit an online job board
Reach out to your network, i.e. on Facebook or LinkedIn
Develop more contacts by attending networking events
Email interesting publications and pitch your portfolio
If you're a recent graduate, see what resources your university has for job pairing
This guide will cover the skills, education, and experience you'll need to begin a career in editing. Let's jump in!
How to become an editor
As publications have learned time and time again, you can't skimp on an editor. Having an individual, or a team, specifically on staff to look over all written copy and make sure things are grammatically and stylistically correct is a huge need. Those who fail to hire editors risk publishing misspelled or downright incorrect information.
With that in mind, editor is certainly a role with a lot of job stability. Whether it's a news publication, public relations job, or even a tech company with a blog, editors need to be on the payroll.
If you're looking to transfer into this career, read on to learn about the natural and learned characteristics you should have, as well as different ways to find editing roles.
Skills needed to become an editor
Editing is one of those jobs that requires both learned characteristics, i.e. those which you would get with a language arts degree, and natural qualities, i.e. those which are part of your personality.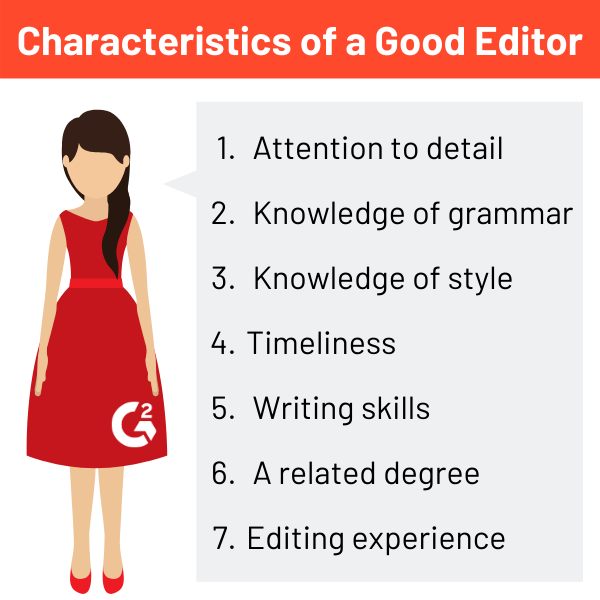 There is a certain type of person who makes a good editor. This isn't to say anyone can't work hard to become good at this role, but there are certain types of personalities that will find the requirements of editing come more naturally to them.
Let's talk more about what that looks like.
1. Attention to detail
The first and most obvious characteristic of a good editor is their attention to detail. A lot of editors will self-identify as perfectionists, or type-a personalities. They're the kinds of people who see a typo on a billboard and consider calling the company just to point it out.
A successful editor knows not to skim over work; even in the least intriguing of content. Every sentence and line must be given the same amount of undivided attention.
2. Knowledge of grammar
Editors have to have an in-depth understanding of grammar. This includes subject-verb agreements, passive voice vs active voice, and punctuation use. People often use the phrase "fake it until you make it" to describe the job hunt, but editors cannot fake an understanding of the language in which they are editing.
3. Knowledge of style
In addition to grammar, editors also have to understand style. Style is a completely different set of rules entirely, which governs standard practices in certain publications. Examples of style are how you write out the date in the body of an article, and whether you use the Oxford comma.
Different publications use different style guides, so you'll probably never have this nailed down 100 percent. But a successful editor has a good understanding of AP style, and knows to consult the guidebook when stuck on something.
4. Timeliness
As an editor, you're one step in a writer's long road to publishing. You are a very important step, but if you take a long time to get articles back to your writers, you become a hindrance. As an editor, it's very important you can work quickly and with fast-approaching deadlines.
5. Writing skills
A successful editor is also a skilled writer. In fact, this is where many editors start out: as writers who frequently lend their talents out to friends and colleagues.
Having a background or at least some basic knowledge of storytelling and writing will give you an edge over the competition. Tutoring is another skill that translates well into the world of editing.
Do you need a degree to be an editor?
In most cases, yes.
Companies that are looking to hire an editor want to see you've had some training in the subject, such as an English or journalism degree. Both of these majors will have featured a lot of peer reviewing, as well as rigorous grammar studies.
Work experience needed to be an editor
As in any creative field, creating and maintaining a portfolio of past work is of the utmost importance. As an editor, you should have two things in your portfolio: links to pieces you have written, and links to pieces you have edited.
There's no way to really show an employer how your editing affected an overall piece; once edits are accepted, they disappear. But displaying the type of work you've edited is nonetheless valuable. Displaying your writing shows off your voice as a writer, and proves you can publish a successful piece.
How to find a job as an editor
Once you have the skills, the degree, and the portfolio, you have to find the job. As I said, there are plenty of editor jobs out there, and it's up to you to decide what looks good. The first step in finding an editor job is determining your personal requirements.
Here's a quick snapshot on where to look for editing jobs:
Visit an online job board
Reach out to your network, i.e. on Facebook or LinkedIn
Develop more contacts by attending networking events
Email interesting publications and pitch your portfolio
If you're a recent graduate, see what resources your university has for job pairing
There are other questions to ask as well. Do you want to edit for a specific industry, i.e. book editing? Do you want to be a remote editor, or a freelance proofreader? Deciding these things first will help you narrow down your job search.
After that, there's really no magic to finding an editor job except for knowing where to look. Use job boards to find roles in your area, freelance roles, jobs with a certain salary range, etc.
If the job market is tough, as it so often is, utilize your network to find jobs. Try joining a writer's group in your area, or finding literary conferences where you can go and meet editors and people with similar careers in person. It's typically much easier to find a job when you know people, so schmoozing it up at a networking event could work in your favor!
Start your job search off on the right foot! Browse the best job boards today.
Edit away
If you've read through this whole article and it feels like editing is the right career choice for you, get movin' and groovin' on the job search. Make sure your resume is pristine (as an editor, employers will judge yours doubly harsh), and ensure you write cover letters if recommended. And lastly, best of luck!
Nervous about your application materials? Refresh your memory with our piece on how to write a cover letter.