Looking to get into the field of hospitality?
You've come to the right place. Hospitality is an easy industry to get into, even without a college degree. You can dip your toes in and get some experience with a part-time gig, or go as far as getting a degree in hospitality management. It's up to you! If you're considering entering the hospitality industry but not sure about where to start, check out this guide to hospitality jobs.
What are hospitality careers?
Hospitality careers are any careers that fall under the scope of hospitality. That means everyone from hotel managers to head chefs. We'll break down these opportunities, and the jobs you can take to help you make a career in hospitality, in this article.
If you don't have a hospitality management degree and but want to get some experience and see if it's something you'd like to make a career out of, try applying to some of these entry-level hospitality jobs.
Entry-level hospitality jobs
Prep cook
Restaurant host
Housekeeper
Busser
Barback
Lifeguard
Catering assistant
These positions could help you build some soft skills that are easily transferable to other hospitality jobs. Building up your customer service experience is key because it comes into play in almost every aspect of the hospitality industry.
Some entry-level roles could lead to bigger roles in the hospitality industry, but hospitality professionals who want to advance their careers often go to culinary school or get a degree in hospitality management.
Hospitality encompasses many different roles that play to many different skill sets; there's something for everybody when it comes to hospitality jobs.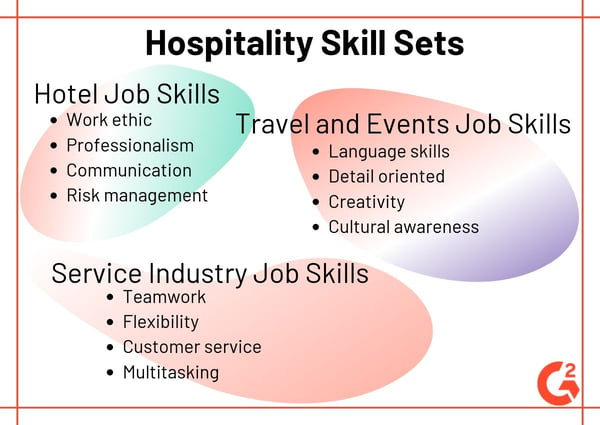 Take a gander at these hotel, restaurant, travel, and events jobs of all levels⁠—you might find one that caters to your skill set (no pun intended).
Hotel jobs
Hotels are a massive industry—the global hotel industry was worth over 570 billion dollars in 2017—so as you might imagine, they need a lot of employees. As hotels often hire restaurant workers, managers, and folks in travel-related roles, hotel industry jobs can be thought of synonymously with hospitality industry jobs.
Hotels employ people to work at in-house restaurants, as concierges, and in support positions, making them a microcosmic hub of the greater hospitality industry. Here are some of the most common hotel jobs.
Facilities manager
Office assistant
Lodging manager
Marketing manager
Sales manager
Spa manager
Housekeeper
Maintenance supervisor
Maintenance worker
Bellhop
Valet
Service industry jobs
Restaurants (and other food-service providers) are great places to dip your toes into the hospitality industry. Sometimes all you need to get an entry-level bussing, hosting, dishwashing, or prep cook role is an open schedule and a good attitude. From there, you can gain experience in the industry and move on to chef, server, or bartender, or manager roles.
Restaurant, bar, and cafe jobs are commonly referred to as service industry jobs. Front of house service industry jobs are customer-facing roles, whereas back of house jobs are behind-the-scenes roles.
Back of house jobs
Prep cook
Line cook
Catering manager
Chef
Food and beverage director
Pastry chef
Restaurant manager
Sous chef
Executive chef
Front of house jobs
Barback
Barista
Bartender
Busser
Food runner
Server
Back waiter
Host
Maître d'
Server
Sommelier
Coffee trainer
Travel and events jobs
While travel agents still exist, the traditional role of a travel agent is a thing of the past. These days, the travel industry has been modernized to keep up with the digital world we live in today. Travel jobs involve lots of logistics, as do events jobs. If you like to run the show, these jobs might be right for you.
Events manager
Convention planner
Wedding coordinator
Catering assistant
Travel agent
Flight attendant
Just be hospitable
The great thing about the hospitality industry is that there are few barriers to entry. You could easily start out barbacking part time, then find your passion for wine and become a career sommelier. Or your prep cook job could lead to a pastry chef position. It is what you make it, so jump in and see if the hospitality industry is a place for you.
Curious about where the hospitality industry is going? Check out these hospitality trends.