You're about to finish editing an amazing video for your marketing team, but you notice there's one element missing.
Best free stock video sites for 2020
Pixabay
Pexels
Videvo
Coverr
Mixkit
Videezy
MotionElements
CuteStockFootage
XStockVideo
OrangeHD
Vidsplay
Life of Vids
SplitShire
A timelapse of the sunrise over Hong Kong would be the cherry on top of the project you've invested hours of love and attention to. However, your team's budget is too small to fly you out to get the footage you want or get the stock footage you found online!
So, what do you do?
Free stock video options are out there. The high quality and accessibility of these clips make them a great alternative to expensive footage options.
If you're seeking free stock video clips to elevate your marketing projects to the next level, look no further. These 12 websites are the top options for free stock video clips in 2020.
As someone who's familiar with how to edit video, I know what it's like to realize you're missing an essential clip in your video project. I also know exactly how expensive stock footage is when purchased through subscriptions and licenses.
Not sure what I mean by licenses? Skip to the end of this article for a guide to what you need to know about using free stock footage. Even free clips can come with rules and regulations you have to abide by. And, these rules are important to follow, especially when uploading a video to YouTube or creating a YouTube channel.
It's hard to know where to turn for beautiful, reliable footage. I created this list of websites so you can find the clips you need to elevate your video projects on a budget.
This list was based on how easy the resource was to use, the quality of clips, and how many clips are available.
Free Stock Video Footage Sites
Here 12 free stock video footage sites for your video creation needs.
Pixabay
Pixabay has over 1.5 million free stock photos and videos submitted by its community of users. Its search function makes finding what you're looking for simple and effective. The entire process can take less than a minute. It earns a spot on this list for its previews and access to 4K footage (also called Ultra High Definition), video that is 3,840 pixels by 2,160 pixels in resolution.
Features:
Search function
Clip previews on hover
HD footage
4K footage
Pexels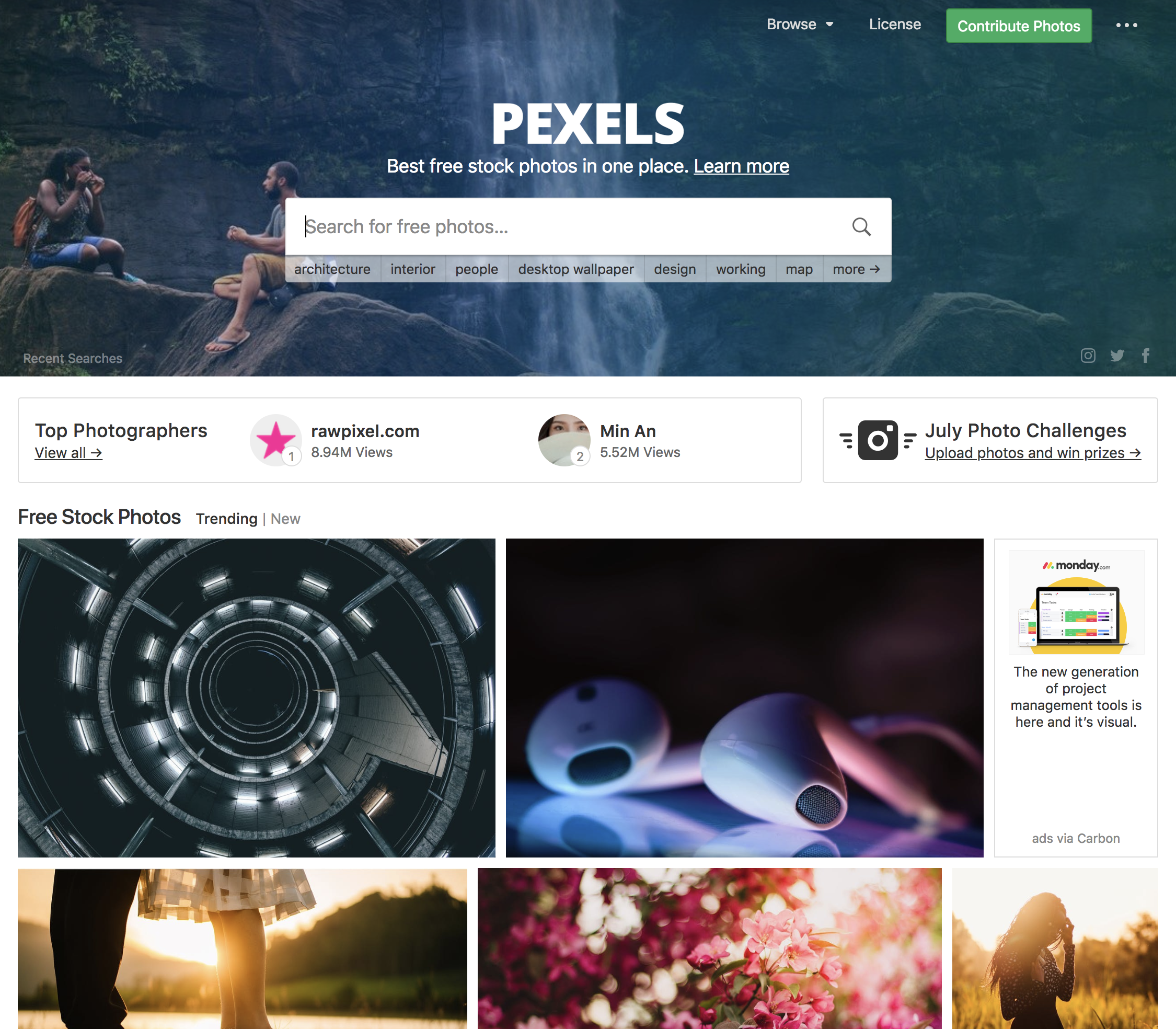 Next up is Pexels. There is a wide variety of high-definition clips, sometimes sourced from other websites on this list. The ability to quickly preview clips while browsing allows you to know exactly what you're getting before you commit to downloading it.
Features:
Search function
Clip previews on hover
HD footage
Videvo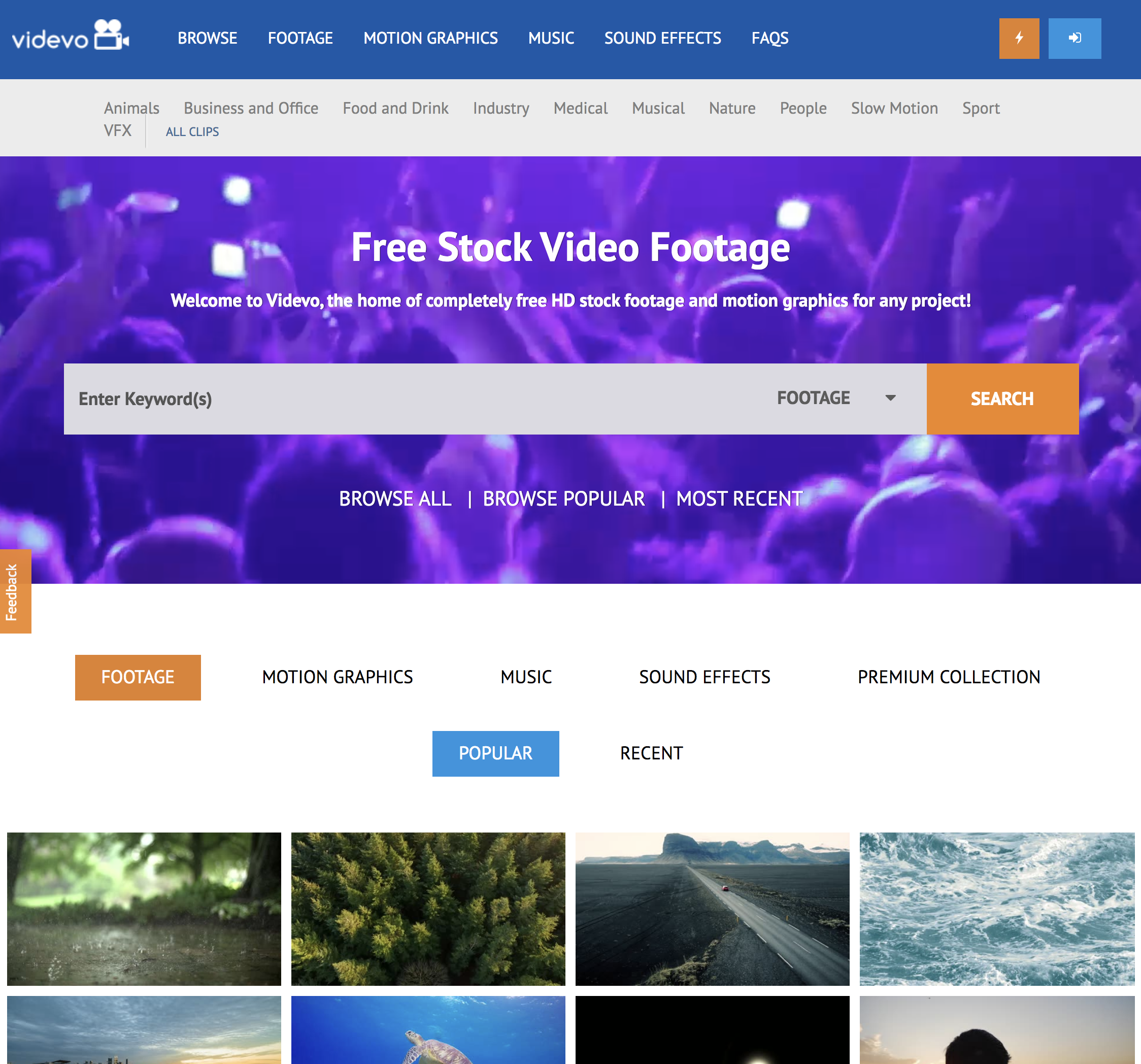 In addition to stock footage, Videvo contains motion graphics, music, and sound effects to use in your projects. It has over 120,000 files that provide great quality! Its search function is the most useful on this list and contains filters and categories to help you find the perfect clip.
Features:
Robust search function
Clip preview on hover
HD footage
4K footage
Coverr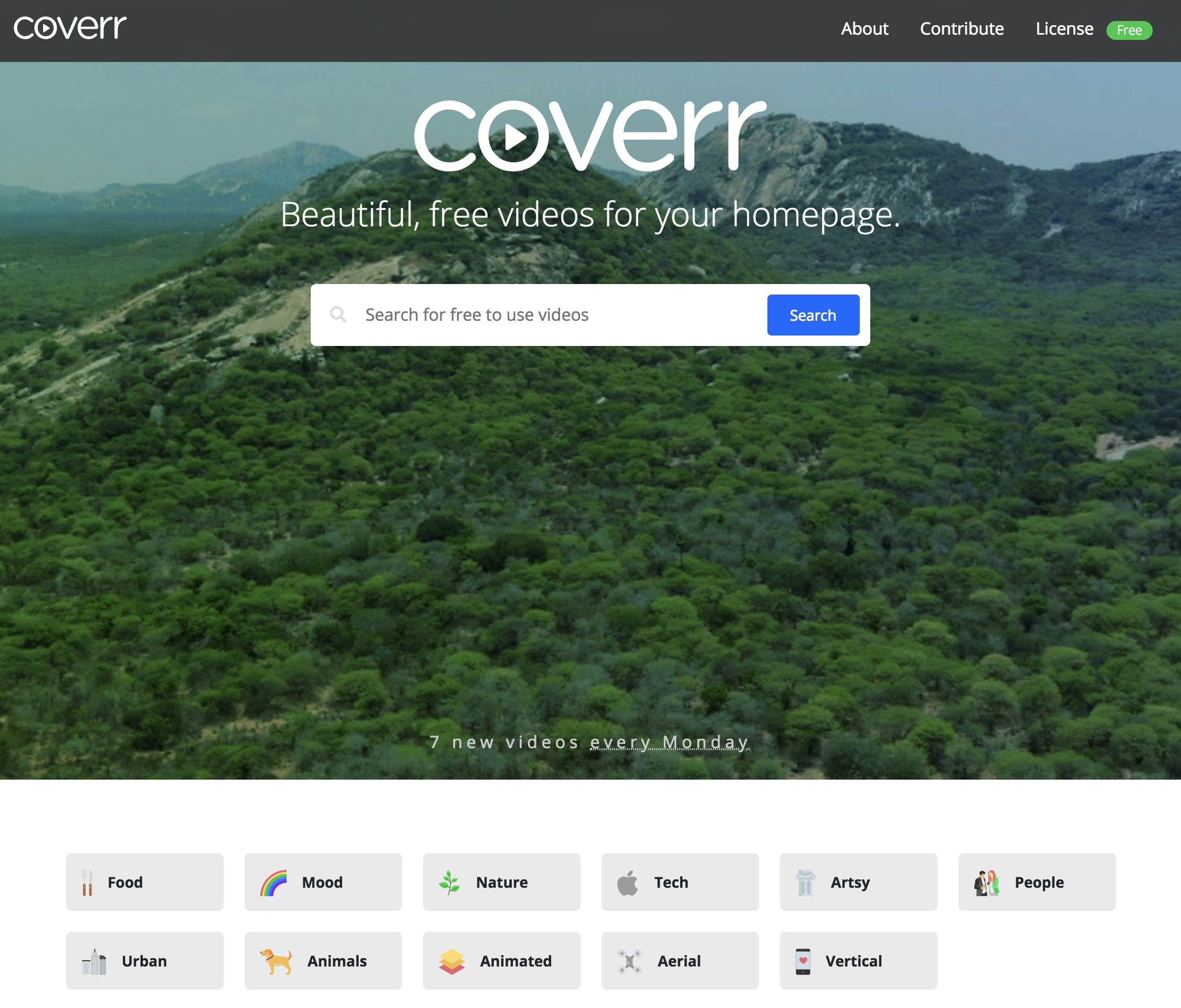 While the main focus of Coverr is for clips being used for a website homepage or Facebook cover photo, it offers much more than that. Search its library of clips or wait for the new ones uploaded every Monday.
Features:
Search function
Clip previews on click
Looping clips
HD footage
Mixkit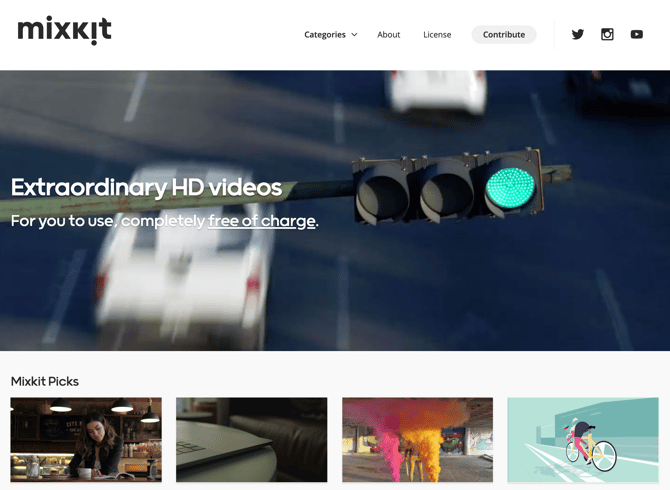 Mixkit has a really clean and efficient interface. From its homepage, you can preview and download free stock clips from many different categories. All the clips are completely free and high quality, and you can even sign up for a newsletter to be notified of the 10 new clips uploaded weekly.
Features:
HD footage
Clip previews on hover
Simple download
Updated regularly
Videezy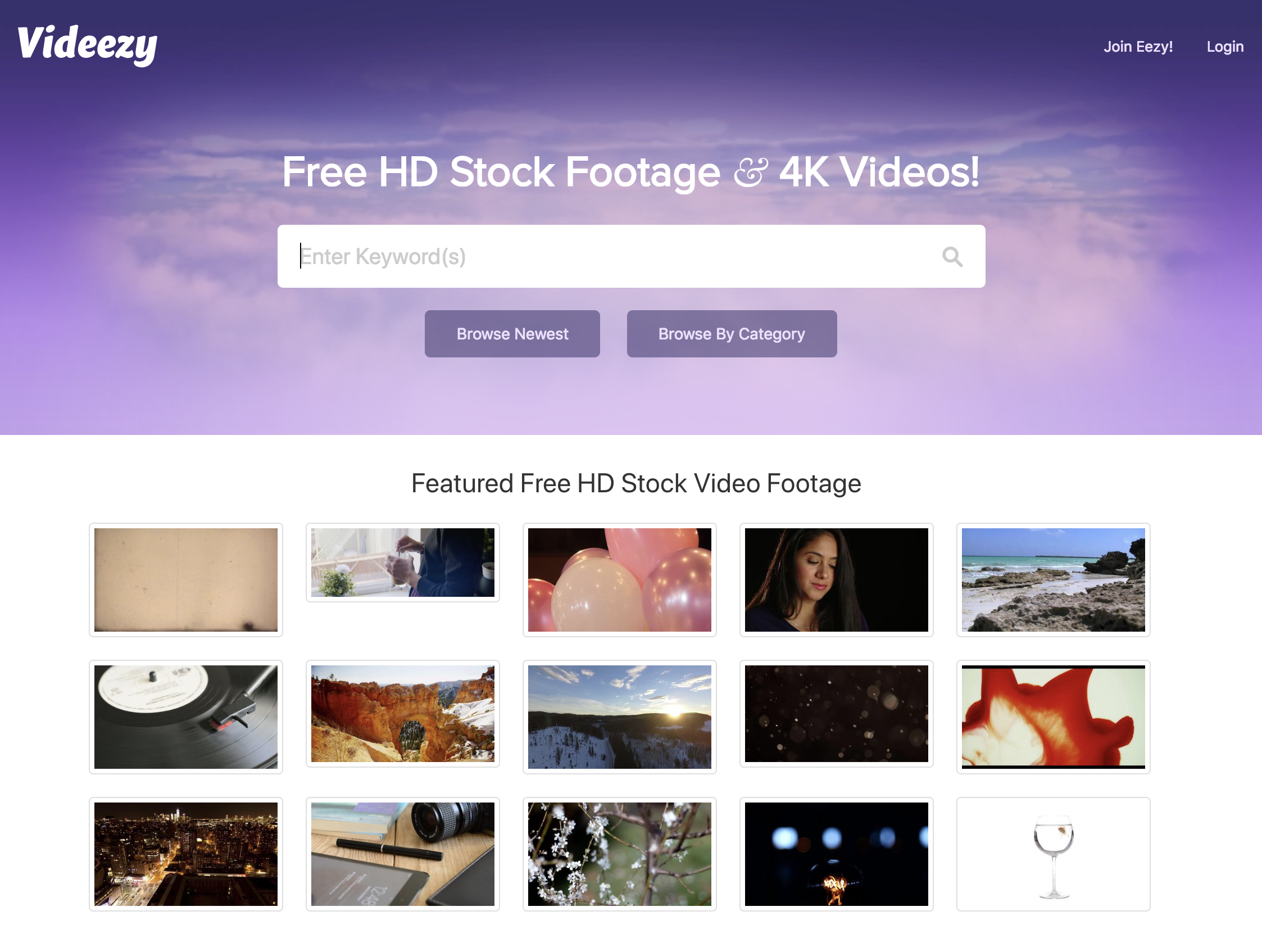 Videezy is another great option for a diverse selection of clips. It has an effective search feature and contains great 4K videos to implement into your project.
Features:
Search function
Clip previews on click
HD footage
4K footage
MotionElements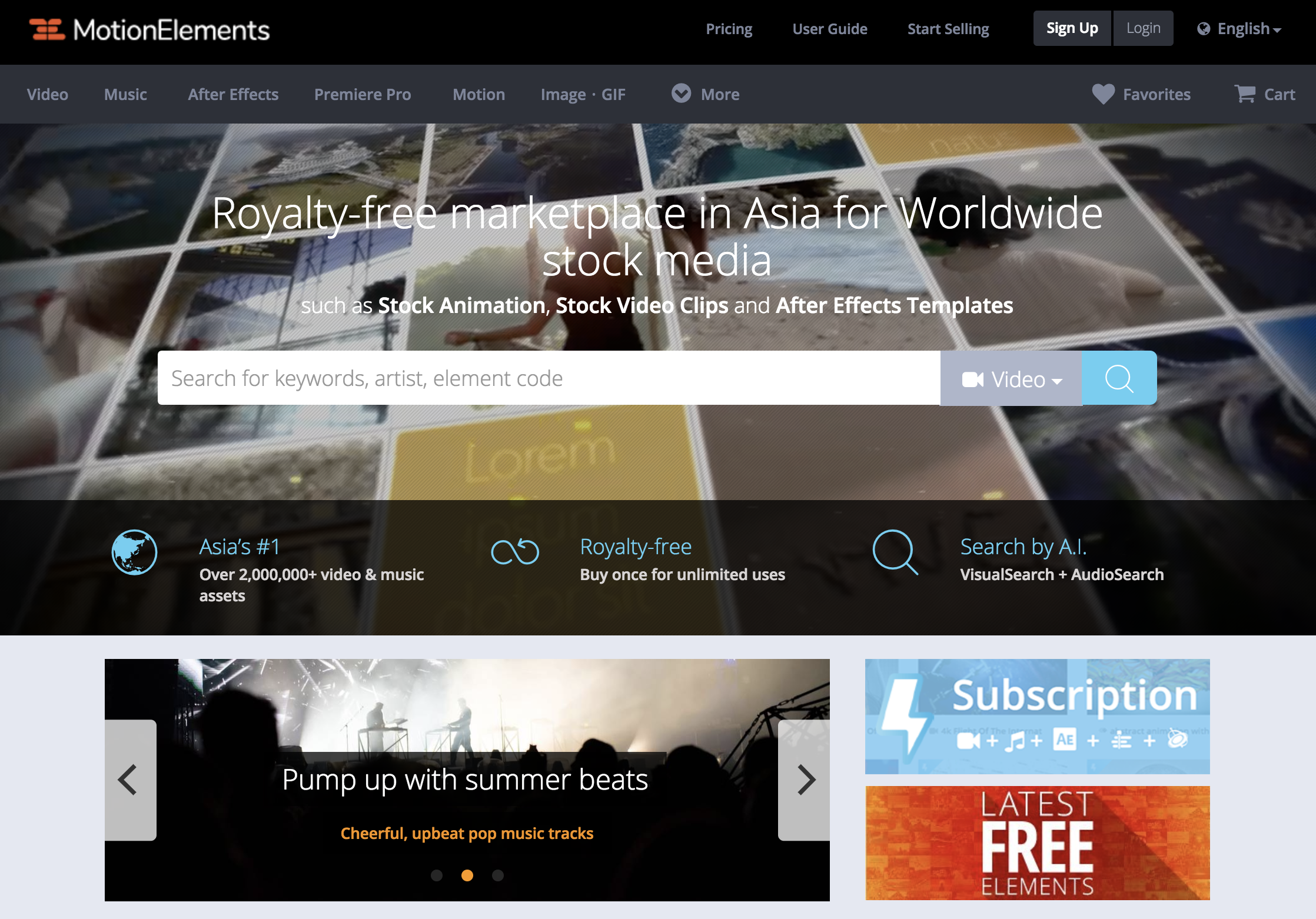 Choose from stock video footage, background music, and templates for Adobe After Effects and Apple Motion on MotionElements. The site contains clips for purchase on demand, but use the filter in its search feature to find a large number of free clips for your project.
Features:
Robust search function
Clip previews on hover
HD footage
4K footage for purchase
CuteStockFootage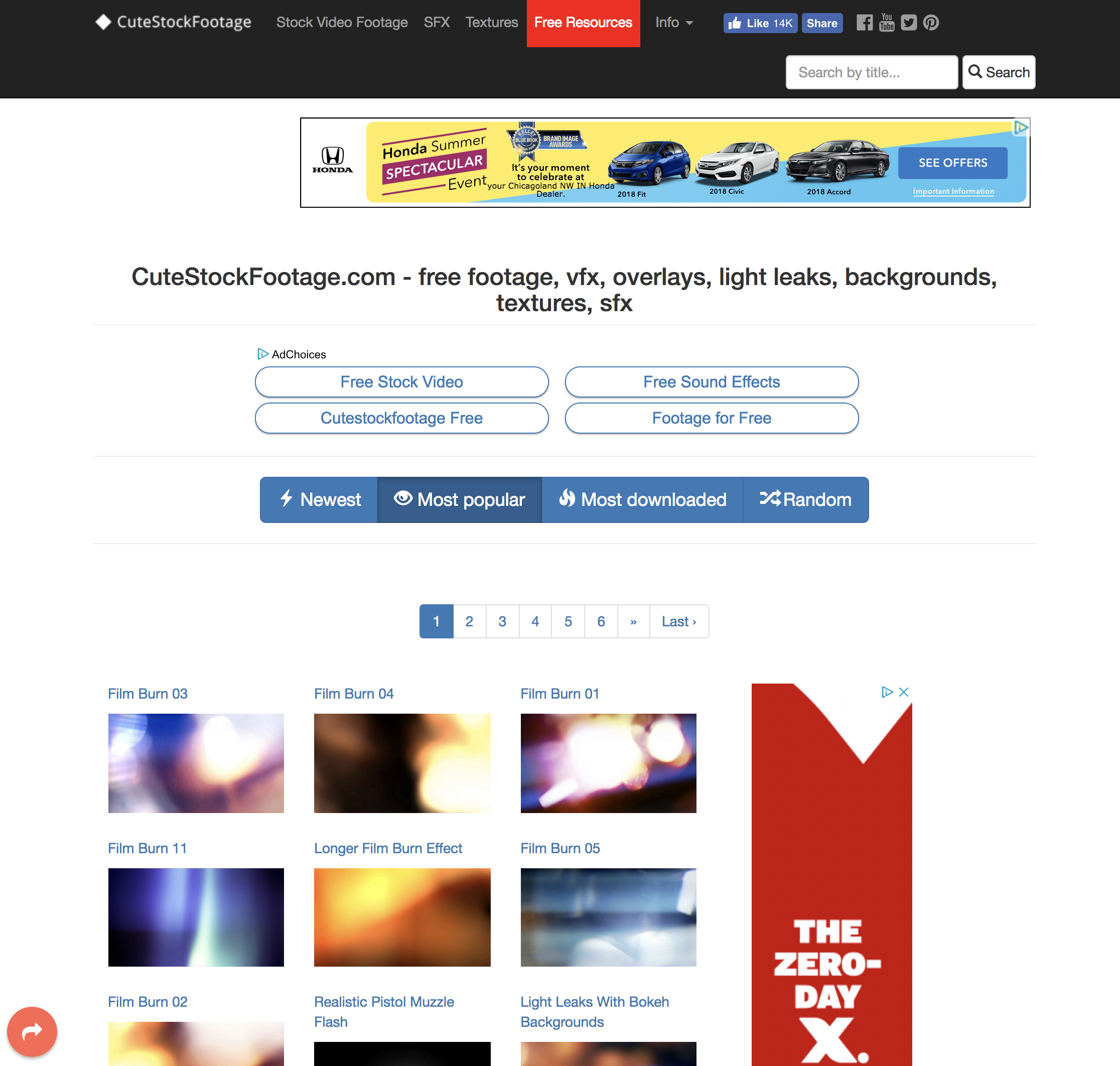 CuteStockFootage has a wide range of stock video clips to find what you need, as well as graphic and motion video effects. The website also contains an index to other websites to find free fonts, icons, audio effects, textures, and more!
Features:
Search function
Clip previews on click
HD footage
4K footage
XStockVideo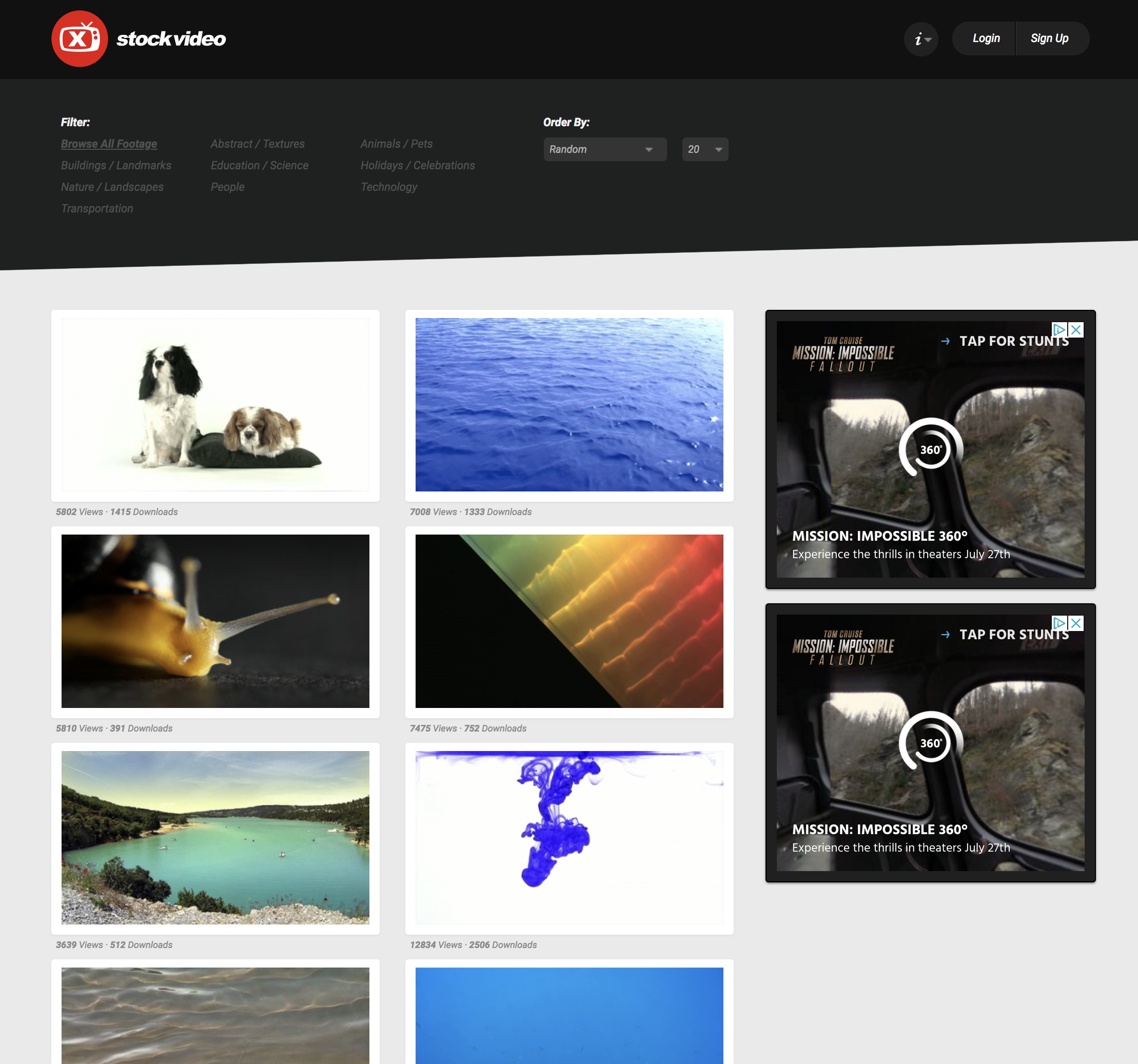 XStockVideo is a great website for versatile clips that can be used for a variety of needs. Over 90,000 members have access to its library of footage across nine categories. You can choose between two free licenses and a range of file sizes to match your project.
Features:
No search function
Clip previews by download
HD footage
OrangeHD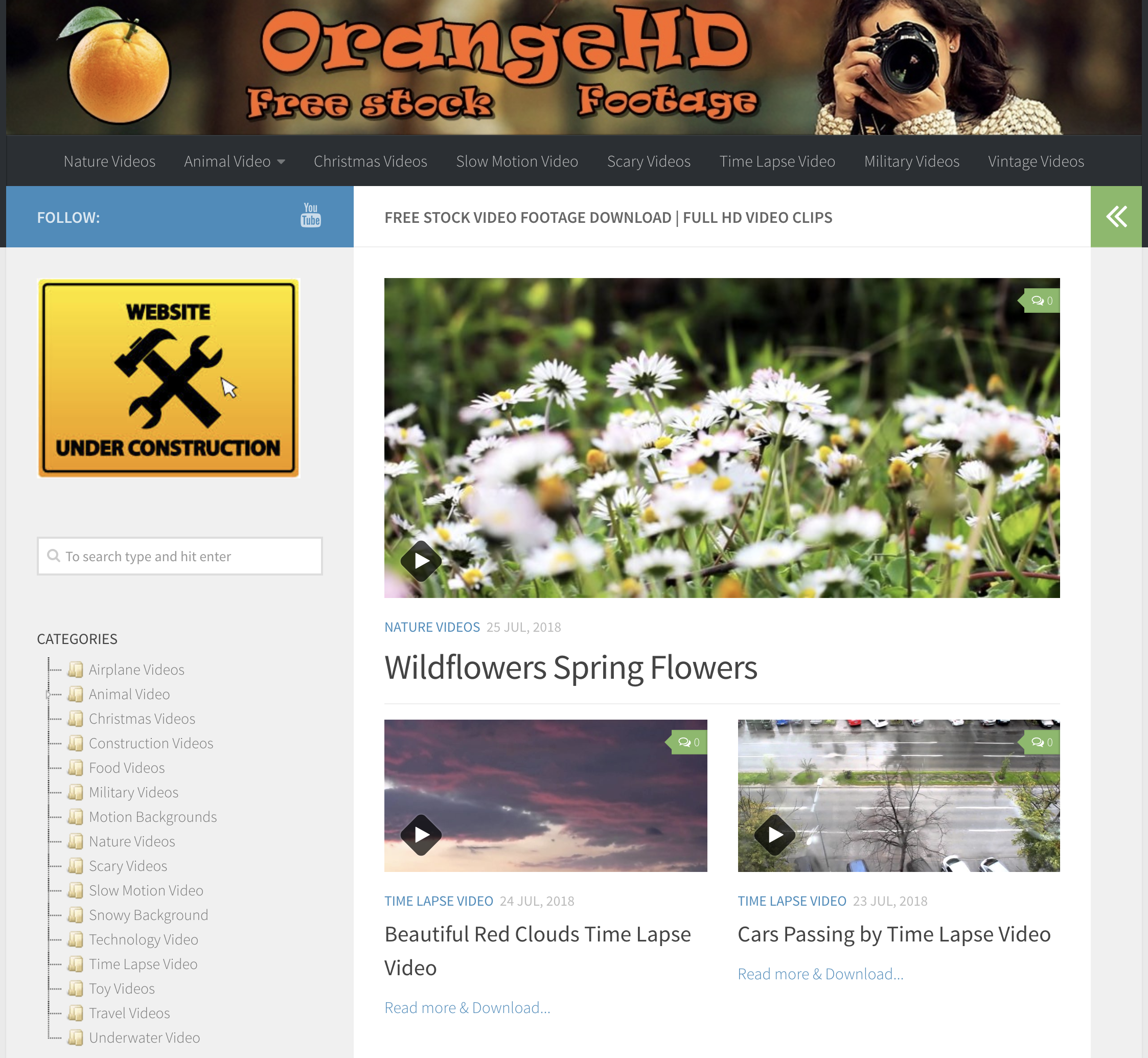 OrangeHD has plenty of stock footage clips for you to choose from. Multiple categories (slow motion, food, animal, etc.) make it easy to find exactly what you need for your project. It also has a YouTube channel you can subscribe to and be notified when new clips are available.
Features:
Search function
Clip previews on click
HD footage
Vidsplay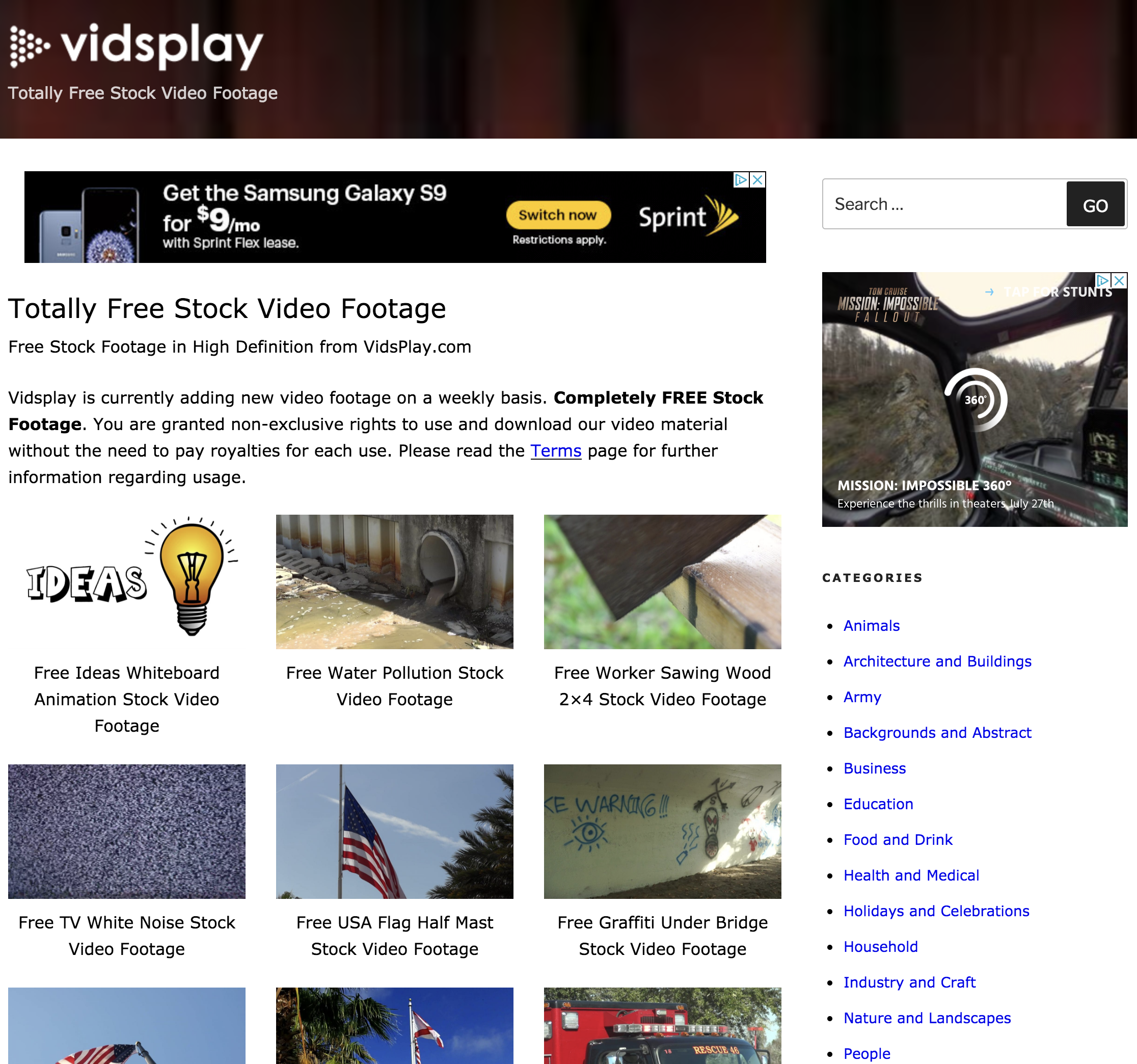 With 21 categories to choose from, Vidsplay offers a huge number of completely free stock footage options. The website is updated on a weekly basis with footage that is sure to make your video project stand out.
Features:
Search function
Clip previews on click
HD footage
Life of Vids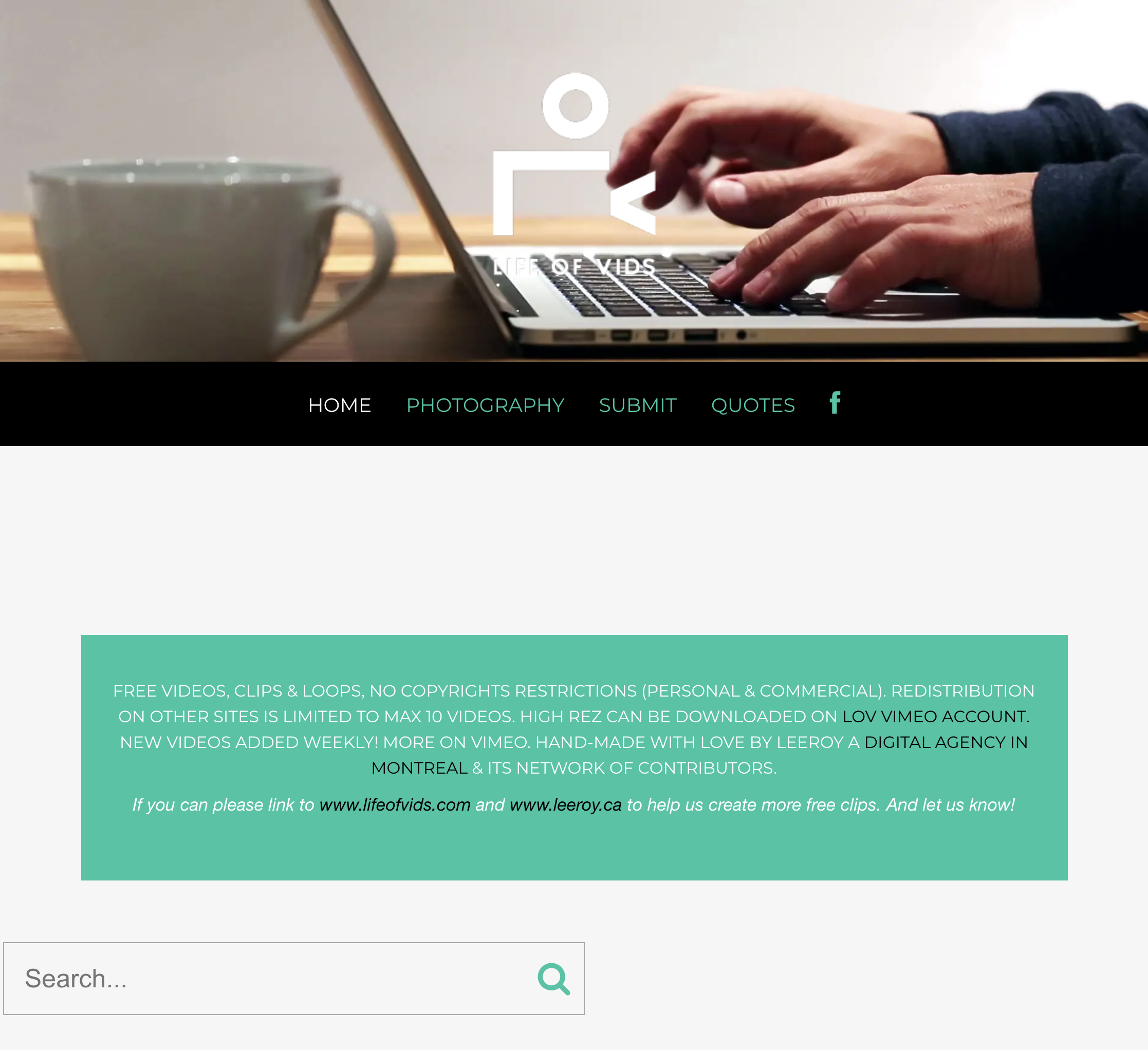 Life of Vids is the product of Montreal digital agency, Leeroy, and its network of contributors. This ample library of free video clips and loops sees new content added weekly.
Features:
Search function
Clip preview on click
HD footage
SplitShire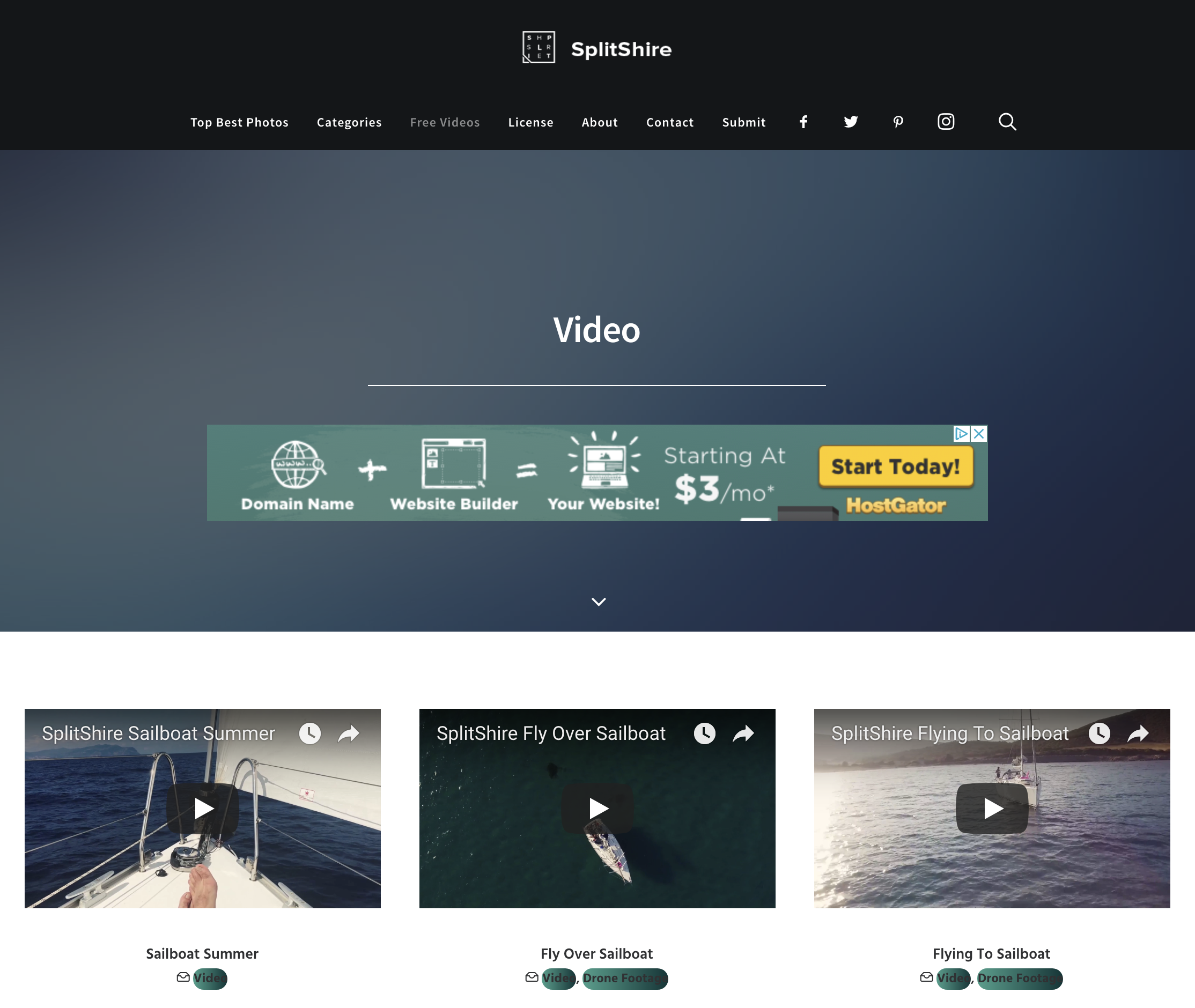 SplitShire has a small and beautiful collection of free photos and videos to use in your projects. All of the content is from a single artist who wanted to share his work with the world. The website has had over 2 million downloads since its launch.
Features:
No search function
Clip preview on click
HD footage
Free stock footage licensing
Now you that know the 12 best free stock video websites of 2020, it's time to learn what you are allowed to do with them. After searching through these sites, you may have some questions about what can be done with the clips and if you should give credit. Keep reading to learn exactly how you can use the clips based on the different types of licenses.
How to use free stock footage legally
The legality of free stock footage and other creative assets sometimes feels like it takes a law degree to fully understand. If you're planning to use footage for commercial purposes, it is especially important to know what restrictions exist for you.
A few terms you may see quite a bit when dealing with assets like stock footage are royalty-free or rights-managed. Let's look at the meaning of each.
Royalty-free footage
Royalty-free footage gives you complete rights to the content after downloading or buying it. Use this content any way you want and as many times as you want. Keep in mind that that this is the most accessible type of content, meaning other companies may be using the same content.
Rights-managed footage
Rights-managed content comes in a variety of forms, and each of which has more restrictions and guidelines than royalty-free content. These restrictions can regulate where, how many times, and for what purpose you can use the content you've obtained.
This type of content can often come with more of a price tag than royalty-free content, which is free in most situations. Rights-managed content also carries a Creative Commons license.
TIP: Sometimes free stock video doesn't cut it. Check out this guide to buying the right stock video in 2019.
What is a Creative Commons license?
Creative Commons is an organization that helps creators legally share their "knowledge and creativity to build a more equitable, accessible, and innovative world." Its staff, board, and network of global affiliates provides copyright licenses to standardize and simplify the licensing process.
Essentially, it helps creators legally navigate sharing content in the digital age on their terms.
Creative Commons licenses are built on copyright laws and are applicable globally. Let's go through the different license types and review their key differences.
CC0: This type of content is available for complete use in the public domain. The creator has relinquished their rights to the content. They have opted out of copyright protection and the content can be used wherever and for any purpose (including commercial use). It is alternatively referred to as "no rights reserved" content.
CC BY (Attribution): This content is able to be distributed, remixed, tweaked, or built upon as long as credit is given to the original creator. This even applies to commercial uses.
CC BY-SA (Attribution-ShareAlike): This content is very similar to CC BY, with the main difference being that any content created using this license has to use the same CC BY-SA license as the clips it was created with and credited to the original creator.
CC BY-ND (Attribution-NoDerivs): This content can be redistributed for commercial or non-commercial purposes. The content cannot be modified in any manner and the creator must be credited.
CC BY-NC (Attribution-NonCommercial): This content can be modified. However, it cannot be used for commercial purposes and the creator must be credited.
CC BY-NC-SA (Attribution-NonCommercial-ShareAlike): The content can be modified and used non-commercially. It must be licensed under the identical terms (as CC BY-NC-SA) and credited to the creator.
CC BY-NC-ND (Attribution-NonCommercial-NoDerivs): The content cannot be modified or used commercially and must credit the creator. This is the most restrictive of the licenses.
Image source: Creative Commons
Now you have some of the best sites to find your free stock footage and the knowledge to use that footage correctly!
Next steps for choosing a free stock footage site
Once you find the perfect free stock videos for your video, use one of these free video editing software to get the most out of your video project without overspending your budget.
These tools and resources are certain to help you create content that will make you stand out. Now get out there and find that perfect clip you need!
Looking for some laughter in your work day? Check out this roundup of the weirdest stock photos on the web right now for a pick-me-up.