No matter the size or industry, a lot goes on within a business.
And while external audiences look for updates on products and prices, your internal audiences need so much more.
Effective internal communication is one of the keys to the success of a business, and as companies continue to grow and change, it can be hard for every single member to stay updated on everything.
An employee newsletter is a perfect fix.
Anyone can make a boring old employee newsletter. You round up some random information, slap it on a piece of paper, and hope that it makes its way around the office. Only an attentive employee newsletter creator will make an extra effort to ensure the newsletter successfully engages and informs its audience.
How to create an engaging employee newsletter
A well-informed workforce is a secret weapon. Employees that know the ins and outs of their company can successfully do their job, discover ways to improve the business, and help deliver relevant information to external audiences.
What is an employee newsletter?
An employee newsletter is a document with information about a business that is only shared with internal audiences. The purpose of an employee newsletter is to keep everyone updated on company information, boost morale, and increase productivity.
If your internal newsletter fails to engage employees, you may as well not have one.
Or better than that, you could turn things around by using this guide to creating an engaging employee newsletter to not only give your colleagues what they need, but in an entertaining and informative fashion.
Employee newsletter contents
While the look of an employee newsletter is what catches the eyes of your colleagues, the content keeps them engaged. When crafting an employee newsletter, it is crucial to make the contents fun, readable, and relevant. However, above everything else, your employee newsletter must cater to your employees. Don't give them irrelevant information. This will only discourage them from reading future newsletters, leaving them uninformed and unengaged.
Celebrations
Celebrating birthdays, work anniversaries, and company successes is a great way to boost employee engagement. Not only does this show that personal and professional milestones don't go unnoticed, but it also provides opportunities for employees to interact by celebrating hard work. Any excuse for a slice of cake, right?
Information on new employees
An employee newsletter should inform the whole company of new employees, no matter what team they are on.
Include their name, a photo, their title, the project they will be tackling, and some personal information. This will help the team make connections with the new employee, while also showing them how the business is growing.
You don't want people asking you about the "stranger" walking around the office.
Here's an example of a simple new employee introduction that could go into your newsletter.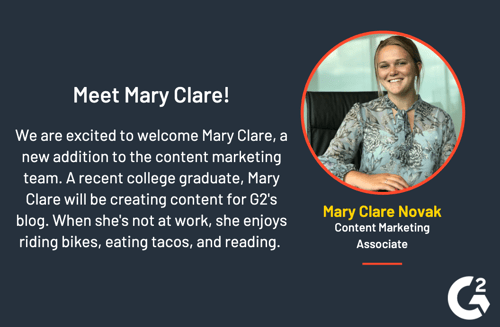 Job openings
Keep employees updated on job openings within the business. This shows them their opportunities to be promoted or make the switch to a different team they've always wanted to work with. Also, it is a good representation of company growth and change.
Revenue updates
Employee newsletters are supposed to be fun, but they still need to get down to business. Provide information on metrics that represent the economic health of the business. You can include weekly or monthly updates depending on how often you are distributing the newsletter.
This is a good opportunity for some eye-grabbing visual communication. Data can be boring for some, so make it fun with an infographic.
Employees want to hear about whether or not their job is secure and if their hard work is helping the company thrive financially, but in a way that is appealing to the eye.
Company achievements
What is your business doing right? Did you reach your quarterly goal a month early? Are you getting positive feedback from customers? What about employee satisfaction? Through the roof?
Highlight these successes. You can't be sure the good news will spread any other way.
New products or services
New products or services have an impact on every department in your business, not just the ones that created them. The sales team will need to know the features to sell to customers. Marketers need to understand the benefits associated with the offering to relay them to your audiences. Customer service will need to be ready for any and all questions that might come their way.
If your company just started offering a new product or service, or will be before the next newsletter, give every member of the company an inside scoop.
Here's an example of a new product from G2. This message was sent to employees so they could get to know G2 Track, a software management tool.
Team updates
Effective cross-department communication can be a struggle. Although all employees are working towards the same overarching goals, their day-to-day tasks separate them according to their role. This can cause confusion about what a team actually does and the project they are currently working on.
Write a brief update on the project each team is currently tackling, especially if they have been on fire lately. It will show their impact on the rest of the business and make them feel appreciated as employees.
Policy changes
You can't expect anybody to abide by a new policy if they don't know about it. Make sure that any new rules, policies, or regulations are made clear in the newsletter. If it includes employee action, make sure you provide clear and concise instructions.
Event calendar
Raise awareness for events happening within the company that month, including holidays and celebrations.
This can also include events that are relevant to your business' industry or the personal growth of your employees, both of which are great for employee development.
Cision broke down a survey by Glassdoor that revealed 87 percent of employees expect employers to invest in their personal development. Providing information on events that support development in your employee newsletter shows them that you care to help them grow, both personally and professionally.
Request for feedback
An engaging employee newsletter provides a great opportunity to ask for some feedback from employees. Using survey software in your employee newsletter makes it easy to create, distribute, and collect feedback from a survey.
The survey can ask questions about the employee newsletter itself, or anything else leadership wants some feedback on.
If you aren't asking your employees for feedback, start doing it. Now. Perhaps in your employee newsletter!
Reminders
A good way to wrap up your employee newsletter is with some reminders. Include some key takeaways on action items, optional or mandatory, that are of interest to everyone in the business.
Answers to FAQs
Because businesses continue to change, employees are going to continue to have questions. Anticipate what they might ask, or include questions you get on a regular basis. It's okay if you repeat every once in a while. New employees might be hearing it for the first time, and veterans might forget.
Communication tips for any channel
There are a lot of different ways to communicate in the workplace, but no matter which one you use, use these etiquette tips to be heard -- without being offensive.
What else goes into an employee newsletter?
Alright. You have all the content you are going to include in your employee newsletter. Now what?
There is more to an employee newsletter than the content within it. Here are some details you need to consider before distributing it.
Format
The format of your employee newsletter is almost as important as the contents. If the format is unappealing and lacks readability, nobody is going to want to interact with it in the first place.
Format your employee newsletter so it is visually appealing, but not at the cost of providing information.
Frequency
When planning your employee newsletter, you need to determine how often you are going to deliver it.
Typically, companies will distribute a newsletter weekly, monthly, or bi-monthly. Distributing an employee newsletter every day might overload people with information and deter them from opening it. Waiting a year can cause important information to be overlooked or forgotten.
Distribution method
The last thing to figure out is how you are going to deliver your newsletter.
The method you use to distribute your newsletter should accommodate the preferences of your employees. Whichever way they will engage with it more, use that method.
If it would be better on paper, pass copies around the office. If an online version is preferred, send it around via email or post it on your company intranet.
Send it on
Employee newsletters are a great way to keep your internal audiences informed, engaged, and motivated to work hard. There are a lot of ways to create an engaging employee newsletter, and all of them include catering to the preferences and informational needs of your audience. Your employees are your most important stakeholders. Give them the information they need to act on that.
All set with you employee newsletter and want something to deliver to your external audiences? Learn how to create a newsletter that your boss will love.