Think of all that goes into your brand's marketing strategy.
At its core, your marketing efforts are centered on reaching as many potential consumers as possible. Email marketing helps you accomplish this efficiently and directly in the inboxes of your customers.
We'll explore just exactly why email marketing is an effective and necessary marketing strategy for your business.
Email marketing fundamentals: definition, statistics, and best practices
This guide to the fundamentals of email marketing explores what email marketing is as a medium, some key statistics around it, how email automation is an effective marketing strategy, and, finally, some best practices as an email marketer.
What is email marketing?
Email marketing is the use of email to promote your brand's products or services. Email marketers send articles, special offers, and company updates on a regular basis to a subscriber base.
Email is an accessible channel
Over half of all internet users check or send emails daily. When you have this large of an audience that you know will be at your fingertips with a successful email campaign, it's clear as to how email marketing can help your business reach a sizable number of readers.
With the rise of email mobile apps and emails being accessible from your phone at all times, your brand has the opportunity to reach your customers no matter their location. What other types of marketing offers that kind of accessibility?
You can craft an established audience for your content
With email marketing, your audience has already signed up for your brand's updates and expressed an interest in the type of content you produce. It's up to you, as the email marketer, to make the most of the opportunity.
Having an established audience for your brand's messaging via your email list builds trust and excitement from your recipients for your emails to populate in their inboxes. This is a key aspect of email newsletters that really helps your brand break through to a state of successful customer loyalty.
Personalization is key
Email marketing is unique in how it creates direct, personal relationships between customers and a brand. Emails from a brand arrive directly in the inboxes of customers. With this unique type of messaging (compared to the relationship created by a TV commercial or a billboard ), email marketing enables the ability to personalize content and further stand out as part of a brand's marketing that connects with customers.
Customizable aspects of email messages are key in maintaining and fostering relationships between your brand and your customers. Features like special birthday messages or personalized news feeds can also strengthen the emotional ties a consumer has to your brand.
What is email automation?
Email automation is the ability to send time or action-triggered emails to subscribers with content relevant to your brand's marketing campaigns.
For example, you can use email automation to implement a triggered workflow that helps nurture new leads, schedule personalized messages such as birthday greetings, and notify customers of new assets such as tools or helpful blog posts.
One of the most obvious email marketing campaign tips is to go ahead and use email automation to improve the marketing experience for you, the marketer, and your customers.
Welcome emails
Every successful email campaign starts with an introductory welcome email. The purpose of this email is to introduce the subscriber to the brand and outline what they can expect from your email campaign. It will also include a catchy subject line and an appealing design to convince your new subscribers that your brand is worth their time.
With new subscribers coming into your email list at different times, you'll need email automation to send welcome emails on a timely basis to new subscribers. Here's an example of an effective welcome email: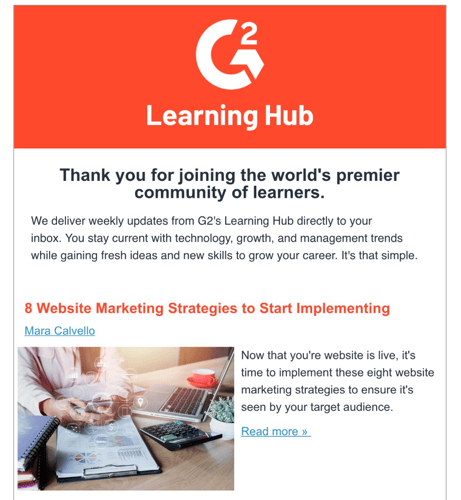 Sales funnel
If you are a customer in the process of making a purchase, there are certain messages that can demonstrate the value of the items you are looking into. There are other, less relevant messages that might only provide a basic overview of a brand you already are familiar with and interested in engaging with further.
Email automation is key in making sure that your customers are receiving the messaging that is most relatable. With all of the different types of social media and internet marketing in today's landscape, personalization is key to making your brand stand out. Using email automation to meet customers where they are in the sales funnel and provide relevant, relatable content makes sure your brand is keeping up with the interests and current desires of your customers.
Special offers
Email automation can also be used when it is programmed to send out unique deals and special offers on certain occasions. Sometimes known as the "surprise and delight" method of marketing, sending out an automated birthday greeting and special deal to subscribers on their birthdays is an easy way to add a personal touch to your campaign.
The use of email automation for these special messages takes away the human element of having to sort through each individual subscriber and waste your time manually sending emails. If you ask for your subscribers' birthdays when they sign up for your email list, you'll be able to automate a birthday email containing a special offer.
Email marketing best practices
Once you grasp the basics of email marketing and email automation, it's time to put that knowledge into practice on an everyday basis. Here are some email marketing best practices we compiled for email marketing in action:
Deep email segmentation & personalization
You need to keep in mind that your audience is not one-size-fits-all when it comes to email campaigns. There are different reasons why a person might be signed up for your emails, and you need to be taking those differences into consideration when creating your personalized email campaigns.
Awesome email visuals
Engaging visuals can really boost your campaigns by making them stand out and enter the memory of your reader. Email content is similar to the content on your website in that it needs to be compelling and engaging. Using visuals such as graphs, featured images, gifs, and infographics help boost the engagement factor of your content and differentiate them from other content your readers might also be receiving in their inboxes.
Keep mobile in mind
Think of how often you find yourself opening emails from a mobile device, So, while the previous point talked about using awesome visuals, they need to be optimized for mobile to avoid making a common email marketing mistake. This means they should be small enough in size to fit on a mobile screen in a responsive email template, and they need to be a small enough file to not cause extended loading times.
Beyond visuals, the rest of your campaign should be mobile-friendly as well. Keep content short enough to engage a short attention span, make sure calls-to-action (CTAs) and buttons are the right sizes, and above all, test! Test how your emails look on multiple devices.
Email Analytics
While you may have the elements in place for email newsletter success, how can you be everything is working the way it should? What should you measure to track how successful your email marketing campaign is?
Knowing which metrics to track is the key to your email newsletter success. Keep email marketing analytics front of mind to make sure that your campaigns are performing as well as you want them to, and use them to calculate what needs to change to improve your emails' effectiveness.
Getting started
Email is a necessary channel for your marketing campaign. Your ability to reach a tailored audience with personalized messages on a channel that anyone can access from their computer or phone is too big of an opportunity for your marketing team not to take advantage of.
Email marketing is a great start to a personalized and effective marketing campaign. With its help, you can be on your way to making a greater personal connection with your customers.