To quote Brooks Hatlen from the The Shawshank Redemption, "the world went and got himself in a big damn hurry."
He's not wrong.
Hollywood still likes to romanticize the Mad Men approach to marketing: smokey rooms, high pressure campaign pitches, and a single, brilliant idea.
The reality of marketing is less dreamy and involves a lot of tweaking, testing, and searching for needles in haystacks or pots of gold at the end of rainbows.
That's because marketing went and got itself in a big damn hurry too.
Why does this matter? Because just like The Matrix, humans are now plugged in, uploaded, and cached inside the digital space wherever they go. The world of digital marketing got confusing pretty quickly, and people are still struggling to understand what the word 'digital' actually means.
What is digital marketing?
This is a great question that is constantly being redefined because, while the 'stock image' answer might be that 'digital marketing is any marketing of products and services with electronic devices,' the reality is that digital marketing has been around since the early 20th century in the form of radio advertising.
And while the stock definition remains the same, the methods have changed dramatically.
Online vs. offline digital marketing
Offline digital marketing is any electronic device that does not require a connection to the internet. The main examples of this are: radio, television, and electronic billboards.
Some of the more famous examples of online digital marketing include:
Twenty years ago, offline digital marketing was king. This included radio, television, and electronic billboards. This was where the Fortune 500 companies spent their hundreds of millions of dollars. That's because the internet didn't have the same reach it does in present day. Fast forward to 2019 and digital marketing is now being increasingly defined by its online persona rather than by its offline older brother.
Why do you need a digital marketing strategy?
Do you have a business that relies on generating revenue? Does your target audience use electronic devices? Is your target audience more online than offline?
If you answered yes to the first two questions, you need a digital marketing strategy. Your answer to question three will determine whether that strategy has more of an online or offline focus.
Online digital marketing matters more today
Consumers today use their electronic devices to access information on search engines, navigate to destinations, watch YouTube videos, read the news, and watch movies, TV shows, and sports. They also make purchases either directly online or by using online information to get directions to offline locations. That's because not only has marketing changed dramatically, but the way consumers access information has also changed for always and forever.
In 2013, mobile search accounted for 27 percent of all online search queries; in 2019, it now accounts for 60 percent. Practically overnight, mobile search doubled to become the most relevant and dominant form of search in the world. And how much time are they spending on those devices?
According to Mary Meeker, mobile phone usage is increasing to the point where users are averaging almost 4 hours per day..and it's growing.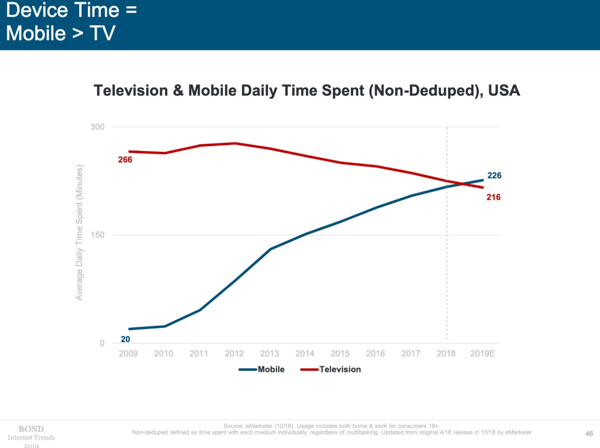 This, coupled with more devices (wearables, smart speakers, and in-car voice technology) and more channels (voice search, digital video, geotargeting), has both fractured the consumer search market and made it more specific, niche-focused, and effective.
The relationship between electronic devices and search engines is the spark that lit the fuse of a new, tech savvy, independent generation of consumers who are mobile and motivated to get the best experiences and products at the best prices and qualities no matter where they are. This has all been made possible by mobile phones and the search engines that feed them.
The problem with online digital marketing
The value of online digital marketing is murky at best. That's because with so many different formats, channels, platforms, apps, directories, and methods, it's difficult to know what's going to get you in front of the right consumer at the right time.
Even if you do get that opportunity, what's going to guarantee that when you scream 'Prospect! Are you not entertained!?' they won't meekly reply 'meh, I've seen better.'
At the end of the day, you are at the mercy of an increasingly competitive market and one magnificently dominant search engine giant.
Your digital marketing strategy, regardless of whether it's offline or online, needs to go back to asking some foundational marketing questions and begin by delivering some simple marketing truths.
Start questioning your current marketing answers
The problem with marketing today is that we often don't stop and evaluate the value of an action.
Sure, if your company has a million employees, you can tick the box of every marketing channel known to man (and invent a few positions for the ones that don't), but if you don't stop to question the value of your actions, then you're really just doing a thing for the sake of doing a thing - I don't know about you, but that's not what inspired me to become a marketer.
Before deciding what methods to use to get in front of your ideal prospect, you need to ask yourself a few questions: who is my target audience? How do they search for information? Where are they getting their information from? What's helping them choose my business over my competitor?
And if you have a brick-and-mortar location, what's going to influence a consumer to choose to visit my location instead of my competitors' location?
The next step is normally to start answering these questions and optimize your website content for your persona. And although nearly all online digital marketing strategies were created to send traffic back to your website, you need to start thinking more about reaching the consumer who isn't visiting your website.
Digital marketing in 2019: organic SEO vs local SEO
Where do most consumers get their information from? Google. And Google does a pretty good job of answering user queries before they ever make it onto your website – even when you're ranking on the coveted first page.
In quarter one of 2019, 150+ billion user searches were carried out resulting in a 41.45 percent click-through to an organic site that didn't belong to Google. That's not a great return rate for websites relying on SEO for their bread and butter, which is pretty much everyone.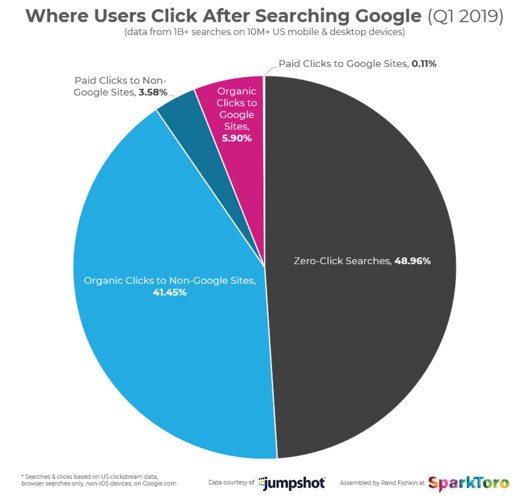 Consumers are also not looking for brands like they used to. According to Google, nine out of 10 consumers are uncertain of the brand they want when they begin looking for online information with their smartphones. They are more interested in products and services that fit their specific criteria.

That's great news for the small pizzeria that's standing meters from the Burger King down the street. You won't beat them in advertising spend, but you can be more visible to the consumer looking for 'food near me now.'
That's because local SEO doesn't rely on how big the brand is, but on satisfying the consumer search query.
And what is that exactly?
Consumers want quality, the best price to quality ratio, and something they won't have to search long to find. By having a better rating and a certain number of reviews, you can beat the big chains in local results and get consumers to visit your physical location.
The brand is dead...long live the brand
Consumers aren't looking for brands online like they used to, but that doesn't mean that brand loyalty is dead just because the playing field is leveled.
Sure, reviews have created a world where a business star rating becomes a delicacy for consumer decision-making, but it doesn't mean the local store can achieve the type of visibility that a big name brand can. Use your corporate death star by all means, but focus your laser on the right marketing initiatives that will spread your voice across the digital marketing landscape.
There is certainly some good, bad, and ugly about online digital marketing. But in my experience as a marketer in both the SMB and enterprise space, either party can win as long as they are smart about identifying the digital marketing strategy that has the most merit.
TIP: Reviews can help you decide what marketing strategy will be most effective based on your customers needs and pain points. Learn more today!
The rise of location marketing and 'near me' searches
It's more important than ever to focus on 'brand spreading' efforts that don't necessarily require a link or 'online action' back to your website.
Your website is important, but it's not going to be the first place most consumers interact with your brand - this goes double for businesses that have brick-and-mortar locations.
One tip is to focus on location marketing efforts such as: review management; directory listings (your business information: name, address, phone with links back to your site); citation building (information about your business without a link), and filling out an FAQ page on your Google My Business profile.
By providing rich context about your business online, you'll find that more of the right fit consumers will interact with your brand.
Increase your reach; location is key
Any business that wants to increase its visibility online needs to focus less on its on-page factors (website) and increase its off-page activity to amplify its hyperlocal marketing strategy. This includes link and citation building through business information listings included on multiple maps, search engines, directories, and review sites in order to be found wherever consumers are searching for the products and services you provide.
This has the added benefit of increasing your website authority (a major trust factor for search engines) but also making sure that you become more relevant for 'near me' consumer queries.
The world of digital marketing is becoming more niche, more specific, and moving increasingly toward location-based search targeting. Focusing on local marketing online will grow your digital brand reach and get you in front of the best fit prospects for your brand at the moment they are ready to buy. That's the type of hurry a business can get behind.
Want to keep learning about digital marketing? See our statistics roundup before exploring the top-rated digital marketing software!