In case you haven't heard, reviews are all the rage.
Whether it's finding a hotel, a place to eat dinner, choosing your next television, or CRM software for your company, reviews hold power.
Personally, I don't like buyer's remorse. Reviews are how I avoid this. If I'm shopping at Target considering a new printer or camera, I have no qualms taking a few minutes to check out the reviews on Amazon before making my final purchase decision.
Here you'll find customer review statistics that prove:
If you are a marketer (or any business professional!) and you have doubts about using reviews in your strategy, these stats will turn you into a believer.
After you've perused the statistical evidence, read our ultimate guide to customer reviews and learn how to put a review strategy into practice!
Customers are reading reviews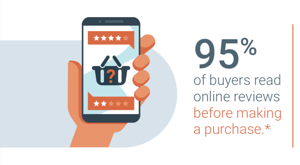 The impact of online reviews on sales and revenue
Increase your sales with a free G2 profile. Now that you know the impact reviews have on sales, increase your revenue with a free G2 profile for your B2B software or service company.
Consumer engagement with reviews
The importance of replying to customer reviews
Negative reviews can work in your favor
The process of getting customer reviews
The need for reviews and user-generated content
Throughout all of the statistics, one fact remains clear: customer reviews matter.
We are living in a new world when it comes to purchase decisions; the buying process has changed, for both B2B and B2C buyers.
Regardless of if you already utilize reviews, or you're just getting started with a review strategy, you want recent reviews. (And as many of them as possible!)
Start getting B2B reviews now, FREE
Now that you know the impact customer reviews have on sales and customer retention, it's time to build your own review strategy. If you're a B2B software or service provider, claim your G2 profile now. It's free and takes just five minutes.
This post was originally published on May 20, 2018, and has been updated with new stats for 2019.