If you're a marketer, you know all too well just how much customer data is available. Gone are the days of complaining about not having enough data to be able to make informed decisions about campaign and messaging optimization. What most marketers ask themselves now is, "How do I take all of this data and turn it into intelligent insights about my customers to create relevant, personalized experiences?"
That's where thorough customer data analysis comes into play. Customer data platforms have made it possible for marketers to take control of their entire customer database without needing help from their company's IT professionals. Customer data platforms, or CDPs, consolidate customer data from multiple sources to create a unified, 360-degree view of their customers to glean specific, actionable insights that they previously might have missed.
There are many objectives that customer data analysis can achieve, including garnering an accurate view of your customers, increasing customer loyalty, understanding customers' buying habits and preferences, segmenting customers more efficiently, and improving ROI by generating more pertinent customer experiences. Below are some best practices you can implement when conducting customer data analysis.
Three customer data analysis best practices
Identify and align KPIs
Segment your data and build customer profiles
Take actionable insights to personalize your customer's journey
---
Identify and align KPIs
At the onset of your customer data analysis, it's imperative to identify the metrics that matter most to your organization: your company's KPIs (key performance indicators). Identifying these metrics takes more than just a marketing team; it takes leadership to bring different departments together to identify your company's strategy and which KPIs align with that strategy. Examples of KPIs that your company may identify include sales by lead source, number of qualified leads, return on investment and Net Promoter Scores (NPS). It's also important to note that your strategy will change over time, so it's crucial to reevaluate and realign your KPIs as your strategy evolves.
Once you've identified your company's overall strategy, you can drill down into customer metrics. A marketing team can also closely align with the sales team to determine which customer metrics to focus on to develop a targeted marketing approach. Important customer metrics can include a customer's lifetime value, retention rate, acquisition costs, ROI for marketing campaigns, product features that customers are using most, and customer buying habits. Determining and aligning KPIs is an important early step in the data analysis process and can ensure that your company continually makes adjustments to its strategies and budgets.
Segment your data and build customer profiles
Segmenting your data will enable you to tailor your marketing efforts toward a specific group of customers instead of trying to market to everyone using a generic marketing approach. Marketers can segment their customer data in an abundance of different ways to target groups based on the qualities and characteristics they have in common. Additionally, segmentation provides marketers with other benefits, including optimizing their marketing budgets, enhancing the relationships they build with their customers, creating a competitive advantage and identifying new market opportunities that they otherwise would have missed. Marketers can discover new market opportunities by identifying trends in their data and then use that information to create new customer segments that they weren't previously targeting.
Building customer profiles based on raw metrics is another way marketers can start understanding their customers better. You can discover what customers truly care about, what their buying behaviors are and what marketing channels they prefer. You can analyze your data to create a customer profile and notice patterns that can assist you in communicating more effectively with your customers, including targeted advertising efforts. You can base your customer profiles off of lifestyle data, attribute data, behavioral data, geographic data and various other types. It's important to note that, like your customers themselves, your customer profiles will change over time as trends evolve.
Customer profiles aren't just beneficial for a marketing team — your whole company can generate insights from the profiles you build. For example, your customer success team can use information that you've already pulled together to engage with your customers and build stronger relationships. If a customer is facing specific challenges with your product, the marketing metrics you used to help structure your customer profile can aid the customer success team in addressing those issues proactively.
Take actionable insights to personalize your customer's journey
Your job isn't done after you've gathered and analyzed all of your customer data. You must then take your customer data analysis and relevant trends and turn them into actionable insights to optimize your marketing strategy. Actionable insights enable marketers to recognize patterns from what their customers preferred in the past to generate changes they would like to see moving forward. These types of actionable insights can also help businesses refine their product development around factors like packaging and price by examining customers' perceived benefits and satisfaction ratings.
An enormous benefit of actionable insights taken from customer data analysis is being able to create a one-on-one, personalized relationship with your customer. With more advanced customer analysis tools such as AI and machine learning, marketers are able to create authentic relationships with their customers to create tailored customer journeys. 60% of enterprise business leaders say real-time customer analytics is extremely important today, jumping to 79% by 2020 with a key driver being personalization at scale. Personalizing your customer's journey can lead to increased sales effectiveness, higher retention rates, greater customer satisfaction, and a growing competitive advantage. Finally, by personalizing your customer's interactions with your brand, you can increase engagement at various stages of their journey and can thereby eliminate unsuccessful marketing messages that don't resonate with certain customers.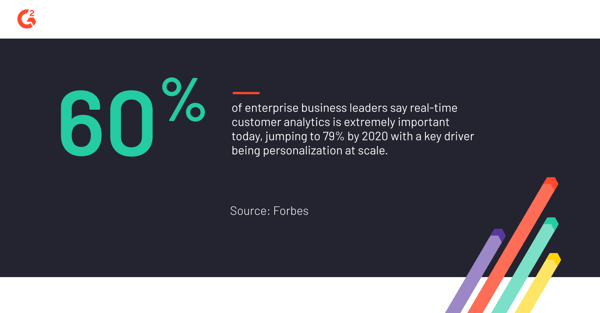 While it may seem daunting at first, successful customer data analysis can help you create an exceptional customer experience. With profound customer insights, you will be able to stay competitive in a fast-paced environment by tuning in to your customer's changing needs and anticipate problems that your customers may face with your products or services before they even occur.
---
Want to learn more about data analytics? Take a look at these 10 data analytics trends for 2019 and Beyond.