"I need a miracle."
A common thought for first-time small business owners.
More often than not, someone starting their first business cannot fund it completely on their own. If you can, good for you. If you can't, consider using an angel investor.
What is an angel investor?
A common source of business funding, working with an angel investor allows you to take advantage of someone else's personal wealth, but it doesn't come for free.
Angel investor definition
An angel investor is a group or individual who helps fund a business in exchange for ownership equity. They are typically well-versed in the business world, so they can also provide knowledge and guidance.
While giving up a piece of ownership to someone else is a dealbreaker for some, using an angel investor can really pay off. Literally. Depending on the group or person investing, they can write some pretty hefty checks.
See the full report here.
That's a lot of dough. However, simply understanding the definition of an angel investor and the amount of funding you can potentially receive is not enough. With any source of business funding, you have to ask additional questions so you fully understand what you are getting yourself into.
Here are some common questions asked before thinking about working with an angel investor. With answers!
Can anyone be an angel investor?
Technically, yes. Anyone can be an angel investor. If someone has the desire to fund your business in return for a certain amount of equity, they are considered an angel investor.
Typically, angel investors are high net worth individuals (HNWI). An HNWI is a person whose total assets are valued at more than $1 million.
What do angel investors look for in a business opportunity?
While angel investors do have a lot of money, that doesn't mean they don't care about who it goes to, the business idea, and the likelihood that it will succeed. Let's take a look at some things that angel investors are looking for in each of those categories.
The entrepreneur
Angel investors will not give their money to just anyone. Entrepreneurs looking for business funding must exude certain qualities that will convince angel investors that they are capable of handling their money and providing a notable return.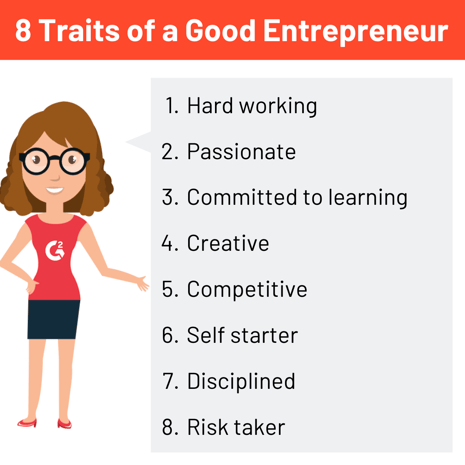 If you embody those traits listed above, angel investors will see you as an entrepreneur worthy of their time and money.
The business
Along with being picky about the person they give their money to, angel investors will not give their money to a business that works towards something they don't personally believe in or if they don't think it will be successful.
What does this mean for you, an aspiring business owner looking for some funds? Know who to approach to ask for money. If you want to try to convince a vegetarian to invest in the meatpacking industry, I'd think again. You can't change an investor's personality or beliefs. You can only change who you decide to approach.
When you have an appropriate person in mind, be prepared when presenting your business. Dive into the individual elements of a business plan to show them you have done your research, have strategies in mind, and know how much money you will need to start your business. If you are selling a product, have a prototype ready for them to use. If your business is in the service industry, give them a taste of the customer experience.
The market
Liking the product or service a business offers is one thing. Seeing that it will perform well in the market is another.
Angel investors will take an in-depth look at the market your business falls in to assure you are itching a scratch that other business' can't reach for consumers. They will also look for room for growth.
It would be hard to convince an angel investor to put money into a bakery in a town full of cake shops that fulfill the towns every confectionery need.
Worried you can't nail this part of the business plan? Check out G2's market research services to find a provider that will help show angel investors how well your business fits in the current market.
What do angel investors gain?
The fact of the matter is that unless the business an angel investor works with is successful, they won't gain anything. But, if they make the right choice, they can walk away with some decent perks.
Financial return
It's true, angels invest their money because they believe in the entrepreneur and business idea. However, they also expect to get it all back. Generally, angel investors will expect to get their entire investment back within five to seven years. On top of that, there is an internal rate of return, which is a discount rate that tells you the potential profitability of an investment.
Satisfaction of making a good investment
Yes, money is nice and it provides us with funds for cappuccinos and trips with friends. However, there is also a more emotional side of investing.
A majority of angel investors have been involved in a lot of different ventures. They continue to invest in these businesses because they enjoy the thrill of risk, the reward of return, and the satisfaction of watching a business grow with their help.
Learning experience
There is always room for growth. With each new venture, an angel investor has a different experience where they learn more about the business, problem-solving, and themselves as an investor.
What are the pros and cons of receiving funding from an angel investor?
With all sources of business funding, there are going to be some benefits and drawbacks.
| | |
| --- | --- |
| Pros | Cons |
| You receive funding for your business | Availability depends on who you know |
| Minimal paperwork is involved | Terms can be uncertain |
| Monthly payments are not required | A portion of founder control is lost |
| High-risk ventures are approved | Pressure to grow quickly |
| Guidance and advice are also given | They might not have time to be involved |
What is the process of working with angel investors?
Angel investing is different than other business funding processes because it is personal, not person to bank or person to the Small Business Administration.
How to find angel investors
There are a couple of routes you can take when trying to find the right angel investor for your business.
Friends and family: It is possible that some people close to you have the funds to support your business financially. Depending on your reliability, they might be happy to do it. If you choose this option, make sure the investors know the business plan and associated risks.
Individual angel investors: This is the hardest route to take, so you shouldn't rely on it completely. Typically, angel investors like to remain anonymous so they aren't always getting requests for cash. Your best bet here is to make sure the angel investor is already involved in the industry your business falls under. This way you know they are somewhat interested.
Angel investor networks: In these networks, investors will work with a team that finds sources deals for money they have set aside to be invested. The angel investor remains anonymous and has a trusty team finding the best places to invest their money.
Meeting with angel investors
Angel investors go through a screening process to decide which businesses they want to work with. Whether they go with their gut or follow a formal process, you need to be ready to pitch your business idea and win them over.
Here are some tips.
Do your research
Know who you are talking to. Research the person and what they have invested in in the past. This will help you craft your pitch and ask the right questions.
Double-check your business plan
You will probably have a business plan put together before you even start thinking about asking for funding, but give it a once over before you meet with angel investors. They will want it to be as detailed as possible. Don't make them wonder why they should invest. Show them right off the bat.
Don't only focus on money
Before you even ask for funding from an angel investor, you need to give them a deep understanding of your business. Tell them about your business and make it clear how passionate you are about it moving forward.
And then, of course, money should be a part of the conversation, but not until the end.
Tell the truth
One of the worst things you can do when pitching your business to angel investors is making promises you can't keep. You can be certain they will expect you to follow through on everything you will commit to.
Be ready for criticism
Angel investors are going to nitpick flaws in your business. They aren't lending you a couple of bucks for an ice cream cone. We are talking thousands of dollars here.
Take the negative feedback and criticism they give you. Learn from what they say and make adjustments.
Doing business with angel investors
Alright, they liked your business and are going to invest. Congratulations!
The next step is to provide a background of your business to a due diligence committee, which will take a look at prior investors, suppliers, customers, financial projections, etc. They will then give a report to the investors.
If the angel investors like the results of the report, the next step is to negotiate a deal. This will include who will invest, how much, and how often you need to report to them.
That was a lot. Here's a quick recap with some general instructions of working with an angel investor.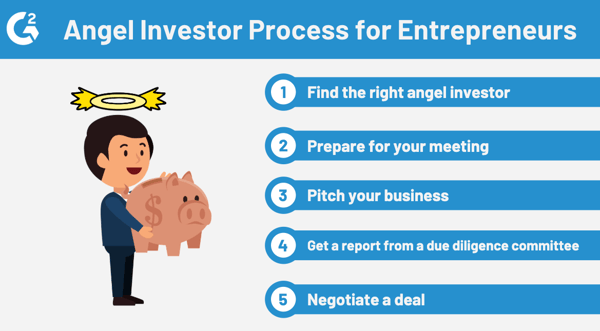 Educate yourself
Your business cannot exist or prosper without funding. No matter which option you choose, the first step you take towards using that source should be to educate yourself. Ask yourself questions, whether the answers are in your favor or not.
Working toward a different source of funding and need to convince them you are trustworthy. Check out our resource on business credit to learn how to establish and build it.