Recruiters lose an average of 14 hours per week manually completing recruiting tasks such as candidate sourcing, screening and hiring. However, most of these tasks can be automated, and investing in software to do so is almost a no-brainer.

Recruiting automation software can help recruiters, HR personnel and hiring managers streamline the recruiting process so they can focus their time and energy on the myriad tasks that necessitate the human touch.
What is recruiting automation software?
Recruiting automation software definition
Recruiting automation software automates tasks for HR personnel, recruiters and hiring managers, ultimately streamlining and enhancing the recruiting process.
These recruiting solutions automate repetitive and time-consuming tasks to let HR personnel focus on other aspects of the hiring process. (These tasks may include lead nurturing, scoring and processing; recruitment campaign management; candidate relationship management integration; social marketing initiatives; and recruiting analytics, to name a few.) Recruiting automation tools also collect and analyze recruiting data to provide insight into recruitment efforts.
Generate leads — Candidate leads may come from job boards, social platforms, employee referrals, company branding, online, TV, radio or print ads, to name a few.
Verify candidate information — Recruiting tools verify pertinent candidate information, then export full candidate profiles into the tools, which may include applicant tracking system (ATS) or candidate relationship management solutions.
Recruiting analytics — This information provides insight into resumes and filters out unqualified applicants based on preset qualifications.

Examples of recruiting automation technologies
Recruiting automation software isn't the only solution for streamlining the hiring process. There are tools that help with every step, from candidate sourcing to hiring. These include:
Automated job board posting
Candidate sourcing
Email automation
Candidate relationship management including candidate engagement and experience solutions
Candidate screening
Applicant tracking systems (ATS) including resume screening
Interview scheduling including video interviews
Managing interview feedback
Pre-employment screening, interviewing and background checks
Candidate rediscovery and ranking
How automation will improve recruiting
Not automating recruiting processes results in reduced productivity, increased administrative expenses and a poor candidate experience. The benefits of recruiting automation include increased productivity, reduced time to hire and a larger and improved talent pool.
Recruiting automation software provides recruiting departments with streamlined time-saving solutions. They also provide insights into which recruiting initiatives are thriving and why. Data analytics are an essential element to any recruiting process. Software solutions are competing to provide the most helpful recruiting analysis. Recruiting analytics can provide recruiters with the following:
Time to fill
Time in process step
Quality of hire
Offer acceptance rate
Application drop-off rate
Candidate net promoter score
Cost to fill
When recruiters cannot keep up with the number of job candidates applying to all open positions, it is time to automate some essential recruiting tasks. If there are enough recruiters to manage the recruiting strategy, then scaling with software is the best option. If, however, you need more human power to help streamline the process, recruitment marketing agencies can help. They help customize talent acquisition initiatives and create a set of metrics to compare program results. Sometimes bringing in experts to create a streamlined process is the best way to create a strong recruiting model. This can then be optimized via software down the road.
Best recruiting automation software in 2019
This list includes the top recruiting automation products based on user satisfaction as of May 20, 2019. G2 calculates user satisfaction rating by analyzing all user reviews that take the following into consideration: customer satisfaction with end-user-focused product, popularity and statistical significance based on review count, quality and age of reviews, administration-specific customer satisfaction and overall customer satisfaction.
1. CEIPAL TalentHire
Product Name: CEIPAL TalentHire
User Satisfaction: 92%
G2 Star Rating: 4.6 out of 5.0 stars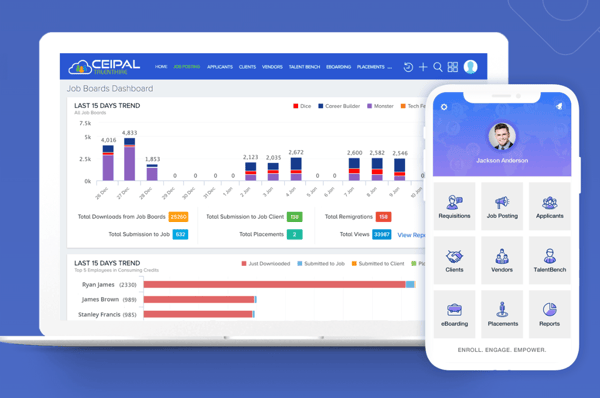 Image courtesy of CEIPAL
What users say:
"CEIPAL TalentHire has all the advanced features that a staffing company needs. From creating jobs to application tracking, interview scheduling, onboarding and all the reporting features. The best thing about CEIPAL TalentHire is integration with other VMS, Job Boards, and Microsoft Office to parse Profiles directly into CEIPAL. While creating a job you can select from 10-plus free job boards to post your requirement, which will definitely help a recruiter to source candidates and save time while working on multiple requirements."

—CEIPAL TalentHire review by Veer C.
---

2. LinkedIn Talent
Product Name: LinkedIn Talent
User Satisfaction: 90%
G2 Star Rating: 4.2 out of 5.0 stars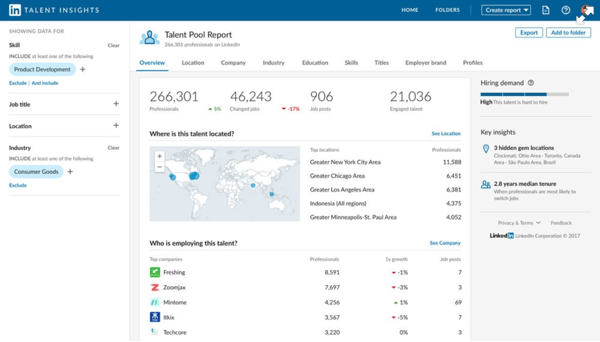 Image courtesy of LinkedIn Talent
What users say
"I love how LinkedIn Talent has become an incredible job platform. Through it you can not only find a job, but also professionals for your company. LinkedIn Talent is a platform that is easy to use and is FREE. It works as a kind of social network of professionals, where we will create our professional profile, with all our labor information, such as work experience, where you studied, the last company at which you worked, among other things. LinkedIn also allows you to contact professionals from your own field of work. I have managed to meet models and modeling companies from all over the world. Personally LinkedIn has worked for me as an excellent job tool to find jobs, either in my country or in other countries. This is really great, because through this platform my curriculum can not only reach a few people but hundreds or thousands of people. In general LinkedIn Talent is an excellent application to find a job or find professionals. It is easy to use and also free."

—LinkedIn Talent review by Samantha J.
---

3. Hiretual
Product Name: Hiretual
User Satisfaction: 90%
G2 Star Rating: 4.8 out of 5.0 stars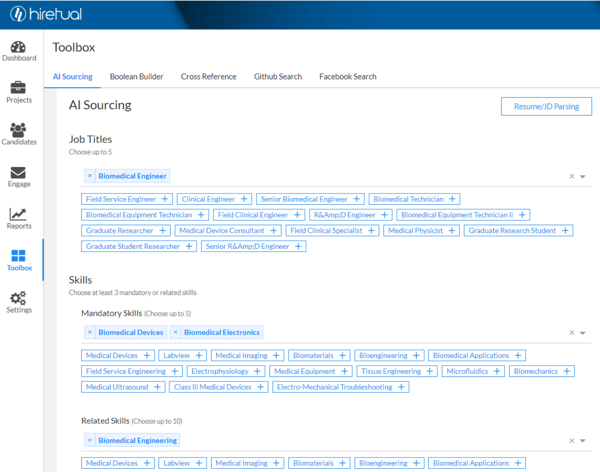 Image courtesy of Hiretual
What users say
"Nurture Tracks automatically schedule and send outreach and tracks when candidates open emails. Projects allow you to organize your roles and prioritize your outreach. The best part: Not just LinkedIn results limited to LinkedIn Mail. This scrapes the whole web and returns results from sites like GitHub and Stack Overflow. It also gives you personal contact info and even phone numbers so you can control how you reach out to the candidates. Oh, and you can't beat their support chat. These guys are on the ball!"

—Hiretual review by Kristen L.
---

4. Zoho Recruit
Product Name: Zoho Recruit
User Satisfaction: 88%
G2 Star Rating: 4.4 out of 5.0 stars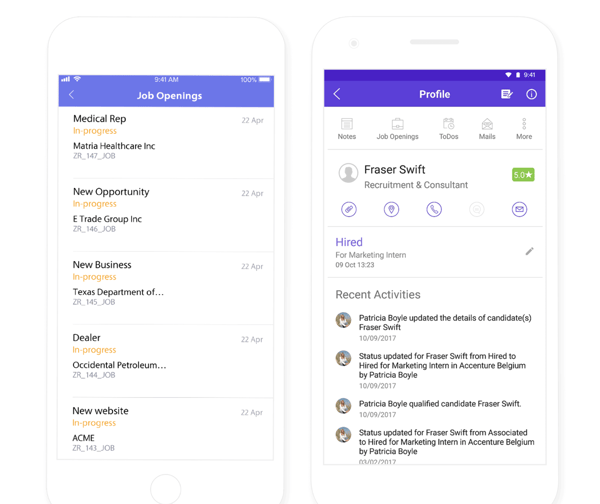 Image courtesy of Zoho Recruit
What users say
"It allows us to have a follow-up of tracking of the multiple applicants that enter their curriculum to hire the best candidates that excel me over others and thus have an efficient work team. I can have key tools for labor management such as automate tasks of sending emails, update interview states, obtain reports and thus be able to better plan recruitment strategies. It helps too much to hire the perfect candidates having the security of their full transparency to choose for their values ​​and good experiences and not for recommendations."

—Zoho Recruit review by Jacob S.

5. SmartRecruiters
Product Name: SmartRecruiters
User Satisfaction: 87%
G2 Star Rating: 4.2 out of 5.0 stars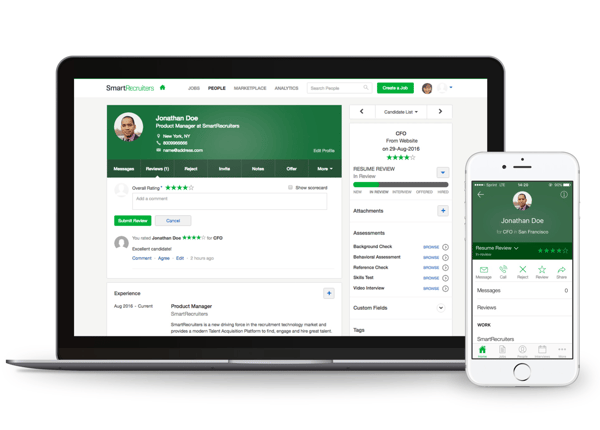 Image courtesy of SmartRecruiters
What users say
"SmartRecruiters makes it easy to find new applicants, track individuals through the hiring process, and compare applicants to ensure we move forward with the right people. At the end of the day, it saves our team a ton of time, and makes sure we hire the best possible team members."

—SmartRecruiters review by Josh A.
Next steps with recruiting automation in 2019
Automating the recruitment process will streamline the hiring process, free up HR personnel and improve the candidate experience.
Looking for tools beyond recruiting automation to help with the recruiting process? Check out our tips to help you find qualified candidates.