Million Dollar Listing, Property Brothers, Flip or Flop – what do all these reality shows have in common?
The answer is obvious: they're all about the business of real estate. And while these reality shows might not be the most accurate depiction of the industry, their popularity has coincided with the public's interest in real estate as a whole. Behind all of the glitz and glamour depicted on television are real life professionals who are helping individuals and businesses navigate the art of buying and selling property.
Before we get started, it's important to understand the meaning of the term at the most basic level.
Real estate definition
Real estate refers to a piece of land and any physical property associated with it. This includes natural resources such as trees and ponds, as well as man-made attachments such as a building or fence.
Again, this definition covers real estate at the highest level and differs from what most likely comes to mind when you hear the term, which is real estate as a business. In this guide, we'll mainly focus on real estate as it refers to the profession of buying and selling property.
If you're new to the industry or looking to get involved, this guide will be your go-to resource for all of the basics and real estate terms to know. We'll break down the different types of real estate, job titles and responsibilities, as well as the elements of the real estate process.
Feel free to skip ahead using the links below:

Types of real estate
Working in real estate
The real estate process
What is real estate?
Real estate can refer to a suburban home, an empty plot of land or even a high-rise office building in a busy metropolitan area. The term generally applies to any piece of land and all of the attachments that come with it.
In general, a real property falls into one of three categories. So, before we dive into the business side of things, let's look at each type of real estate.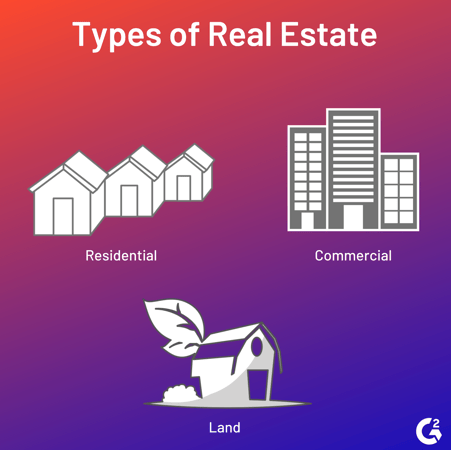 Types of real estate
Some real estate agents will choose to specialize in one sector of the real estate business, while others have built their career dealing in multiple. Each type of real estate serves a unique function, so knowing the differences between them is important.
Residential
Residential real estate refers to any properties that are for personal use. These properties are sold to individuals or families and are not intended to make a profit or be used for business purposes. Most agents will begin their careers working in this category of real estate.
Commercial
Commercial real estate (CRE) is any non-residential property that serves to generate income. This includes shopping malls, hotels, and office spaces. Industrial properties such as processing plants and manufacturing facilities also fall under this category. Real estate agents that specialize in the commercial sector focus on selling mainly to investors and businesses that are looking to rent space.
Land
The types of properties that fall under this category include vacant or underdeveloped land, and farms or ranches. This sector of real estate is niche and very multi-faceted. Agents that specialize in land brokerage have to be well-versed in local land ordinances, as well as zoning and environmental regulations.
Working in the real estate industry
A career in real estate can open the door for long-term professional growth and financial rewards. It's a big plus that the field is easily accessible to people from different educational backgrounds and experience levels. In the U.S., you don't need a college degree in order to become an agent – a high school diploma or equivalent will do just fine.
Each state will have a varying degree of requirements that an individual must meet before they can legally represent clients to buy and sell property. Once you take the required number of educational credits and pass a state-mandated licensing exam, you're officially good to jump-start your career.
Real estate job titles
There are a lot of players in the real estate game with different names and titles that can get confusing. When looking at real estate professionals specifically, there are two noteworthy titles to know:
Agent
An agent is an individual that is licensed to represent clients to buy and sell property in their state. This is the entry-level starting point for newly-licensed individuals. Agents must work under a broker or a brokerage firm; they cannot operate independently.
Broker
Although the titles are often used interchangeably, there's actually a big difference between a real estate broker vs agent. A broker is a real estate agent that has pursued higher education to attain their broker's license. This allows them to operate independently, manage agents working under them, or open their own firm.

Real estate agent responsibilities
The most successful real estate agents are able to juggle a variety of different tasks in their day-to-day. At this point, you might be asking yourself, "what does a real estate agent do?"
Here's a quick rundown of the typical responsibilities that agents are tasked with on a weekly basis:
Administrative duties (i.e. paperwork)
Managing listings
Staying up-to-date on market and industry trends
Marketing and personal branding
Building and maintaining client relationships
Above all, it's imperative to be available to clients at all times, including after regular work hours and on weekends. The real estate industry is fast-paced and, for agents, it's anything but a typical 9-to-5 job. Although pay structures will vary based on whether or not an agent works under a brokerage firm or independently, most agents earn money through commission only. When your paycheck depends on whether or not a deal closes, you're willing to go the extra mile to meet your clients whenever they need.
The real estate process
The process of closing a real estate deal is notoriously long. What it looks like will vary depending on the type of real estate it is (i.e. residential vs. commercial). For this example, we'll stick to a residential property deal because those are the most common. Agents play a valuable role in every part of the sales process from beginning to end.
Note: Hiring an agent isn't required, but most buyers have a difficult time navigating the home buying process on their own.
Finding a property
Once an agent is hired, it's their job to consult with the buyer to learn of their must-haves and other criteria for their new home. From there, the agent will begin searching the market for listings that meet the buyer's qualifications. Buyers will often visit many potential properties until they find one that fits their needs and budget.
Making an offer
Once the buyer has found the perfect home, it's time to make a formal offer on the property. An offer letter, sometimes referred to as a purchase agreement, is a binding legal document that requires careful revision before it's formally submitted to the seller. It will include a starting price offer, as well as any contingencies that could change or end the deal. The agent plays a crucial role during this period to help the buyer make an offer that is both fair and competitive. Additionally, the agent is well-versed in the legality of a purchase agreement and will ensure that it's submitted properly and in accordance with local laws.
Escrow
If the seller accepts the offer, the deal will then go into escrow. The term "escrow" refers to an arrangement in which a neutral third party provider holds the funds associated with a real estate transaction until the deal is finalized. During this time, the buyer will hand over their earnest money deposit to show that they are serious about their offer. This money will be held in a third-party escrow account until they are able to secure financing on the home.
Lender approval
In order for the deal to go through, the buyer will need to secure a loan to pay for the home, often referred to as a mortgage. People who have the financial means to pay for a home upfront in cash are able to skip this step. Most people, however, will need a loan to pay for the desired property. During this time, the lender, which is usually a bank, will require a home appraisal to ensure the value of the home matches the balance on the requested mortgage. If the home appraises, or matches the amount requested for the loan, the buyer is one step closer to finalizing the mortgage.
Note: If the home does not appraise, or is valued at less than the amount of the buyer is asking for, then the deal stalls for further negotiations.
Final close
After receiving approval from the mortgage lender, the buyer will do a final walkthrough of the property to ensure that it's in the condition that was agreed upon. Before the deal is finalized, the buyer and seller are required to pay the necessary closing costs. The seller is primarily responsible for paying commission out to the agents, while the buyer will cover the remainder of the closing costs such as the escrow and appraisal fees.
A lesson in real estate
Real estate is a fast-paced industry with many moving parts. As a profession, the business of buying and selling properties is a lot of hard work, but can also have a big payoff in the end. Now that you know the basics, I'll leave it up to you to decide if the real estate profession is something worth seriously pursuing or if it's best left to the reality stars on TV.
Now that you know the basics of real estate, check out the state of the industry in 2019 with these statistics.