A small business can be a lot of things: a local bakery, an auto repair store, a Hampton Hotel franchise.
Small? Yes. Few and far between? Not even close.
In terms of business size, small businesses are by far the most plentiful, making them a vital piece of the American economy. According to the Census Bureau's Annual Survey of Entrepreneurs, of the 5.6 million employer firms in the United States, 99.7 percent of those businesses have 500 employees or fewer.
Yes, small businesses are everywhere. But what exactly makes them seen as small?
What qualifies as a small business?
When determining business size, two elements are considered: annual receipts and number of employees.
What is the definition of a small business?
Generally, a small business makes less than $38.5 million in annual receipts and has fewer than 1500 employees. It all depends on the industry in which the small business works.
While a general definition of small business does exist, it is important to note that each industry defines small business a little differently.
Small business definition by industry
Because each industry creates its own miniature economy based on what the businesses offer, the current demand for those offerings, and the competition among businesses within that realm, the small business definition differs in each industry.
Below is a list of the size standards for small businesses in various industries:
Agriculture: Maximum of $750,000 in annual receipts
Mining: Maximum of 250-1500 employees
Utilities: Maximum of 250 employees for renewable power, and a maximum of 1000 employees for electric and gas businesses
Construction: Maximum of $36.5 million in annual receipts
Manufacturing: Maximum of 500-1500 employees
Wholesale Trade: Maximum of 100-250 employees
Retail Trade: For about ⅓ of businesses, the standards are set at $7.5 million in annual receipts, while others are a maximum of 100-500 employees
Transportation and Warehousing: Maximum of 500-1500 employees and $7.5-37.5 million in annual receipts
Information: Maximum of 500-1500 employees and $7.5-38.5 million in annual receipts
Finance and Insurance: Maximum of 1500 employees and $32.5-38.5 million in annual receipts
Real Estate: Maximum of $7.2-32.5 million in annual receipts
Professional Services: Maximum of 1000-1500 employees and $7.5 million in annual receipts
Healthcare and Social Assistance: Maximum of $7.5-28.5 million in annual receipts
As you can see, certain industries classify according to annual receipts, some do based on the number of employees, and some take both into account. Because these discrepancies exist, defining a small business must be done with the appropriate industry in mind.
However, if you want a general description of a small business, they make less than $38.5 million in annual receipts and employ fewer than 1500 people.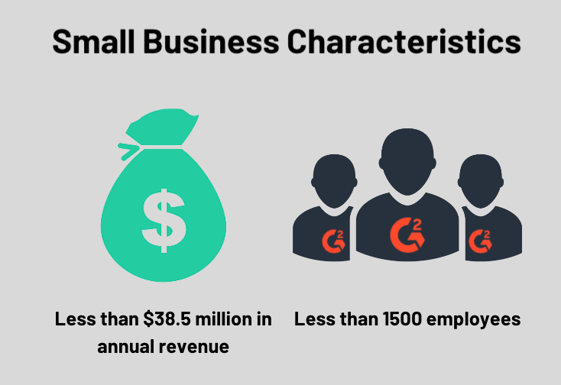 Why does business size matter?
While other things like productivity, leadership, and corporate culture are more important, the size of a business still matters.
When you identify as a small business, there are certain benefits that come along with it.
The Small Business Administration (SBA) offers loans, as well as business, finance, and entrepreneurial programs to aspiring small business owners to support their mission of providing aid to small businesses to contribute to the health of the economy.
Standards of business size are set so these loans and programs are only available to the small businesses that need them to compete with mid-market and large enterprises.
Business size also matters when measuring economic impact and success. You can't properly compare Walmart to a local mini-mart without taking size into account.
Small business, big impact
While certain businesses are identified as "small," their contributions to the economy are not. Among other benefits, small businesses employ local workers, create diversity in business ownership, and help create a community identity.
Interested in starting a small business? Check out these small business tips from real life owners to see if you have what it takes.