For a lot of us, writing in school was a pain in the butt.
Whether it was an essay, a proposal, or a script for class, the thought of even opening up Microsoft Word gave us chills down our spines. Fleshing out an outline, researching what others had written, and crafting clever titles was the equivalent of torture.
Then, there were those kids that attacked these tasks with ease, even joy. So much joy, in fact, that they decided to make a career out of it.
What is a copywriter?
Were you one of those kids?
Do you have a way with words? Do you have the ability to tell an interesting story about subjects both miraculous and mundane? Do you know how to initiate curiosity with just the arrangement and rearrangement of the letters of the alphabet?
Copywriters don't write books, poems, or lengthy blog posts for content marketing (or, if they do, that's not their primary job responsibility).
Copywriter job description
A copywriter is someone who uses their unmatched writing skills to create copy that is both to-the-point and compelling enough to draw in both current and prospective consumers. Their expertise is used strategically in not only ad copy, but also their company's website, blog, email newsletters, white papers, social media platforms, and any other marketing communications exercised by the company.
As our own Eddie Shleyner puts it, to be a successful copywriter is to write clearly, concisely, and compellingly.
Do you have what it takes to become one?
Copywriter qualifications
Some people are naturally gifted with the ability to execute pieces in a way that is short, sweet, and to the point. Others, not so much. But that doesn't mean there's no hope for you if copywriting is your dream job.
Because writing skills are essential (the word "writer" is right there in the job title), having a bachelor's degree in English, communications, or journalism is often required to be considered for a salaried position as a copywriter. Any experience that could improve your writing skills, such as working for freelance or even working for a school newspaper, can suddenly make you a much better-looking candidate.
Finally, having an attractive portfolio can make all the difference in the world.
TIP: Looking for somewhere to get started?
Copywriter responsibilities
When you think of the word "copywriter", there's a chance you're visualizing the cigarettes and nostalgic Madison Avenue of Mad Men, the period television drama surrounding an advertising agency.
And yes, a lot of copywriters do work in the realm of advertising.
But copy surrounds us beyond the billboard designs we see when we're commuting. There are versions of creative copy like slogans and jingles or TV commercial scripts. There's also more technical copy like product and job descriptions.
The more tones a copywriter can take on, the better.
If a copywriter is working exclusively for one company, it's likely that they're working closely with the brand and product teams to make sure that the voice they use in their copy aligns with that of the brand. If the copywriter works for an ad agency, they may have multiple accounts with which to match their tone to.
Copywriter salary
There's no one salary for a copywriter – there are several factors that can affect the amount of money a copywriter makes annually.
For example, if you're a freelance copywriter, it's on you to find clients and charge an appropriate rate.
But, if you're lucky enough to find a salaried position, here's what you can expect: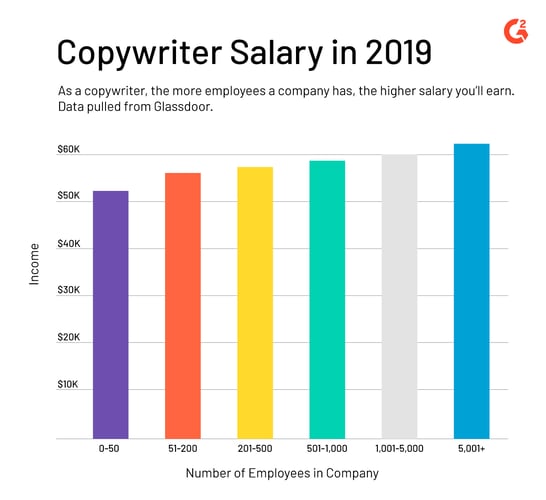 Copywriter skills
The number one skill should be obvious: writing. And no, being able to make words out of letters doesn't count as writing skills, but lacking the proper knowledge of grammar, spelling, and punctuation could be the death of you.
Copywriters of all concentrations should be able to write clearly and effectively, communicate with readers, and elicit the intended emotion from them. Following general writing abilities, copywriters should master:
Persuasion. The use of language to convince people to take action (whether it's to sign up for a webinar, subscribe to a blog, or even open an email) is priceless.
High attention to detail. While this skill is listed in a majority of job descriptions, we really mean it this time. As a copywriter, there's no excuse for mixing up "there," "they're," and "their".
Critical thinking. Being able to call yourself a spelling bee champ doesn't make you a copywriter. Being clever, concise, and conscious about the words and phrases you use on each and every platform you publish on might be a good start.
Copywriters are modern-day heroes
Masters of explaining foreign and abstract concepts, simplifying the complex, and converting audiences into brand evangelists – that's what copywriters are all about. If you're looking to become one, step up your writing game, starting now.
One way to start getting people's attention? Start a blog.