Content is the reigning king of marketing, and I don't see that changing anytime soon.
As you begin to plan your business strategy, incorporating unique content is an absolute must. Not only does it make your website interesting, but it's also key to enhance your SEO (search engine optimization) value in the eyes of Google.
As you discover how to make a website for your company or brand, you'll soon find out you need to obtain a domain name and learn about website hosting. As you move to the creation of your website, you'll need to factor in elements like design in addition to content.
At this point, you should consider what CMS (content management system) is right for you. If you aren't sure what a CMS is, and why you should use one, just keep reading.
Looking for something specific regarding a CMS? Jump ahead to:
What is a content management system?
First things first, let's break down exactly what a content marketing system is.
What is a CMS?
A content marketing system (CMS) is an application that is used to manage web content, allowing users to create, edit, and publish all in one place.
A CMS is broken into two components:
Content Management Application (CMA): Allows you to add and manage the content on your site.
Content Delivery Application (CDA): The backend process that takes the content from the CMA and stores it in a proper format, making it visible to your visitors.
Whether you're interested in creating a formal website, or a blog for your side job, and you aren't sure how to code, a CMS is exactly what you're looking for.
What does a CMS do?
Content management systems are specifically designed to help users create and manage the content on your website. This can be anything from the display text, pictures, videos, articles, etc., on your site.
Since almost all modern websites consist of HTML, CSS, Javascript, and a variety of images that make up the content on a website, your CMS will help you organize these resources, all in one place, while ensuring a positive user experience for your visitors.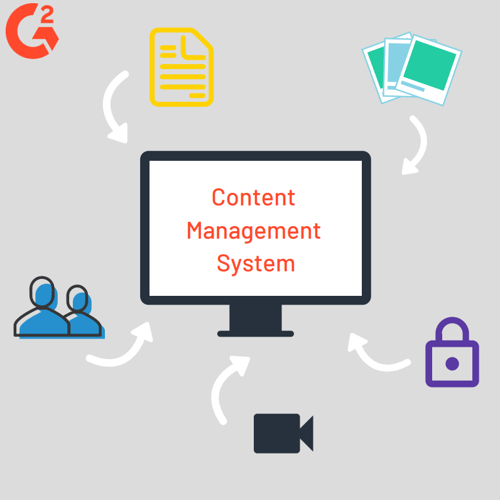 Advantages to using a CMS
There are many advantages to using a CMS. For starters, a great aspect of most CMSs is their expandability, considering most support third-party plugins that either expand on or support elements already pre-built into the CMS.
In addition, as opposed to coding the site yourself, a CMS allows for an easy-to-use interface where you don't need technical skills to use. There typically are support documents and a community of users that can be helpful if you have a question or run into an issue you need assistance resolving.
If you're looking to have opportunities for customization, most CMS platforms have various ready-to-use design templates that are easy to install, so you are sure to find one that works with the look and feel you have in mind for your site.
As previously mentioned, content promotes SEO, and CMS's can be very SEO-friendly. They make it simple to include custom page titles, metadata, and adjustable URLs. There are also helpful plugins available if you need additional tips on how to optimize your on-page SEO.
Finally, using a CMS supports collaboration, as multiple users can log in and contribute to and edit the existing content.
Disadvantages to using a CMS
Like anything with pros, there are also cons to using a CMS, although not many.
For example, since some CMSs are so popular, and have so many users, security can sometimes be a concern. Hackers could potentially figure out how to break into the CMS platform. Of course, there's a workaround to this, including taking extra security precautions like two-factor authentication.
Also, you may experience some lagging, since content management systems tend to store parts of a page separately. Such lagging can be reduced with effective caching.
Lastly, even though many CMSs posses a variety of designs, you could run into the fact that none are exactly what you have in mind. If that's the case, find a designer on a freelance platform that can create something that is more on brand for your company.

Choosing a CMS
There is a lot to consider when deciding which CMS is right for you and your needs. For instance, think about the business problems you are hoping the right CMS will solve.
Next, think about what you're looking to actually write on the CMS. Some are ideal for blogging. In fact, small businesses with blogs generate 126 percent more leads. If blogging won't be the focus of your site, others are tailored more for eCommerce functionality.
Also, keep in mind elements like your budget, what technologies the CMS needs to support or integrate with, how easy the CMS makes editing and creating content, if the platform is SEO-friendly, and if there is a developer community.
Once you answer some of these questions, you will have an easier time narrowing down your options for the right CMS.
Dust off that keyboard and get started
Now that you have a better understanding of content management systems, what they do, and how to choose one, you can get to creating top-notch content. Doing so is an absolute must in crafting an engaging website with a stellar content strategy.
It's no surprise that 64 percent of marketers want to learn how to build a content strategy, and choosing to use a CMS is often the first step.
In addition to having quality content, check out these other must-have website features that will take your site to the next level.