There are a few things that can make or break your business.
Originality, a definite need for the product or service in the market, and how you treat your customers. Customer service can sometimes be overlooked by sales and marketing professionals alike, but it plays an important role in the success of your business.
Anyone working in the field has gone through preliminary customer service training to acquire the skills and characteristics it takes to provide truly exceptional and memorable assistance. Customer service has a variety of meanings depending on the person you ask.
Customer service means:
A fast and thorough response
Being able to empathize with the customer
Displaying your contact info clearly
Going the extra mile and personalizing the interaction
Remembering that each customer is a human
Giving space when needed and assistance when asked
Being an active listener
Any of the above takes are valid in different circumstances. We spoke to seven experts and got their take on what customer service really means to them.
1. A fast and thorough response
"Great customer service has three factors: responding quickly, thoroughly, and in a friendly manner. A fast response is essential, even if it only means acknowledging that a support request has been received and that we're working on it. A thorough response means demonstrating a clear understanding of the customer's issue and communicating a clear path to resolving it. Friendly means doing all that in a way that conveys that you actually care about the customer. Emotes, smileys, etc. are great to use to show real personality."
Jayson DeMers, CEO EmailAnalytics
2. Being able to empathize with the customer
"Great customer service depends on the specialist being able to listen and empathize with customers. Great customer service doesn't necessarily mean that you can always solve all their problems. Instead, great customer service means that you are able to turn their negative experiences around by letting them feel that their problems are being heard and that you are making it your priority."
Brigham Pongyan, Head of Customer Service Viakix
3. Displaying your contact info clearly
"When I buy a particular product, I need to know that if something goes south, there'll be someone poised to offer a helping hand. Therefore, I like it when businesses spotlight their contact info, so I don't have to do the detective work to unearth it."
Maciej Baranowski, Customer Experience Team Lead ResumeLab
4. Going the extra mile and personalizing the interaction
"When GreenPal launched, we were unlucky in getting a negative review right off the bat. The reviewer never actually used our service, however they left the negative review confusing us with another company. We appealed to get the review taken down, but Yelp never responded. We even reached out to the person to get them to correct the review and nothing.
We knew we had to develop some sort of strategy to get more accurate reviews. We came up with an idea to tap into our customer's souls through their pets. When a homeowner signs up for our service we started inquiring if they have pets and, if so, what their names were.
We decided we could use this info about our customers to send a personalized gift for the pet. This really wowed our customers. We received personal thank you notes, photos being posted to Yelp and Facebook and thank you tweets. We now have 27 positive reviews and have seen several reviews that specifically reference receiving the gift for their pet."
Bryan Clayton, CEO GreenPal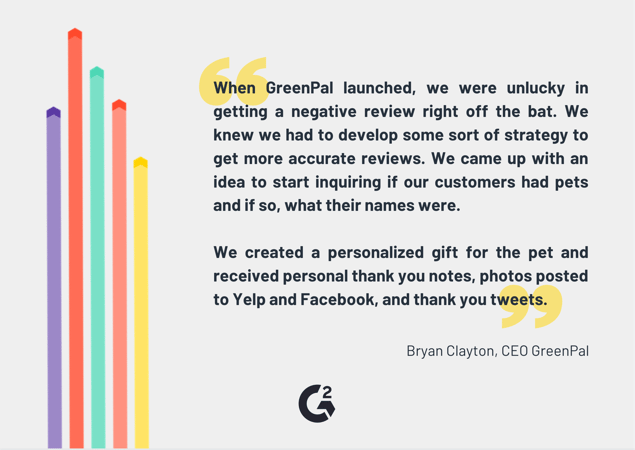 5. Remembering that each customer is human
"Customer service is all about understanding that everyone has a story. They have a life that is outside of our own, and understanding that is the key to providing a friendly interaction. Great customer service is about leaving a positive impression on someone and building a trusting relationship with them by understanding their needs and executing the job in a timely manner."
Madelyne Churchill, Content Strategist Social Eyes Marketing
6. Giving space when needed and assistance when asked
"In a face-to-face customer service interaction, take a step back. Don't approach possible buyers. Just be in their general area. Nothing's more annoying than being asked if you need help with something when you are just browsing through the merchandise. But it's also extremely annoying when you can't seem to find any of the customer service representatives for help. So, stay in "eye-view" of all customers, that way they can holler at you if they need help. Doing this gives the customer space and freedom to call the shots."
Sara Routhier, Editor Effortless Insurance
7. Being an active listener
"Great customer service means active listening. For instance, someone asking for a refund wants their money back, but it might be just as important for them to have someone hear and appreciate why this is, what they disliked about the product, or how it failed them. It's hearing and responding to this underlying subtext that makes a great customer service experience; fulfilling those unspoken needs as well as the stated ones.
Active listening means that you can personalize your response (even if you can't give the customer what they actually ask for) and provide a positive experience for them, offering them a solution that they can work with."
John Moss, CEO English Blinds
Do what you can
These seven interpretations of what customer service means can be the jumping-off point to revamp your customer service team processes. No matter what, always remember that the customer should feel valued. Make them a priority and prove to them that you care about their time and experience with your product/service.
If you work in customer service, why not check out the top customer service software you can use to change the game and really wow your customers.
Want to learn even more? Check out the nine customer service tips that make a difference or read up on what it takes to provide truly great customer service.