On the receiving end of every job application you've sent to a company is a person (allegedly).
New employees are an incredibly important resource for any organization. Businesses are nothing without the people that drive them and finding the best people to do so is a key role owned within a company. This job belongs to the recruiter.
Recruiter meaning:
A recruiter is a person whose job is to hire and enroll people as employees or as members of an organization.
Recruiters play a vital role in the success of a business. If you're considering becoming a recruiter (or want to know more about what recruiters do), keep reading. Feel free to skip ahead to one of these sections to find the answers to your questions right away:
What does a recruiter do?
A recruiter can have any number of daily tasks related to employee sourcing. A recruiter's main goal is to bring qualified people into the company. It's not all about getting people through the door though, a recruiter needs to ensure new employees are properly onboarded, fitting into the company culture, and feeling engaged at work.
A recruiter needs to utilize specific strategies like resume parsing, campus recruiting, and job fairs. They also need to understand the interview process, salary negotiation, and candidate assessment.
TIP: Recruiters often need to use Applicant Tracking Systems (ATS) to keep track of candidates and their stage in the hiring process.

The days are never exactly the same for recruiters. One day could involve qualifying resumes for a position, coordinating interviews, or posting job listings, while the next day may require creating a company culture video to help grow the employer brand.
Recruiting, screening, interviewing, and placing workers is a tough job. For many, it's totally worth it.
How much money do recruiters make?
A recruiter can go by different titles such as HR Specialist or Talent Acquisition. Each of these may have slightly different job descriptions and duties, but at the end of the day, it's about finding the right people for the right job. The median annual wage in May 2018 for Human Resource Specialists was $60,880 according to data from the Bureau of Labor Statistics.
Here at G2, we hold user-reported data in high regard. The salaries reported by reviewers on Glassdoor show a similar, but slightly different picture for recruiter compensation.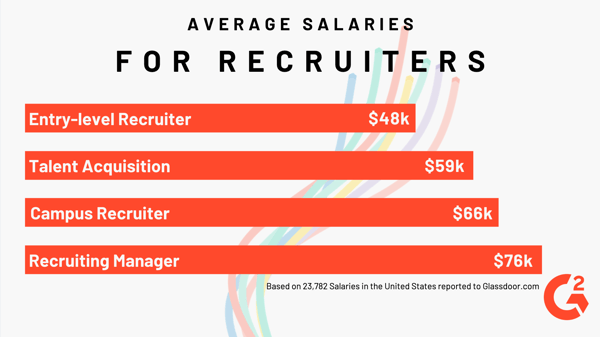 As the job market for recruiters grows at the same rate as all other occupations (roughly 7% annually according to the BLS), it's safe to say that recruiters will always be in demand. No matter how automated the recruitment process becomes, nothing can replace the human connection required to find the perfect fit for a job.
Not everyone has what it takes to be a recruiter though.
Skills a recruiter needs
The skills a recruiter needs begins with formal education. Recruiters usually must have a bachelor's degree in human resources, business, or a related field. The coursework typically includes business, industrial relations, psychology, professional writing, human resource management, and accounting.
It comes down to four key competency areas: communication, decision making, detail oriented, and interpersonal skills.
Communication skills
Listening and speaking skills are essential for recruiters. Being able to convey information effectively, and pay attention to questions and concerns from job applicants can make all the difference in a recruiter's success.
Decision-making skills
Recruiters use decision-making skills when reviewing candidates' qualifications. The ability to make sound judgment on a candidate's abilities and show resolve if those decisions come into question is vital.
Detail oriented
Recruiters must be detail oriented when evaluating applicants' qualifications, performing background checks, writing job descriptions, or planning recruitment strategies.
Interpersonal skills
Recruiters continually interact with new people and must be able to converse and connect with people from different backgrounds. A recruiter needs to be a friendly face to the organization and a great first contact for applicants.
Developing these four key skills is crucial for success as a recruiter, but there are a few more ways you can ensure your career as a recruiter is a long and happy one.
Career tips for recruiters
There are a few things a recruiter can do to make their job easier in the long run. This may require some buy-in from upper management and leadership. Thanks to your exemplary interpersonal skills, though this should not be a problem for you.
Put the candidate experience first. Every candidate that you interact with should feel good about the company and process regardless if they're hired or not. This is a huge part of your employer's brand and creating a bad candidate experience can turn people away from your company and make your job incredibly difficult.
Create a strong value proposition. It's important to communicate to potential applicants the salary, benefits, culture, and recognition they should expect if they are hired to your company. What can you provide them that a similar position at a different company cannot?
Ask better questions. There are a number of common interview questions you can adapt to your interview process and make sure that your candidates are properly assessed.
Seek and embrace diversity. Diversity, equity, and inclusion are essential to every company and it's no different in your recruitment process. Consider all forms of diversity and how you can make your hiring process more friendly and inclusive to people from any background.
Think like a marketer. Anyone can hop online and read Glassdoor reviews, find YouTube videos, or Instagram posts about your company. Take some control of the message and make sure the first information they find is the information you're giving them.
Get ready to read a lot of resumes
Being a recruiter can be an enriching experience, and while it comes with its challenges, you're sure to feel incredible when you find that fit and place someone in the perfect role. The role of a recruiter is one that allows for great interpersonal connection and creativity. If you feel like this is the job for you, what are you waiting for?
The emerging generations are going to make up 75% of the workforce by 2025. There are a number of strategies you can use when recruiting Millennials and Gen Z that will help make you successful.