Whether it's a home or a commercial property, selling real estate is no simple feat. That's why most people hire someone to help them.
Real estate agents help individuals and businesses find and sell property. While a career in real estate can be incredibly lucrative, it's not without its challenges. If you're considering pursuing a job as an agent, you might be wondering what exactly a day in the life really looks like. It looks like you've come to the right place.
In this article, we'll take a deep dive into the day-to-day life of the average real estate agent.
What does a real estate agent do everyday?
Between closing deals, running open houses, and dealing with other real estate professionals, there are a lot of tasks that agents have to juggle. And while it's true that no two agents will have the same exact day-to-day, there are a lot of general responsibilities that apply to most real estate professionals. Here's a list of the 5 most common real estate agent duties you'll likely see on the job.
Note: There is a big difference between a real estate broker vs agent. They have different skills and responsibilities. In this article, the main focus will be on agents since this is the starting point for people looking to kick off their real estate careers.
Basic administrative tasks
One word: paperwork.
Between the buyer, seller, lender, and agent, there is a lot that goes into closing a real estate deal. In order to protect all the parties involved, everything has to be documented. While that responsibility doesn't rely solely on the agent, a big chunk of it will. Agents need to have strong organizational skills to draft and handle these documents, which often contain sensitive information about their client's personal finances.
In addition to handling paperwork, agents will spend a lot of time on other administrative duties like coordinating appointments and organizing their listing database. To keep up with their clients' needs, they spend a lot of time checking emails and answering phone calls.
Managing listings
One of the primary responsibilities of an agent is to stay in the know about listings: which ones are new, which have sold, changes in price, etc. All of this information is made available to real estate professionals through a Multiple Listing Service (MLS). In short, an MLS is a database for real estate professionals to manage their listings and see what other listings are available in their local or regional markets.
Most MLS providers will release a hot sheet every day. A hot sheet is a report that details the status of existing listings, new listings, price changes, and other general updates. At a glance, agents can keep an eye on the market and be made aware of any changes.
Personal branding
Agents spend a considerable amount of time building their personal brand. While this isn't necessarily required, it can have a big impact on business. Just like most people wouldn't see a doctor or book a hotel without reading reviews or asking their friends beforehand, people will do the same research prior to finding an agent. Buyers and sellers want to work with agents that are reputable in their local market.
Most agents will have a website where they share information about themselves, their current listings, and any other resources that might be useful for prospective leads. In addition to a website, a lot of agents will use social media to market themselves.
Outside of being present online, agents strive to be well known in their local community. Even small things like attending a networking event or volunteering for a local cause can have a big impact.
Working with clients
An agent can have all the necessary skills for success but without clients, none of it matters. Although real estate revolves heavily around property, it's actually the people and relationships that are at the core of the business. Any time an agent isn't at the office working on administrative tasks, they're with their clients. And yes, that includes working outside of regular hours and on weekends.
When working with buyers, agents are coordinating visits, driving around to view different properties, accompanying them to a home inspection or meeting with their mortgage loan officer. It's also the responsibility of the agent to help buyers through pricing negotiations and drafting the final purchase agreement.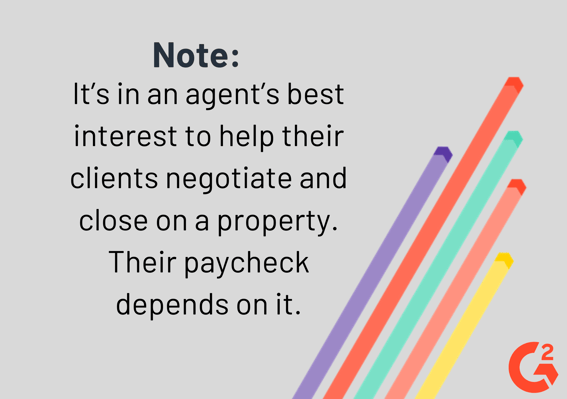 When working with sellers, agents are helping them stage and list their property, running open houses or attending closing meetings together. A lot of time is spent helping sellers advertise their property to attract qualified buyers.
Continued education
The law plays a big role in real estate – that's why agents are required to have licenses in the first place. In order for a license to stay current, agents must continue earning education credits throughout their careers.
An agent looking to take their career to the next level can opt to pursue even higher education to earn their broker's license. Brokers have much higher earning potential since they're able to operate independently. The broker path isn't right for everyone, but for agents willing to put in the extra work, the payoff is there.
TIP: Retaining well-educated and successful realtors is difficult for agencies. Learn how you can overcome this, as well as other major HR problems in real estate.
All in a day's work
As you can see, there's a lot that goes on in the day-to-day life of a real estate agent. They're expected to juggle a handful of different tasks all while providing exceptional customer service to their clients. So, is agent life right for you? We'll let you be the judge of that.

Curious to learn more? Check out these 60+ must-read real estate statistics.