Customers love the idea of a good deal, especially if it's exclusive.
As a business, being able to capitalize on this phenomenon with a VIP program could lead to long-term engagement and higher CLTV.
VIP programs: the exclusive touch
Exclusivity is often mistaken for expensiveness, especially when it comes to loyalty programs. In truth, a VIP program has more to it than lavish gifts. In order to make the concept work, you need to understand what makes those who crave exclusivity tick, as well as figure out a loyalty program formula that's capable of engaging modern customers. Once these ingredients are properly realized, building a loyalty program that capitalizes on exclusivity would be a walk in the park.
Exclusivity: the secret to achieving long-lasting customer loyalty
The power of exclusivity lies in scarcity. Rare things are oftentimes perceived as valuable, and being in possession of something prized by others automatically elevates the owner's status. And because social image has a lot of weight to it in our modern society, many customers develop a strong desire for exclusivity.
But what counts as an exclusive offer? In short, an item, deal, service or reward is seen if it's either have a high value or limited to a handful of recipients. For instance, spending a weekend at a luxurious hotel for free seems like a truly desirable gift, even if you're surrounded by other guests. On the other hand, a t-shirt might appear far less luxurious, but once you hear that it was designed by a celebrity and it's one of a kind, then it's just as valuable – if not more than the free hotel trip.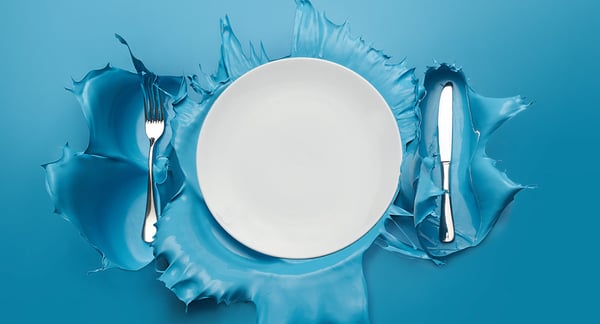 Harvey Nichols used to have this design element for its exclusive VIP program, "Rewards".
The impact of exclusivity on customer behavior
Ninety-four percent of Americans reported that they would take advantage of an exclusive offer. This relates to another behavioral aspect of exclusivity, colloquially known as "bragging right". Nevertheless, the survey clearly shows that introducing an enticing offer with a FOMO effect would see a spike in engagement.
The same survey also shows that 3 out of 5 of those who would use an exclusive offer say it would increase their likelihood to make another purchase. Again, scarcity is the keyword here: people aren't used to receiving such exciting deals, therefore they're more likely to capitalize on the opportunity.
Harnessing the power of exclusivity with a VIP program
Of course, you shouldn't hand out high-end prizes casually; customers should work for the privilege of gaining them, otherwise the whole concept would lose its relevance. Loyalty programs infused with exclusive rewards – let's call them VIP programs for brevity – are an ideal platform to motivate customers, as these systems are built around rewarding members for performing actions your company deems useful. With a well-crafted loyalty program, any kind of KPI can be moved as long it's capable of resonating with the members' needs.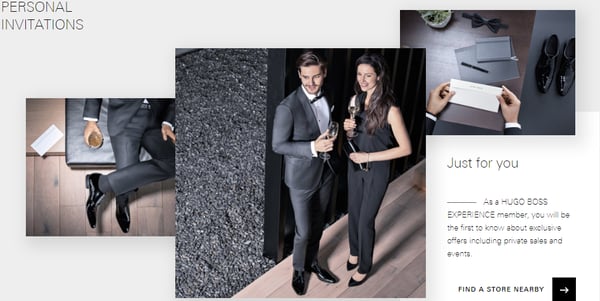 An exclusive loyalty program: The Hugo Boss Experience
Loyalty 3.0: changing customer behavior in the 21st century
However, customer loyalty has changed over the years. Their values and priorities need to be understood if you wish to entice them with a VIP program. Not knowing how to influence modern customers will make your exclusivity-based program fail.
Simply put, modern customers expect it all when it comes to shopping: convenience, speed, quality, novelty, great prices, and sustainability. Even though brands and retailers have made huge strides in personalization and hyper-targeting, consumer loyalty remains fragmented. That's because modern customers require constant curation.
Initially, this wasn't an issue. Back in the day, loyalty programs were simple: every 10th coffee is free. Then came the point-collection schemes. But as time went on, expectations grew. Instant gratification and experience-driven customer journeys became a priority. All in all, the model of Loyalty 1.0, which is centered around rewarding purchases, has lost its appeal.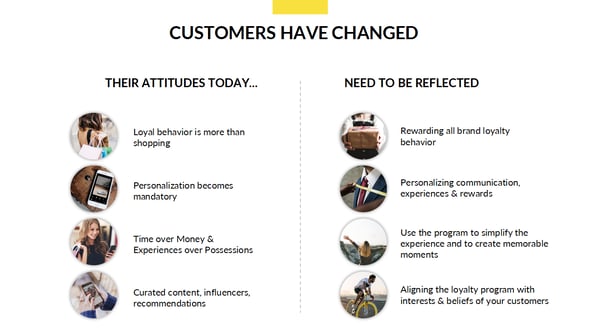 Chart outlining customer needs and attitudes
Introducing the concept of Recognition Loyalty
Sensing the need to adapt and evolve, the loyalty program sphere rapidly branched out. In the era of Loyalty 2.0, new program types popped up. The rewards became more experiential, with companies offering trips to social events and designer paraphilia, alongside discounts and coupons. Still, something was missing: emotional resonance.
That's why Loyalty 3.0, a.k.a Recognition Loyalty, set out to create a framework that fosters long-lasting brand love by engaging customers outside of the buying cycle. Members of a Recognition Loyalty-based program are recognized in more than one way, hence the name, which provides a different experience for each and every one of them.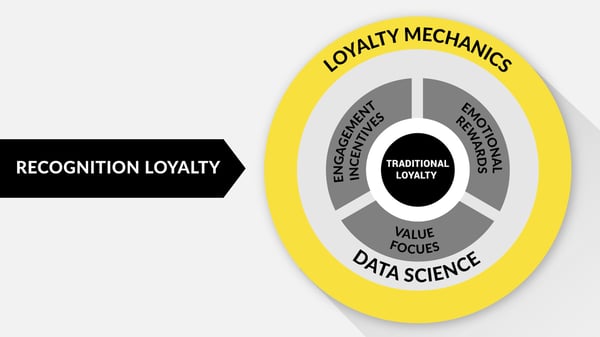 What's included in a Recognition Loyalty program
Putting Loyalty 3.0 into action with a VIP program
Only rewarding purchases is severely limiting your opportunities to deliver an emotional high. Recognizing members for other interactions promises a much more eventful customer journey. Rewarding customers for referring friends, leaving product reviews or filling out surveys are just the beginning, though.
Beer Hawk, the UK-based specialty beer retailer uses its loyalty program to encourage customers to return the expensive beer kegs. In a similar fashion, a loyalty program can incentivize recycling or the return of used clothes. Another example of the Loyalty 3.0 mentality is when brands incentivize a healthy lifestyle by hooking up the program to Fitbit. Thus exercising directly leads to loyalty points or benefits.
Why does this matter in the context of a VIP program? For one, such features make customers feel valued not just as a buyer, but also as a member. Giving a reason to return week after week makes them more invested in your brand, increasing the chance of them becoming an advocate. Last but not least, exposing them to the latest exclusive rewards and offers might prompt them to increase their purchase frequency. With the groundwork laid down, it's time to show how exclusivity and VIP programs can work together.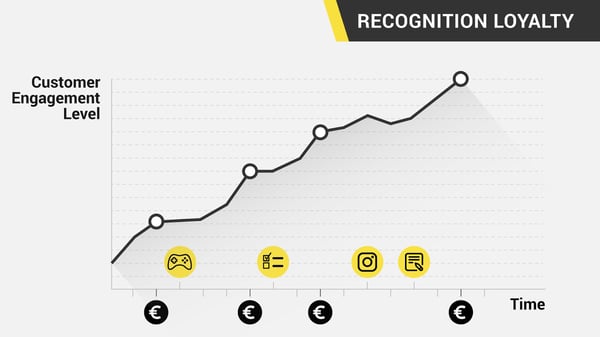 Customer engagement over time in a Recognition Loyalty program
Offering true VIP treatment with special interest clubs
For brands and retailers that are frequently introducing new product lines or fresh releases, the most effective way to blend exclusivity with a loyalty program is to set up a special interest club. These are invite-only groups only the creme of the community is allowed to enter. In exchange, members receive access to VIP perks, such as early access to upcoming products.
Italian-born luxury fashion retailer LuisaViaRoma operates such a club called Sneakers Club as part of its loyalty program, LVR Privilege. The gist is simple: customers earn 1 loyalty point for each €1 spent at the shop, or by performing favorable actions, such as Facebook shares and profile completion. It's up to them whether they redeem the currency for short-term benefits, like a coupon, or wait until 2,000 points are amassed, which can be turned in for an annual Sneakers Club membership.
Those who enter LVR's special interest club have the opportunity to purchase upcoming products before they'd be available for the wider public. Since high-end footwear is a sought-after commodity in the luxury world, such privilege led to some amazing engagement rates. After introducing the Sneakers Club, members spent 2 million points within the first month alone, in order to gain entry. In some cases, the interest toward fresh drops is so intense that the new sneakers ran out of stock before they even made it to the main shop floor.
Remember: special interest clubs only work if you reserve some exclusivity-based benefits for the members. Early access is always a good choice, but you can also add designer gifts and VIP customer service to the list. If you're releasing your own product line, consider involving high-end members in the design process of the latest release.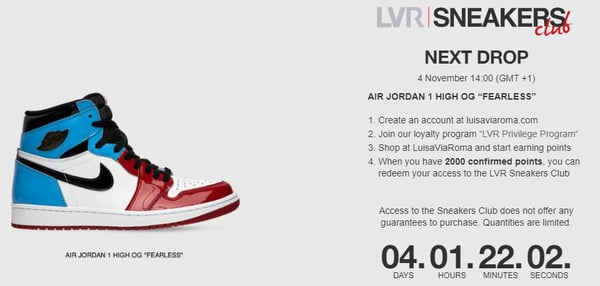 LVR Sneakers Club loyalty program
Conclusion
Exclusivity is like an exotic spice: use it with care, and it'll enhance your product. But rely on it too much, and customers will turn away. A VIP program is a perfect platform to keep the balance: members have access to amazing experiences but only if they consistently engage with your brand.
Once you've implemented your VIP programs to enhance customer engagement, make sure you're using the right loyalty management software to track and identify recurring and new customer demographics and needs.