The sales funnel is a point of contention for a lot of marketers.
This is partly because there are multiple stages of the sales funnel that require different messaging and partly because the exact route a customer takes can dramatically vary from brand to brand.
The most important thing to remember is that prospects have different needs at different stages of the funnel. For example, a prospect who has just been introduced to your brand has different needs than a prospect who's hand is hovering over the "buy" button.
This also means that different types of content work best at different points throughout the sales funnel. When it comes to video – one of the most effective content mediums - it's important to get it right if you want to increase sales. Here's how to use video when it matters the most: at the vital end stage of your funnel.
Why use video at the end of your sales funnel?
Content comes in all shapes and sizes, so why should you be using video at the end of your funnel? Or perhaps the most important question to ask is: what makes it so powerful? Video is more engaging than text-based content.
Let's look at some statistics proving this fact:
Before you go rushing to create video content, there are a few things you need to think about first. It's a common misconception that you need a fully-functioning camera crew and professional editing suite to create videos. Instead, you've got everything you need in your pocket. Most smartphones have high-quality, built-in cameras that you can record footage on, and there are plenty of editing apps for post-production tweaks and animations.
What do customers need at the final stage of the funnel?
You can produce the best video in the world, but if it doesn't tackle the wants and needs of your customers, you're going to struggle to scrape any conversions. This is why it's important to think about the key things your customers need just before they hit buy. For a lot of brands, this is testimonials, customer stories, and use cases that they can apply to their own business.
Prospects will enter and go through your funnel in a variety of different ways, which is why you need to think about where you're going to put your videos once you've created them.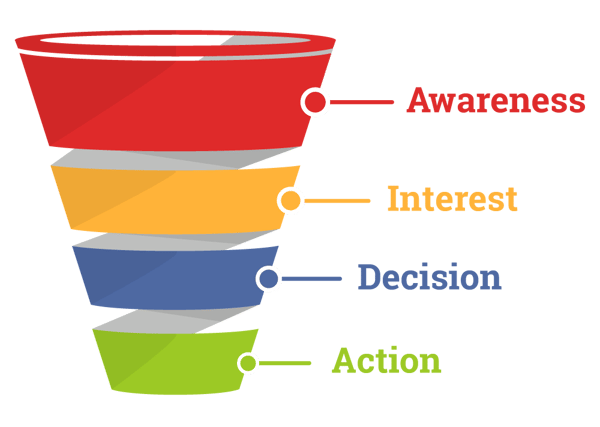 Again, this will be determined by the route your customers usually take. For example, if they tend to find you through social media and come directly to your product pages to buy, you might want to incorporate product videos on those pages. Alternatively, if your customers keep returning to your homepage while they weigh their options, you might want to add a video there.
4 ways to use video at the bottom of the sales funnel
The following ideas for how you can use video content at the bottom of the sales funnel are geared toward increasing engagement and converting more customers.
1. Testimonials
Testimonials should be used to prove the value of your product or service to potential customers, and to highlight customers who truly respect your brand and let the world know their feelings.
Plus, the stats are hard to ignore when it comes to testimonials:
92% of consumers read testimonials and reviews when considering a purchase
88% of consumers trust testimonials as much if not more than personal recommendations
72% of consumers say positive testimonials help them trust a business more (and we all know that trust turns prospects into buyers)
Turn your testimonials into videos to make them more engaging and to show off a more human side to your brand.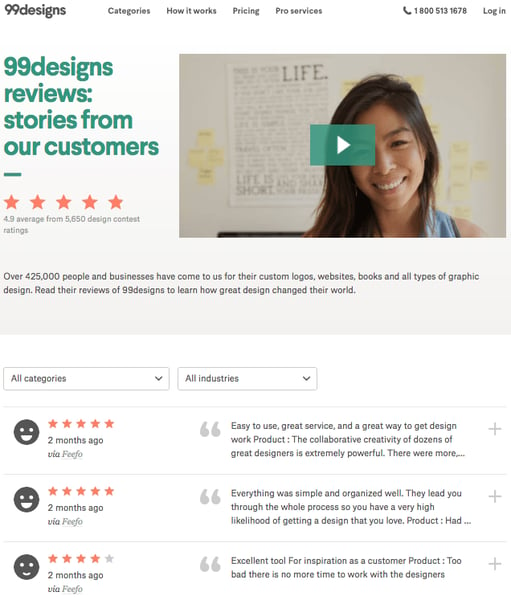 99designs mixes written testimonials with video testimonials to create a more engaging page.
2. Case studies
Like with testimonials, potential buyers like to see how you've helped previous customers. This is why case study videos can be so effective. Not only can they show customer emotion, but they also provide proof of potential use cases that builds trust.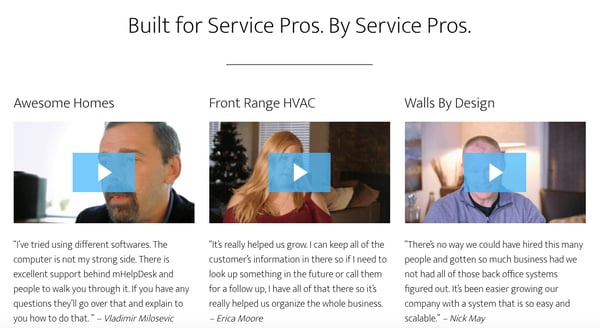 mHelpDesk has populated their case study page with customer videos for first-hand proof.
3. Tutorials for product features
Imagine someone is hovering over the buy button on your latest product but they're hesitant to pull the trigger because they're not sure if it will fit with their unique needs and they're not 100% sure how it will work for them.
Now imagine they had a video tutorial of use cases where you run through how the product is used and leave them with no objections. This is precisely the effect video tutorials can have, particularly for consumers at the very bottom of the sales funnel.

Kelty shows off their latest table through a product demo. It shows potential buyers how to set up and use the table.
4. Onboarding
The sale is just the start of your relationship with a new customer. From there, it's a process of nurturing them so they can get the most out of your product and hopefully come back for more or at least recommend you to their friends and colleagues.
Videos at the onboarding stage can be incredibly useful for showing customers how to interact with and use your products as well as introducing your brand to them in more detail.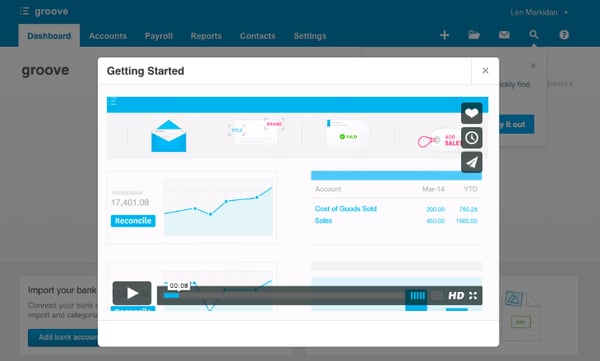 Groove welcomes new customers with a video that helps them get started.
Power the bottom of your sales funnel with video
Video is a powerful addition to your sales funnel, particularly if you use it in the right place at the right time. The tactics highlighted in this post work to build engagement, prove to prospects that they can trust you, and ultimately increase sales.
Get started using videos for the end of your sales funnel with the right video advertising software to use on your site. See all available options on G2.