Time waits for no person; it's an ephemeral resource that we will never have enough of to accomplish every task, big or small.
Fortunately, there are plenty of time management strategies to help individuals improve their work day. From identifying personal problem areas to creating action plans, there is a lot you can do to improve your time management skills.
Time management has been at the forefront of the human brain since time immemorial. From Seneca to Coco Chanel, the greats of history have decried wasting time.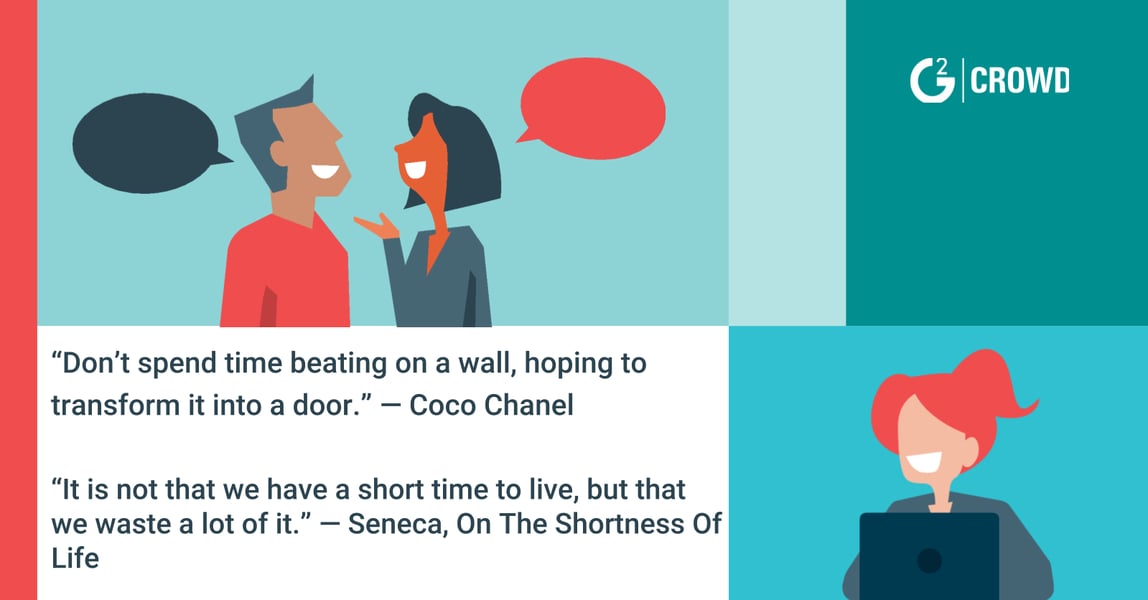 Unfortunately for them, they didn't have software to help improve their time management skills. Quotes from those that came before can certainly inspire us into action, but to enable real change, we can turn to modern time management tools.
Beyond inspiring quotes and time management tips lies software. Let's take a look at 11 time management apps that offer users time-saving solutions they need to get ahead in 2019.
Best time management software
The list we've outlined here includes 12 time management solutions that will save you time and increase your productivity. The time management apps and tools included in this list are pulled from the following categories: time tracking, task management, note-taking management, password manager, bookmark manager, team collaboration, email, calendar, and online appointment scheduling solutions. These time management products are ranked in alphabetical order and include their user satisfaction score as of Jan. 18, 2019.
For each product we provide:
G2 Crowd star rating
Product overview
Product features
Reviews highlighting what users like
1. 1Password
Product Name: 1Password
G2 Crowd Star Rating: 4.7 out of 5.0 stars
Overview
This password manager solution lets users maintain all of their passwords in one encrypted database that is protected by a single password. This allows users to create a wide range of strong passwords, ideally a different one for each account, to maintain a high level of security.
Features
Records all usernames and passwords upon sign in to apps and websites
Automatic form filler sign in with single click, look or touch
Available on all devices, browsers and operating systems
---
2. Calendar
Product Name: Calendar
G2 Crowd Star Rating: 4.7 out of 5.0 stars
Overview
This calendar app helps both individuals and teams say more productive by leveraging machine learning to help eliminate time wasters and schedule meetings smarter.
Features
One-click meeting scheduling
Meeting transcripts and analytics
Smart time-zone recognition
---
3. Clara
Product Name: Clara
G2 Crowd Star Rating: 4.0 out of 5.0 stars
Overview
This online appointment scheduling software uses AI to schedule and coordinate meetings by handling the time consuming task of emailing colleagues or clients.
Features
Full-service scheduling support
Syncs with applicant tracking system (ATS) software
Customize Clara's name and email
Real-time reporting
---
4. Evernote
Product Name: Evernote
G2 Crowd Star Rating: 4.3 out of 5.0 stars


Overview
This note-taking management software helps users remain organized across any platform. Users can clip and save sections of websites, annotate them, and quickly access them via searches, notes, and tags.
Features
Create, organize and attach notes, files, images, and more
Access from any device
Secure cloud store protects information
---
5. Pocket
Product Name: Pocket
G2 Crowd Star Rating: 4.6 out of 5.0 stars
Overview
This bookmark manager software lets users save articles, videos and more from any website, app or publication. Users can access their saved content offline and on any device.
Features
Accessible and syncs across phones, tablets and computers

Integrates with over 1,500 apps

Offline viewing of websites and articles

Premium users enjoy ad-free content

Tags and search options let users access content with ease

---
6. Remember the Milk
Product Name: Remember the Milk
G2 Crowd Star Rating: 4.3 out of 5.0 stars
Overview
This task management solution provides users with an easy-to-use task management app. Remember the Milk lets users enter their tasks on the go with subtasks, tagging, notifications, file attachments and more.
Features
Create to-do lists with colorful tagging options

Subtask and file attachment options

Easy search and task addition functions

Reminders via email, text, IM, Twitter or mobile

---
7. RescueTime
Product Name: RescueTime
G2 Crowd Star Rating: 4.1 out of 5 stars
Overview
This time tracking software provides users with detailed reports about the website they spend most of their time on. This provides insight into potential time waste, helping employees improve their productivity.
Features
Determine inefficiencies
Set and track goals
Time tracking
Detailed reports
Productivity score
---
8. Sanebox
Product Name: Sanebox
G2 Crowd Star Rating: 4.8 out of 5.0 stars
Overview
This email software helps users reduce time spent on processing emails. Sanebox removes important emails from users inboxes and provides a summary of the rest in a daily digest.
Features
Email filtering

Summary of emails: train, trash or archive

Moves inbox distractions into a folder for later

Removes subscription emails

Track emails that haven't been replied to

---
9. Todoist
Product Name: Todoist
G2 Crowd Star Rating: 4.3 out of 5 stars
Overview
This task management software lets users create digital to-do lists and tasks. Items can be shared with colleagues, assigned specific due dates and flagged for priority. Todoist syncs across more than 10 platforms, providing easy-to-use team collaboration solutions.
Features
Add and share lists, tasks and files

Track progress

Sync across 10+ platforms

Centralized administration

Visualize productivity

Bank-standard SSL encryption

---
10. Toggl
Product Name: Toggl
G2 Crowd Star Rating: 4.3 out of 5.0 stars
Overview
This time tracking solution helps users track their time to improve productivity. Toggl provides features that can be divided by tasks, projects and clients to determine how time and money are spent.
Features
---
11. Trello
Product Name: Trello
G2 Crowd Star Rating: 4.4 out of 5.0 stars
Overview
This team collaboration software lets users sort through tasks and collaborate with colleagues and team members. Trello visualizes projects as lists pinned to a digital bulletin board. Team members can add comments, checklists, and attachments to individual posts, maintaining communication across departments.
Features
Unlimited boards, lists, cards, checklists, attachments and members

Attach files from computer or link to file storage solutions (file size varies depending on version)

Customizable boards options

Group and organize team board

options

File encryption options

---
12. Wunderlist
Product Name: Wunderlist
G2 Crowd Star Rating: 4.3 out of 5.0 stars
Overview
This task management software lets users capture, share and complete lists with colleagues or on their own. Users can track, complete and share their own goals as well as assign tasks for their teams.
Features
Organize and share content

Group related lists in folders

Set due dates and reminders

Collaborate with colleagues and team members

Access on iOS, Android, windows, Kindle Fire and website

---
Next steps for improving productivity
Those researching time management apps and tools online can sift through hundreds of verified user reviews on G2 Crowd to find the best option. To get started, check out the time tracking software, task management software, note-taking management software and team collaboration software categories where you can compare products, discover available features and read user reviews.

If you're looking to start 2019 off on the right foot, check out our 12 best time management tips or suggestions on topics from completing the most important tasks first to learning how to work smarter, not harder.
*Please note: Reviews may have been edited for spelling and grammar.