Still trying to wrap your mind around the fast-paced world of TikTok?
You're not alone. Since its launch in 2018, TikTok has quickly become one of the hottest social media apps on the market. However, the concept for this type of app isn't new. There have been other popular lip-syncing and short-form video platforms before TikTok came around (RIP Vine). But what makes TikTok unique is the speed at which it's gaining popularity.
How many people use TikTok?
Since it's launch in 2018, TikTok has amassed here are more than 500 million global monthly active users.
With legions of engaged users on the platform it was only a matter of time before marketers started taking notice. As Digiday reported back in January, TikTok began testing in-platform ads and have since rolled the option out to brands.
What are the different types of TikTok ads?
There are currently four types of ads on TikTok. According to Digiday, these ads start at $10 an impression with a $6,000 minimum. A brand takeover, where a brand can take over the entire app for a day, will run $50,000 per day. This range of pricing means that no matter your budget, there's likely an ad plan that can work for your business.
1. Native video ads
The native video ads in TikTok are the typical ad you would expect to see on another platform like Instagram or Twitter. They are 15-second video spots that appear organically within a users feed and can be skipped. These ads allow for several different CTA types including app downloads, website clicks, and more.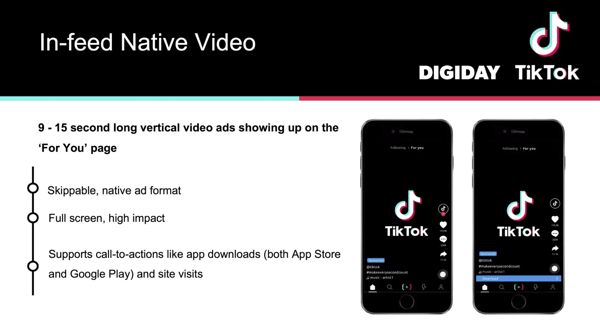 2. Brand takeover
Brand takeovers are one of the more expensive ad-buying options. They can be still images, GIFS, and videos. These ads will link back to a brands profile or a corresponding hashtag challenge. In order to ensure a true brand takeover, TikTok only allows one brand to monopolize this feature a day. That means while you might be spending serious cash on a brand takeover, the day truly does just belong to your brand.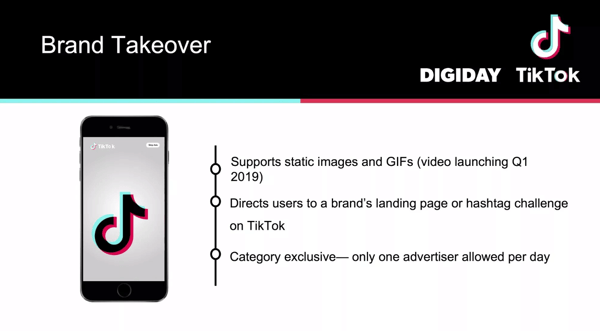 3. Hashtag challenge
The hashtag challenge feature is probably the most popular with users because it gives them a purpose beyond seeing your ad. TikTok is fueled by user-generated content and hashtag challenges create engagement by fusing user creativity with your brand messaging. You also have the option to tap influencers that can help generate buzz around your hashtag challenge.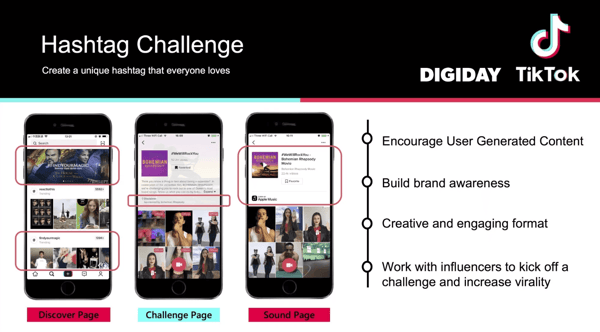 4. Branded lenses
The branded lenses feature is similar to Snapchats branded filters. When users create videos in the platform they can choose from a variety of filter options to enhance their content. A branded lense will appear in the trending section and users can interact with them while filming.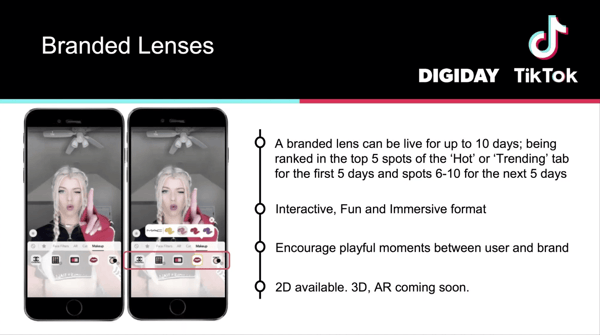 How to design TikTok ads that work
TikTok is similar to any other social media advertising. It doesn't matter how much money you throw at the platform if your brand isn't a good fit for the audience. That's why before you write your check to TikTok for a $50,000 brand takeover, you'll want to do some homework first.
1. Study the platform
You shouldn't start running TikTok ads if you haven't first downloaded the app and created an account. Take the time to learn how a native user interacts with the app, follow other big accounts, and do your research. Does your brand fit in with the content you're seeing users creating? What content performs well? Ask all of these questions before you move onto the next step.
2. Create fun content
Nothing bugs users more than seeing a big brand with an empty profile trying to sell them something. The average users wants to know your brand is on TikTok creating content before you try to sell them something. Spend a few months designing content and building a presence on the app. This can also help you build brand awareness and reach new audiences organically.
3. Utilize trending sounds
Hashtags aren't the only way users find popular content on the app. You can also search for trending sounds in the app and watch all the videos made with that sound. When a certain sound starts trending, be sure to create content with that audio / meme format to gain a boost in views and followers. This is a free way to capitalize on in–app trends.
4. Lean into video content
While TikTok does allow users to upload static photos and set them to music, the app's user base heavily favors video. If you're planning on investing your time and money into using TikTok for your brand then you need to invest in video. While most videos can just be shot in the native platform, your team might want to consider investing in video editing software for more complicated projects.
Interested in exploring your options? Browse user reviews from people like you.
Don't stop, make it pop
TikTok isn't just a popular song by Ke$ha anymore, it's a global phenomenon! Follow these best practices when creating your TikTok advertising strategy and you'll be well on your way to harnessing the power of the worlds fastest growing social app.
Interested in learning more about the latest social media trends? Read our State of Social Media Report 2019.