I didn't think I was old. Then, I tried to learn about TikTok.
Social media is a fast-paced environment. Every year dozens of new social media apps launch in an attempt to unseat the reigning social media giants or to fill a void in the industry. Our State of Social Media Report 2019 outlines clearly just how popular social media has become, and it's no wonder that there's a constant cycle of product developers looking to crack the market.
As with any highly competitive industry, many will fail along the way. But every so often one new platform breaks through the noise and becomes the new normal in the world of social media.
Enter TikTok.
What is TikTok?
If you're unfamiliar with TikTok, you're not alone. The underground video focused social media platform has only been around since 2018, but it quickly shot up to be one of the 20 most downloaded apps for iOS. Today, TikTok is an engagement juggernaut that rivals some of the most popular dynasty social media apps around.
What is TikTok?
TikTok is an app that mainly focuses on short-form videos for people to showcase their lip sync or karaoke skills, comedy, and other talents in creative ways.
TikTok is currently the "it" social media app. It rose in popularity throughout 2018 to quickly become one of the most downloaded apps of the year. As of November 2018, it was downloaded one billion times, making its parent company, Bytedance, the most valuable new startup of 2019.
It's currently ranking in the top ten most popular social media apps around the world.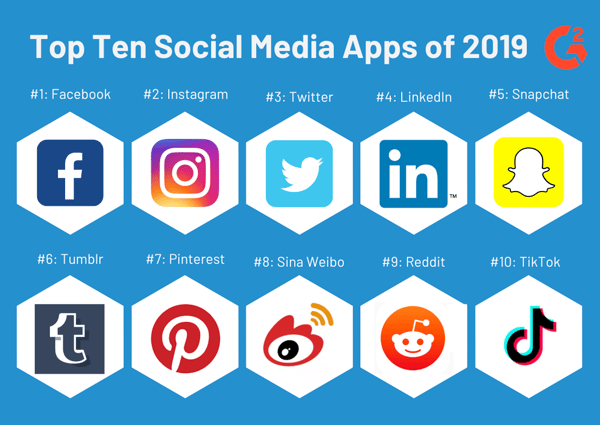 The exposure that TikTok has to offer could be useful to any company trying to branch out and extend their audience and market. Its predominant user base is teenagers and young adults. It enables a variety of modern advertising tactics, such as videos, music, interaction, live streaming, and more. With an app this unique and its quick rise to insanely high downloads and user rates, it seems that TikTok won't be going away any time soon.
The brief and glorious history of TikTok
If you think the pitch for TikTok sounds kind of familiar, you'd be right, because it's pretty much the same thing Vine was (except with a few added bells and whistles and... you know, still alive).
Or if you're thinking of musical.ly, you'd also be right...because it actually used to be musical.ly until ByteDance bought it, merged it with their existing app idea, and renamed it TikTok in late 2017.
The app is pretty much like if Vine and musical.ly had a baby. So if you're already familiar with either of those apps, you have a bit of a head start.
For the rest of us, it's okay – we can still learn.
How do you use TikTok?
In general, logging onto TikTok for the first time can feel like a LOT, but I tentatively waded into the deluge of noise, beautiful people, memes, and general antics to make sense of things so hopefully you can too.
TikTok is actually pretty straightforward to use as far as uploading your own videos. This might be part of the mass appeal.
How to record a video in TikTok
First, download the TikTok app from the iOS, Android, or Google Play stores. As with many apps that use video and sound, the next step is to grant the app permission to use your camera and microphone.

To record your video, touch the "+" button at the bottom center of the screen when the app is open and then record your video.

As you can see on the right hand side, there are a ton of options that allow you to change the view, video speed, beauty filters, music, and more. You can change all of these before recording your video to avoid editing later.
How to navigate TikTok
As far as the navigation of other videos…that's another story.
Luckily, if you have a specific account you want to follow in mind, there is a search feature under the "Discover" tab on the bottom of the screen. Outside of that zone, newbies to the app might start to feel a bit overwhelmed.
However, as with many social media apps, the app will give you suggestions for who to follow when you start out, so you can take advantage of those. There is also an offering of hashtags and videos trending under those topics in the "Discover" section, so that can help you get started wading into the waters as well.
What other features does TikTok offer?
TikTok also offers live streaming options and in-game purchases that you can buy with in-game coins that can be purchased with your out-game dollars, so if your fave is live broadcasting, you can send them the gift of a "drama queen" or another kind of reaction (purchased with coins) to show them your support. This is a common form of gamification that's used to incentivize users into engaging with the app.
This feature is one way the app makes its money, but it's already run into (well-deserved) complaints and fines due to the implementation of this system and promised to improve their community guidelines after the fact.
For personal use, obviously you can use the app almost however you want within the community guidelines. The young-ins use it for silly videos, vanity videos, memes, beauty tips, song promotions, following and becoming influencers, and much, much more.
For professional use, your company could potentially use the app to grow your social media strategy if you're ready to get creative.
Should you add TikTok to your social media business strategy?
As I've previously researched and written about, every company should have a social media strategy in 2019, and TikTok also has the potential to become a valuable part of that given its rapidly growing young user base.
Which brands have used TikTok effectively?
If you're trying to reach the younger crowd or develop a more creative approach to advertising, TikTok has the potential for some really unique and exciting opportunities. There are already a handful of brands who have harnessed the power of TikTok.
Chipotle
One of the first brands to launch a TikTok campaign was Chipotle. They ignited a slew of memes, videos, and brand-buzz through their Chipotle Guac Dance challenge.

According to top marketing executives at Chipotle, their six-day video campaign that ran back in May 2019 generated more than 230 million views. In addition to brand association, the meme challenge sparked thousands of pieces of organic user content along the way.
Lil Nas X – Old Town Road
TikTok isn't just good for enterprise brands. Independent artist Lil Nas X launched his bid into stardom with his Billboard record-setting mega hit, "Old Town Road," using a TikTok meme to garner interest in his song.

The dance challenge began back in February 2019 and has carried Lil Nas' song to break the record of longest-running Number One hit in the history of the Hot 100 chart, and just recently set records on the Billboard Hot R&B, Hip-Hop songs, and Hot Rap Songs charts.
Old Town Road toppled a 20-year record for most weeks at No. 1 in the US – and it all started with a meme on TikTok.
What does this mean for other brands?
These kinds of successes haven't gone unnoticed. Many major companies have begun to include a TikTok presence into their advertising strategies to reach Gen Z, including Fenty Beauty, the UN, Apple Music, the NBA, and the San Diego Zoo.
These are all just accounts looking to participate, however. TikTok is still in the early stages of implementing paid advertising options for companies. Still, it doesn't hurt to try and get your own campaign going via your channel, as Chipotle found out.
If you're trying to do just that, you're going to want to start paying extra attention to memes, because it appears that tapping into the viral nature and humor of them has been how others have seen success so far. Viral marketing starts somewhere, and usually that somewhere is social media. No surprises there!
What could go wrong with using TikTok?
While TikTok has a soaring amount of potential, it is also important to realize its limitations.
The classic phase goes, "don't put all your eggs into one basket," and the same should be applied to any new venture. It is worth weighing the possible drawbacks and future of the app into your decisions as far as investing your time and your money into it, especially if you want to take advantage of the advertising options that will likely be rolling out soon.
TikTok runs the risk of being a fad
Like all social media crazes, the app could face the usual problem of running out of popularity quickly in the next couple of years. To avoid this, they need to improve how they keep users invested in the app and returning to use it for the long run.
Downloads don't always equal continued use. It also needs to make sure it is not only keeping up, but staying ahead of trends, as the competition of other apps is always tight on its heels.
TikTok could face a similar fate to Vine
There's a chance that TikTok could suffer the same fate as its doomed predecessor, unless it can learn from Vine's mistakes in the past.
This means they need to find better, more direct ways for influencers to make money through the app, so this extremely important part of the user base will keep returning and keep encouraging others to return.
TikTok has already faced controversy
The app has also already seen its share of controversies.
It has been accused of being a tool for Chinese propaganda and has had issues keeping user information private in the past. Concerns about its reliability for user-related trust and its risk of becoming a propaganda tool not only in China but for other countries could spell continued trouble in the future.
Various measures could be taken to help make sure that these don't happen, and the potential is definitely there for TikTok to become a long-term major app like Facebook, Twitter, and Youtube. However, it's important to keep the possible risks and possibilities in mind as you plan how you want to navigate your presence on the app, and how much time, effort, and money you think you should invest.
Related
Check out this piece from The Verge about how TikTok could fail in today's data-protection conscious society.
A revolution indeed
It's been awhile since we've seen anything like TikTok hit the social media scene, and the possibilities are exciting and endless, if they can avoid some of the pitfalls that face them.
Its pull with its young audience makes it an intriguing prospect for advertising and starting organic social media campaigns, and once you know how to use it, a whole new world of possibilities can open up to you too.
And hey, maybe if the marketing team at TikTok's headquarters focuses on enhancing their marketing strategy past the immediate future, they'll outlast their short-lived counterparts.