Let's talk social selling. Before we start, did you cringe when you read that? Why?
In the B2B world, social selling is given a negative connotation. It is seen as just another way to spam prospects about how amazing your product or service is. Yes, when social selling is done wrong, messages to prospects on social media may seem careless and untimely.
Now let's flip the script.
TIP: Many customer relationship management tools have social integrations. Learn about the best social CRM software in 2019.
What is Social Selling?
By definition, social selling is a modern way to create and foster relationships with prospects on social media in order to sell in a more genuine way. Social selling focuses on adding value first; putting the needs and wants of the prospect before your own.
6 Tips for Perfecting Selling on Social in 2019
Here are some tips to warm up your cold outreach, and start social selling like a pro.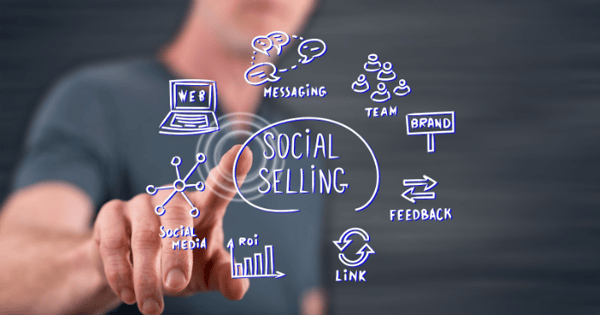 1. Optimize your social profile
The first step to an effective social selling strategy is ensuring your social media profiles are a prime representation of your personal brand and your organization.
Practice looking at your profiles from a prospect's point of view. Is what you are seeing professional? Is it enticing enough to engage someone in a further conversation?
If there is uncertainty whether or not you are putting your best foot forward, it is a good idea to take the time to optimize your social profiles. ASAP. Optimizing your Instagram account is easier than you think.
2. Practice social "listening"
In essence, social media is a creative outlet for people to share. They share their opinions, their content, their biggest fears, and their greatest triumphs.
Don't forget, your ideal buyers are no exception. They are taking to social media and giving you the insight you need to effectively make the sale, you just weren't listening how you should be.
Social listening is the process of monitoring digital conversations to see what customers are saying about a brand, product, or service on social networks. If you are looking to automate your efforts, you can purchase a variety of social media monitoring software that offers you a more holistic view of what your target market is sharing across multiple platforms.
If you are just starting your social selling journey and are not ready to invest in software just yet, here are some quick tips:
Think of your ideal customer persona. Begin to follow people and businesses with similar profiles on social media.
Set up notifications like Google Alerts or LinkedIn Search Alerts to be alerted when your target market is active on social media.
Spend some time each day looking at your feed and pay attention to what your target market is saying and sharing.
Remember, social listening goes both ways. Consistently create content that your target market would want to listen to. This way, you can become a thought leader in the space.
3. Find triggers
The bridge between social listening and thoughtful outreach is uncovering a sales trigger. Let's face it, in sales, timing is everything. In saying this, sales triggers are any occurrence that gives insight into the time frame when a prospect is most ready to take action.
If you can begin to recognize these types of triggers, you can better position your product or service as the solution to the prospect's problem, at the exact time they are looking to solve it. Magic.
Here are some common sales triggers that you should keep an eye out for:
New Executives: They will be looking to prove their value quickly and maybe your product or service can help them do that.
New Product/ Service Announcement: This is a perfect way to congratulate the prospect and offer your help during the rollout.
Acquisitions or Mergers: The coming together of two companies is a very exciting time. Maybe your product/service can help ease the transition!
Company expansion: Perhaps you have connections in this new territory, or visited there in the past. Use that as leverage when you reach out and congratulate the prospect on the expansion.
Press Coverage: So you saw this business on the news or in a recent article. Mention the exact piece of PR and draw a connection to your product/ service.
Let these triggers be the catalyst to more thoughtful conversations with prospects. By leveraging something that resonates with them, you have already set yourself apart from the cold outreach they receive on a daily basis.
4. Reach out
The entire point of social selling is to engage with the prospect. It is difficult to do so if your cold outreach encouraged them to leave you on read, right?
As sales mogul, Brian Tracy once said:
Image Source: https://blog.zoominfo.com/motivational-sales-quotes/
Don't be so quick to pitch; the longer you can add value to a prospect over social media, the more likely they will buy from you in the future.
Perhaps your engagement creates a need for your product or service that the prospect didn't even know was there. Start with social listening, then look for appropriate triggers, and reach out in a thoughtful way that is relevant to the prospect's current state.
5. Build on the relationships you are making
So you reach out and the prospect is not ready to make the jump and purchase. A key thing to remember is the relationship does not stop there. Even if the timing is off, this is a perfect way to build a network in the space of your ideal buyers.
Continue to engage with this person on social media. Share their content with your networks, comment on their posts, and reach out when appropriate. Later on down the line if this prospect suddenly has a need for your product or service you will, most likely, be the first person they call.
Remember, each relationship you foster on social media is with a person who has a network of their own. They may never be looking for what you have to offer but the odds are they may know someone who will.
Word of mouth has always been a strong source of lead generation and, now with social networks, it is easier than ever to receive a referral.
6. Don't ignore trends
A study recently surveyed 265 buyers from B2B enterprises with over 500 employees across the world. They concluded that social selling is gaining momentum for three reasons:
The buyer's journey has become increasingly complex: B2B buyers prefer to self-educate through third-party review sites, advice from peers, and social media to compare the best options.
The need to stay top of mind: In B2B, sales cycles are becoming increasingly complex with even more people in the decision-making process. Companies now need creative ways to keep prospects engaged through the entire buying cycle.
The data shows social is the channel of the future: 36% of buyers surveyed believe that social selling will be the dominant way to engage with prospects in the near future.
Not only is social selling the key to better engagement, but it is also proven to foster more meaningful, and longer-lasting business relationships. It is never too early in the sales process to treat a prospect with the care and respect that you would show a current client.
---
In conclusion
The world of sales has always been built on sparking interest, fostering relationships, and establishing trust and credibility. Some may say social media takes away from that, but I beg to differ.
Social media arms today's sales professionals with the knowledge and tools they need to sell in a much more meaningful way. Social selling isn't just a buzzword anymore and if you aren't getting with it, you're missing out.
Ready to start selling on specific social channels? Learn how to sell on Facebook Shop in 2019.