Are you a marketer looking for more ways to capture and analyze the many ways users interact with your brand on social media? You're not alone.
Getting started on social media is fairly simple. You build out your profile, think of some content to schedule, and begin to acquire a following.
But over time, keeping up with social media can be tasking. For brands with loftier social media goals, or brands who rely on social media for success, being able to analyze beyond in-app dashboards is crucial.
This is where social media analytics software and all of its capabilities come into play.
What is social media analytics?
Social media analytics are tools used for, well, analyzing social media activity across platforms like Facebook, Instagram, Twitter, and others. Depending on the complexity of the tool, the type and volume of social data tracked can vary. Either way, social media analytics can be a powerful piece of software in a brand's tech stack.
Why is social media analytics important?
Social media analytics go beyond vanity metrics like comments, mentions, and retweets. Instead, social media analytics track and study interactions between users and brands using methods like web scraping and natural language processing. This insight can be used to look at patterns, trends, and to develop content strategies.
Social media analytics can be described as the centerpiece in which other pieces of software stem from.
Let's take a look at these tools and their role in social analytics.
Topic 1: It starts with social media monitoring
When we look at our inverted pyramid of social media analytics, we can see social media monitoring near the bottom with its primary focus on brand messaging.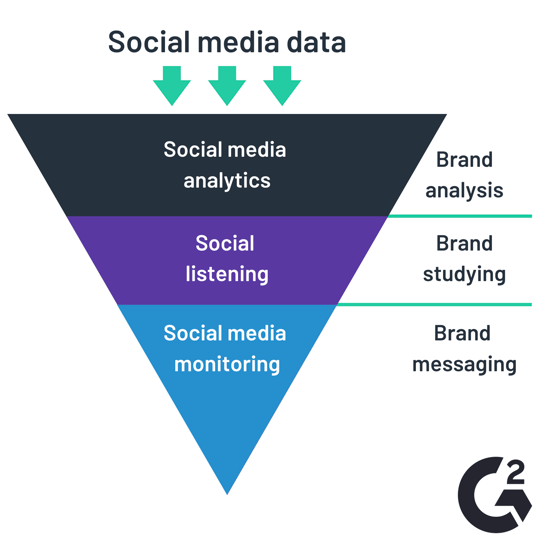 When we engage with brands (especially large ones) on social media, that interaction is likely being tracked using social media monitoring software.
Social media monitoring is used to collect and track comments, mentions, and on-brand topics in an easy-to-understand dashboard. We provided an example of what this tracking may look like below: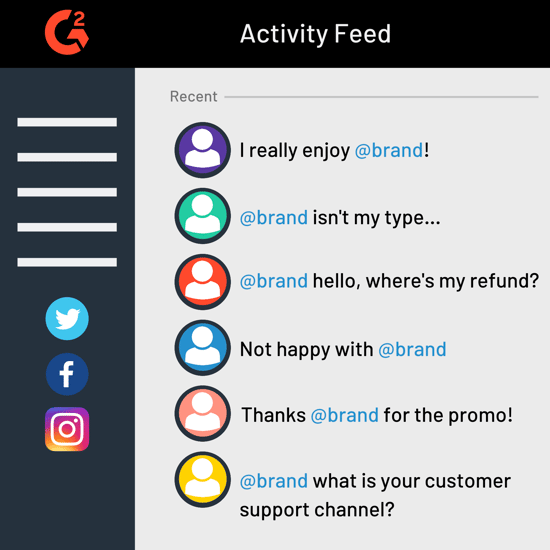 Monitoring is crucial because it keeps brand interactions in a centralized area. Some tools even allow for filtering based on account followers, likes, retweets, and other metrics deemed important. This allows for a more strategic way for replying to users.
Read our complete guide on social media monitoring to see how brands are using tools to build brand advocacy, resolve complaints, send and receive feedback, and track relevant topics.
Topic 2: Then comes social listening
For brands looking for more advanced applications of social media analytics, they can look for tools with social listening capabilities. Here's what that means.
Social listening is used to collect, track, study social data. This insight is then visualized in a multi-faceted dashboard. We provided an example of what this tracking may look like below: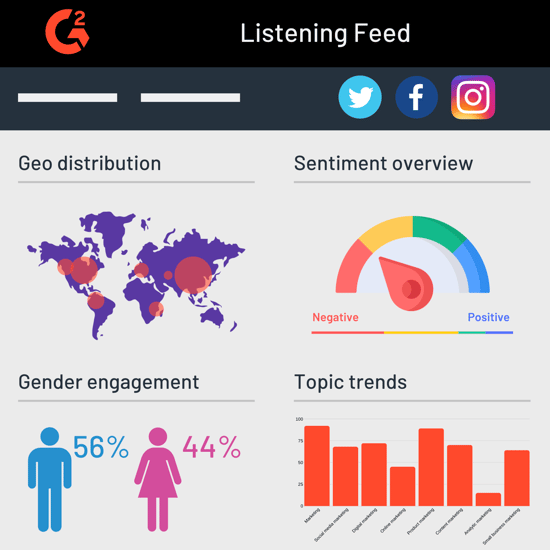 So, why would a brand want to track and study social interactions? Here are a few of the more prominent reasons:
To segment where most of its active users are throughout the world.
To see which time of day there are upticks in social engagement.
To understand which topics its followers gravitate towards.
To see the engagement of competing brands.
Then there's sentiment analysis, perhaps one of the most important uses of social listening. Sentiment is essentially how users "feel" about a brand. A positive sentiment means many brand advocates, a negative one means upset customers.
Sentiment analysis is important because it provides qualitative information for a brand. This information, whether positive, neutral, or negative, is helpful feedback. For example, if there's an overwhelming negative sentiment toward a new app update, a brand can use this as an opportunity to improve its product.
To learn more about social listening, check out our guide on the seven ways brands can put social data into action.
Topic 3: Mining big data from social media
Not listed on our inverted pyramid of social analytics is something called "social media data mining." In simple terms, data mining is the process of finding hidden knowledge in databases and systems. When it comes to social media data mining, this is public information on social media.
With hundreds-of-thousands of comments, tweets, pictures, and videos posted every minute of the day, extracting insight out of social media can be very difficult. This is why methods of machine learning, mathematics, and statistics are often applied when it comes to data mining.
After mining, results are then visualized to uncover any potential patterns, trends, and hidden truths that may lie in the social media sample. A real-world example of this came in 2016 when ORNL researchers mined Twitter data to examine power outages throughout the U.S. This is called event detection, or social heat mapping.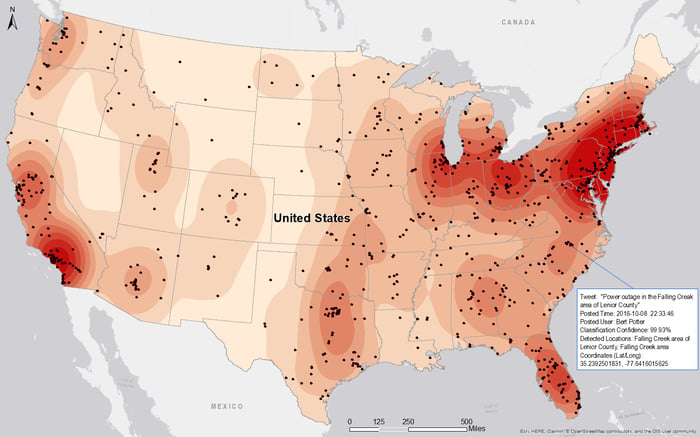 Social media data mining is advanced but can be very useful for researchers or agencies who dive deep into datasets. Read more about social media data mining and how it was actually more accurate at predicting the results of the 2016 U.S. Presidential Election compared to traditional polls.
Topic 4: Some analytics tips for brands
Savvy social media marketers don't rely too heavily on their tools. Instead, they take the insight, interpret it, and put it to action.
For brands looking to be savvier with their tools, we asked six experts for some tips on how other brands can be more data-driven on social media.
1. Determine the right metrics for your campaign
Measuring the impact of a social media campaign is just as important as the campaign itself. But in order to track results accurately and convey success to your managers and stakeholders, you need to determine the right metrics ahead of time.
Is this a branding campaign with more focus on engagement rates, or a webinar with more focus on conversions? Establishing the right KPIs will allow social media marketers to get better use out of their tools.
2. Retarget previous visitors
Let's say your brand is more focused on conversions and reeling in users who previously engaged with your content on social media. These are the users you'd likely retarget.
The right social media analytics tool paired with the right strategy will allow you to retarget these audiences with greater success. For more clarity on retargeting, check out our five-minute guide.
3. Align actions with analytics
To truly become a data-driven brand on social media, you should make informed actions based on the analytics. Whether this means tracking how users feel about your brand or monitoring how often you're mentioned, these are metrics to consider before crafting that next post or piece of content.
Read more of our experts' six social media tips here.
Wrapping up
If you could take one thing away from this guide, it's to not undervalue the importance of finding the right social media analytics tool for your brand.
No, this doesn't mean the most expensive tool or the one with the most features, this means the tool that aligns with your brand requirements. It starts with asking "what exactly are we looking to get out of this tool? How deep do we need to analyze users and topics around social media?"
For some, a simple monitoring tool where all interactions are consolidated will suffice. For others, being able to track, study, and listen to users across social media may provide more value.
Finding the right tool starts with being able to compare products, features, ease-of-use, ratings, and reviews. Head to our social media analytics category to get started.