When looking for the definition of a small business, you're going to get a lot of different answers.
Some sources will say a small business is a company that has few employees and doesn't make much money. Others will modify those numbers to be bigger, or maybe even smaller.
The truth is, you can't create a definition that applies to every small business because business size classifications will differ depending on the industry.
What defines a small business?
There are some industries that define a small business by the number of employees while others are characterized by their average annual receipts.
To avoid any confusion, let's define an employee and an annual receipt.
By definition, an employee is someone who has a specific wage or salary, has an implied or written contract, and has their work controlled by their employer.
An annual receipt accounts for a company's total income and cost of goods sold. To simplify, it is the amount of money they made that year minus the amount of money they spent.
The definition of a small business in each industry
Now that we have all that sorted, let's take a look at the small business definition for each industry.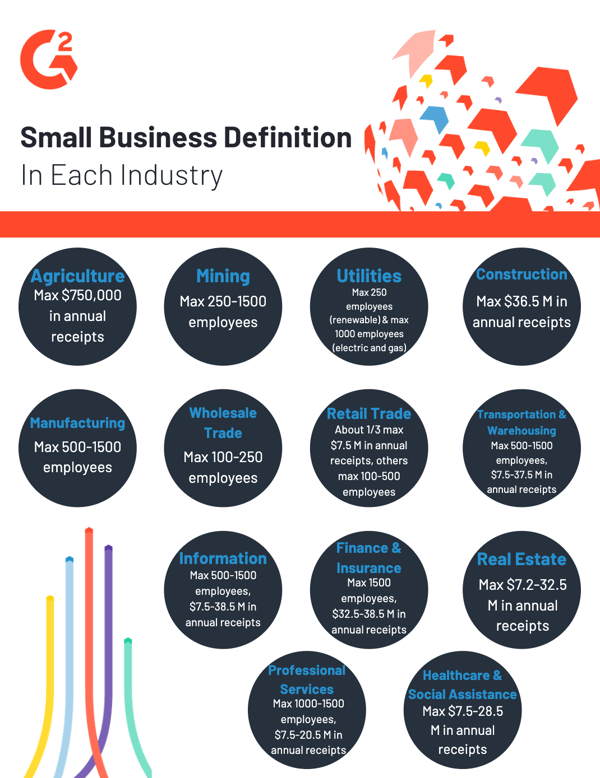 From all that information, you can see that on average a small business's revenue does not exceed $38.5 million, and the employee count is usually below 1500.
After seeing all those numbers (some of them being pretty large), you might be thinking that small businesses really aren't that small. However, companies that employ fewer than 20 people make up 89.6% of all small businesses. Not to mention the 23 million businesses that are run solely by the owner and have no employees at all.
What else defines a small business?
Other factors, besides industry, the number of employees, and annual receipts are also taken into account when the Small Business Administration (SBA) is distinguishing a small business from a mid-market or large enterprise.
Here is what else the SBA analyzes:
Where the company is headquartered
Where they do most of their business
If it is a non-profit or for-profit business
If it is owned and operated independently
If it is a minority in its industry
Small business, big world
There is no one right way to define a small business. Because each industry has its own miniature economy where businesses compete, the standard for what is considered a small business needs to be modified.
Want more information on small businesses? Check out our resource on small business statistics for some facts that dive into entrepreneurship, marketing, and challenges.