If you've ever worked in retail, you know just how difficult it can be to keep track of inventory.
Poor inventory management has many negative effects and can even be the reason why your retail business has to close its doors. Luckily, there are countless, easy-to-implement best practices that can help combat this.
One of the simplest ways to get started is by assigning every product you sell a unique SKU number.
What is a SKU number?
A SKU (stock keeping unit) number is a unique code used in retail to identify products and manage inventory. SKU numbers are either numeric or alphanumeric.
Behind every profitable retail business is a strong SKU architecture. It helps businesses stay organized and keep track of sales. In this article, we'll cover exactly what a SKU number is, explain why it's important, and share tips for creating your own.
SKU number basics
A stock keeping unit, or SKU, is a number that is printed on labels in retail stores for stock keeping purposes. The code is made up of numeric or alphanumeric characters that are unique to each type of product that your business sells. The number of digits will vary, but typically remain around eight characters.
SKU numbers are exclusive to one store and are not used externally. This means that they are highly customizable. You have the freedom to create the code in a way that makes sense for your business and the goods you sell.
SKU vs UPC
Not to be confused with a Universal Product Code (UPC), a SKU number is used internally only and managed directly by the retailer. On the other hand, a UPC code is an external product tracking number that is used consistently across all retailers. It is always 12 digits long and is often accompanied by a scannable barcode. A product has the same UPC code wherever it is sold, while the SKU number will be different at different stores.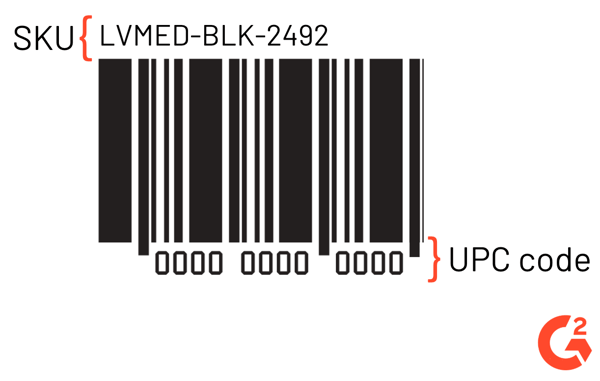 TIP: UPC codes are assigned by the Global Standards Organization (GS1). Most large retailers require that a product has a UPC code in order to be sold.
Why are SKU numbers useful?
SKU numbers are important for effective inventory management. By using SKUs, retailers can keep track of how much is left of a certain item, as well as which items are most popular and need to be re-ordered. This helps retailers understand which items sell out the fastest so they can stay ahead of it instead of running out of stock.
Additionally, the benefits of using a SKU numbering system trickle down to the customer because it helps your employees save time. If your inventory is organized by SKUs, employees can electronically find out exactly how much you have left of an item in a matter of seconds. This means less time sifting through piles of product in the back room and more time spent on the floor engaging with customers.
Since SKU numbers are unique to your business, you can change them to fit the products you sell. Typically, a retailer will customize the code to match certain product characteristics such as the brand, size, and color. For example, if your store sells orange t-shirts, your SKU could look something like this:
How to create a SKU number
You can create SKU numbers and keep them track of them manually, or consider investing in an inventory management software that does all the legwork for you. If you run a retail business, you likely already own a software solution that has this capability.
Another option is to use an online SKU generator. Many of these tools are free to use and can generate SKUs based on the characteristics you want to include in just seconds.
Tips for creating a SKU number
Since a SKU is unique to your store, there's no required formula or framework to follow. However, there are a few best practices to keep in mind:
Stick to a universal naming convention.
Don't lead with the number zero.
Don't use letters that are easily confused with numbers, such as O and I.
Only include the characteristics that are most important.
Put the most important identifiers first.
Separate identifiers with dashes to make the SKU more readable.
As you can see, there's a lot of room for flexibility. What works for the retail shop next door might not work for you, so be sure to take a long look at your inventory and come up with a SKU naming convention that is easily understood by you and your employees.
Ready, set, scan
Although it may seem like a random assortment of numbers, a SKU number is much more than that. By labeling products with SKUs, you have more control over your inventory and can assure that you never run out of stock of your customers' favorite items.
Looking to stay in touch with the happenings of the retail industry? Check out this comprehensive list of retail statistics to know in 2019.