Ah, what a journey it has been for QR codes.
First, they were everywhere - train platforms, the back of pamphlets, postcards and other printed/ad materials. Then, once users realized they had to download a separate app just to read a code, numbers dropped - it was just easier to Google search the name of a company and go straight to the page than to download an app, open it, scan the code and then switch over to the browser to view the content.
But the idea and concept of a QR code remained strong. Finally, mobile manufacturers rose to meet the challenge, by allowing newer models of mobile phones to scan QR codes just by using the built-in camera app. This has become increasingly of value to brands who utilize mobile marketing software - QR codes can often be created and customized easily while being matched with various mobile marketing campaigns.
How to scan QR codes
Not sure how to get started? It's just a few easy steps to scan a QR code on your iPhone or Bixby-enabled Android mobile device.
Scan a QR code
Open the camera app
Focus the camera on the QR code by gently tapping the code
Follow the instructions on the screen to complete the action
Steps to scan QR codes
Want to scan a QR code? No need to download an app that will just take up space on your phone; you can use the built-in camera on your iPhone or Android device with Bixby enabled. Here's more:
Scan QR code on iPhone
Open the camera app on your iPhone, then point it at the QR code you want to open.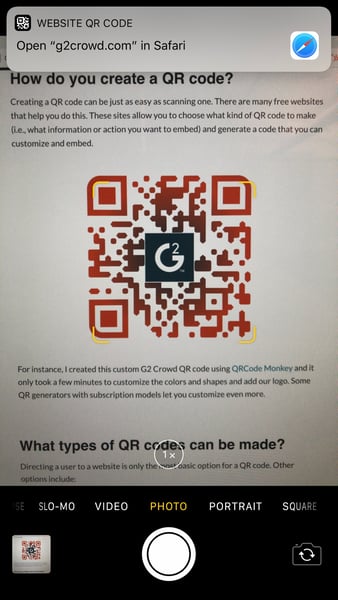 At the top of the screen, there will be a notification alerting you of the source of the page - if you click this, it will take you to the page.
Scan QR code on Android
Open the Bixby-enabled camera app on your Android (sometimes called Bixby Vision), then point it at the QR code you'd like to open.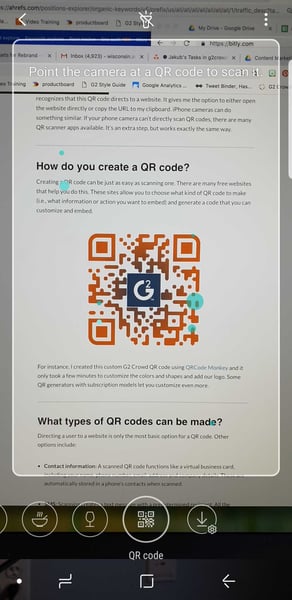 Once your camera views the code, it will automatically read and complete the action.
QR code FAQs
Want to test your phone on a QR code? Here's one for you!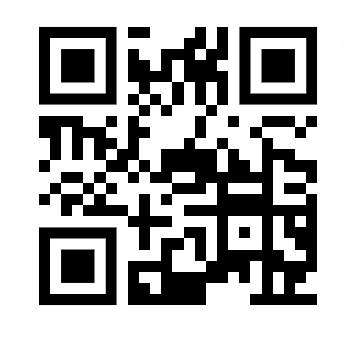 QR codes can look like the code above (plain black and white square) or they can be customized with branded colors and logos - there are a variety of free QR code generators out there to use for these purposes.
What is a QR code?
A QR code is an individual, unique code that stores a small amount of data that can be accessed by scanning an image. Each QR code carries an instruction, which could be anything from opening a website or data to WiFi passwords, credit card or login information.
Why use a QR code?
QR codes can be an important and easy-to-implement component of a social media marketing strategy for building a brand or a reputation management campaign. If you're looking to improve businesses' online reviews, adding an easily accessible QR code to your promotional materials can be a boon. Think about the impact that your B2B marketing campaign could have if your audience could take one step - opening a QR code to get to a landing page - instead of multiple steps.
QR code examples
One of the most frequently used QR code that many people might not even realize is a QR code is a Snapcode. A Snapcode is the individual branded QR code that every Snapchat user is assigned once an account is created, and it allows users to add each other as friends on the social media app via scanning the Snapcode rather than manually searching for a user.
---
With the information you've learned, you can quickly read QR codes on your iPhone or Android, and you know the importance that QR codes can play in the success of a marketing campaign and business development efforts.