It may not feel like it, but job seekers are in an amazing time right now.
We're seeing the lowest unemployment rates in a decade and there are job opportunities galore!
But you can't land your dream job with a subpar resume.
For my peers in sales, your resume will be even more critical. It should be engaging and eye-catching, all while summarizing your achievements in your previous roles.
As a sales hiring manager, I've put together some tips to help you make your resume a level above the rest – with the exception of the obvious spelling and grammar checks (if you're reading this, you already know that!)
Let's get started.
Sales resume tips to help you land the job
Hiring managers get dozens of sales resumes a day. If you want to make it to the interview, you have to stand out. As a sales hiring manager, these are the types of resumes I look for, so read on to learn how to take your resume to the next level.
1. No more than two pages
One thing in common with most salespeople is that they are outgoing – or at least extroverted introverts. Which can mean that they like to talk... but who doesn't like to talk about their personal experience?
With so much to brag about, as most good salespeople will do (since they're in sales they have to sell their fit for a role), it can be challenging for some to know how to fit it all within two pages. It's especially hard when you have more than ten years of experience. How can you possibly fit it all into two pages or (gasp!) one page?! Read on to find out how.
2. Succinct
Are we reading a novel or a resume? We're talking about resumes, so let's continue to talk about those. A resume by definition is "a brief account of a person's education, qualifications, and previous experience, typically sent with a job application."
Keyword: brief.
A hiring manager is likely going to stop reading after the second page. Beyond that, you've carried on about yourself for a bit too long. If I had to guess, some sales hiring managers spend about three minutes or less looking through a person's resume. A long resume is just too much! The manager has a sales quota on their head and it's likely their first priority. They don't have time to read a novel about you, so get to the point as soon as possible.
There are lots of people out there with great experience and many years of it, but more than likely, not all of your experience is relevant to the role for which you're applying. Do we need to know everything about that first job out of college? For past jobs that aren't terribly relevant, consider writing the company name, title, location, dates of employment, and condensing your key responsibilities to just one bullet point.
In doing this, you're showing your work history, but acknowledging that it's not the most important experience to know about for this role you are applying for. That said, you should think in terms of bullet points for your entire resume. I would recommend that you have no more than five bullet points for each role that you've had. After that, the eye can drift to the next role. To keep your reader engaged, make sure each bullet point is descriptive (tying it to a number is always a good idea) and impactful.
3. Visually appealing
Do you want to know how many resumes I've seen that are a basic word document with Times New Roman black font on it? Too many! That's how many! If you're in sales, thinking outside of the box is practically in your job description. A sales manager definitely wants to hire someone who can think creatively, and your resume can be the first indication of that.
Let's pick a different font! And some color! Being in sales, you can't possibly be a timid person, so be daring – pick a color for parts of your resume! Put your sales hat back on and ask yourself: if you were a brand or product, how would you want to convey yourself to a recruiter? Just like you sell products to clients, you are selling yourself to the hiring manager. So what is it they want to buy?
Ask yourself these questions when designing your resume- will I stand out from the crowd? Is this visually appealing? Is it memorable? There are tons of templates you can buy from Pinterest or Etsy if you aren't feeling confident in your ability to create a unique resume. You're a superstar salesperson, right? Show the hiring manager how unique and special you are with a resume that stands out.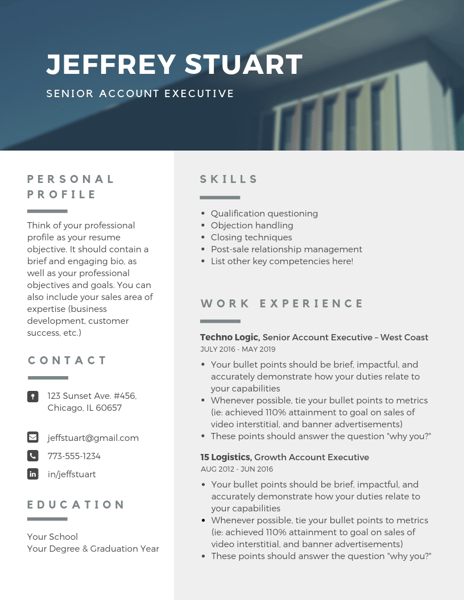 4. Organized thoughtfully
Within visually appealing above – but in the vein of being organized thoughtfully – it's great when there are lines on your resume separating out information into different categories of importance. The most important information after your name should be at the top! And you want to make sure that your "brand" transcends through all publicly searchable platforms. Nowadays it's helpful to add any links to your professional online profiles – LinkedIn, Twitter, etc. – as hiring managers will want to see that your personal brand extends beyond your resume. Let's make that LinkedIn Premium account worth it.
So, you have your name, phone number, email, LinkedIn, check. You have your present and prior company names, locations, job titles, dates of employment, descriptions of your role and achievements, check. You have your college, graduation date, degree type and major, check! Is it organized in a thoughtful way that makes it super clear what's important to look at?
In addition to the traditional check marks, objective statements or profiles are great. These should be brief and versatile, so that if you're making a career switch (account manager to sales, sales to customer service, etc.), you can relay your reasons why to the hiring manager. As a hiring manager myself, I love when there's a section of competencies – this makes it super easy for me to know what you are capable of.
5. Includes obvious takeaways
We mentioned the importance of being succinct. That means that the content you do include has to be impactful and helpful. After everything that you write on your resume, think to yourself "so what?". Why does someone care to know this? How does this illustrate my strengths and abilities?
I'll use my own experience as an example. When applying for a role at Walmart.com, it was important to highlight my media sales experience as I was applying for a position leading a media sales team.
Previously, I had worked at ironSource (formerly Supersonic) for four years. Do you know what ironSource is? I thought not… and I could assume the hiring manager would feel the same way. In order for them to know I had relevant experience, I had to include a bit about the company when I wrote about what I did there.
"Achieved 110% attainment to goal on sales of video, interstitial, and banner advertisements for this mobile media ad network."
There! Now you know ironSource has an ad network and you don't need to Google it. That was helpful, wasn't it? One less thing for a hiring manager to do. And more importantly, I made the distinction of what I was selling. If I had just written sales stats, they wouldn't have had any way of knowing that my past experience was 100% relevant to what they want me to do.
In tandem with creating the "so what?" you need to call out the stats to showcase the "why me?" To show this, try to fit in numbers, metrics, or past goals you exceeded. How does a hiring manager know you will succeed in this role? Think to yourself, am I getting my value-proposition across in a way the hiring manager wants to see? Would I hire me based on what I've showcased?
If the answer is yes, then you're ready to submit that application (after one more spelling and grammar check, of course).
Final thoughts
Fitting your experience and accomplishments onto one sheet of paper isn't easy, but when done correctly, it is worth it.
Best of luck to everyone in their career searches. I hope these insights from the mind of one sales hiring manager will give you the confidence to switch to Garamond font and add some blue (which is the most universally favored color)!
And once you get that interview scheduled, don't forget to read up on the 15 sales interview questions you should know how to answer.