"Being on par in terms of price and quality only gets you into the game. Service wins the game." - Dr. Tony Allesandra
According to a study, more than 70% of all customers who ditch a business and go with another competitor do so not because they have a problem with the product, but because they have a problem with the service. This report suggests that, at least theoretically, 70% of customer churn can be reduced simply by offering world-class customer service.
Unfortunately, however, customer service is often treated as a cost center, as opposed to the revenue generation unit it can and, more importantly, should be. Another report from the Worldwide Industry Benchmark Report for 2015 suggests that the average cost of an inbound customer service call stands at $1.30. And this is for average customer service. As you shoot for a much impressive customer service, the costs tend to go up exponentially.
Add to that the problem of recurring issues and poorly implemented processes, and you start to drain even more of available company resources. The good news, however, is there are tools and methods that can help design more elegant processes and make customer service agents a whole lot more productive and cost-effective.
In this article we look at three SaaS tools that businesses can use to reduce their customer support costs. But before we do that, let's see what makes SaaS tools the most popular choice for businesses of all sizes looking to offload management of different services, including customer support.
Why companies should choose SaaS
Introduced about 10 years ago, SaaS has today worked its way into every imaginable industry as the business service delivery model of choice. Here are the top three reasons why SaaS tools are your best bet as you look to provide better customer service to your customers:
Lower expenses

: A SaaS model helps companies save costs by reducing the need for building their own servers, and manually installing and configuring applications. SaaS lives in the cloud almost like a rented application, along with servers et all. Businesses have no obligation to keep paying for these services forever – they can cancel a subscription when the need for the application ceases to exist.

Also, the licensing costs for SaaS based tools are much lower than the traditional model. As the application typically lives in a shared environment, the server and maintenance costs are divided among multiple users.



Easy upgrades

: Any upgrade to a SaaS application is the responsibility of the software provider. This means that you don't have to worry about maintaining up-to-date versions of the application and deal with any installation errors and bugs.

You don't have to worry about adding more bandwidth either as your requirements (typically the user base) increase. You simply need to ask your software provider to move you to the next available pricing tier.



Better scalability:

One of the reasons for the growing in popularity of SaaS tools is their ability to support a large number of users. As your business grows, you can scale as much or as quickly as you need to. And the best part is that you do not need to add more staff members to your IT department or buy expensive infrastructure.
So, as you can see, picking a SaaS-based solution is already a cost-effective means to offer a more affordable and accessible service to your customers, no matter the size of the business. Let's now take a look at three of these tools.
TIP: Over 1,600 companies are managing software spend, usage, contracts, compliance, and more through G2 Track. Fight the SaaS sprawl and get deeper financial insights today.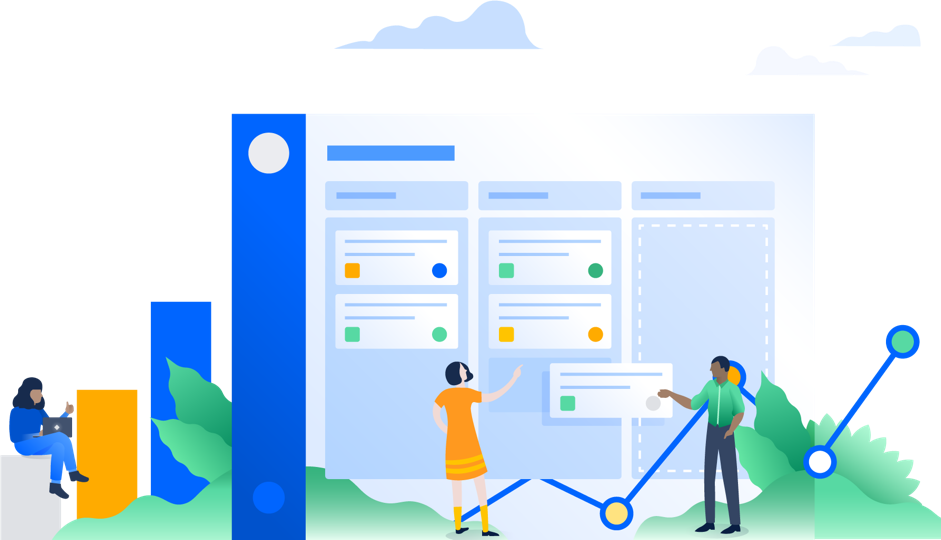 Offering a world-class customer support involves a good deal of teamwork. It takes more than one person to answer questions, resolve issues, and provide and accurate responses to the customers. And as more and more phone calls and service requests start piling up, hopefully the result of an expanding business, companies start looking at support as a cost center. But the reality couldn't be further from the truth.
Your customers want the same thing as you do: their questions answered instantly. And that's where a knowledge base comes in. A knowledge base is a self-serving online repository of the most frequently sought after information about a product, service, or process.
A knowledge base is probably the best self-service tool you can offer your customers, allowing them to find help for themselves without having them phone or email you.
Think of the last time you were tasked with assembling a piece furniture. An unhelpful set of instructions is still better than having to call up phone support and listen to them say, "Now find the attachment labelled C and latch it into slot D" for two straight hours. Sometimes the best way forward is to help yourself.
In fact, per another report by Dimension Data, 73% of consumers prefer to look for answers to their questions on the company's website directly, instead of calling the support team or emailing them. What's more, 91% of consumers prefer to use an online knowledge base.
This discussion makes it clear that providing your customers with a high-quality repository of most sought-after queries via a knowledge base will not only will allow you to provide them with the correct solution, but also help you reduce the volume of your support tickets, greatly reducing your customer service costs.
If you happen to pay close attention to questions posed by customers to your support team, you will most like see a pattern: Most of these queries tend to revolve around the same issues. If your support staff is spending a significant amount of time answering the same questions over and over again, they are missing out on attending to other queries that keep on piling in the meantime.
The most sensible solution, in cases like these, is to ease of the workload on your support team by creating an online knowledge base. The objective is to encourage your customers, as well as potential customers, to browse the knowledge base before submitting a support ticket. This not only helps you cut down on your support center cost, but also keeps your support staff happy.
Tip: No knowledge base can ever be marked as complete, so make sure to incorporate a "Submit a Ticket/Feedback" option for users in situations where they don't find a solution to their query in the knowledge base. Also, try to see if the answer to this new question deserves a place in the repository. Ensuring that your knowledge base is constantly updated will not only keep your users satisfied, but also keep a tab on your support costs.
A knowledge base isn't meant for your customers alone. It can even be used for training your own employees. A significant amount of time and money spent on getting your new staff up to speed and to a level where they are 100% productive, can be curtailed by designing an internal knowledge base meant for the employees.
Whenever a new employee joins your team, your current employees often need to spend time training them, losing their own productivity in the process. But with the internal knowledge base, you can help these new employees help themselves by providing them with necessary office documents, policies, and procedures – right within the knowledge repository.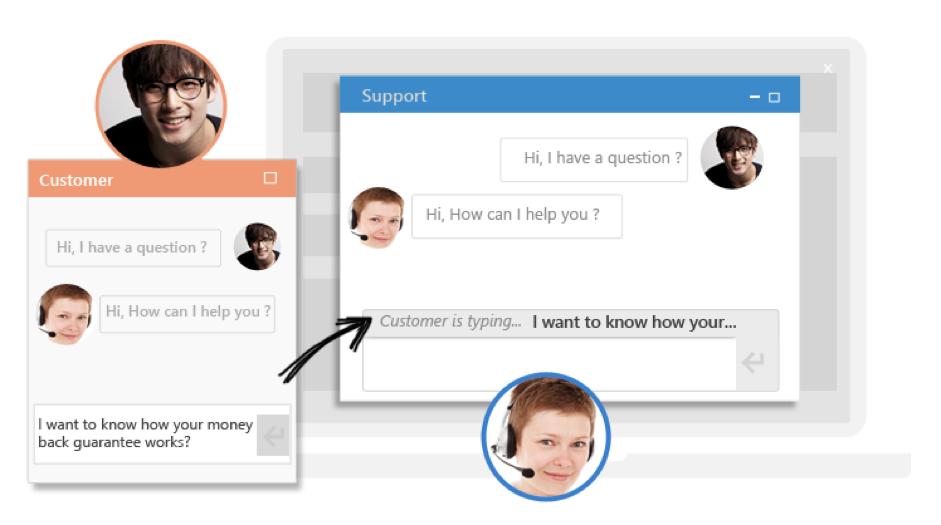 If your business is generating enough inbound customer service requests, a live chat software can help you bring new features to the table. As opposed to phone support, where your customers need to wait in queues for long times to get in touch with an agent, there is almost no wait time with a live chat platform, meaning more happy customers.
One of the best features of a live chat software is concurrency. In the time that a support agent takes to resolves a customer query via phone, a live chat operator can speak to half a dozen customers simultaneously. It's typical of chat operators to handle more than one chat concurrently, and experienced agents are happy to handle four-to-five chats at the same time.
This results in a higher productivity for your support agents and more cost savings. Also when an agent-to-customer ratio of 1:1 gets converted into to 1:5, you need fewer support staff members to offer the same level of support.
Another cost-effective reason for including live chat support as part of your support system is its efficiency. Live chat is probably the most effective medium when it comes to diagnosing an issue and resolving it in real time. Where phone support tends to involve another medium like phone or email, in situations where data needs to be provided by the user, the live chat platform is a complete system in itself and typically does not require an external medium. This leads to a shorter resolution cycle and lesser staff time per case.
We talked about the repetitive, and eventually boring, nature of questions frequently asked by your customers. Once again, live chat is there for the rescue. Modern live chat solutions integrate with chatbots that can take up the bulk of answering these questions. This frees up the chat operator's time to focus on other queries where human interference is more valuable.
Consider this – Autodesk, the global leader in 3D design, has added a customer service chatbot, named AVA, to help with customer queries around the clock. As per Autodesk, this virtual agent delivers significant productivity and efficiency gains that include:
A 99% improvement in response times: Reducing resolution time from 38 hours to 5.4 minutes for most Tier 1 inquiries.
A drop in expenses from $15-to-$200 (human agents) per query to $1 (virtual agents) per query.
Resolving an average of 30,000+ customer queries every month.
The virtual agent recognizes 40+ distinct use cases to quickly resolve simple requests.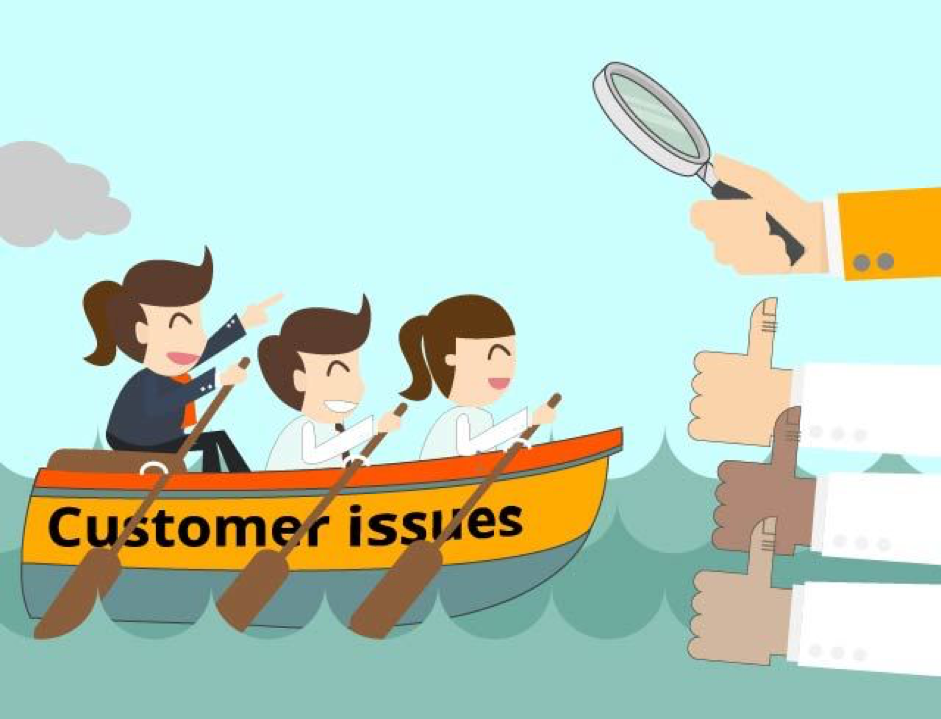 A help desk software platform can help companies resolve customer tickets faster and allows the various support departments to work in a more synchronized manner. How, you ask? Well, a help desk is a great tool to organize your tickets and other data, streamline workflows, and get rid of cumbersome processes that require manual interference.
With a help desk platform, you do not have to log tedious issues by hand (in emails, Excel files, or other perishable formats), shift through long and disorganized email chains to get to the bottom of a issue, track the status of customer tickets manually, and still deal with support requests disappearing through the cracks.
A help desk system saves valuable support time by automating the support ticket resolution workflow, centralizing information, and keeping everyone up to date with timely email alerts. Modern help desk systems further streamline the workflow, making it easy for support agents to collaborate together for an effective and speedier resolution.
A centralized help desk system with shared inboxes means that all customer support queries come to the same people in a common dashboard. This allows support agents to build on their skills and gain expertise in other areas, which also leads to a quicker problem resolution.
Tip: It is recommended that you choose a help desk platform that maintains a historical log of all the different issues faced by your customers over time. This log can then be turned into documentation and become a part of the company knowledge base, then used as a reference point should the same issue recur. Historical logs also come in handy in situations where a support agent is having an ongoing problem and needs to frequently cross collaborate with other departments for a resolution.
The process efficiency, effective organization capabilities, systematic approach, and time-saving features of the help desk platform can help reduce your customer services costs by a significant amount.
Conclusion
Keeping customer service costs down shouldn't lead to ignoring customer needs. Rather, businesses need to incorporate smart processes that help resolve all customer issues quickly and efficiently. The tools listed above are meant to be a great start, but ultimately, providing delightful customer support should be a culture ingrained into your support structure.
If you happen to know of any other cost-saving benefits of using SaaS that you have personally experienced, we would love to hear about it! Tell us about the processes and strategies that have served you well when it comes to reducing support costs without compromising on customer satisfaction. Let us know in the comments!