A request for information (RFI) is an incredibly useful document.
When properly crafted, RFIs allow companies to gather easily-digestible information about potential suppliers. They also foster competition among vendors, clarify potential new solutions, and enable companies to take significant steps toward achieving the most cost-effective, highest quality solution available.
But most companies get the process wrong. Whether it's poor research, badly-written documentation, or ineffective follow-up, simple mistakes often lead to less-than-optimal results.
So, if you're gearing up to send an RFI, or if you're eager to streamline your company's current processes, we have you covered.
We're going to outline the most important steps for crafting powerful RFIs, define key terms, and tell you exactly how to make your existing formal processes as efficient as possible.
What is a request for information?
A request for information is a document that asks for information from suppliers about their products and/or services. It is a preliminary document, usually sent early in the buying process, with the purpose of gathering general information about a vendor's ability to meet a company's needs and solve unique problems.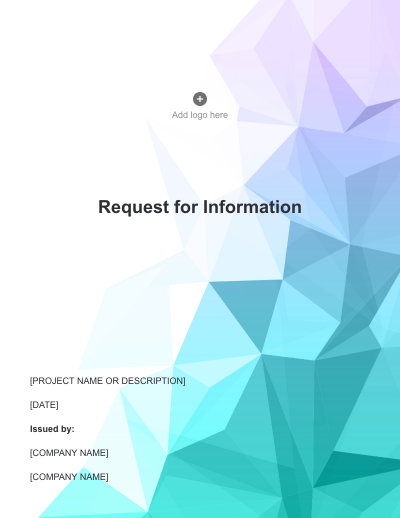 Generally speaking, a RFI is used to filter potential candidates (especially in the areas of construction, IT, and advertising) before sending a more specific request for proposal (RFP) or request for quotation (RFQ).
A RFI generally follows a standard format. The goal of the sender is to evaluate which potential suppliers are viable. As such, a certain degree of specific-ness is required in responses from vendors. However, detailed proposals or quotes are not provided at this stage.
Sending a RFI has a number of benefits.
First off, it enables companies to reduce the pool of potential suppliers significantly – which will lead to savings in both time and money at later stages when detailed proposals need to be evaluated.
Secondly, because responses are sent in a standard format, responses to an RFI are extremely useful for comparison.
Finally, an RFI can encourage competition among vendors, especially when it is shared on a public platform that invites a large number of responses.
TIP: Learn about the best RFP software that can help manage your RFI, RFP, and RFQ processes in 2019.
RFI vs. RFQ vs. RFP
The fundamental difference among a RFI, a RFQ, and a RFP is the level of detail that each includes. Also, RFIs, RFQs, and RFPs are sent at different stages of the purchasing process, with RFQs or RFPs sent when a company has a verified shortlist of potential vendors and is ready to buy.
An RFI represents the earliest stage of the buying process. Its primary purpose is to collect information. In more cases than not, an RFI constitutes a preliminary step taken before a request for proposal or quotation is sent and the bidding process is opened.
For example, a grant-awarding body might send an RFI to filter a list of recipients who it intends to ask for grant proposals.
Here's a quick rundown of the key differences:
Request for information (RFI)
A request for general information about a vendor's ability to supply a product or service – with any unique needs of the requesting company taken into account.
Request for quotation (RFQ)
Solicitation for a specific quote for a standardized set of products. In a request for quotation, a company will provide an item-by-item breakdown of the exact services or products it requires along with timelines for delivery. A request for quotation is similar to a request for tender (RFT), which invites bidding on a project.
Request for proposal (RFP)
Solicitation for an in-depth proposal for a particular project. An RFP differs from an RFQ in the sense that it seeks specific solutions for a non-standard problem, often a broad project, rather than a quote for a definite set of products that will have the same specs (or very similar) irrespective of supplier. In this case, suppliers may be large companies or individuals, as in the case of a request for freelance proposals.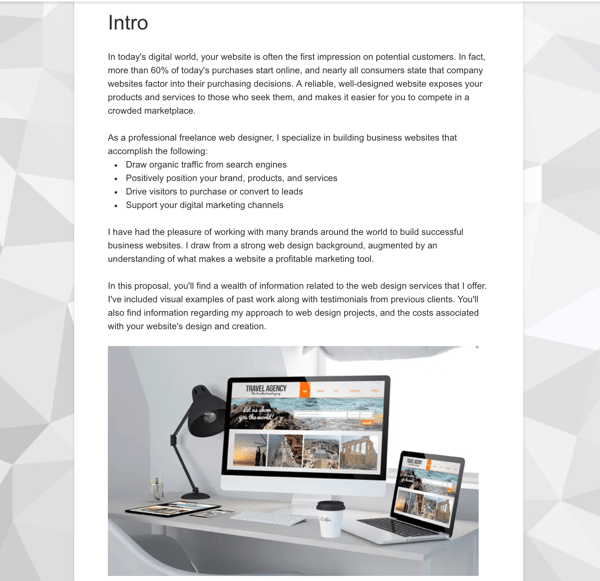 An RFQ, for example, may be used to request a quote for a specific number of servers and desktops as part of an IT system. An RFP, on the other hand, would be used for a more general project, such as an outsourced solution for customer service.
Related: RFI, RFP, and RFQ...now what's a RFT? Learn more about a request for tender!
What does a good RFI look like?
So, what does a good RFI look like?
When a company sends an RFI, it is with a very specific objective in mind: To evaluate vendors as quickly and efficiently as possible.
To this end, a solid RFI will almost always have the following six qualities:
1. Asks for information to be given in a standard format
A well-crafted RFI will provide clear details about how answers should be formatted. Preferably, a template will be included that corresponds to the specifics of the information being requested.
2. Provides clear guidelines for responses
Along with a clear format for replies, further details are also provided about how to respond. These guidelines include a timeframe or deadline for submission, guidance about how vendors can seek further clarification, and details about how to include any non-essential information – such as when a vendor might have a new solution that might be a better fit for the company's need.
3. Does not include overly-detailed product/service requests
Remember that a RFI is used to acquire general information. If a company asks for specific product pricing without using the correct RFQ template, it will lead to wasted time for both the sender and the recipient.
Don't try to merge separate purposes at this stage. It's essential to remember that RFIs are intended for comparative purposes, not for making a final purchase decision.
4. Considers the recipient
Keep in mind that a vendor has to exhaust resources to prepare a response. Making it as easy as possible for recipients to collate and send the necessary information will boost both the quality and quantity of responses.
5. Based on a proven template
RFIs should be based on templates that worked well in the past.
Cloud proposal software provides the analytics and document creation tools needed to integrate effective templates into your existing software and build a smart proposal workflow.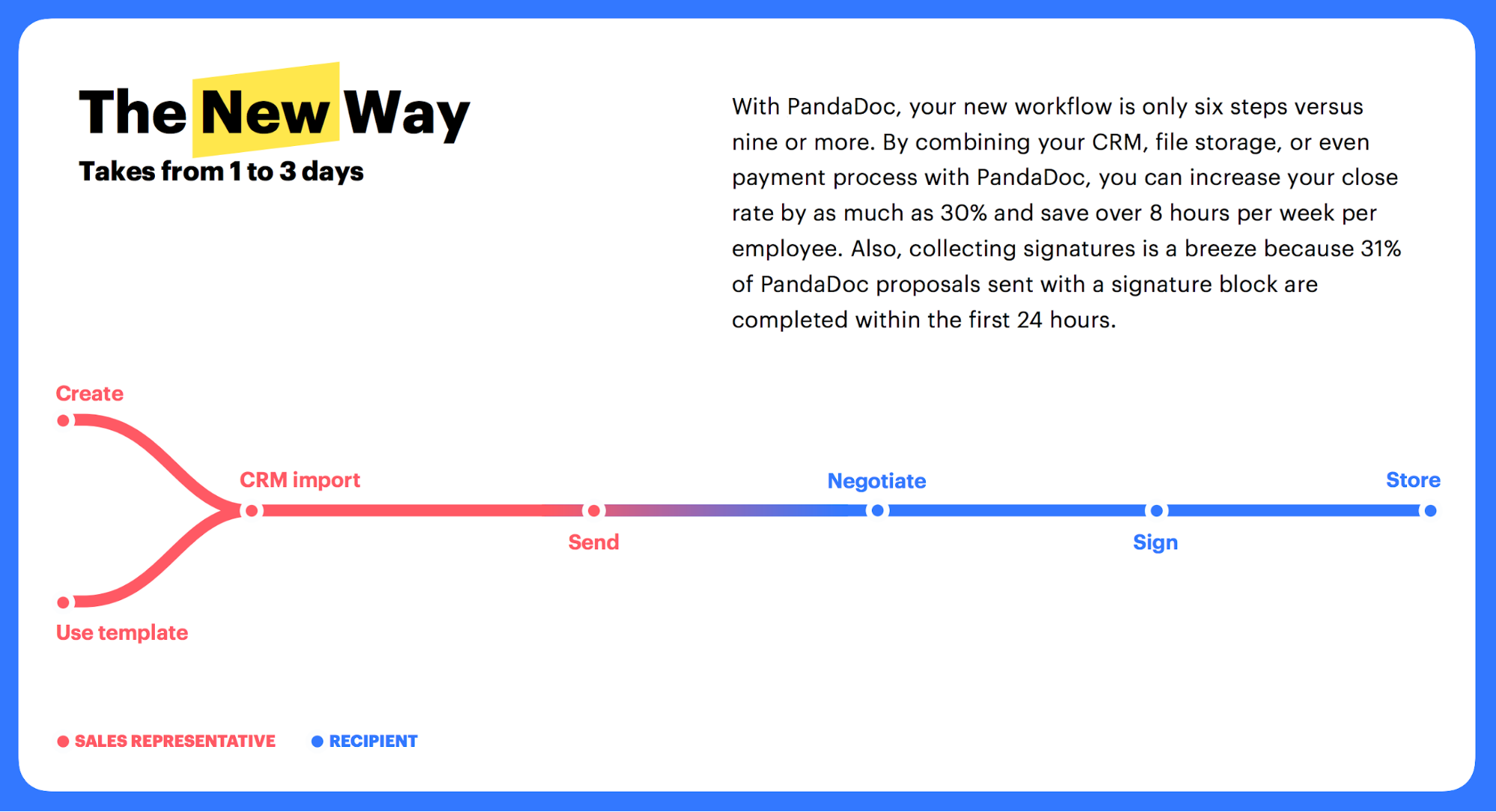 (Source: PandaDoc)
6. Leverages follow up best practices
Research shows that emails are best sent late in the morning on weekdays and follow up emails should be sent with regularity almost immediately after the first email. Follow best practices to ensure quick responses.
How to write a RFI
RFIs tend to have a similar structure, closely related to a proposal format. While every RFI is unique – based on the unique needs of the sender – understanding this basic format will give you a good grounding in crafting effective RFIs.
Include the following four elements in your RFI:
1. Overview
Here, outline what you are seeking in general terms, along with some introductory information about your company.
The overview shouldn't be longer than a few paragraphs. After reading it, vendors should understand that the document is an RFI, know who you are, and be clear about what deliverables you require.
2. Details of services required
In this section, you should elaborate in more detail about the products and/or services you require. Explicitly state any exact specs – such as general pricing, delivery timelines, personnel requirements, etc. - that are appropriate at this stage.
You do not want to be overly-detailed, but you should give enough information for the vendor to provide a comprehensive response in line with your informational requirements, enabling you to make a robust comparison.
3. Guidance about how to respond
It's important to include details about how a recipient should respond.
Include guidelines about the format that recipients should use or, even better, a pre-made template. Also, include the deadline for responses here.
4. Points of clarification
Any further details that don't fit into other sections should be put here.
You can include information about solutions you are not looking for – such as similar, but unwanted alternatives, preferences for personnel, evidence of past experiences (case studies), and so on. You may also include information about your evaluation process.
RFIs in the construction industry
RFIs in the construction industry serve two functions.
On one hand, multiple RFIs - for labor, construction materials, architect's services, etc. - are sent prior to work beginning, in order to gauge the estimated project costs and choose suppliers.
On the other, it's common for RFIs to be used throughout construction as new requirements arise and ambiguities in existing plans are encountered.
RFIs are crucial construction documents. For example, they are often sent to existing contractors to seek clarification about materials, designs, specifications, etc. There are standardized formats for requesting this kind of information, which allow all parties to coordinate easily.
RFIs in advertising
Selecting an advertising service, especially for a larger project, can be daunting. There are lots of agencies, each with its own ethos and design strengths. What's more, full advertising proposals usually take a long time to evaluate. This makes filtering candidates in the early stages very important.
Because advertising agencies are closely aligned with their clients' brands, RFIs for advertising should include more details about the sender than other industries.
Similarly, because advertising services tend to be quite "open," it's often appropriate to ask more general questions - about culture, past experiences, general approach, etc. - and seek case studies of recent projects. Rich media - like videos and images - also have a place in advertising RFIs.
RFIs in the IT sector
RFIs are particularly useful for the IT sector because companies often require nuanced and tailored solutions for extended periods of time. These solutions are fundamental to a company's functioning and invariably represent a sizable investment, so the selection process is crucial.
RFIs are excellent ways of initiating contact with new vendors. The evaluation process will likely involve numerous steps at later stages – involving in-person demonstrations and detailed item-by-item breakdowns – so these business requirements should be made clear in the RFI.
What's more, because IT solutions are underly numerous inter-departmental processes, a RFI for the IT sector should be clear about all the multiple outcomes required - such as running payroll, managing HR, integrating with existing tech, etc. - to ensure a supplier can meet them.
Bringing it all together
Used correctly, RFIs are immensely beneficial in saving time and money. They enable you to quickly evaluate dozens – if not hundreds – of vendors, gain the best possible price, and form new win-win relationships.
Focusing on underlying processes is the real key to success with RFIs. The implementation of proven writing strategies is essential. The use of technology that allows you to track, test, and improve your RFI processes is absolutely critical.
But don't take our word for it, let the results speak for themselves!
Ready to learn more about the different proposal processes? Learn about the best procurement software in 2019 from real-user reviews.