Remote work sounds like a dream come true, until it isn't.
Before joining the content marketing team at G2, I was obsessed with the idea of joining a company that would allow me to work remotely. And with good reason: my family lives a state away, I have a thirst for travel, and honestly sometimes I just don't want to leave my bed. All of those things fueled my desire to have the flexibility to not be in the office all the time.
The thought of being able to take the day to work from a cute coffee shop or working a half-day on the train back home was a huge deciding factor during my last job-hunt that eventually landed me at G2. And anyone on my team can tell you that I have taken full advantage of the flexible work environment G2 offers.
So when OwlLabs launched their first ever #WFHWeek challenge and my team answered the call, I was thrilled. This was my chance to really indulge in my remote work fantasy and experience what it's really like to not have a dedicated workspace. And even though I knew I was going to miss my coworkers, I was excited for the challenge.
I'm gonna miss these dorks during #WFHWeek. Let's see if I can survive a week working remotely 🥺 pic.twitter.com/qddbyo4EyY

— Lauren @ G2.com (@G2Lauren) July 26, 2019
As with most "grass is greener" fantasies, you can probably predict that the week didn't go as planned. Like a lot of remote workers, I found myself dealing with a lot of unexpected challenges and hurdles that I hadn't planned for. What started as a fun week traipsing around the city turned into boredom, feelings of isolation, and technology problems (yeah, I forgot my charger at the office).
I left the charging cable and my headphones at work, So yeah, #WFHWeek is going great 🙃

— Lauren @ G2.com (@G2Lauren) July 29, 2019
And while I did enjoy the break from the office, I was more than ready to come back after #WFHWeek was finished. The end of my remote work adventure left me with a greater appreciation for full-time remote workers.
It also left me wondering, how the hell do they do it?
Common remote work challenges: solved
I've never been one to wait around for the answers to fall into my lap. Instead of waxing poetic about the possible challenges long-term remote workers face I decided to ask them myself. I spoke with seven remote workers and asked them each to explore the biggest challenges they face and share how they combat these common pitfalls. Here's what they had to say:
1. Technology issues
"As a postdoctoral research associate at the Yale Center for Emotional Intelligence, my work takes me away from home a lot. I travel frequently for both work and pleasure and as such, I have plenty of experience with common remote work struggles.
I have worked from my office, from home, from coffee shops, from my car, playgrounds, park benches, classrooms, airplanes, trains, Ubers, nail salons, hair salons, auto mechanic shops, you name it. My job has a lot of flexibility about where and when I work and that is one of my favorite things about it. However, that can also be one of the most challenging aspects of my work.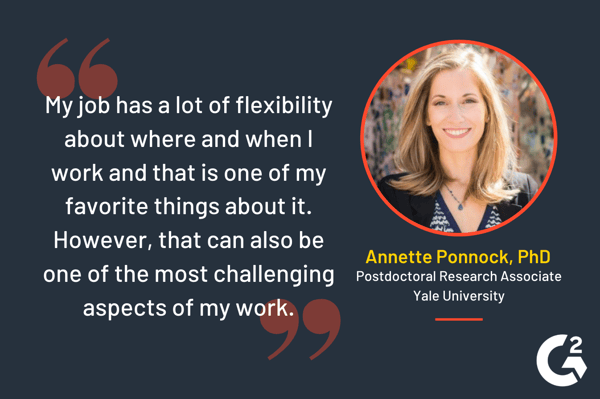 Another big challenge for me is maintaining focus. My field tends to be very self-directed anyway, which is why it's easy to work from anywhere, but it can be very difficult to stay on task and focused on large projects when I don't have coworkers or a boss around me all the time. I manage this challenge by scheduling regular check-ins with my supervisors and using project management software like Asana.
In the beginning technology issues were a big challenge for me but I've managed that well enough now that it's rarely an issue. I used to stress about keeping my phone and computer charged, finding WiFi, sometimes finding cell service. Now with a hot spot on my phone I have WiFi wherever I go and with portable chargers for my phone and a car charger for my computer I rarely have issues with my technology.
I've found that being prepared and having the right tools make all the difference in the end."
– Annette Ponnock, PhD, Postdoctoral Research Associate at Yale
Interested in implementing a project management software like Asana into your workflow? Check out real user reviews from real users like you.
2. Staying social with colleagues
"Working remote full-time surely has it's ups and downs, just like anything else. Hands down, the most difficult aspect of working remotely is not having that in-person community to interact with on a daily basis. It's not just the in-person conversations that I truly value, but the playful interactions that make each individual unique at an organization (ie. handshakes, back pats, rock paper scissors, you get my drift).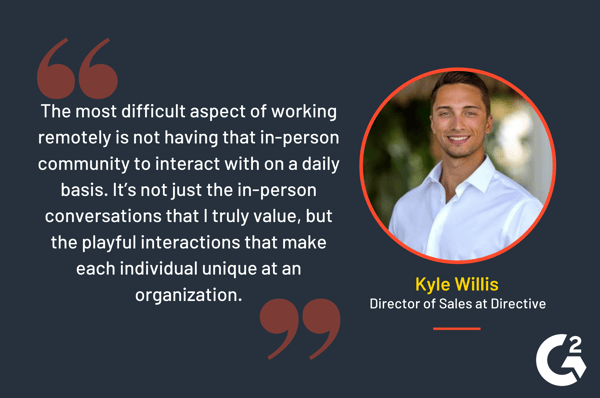 I'm grateful that the communication at Directive hasn't ever been an issue. I feel most of our employees are extremely responsive when they are on the clock; however, that varies from employee to employee. I'm an early riser and get to work before 7 am and most of our people don't start work until around 8 am PST. The solution was easy though - get an office in Austin, Texas :)

The reason why I went full-time remote was due to some health issues that had flared up over the past year. At the beginning of my remote journey, there was a lot that I did have to get used to such as:
Better communication via written channels (Slack, e-mail, LinkedIn)
Setting up, getting used to, and creating an environment within my in-home office that was conducive for focused work
Being by yourself all day long and ensuring that you make space and time to get out and about throughout the day (even if it's just a walk around the neighborhood)
All in all, in my opinion, the benefits of working full-time remote outweigh the cons. I'd recommend that you run an audit of your living situation prior to going remote to ensure that you are set up for success. Tools like Zoom, Slack, Loom, and more make for a solid starter-kit for those who are looking at working remotely full-time."
– Kyle Willis, Director of Sales at Directive
3. Separating work from home life
"The most challenging part of working from home is separating work and life. It's very easy to get pulled into working all the time; while cooking dinner, while getting dressed, while watching a TV show. Since I'm always connected it's very easy to answer an email or check in with a client - but it becomes a huge distraction.
My husband and I both work from home, and we live in a townhome with three little children all under 5 years old. It's a busy and loud environment. We have set rules that helps us stay productive and calm. My husband works in the morning, and I have the afternoon shift. I manage the cleaning and laundry, and my husband orders groceries and cooks all the meals.
It's taken us a while to get to this setup, but it works well as we both feel we're not stepping on each others toes. Working from home as parents has huge benefits if responsibilities are carefully managed."
– Suzi Whitford, Founder of StartAMomBlog
4. Maintaining your creativity
"The biggest challenge I face as the remote employee and Founder of an eCommerce company is brainstorming new ideas and creative direction for my business. It's proven that people are more creative brainstorming in groups, because you can build off each other's ideas. It can be frustrating to think through complex business situations with no one to discuss them with.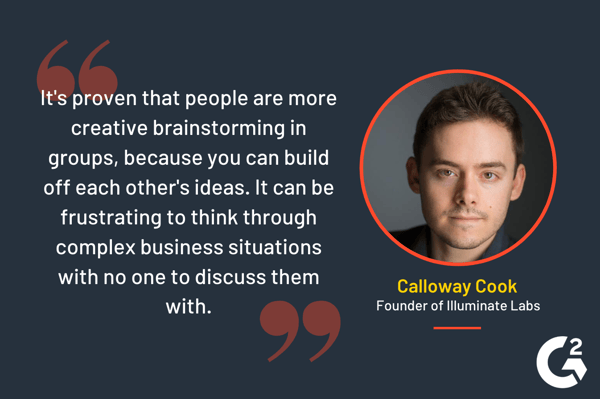 The way I solved this problem somewhat is by joining a coworking space. It's a shared office space in my city with many other entrepreneurs, freelancers and consultants. I've met people in the same situation as me who I can brainstorm and bounce ideas off of, and it's been to the benefit of my business.
I also attend networking events and conferences in my area to meet people in the same market niche as me. You have to be proactive in building business relationships when you're a fully remote employee."
– Calloway Cook, Founder of Illuminate Labs
5. Going stir-crazy
"My wife and I have both worked from home for seven years. One of the biggest issues we faced as WFH professionals was living and working 24/7 in the same home office environment. We rarely get asked to meet face-to-face with our clients and while we occasionally used collaborative workspaces as a way to get out of the house, it just didn't meet our needs or desires.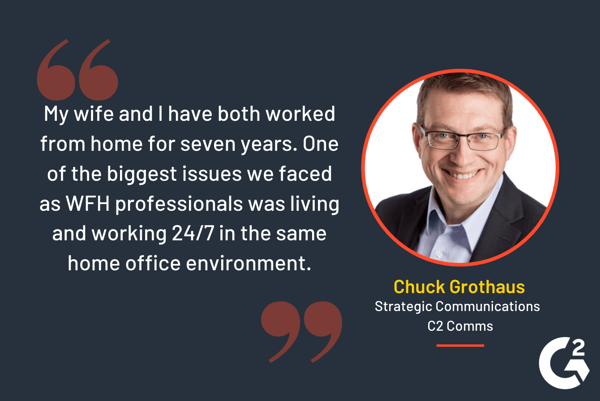 In April 2019, we made the decision to sell our home and downsize to a small urban condo. We then purchased a 21-foot travel trailer to serve as our home office on wheels. Our plan is simple: to travel the country and go when and where we want, while continuing to work with all of our clients no matter where we happen to wake up.
We are easing into this new live and work lifestyle. In May and June we spent several days at RV campgrounds/parks - experimenting with connectivity and working from our travel trailer. In July, we took a 10-day, 1,900 mile trip through seven states in the Midwest, working each morning and driving in the afternoons to our next destination. During this trip, we only experienced connectivity problems once - and drove to a public library where we were able to conduct our business.
There are many advantages to this live and work lifestyle. First, we're able to truly live and be where we want to be, while we continue to generate revenue with client engagements. No more waking up to the same old home office view - in fact our actual view changes depending on where we're traveling. In addition, we have lowered our monthly expenses (no more big home mortgage and costs of maintaining a home) enabling us to save more for retirement.
And, we still have a home base to return to - the 1,000 sq. foot condo in downtown Minneapolis where we can work and reconnect with family and friends. Truly the best of all worlds - all generated by the hum-drum feelings we once shared when working at home 24/7/365."
– Chuck Grothaus, Strategic Communications at C2 Comms
6. Combating loneliness
"When I left my corporate job to enter into our family business, I was in the habit of going into an office on a daily basis. The transition to working from home took getting used to. The biggest challenge is the isolation of being cooped up at home by yourself. Not only is this extremely lonely and boring, but I believe it is also unhealthy and limits the professional opportunities that can arise from interpersonal interactions.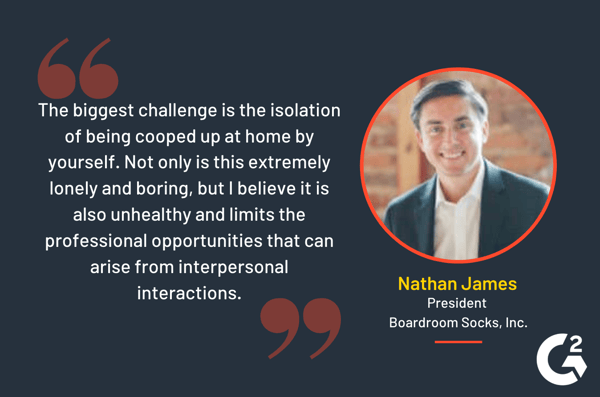 After several months of being unsatisfied with working from home, a friend suggested that I explore coworking. After researching some facilities around Charlotte, I ended up joining a local coworking company tailored to small businesses like mine.
It is not an understatement when I say that coworking has had an enormous impact on my business. I find myself to be much more motivated when surrounded by similar entrepreneurs. By having a truly separate and dedicated workplace, I am significantly more productive.
I have also been fortunate enough to make friendships and develop professional relationships through working at a coworking facility. I recently hired a photographer that I met through the coworking community, and this individual has become a vital resource. Had I still been working from home, I never would have met them.
By no longer working from home, I also find that I have established a better work-life balance through a distinct separation of my workplace and my home. When I get home after a day of work, I am more relaxed and can better unwind."
– Nathan James, President of Boardroom Socks, Inc.
7. Staying focused
"I work remotely full time. In fact, I have been all over the world with a group of remote travelers called WiFi Tribe, and we all either run our own businesses or have full time jobs that we can do anywhere with a WiFi connection. One of the biggest challenges I have faced as a remote worker is staying motivated.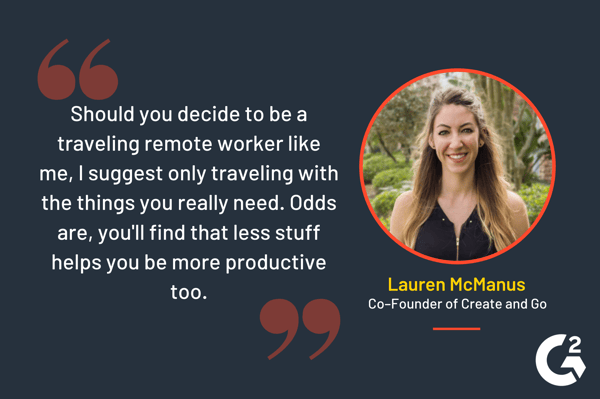 WiFi Tribe actually requires that you be passionate about their work, and to bring it with you when you join the group. While we have a lot of fun, most of the time is spent working. The goal is to work hard so we can also play harder. So, when it's time to work, everyone is expected to be quiet, considerate, and hyper-focused. It's so amazing to be with this group of like minded people who values freedom and travel as much as I do.
I've been traveling with them for a year now, and I can't speak highly enough about how awesome the concept is. Just being around them, encourages me to be a better entrepreneur. While there are other groups out there that bring individuals together to travel the world, what drew me to WiFi Tribe is their work culture. I am the co-founder of a business that is growing fast and it's imperative that I continue working on it to keep running and growing it.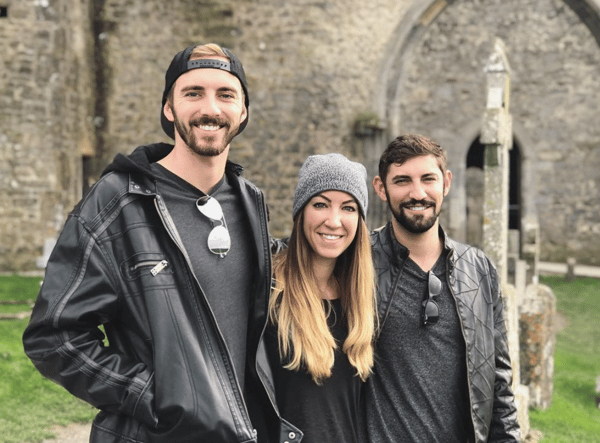 Source: Lauren and her fellow digital nomads exploring Ireland
If you want to start working remotely, I suggest having a plan. If you don't have a plan, you'll find yourself scrolling on Facebook or Instagram, and losing countless hours to the internet rabbit hole. You have to get extremely organized, and focused on what you need to do for the day, month, and even the year ahead. Then, once you make a plan, you have to execute it. Sure, you may need to tweak things along the way, but at least having tasks in mind to do is critical if you hope to accomplish anything.
Should you decide to be a traveling remote worker like me, I suggest only traveling with the things you really need. Too much luggage is going to get in your way. I don't even use a carry-on anymore. I've paired everything down to one suitcase, and that includes my headphones and my laptop. The more clutter, the harder it is to manage. Get crystal clear one what you really need, and get rid of everything else. Odds are, you'll find that less stuff helps you be more productive too."
– Lauren McManus, Co–Founder of Create and Go
Successful remote work takes balance and personalization
Remote work isn't for everyone. Even though study after study shows that remote workers are more productive, it also shows that remote workers are lonely and face feelings of isolation. For an extrovert like myself the social isolation is too great for remote work to ever be a full-time solution for me. By the end of #WFHWeek, I was ready to come back to the office.
The #WFHWeek fatigue is finally hitting me. I am an extrovert who needs human interaction. My dog just isn't cutting it. pic.twitter.com/BfAqZOxFiV

— Lauren @ G2.com (@G2Lauren) August 1, 2019
There's no single solution for creating a successful remote work policy. My experience with #WFHWeek, along with those of the people featured in this article, proves that even someone who is convinced remote work is right for them can get burned out quickly.
A good remote work policy is one that allows employees to work in an environment that suits them best. It involves strong communication, flexibility, variety, and stability. Too much of a good thing can be bad, but none of a good thing isn't much better. Finding that right balance is the key to a successful remote work policy.
Looking for a more in-depth work from home survival guide? Check out this handy how-to work from home guide from our very own full-time remote teammate.