The landscape of e-commerce businesses is booming as ever.
More than half of all purchases in the US are now placed online instead of shopping in a brick-and-mortar store. Come 2021, the number of people who shop online will reach a whopping 2.14 billion.
With this tendency in mind, it's easy to see the appeal in creating your very own online store and get in on that e-commerce action. But it's not as easy as it seems.
Reasons your e-commerce business is struggling
While it might be relatively easy to launch an e-commerce website, it's a completely different story to build one that actually brings in profit. The process is challenging, and tons of online stores barely manage to keep afloat. If you're not seeing the desired results from your business, there's a chance you might be doing something wrong.
The good news is this: by avoiding some of the most common e-commerce mistakes, your business can grow and thrive.
5 reasons your e-commerce business is struggling
Your online store doesn't generate enough traffic

Your store's target market is too broad

Your website looks amateur

Your e-commerce business model is holding you back


You haven't optimized your online shop for mobile
Let's discuss these issues and what you can do to fix them.
1. Lack of traffic generation
First things first: it's not enough to just set up your store to see the sales rolling in. You have to be proactive and create constant buzz around your business so that people find out about your store and actually start shopping there.
There are several things you can do to get people talking about your business and generate traffic.
Build your social media presence
Social media platforms like Facebook and Instagram are powerful tools for businesses of any size to reach their target audience. Put out enticing and shareable content, engage with your customers, and post at those times of day when your audience is active for best results.
Try social advertising
Social media advertising allows you to find, target, and reach your audience with ease and even a small budget. If you're just getting started with social ads, try Facebook Ads first.
Work with micro-influencers
Consumers trust real people, so you should let others spread the word about your business to make it more trustworthy. Start with collaborating with micro-influencers (approx. 2-50K followers) related to your niche to resonate with your target audience.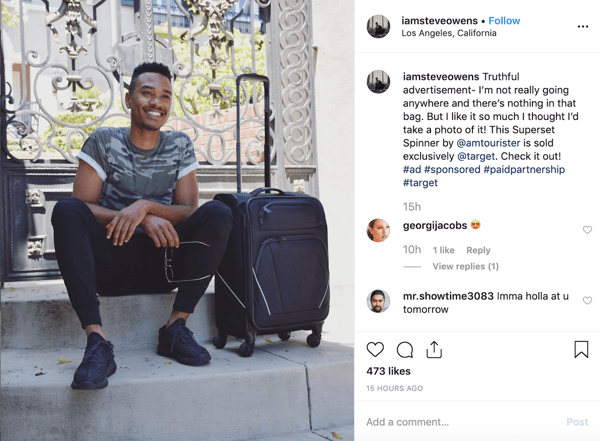 Source: Steve J Owens
Write a blog
Creating content for your store, like blog posts, will improve your e-commerce SEO and give people a reason to come back. Write unique articles related to your brand and the products you're selling.
Use your network
As soon as you launch your store, let everyone know. Ask your friends and family to support your business by sharing it with people they know on social networks. This tactic is often overlooked but can help you broaden your reach and spread the word faster.
With the right kind of strategy (and a little bit of luck), you can generate traffic overnight.
You can also use a good customer conversation platform to help learn more about what you're doing right!
2. Your store's target market is too broad
If you've built your e-commerce business thinking anyone can be a customer, think again. For your business to grow, you have to break down the market into manageable chunks and think of how to differentiate your store from thousands of others.
If you find yourself lacking in traffic, it might be a good idea to rethink your ideal client and address a more specific market. In other words, you have to find your niche.
A niche is a market segmentation for which your product is created. For example, SKINS sportswear targets professional athletes and people who are serious about sports, not just everyone who likes wearing sportswear.
Defining your target audience is important for several reasons. First, it helps you narrow down your competitors; if you haven't precisely defined your audience, you're basically competing against other e-commerce businesses that target masses, including giants like Amazon, eBay, and similar.
Additionally, defining your target audience will help you to rank higher on search engines because it will narrow down your ideal keywords. For example, you'll have a better chance to rank on long tail keywords like ''zero waste party accessories'', rather than high volume and high competition keywords like ''party accessories''.
Describe your target audience in terms of:
Who are the people your business is helping?
What are their demographics (location, age, interests, income)?
What is the problem you're helping them solve?
What are the ideas these people stand for?
Answering these questions and applying your answers to your marketing strategy will help you to narrow down your audience and raise your traffic.
3. Your website design could be improved
In online business, it's all about the appearance and making your e-commerce store look and feel as professional as possible. This means compelling copy, high-quality visuals, and intuitive navigation. Unfortunately, an amateur website design is still one of the most common e-commerce mistakes that entrepreneurs make.
If you think your e-commerce business should be doing better, make sure you've got the basics right.
Use stunning product photos
Your conversion rate can increase three times with the simple improvement and optimization of images. Remember to optimize image size to improve page load speed.
Create engaging copy
Boring product descriptions will drive your potential customers away. Make sure the written word works in your favor, and double-check for spelling and grammar errors.
Use video
Go the extra mile and add videos. Since online shopping experience is quite one-dimensional, videos can help buyers better understand the fit of a product. Raitis Purins states: ''Having well-written descriptions and detailed product photos is a good start, but if you really want to help the customer make a purchasing decision, use video content.''
Improve UX
Did you know that 30% of website visitors leave because the checkout process is too long or confusing? On your own website, work to reduce the number of steps the customer needs to take to complete the purchase, include clear calls-to-action (CTAs), and refrain from asking the customer to fill in unnecessary fields of information in order to enhance their overall user experience (UX).
4. Your e-commerce business model is holding you back
A common mistake you can make with your e-commerce business is generating more costs than revenue. Even with the most successful value propositions, your business will eventually falter and disappear.
To avoid that, it's essential to pick a business model that works for you and fits your commitment level.
If you think you're investing too much time and money in manufacturing and warehousing, perhaps you should consider dropshipping. It's one of the most viable e-commerce business model options (especially for beginners) that allows you to focus on your store and doesn't require you to think about fulfillment and shipping.
If you're looking for a more environmentally-friendly business model, give print-on-demand dropshipping a try. You'll produce less waste and won't have to pay for unsold goods left behind in the warehouse.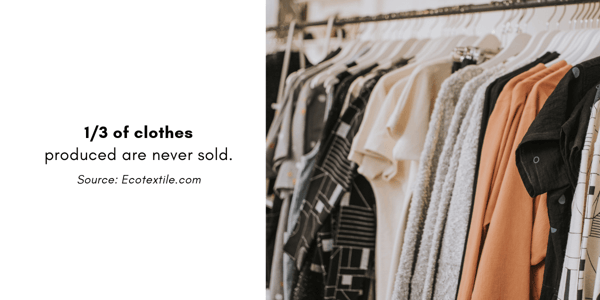 Dropshipping and print-on-demand have become some of the biggest e-commerce trends for a reason: they help sellers test the market while avoiding unnecessary financial risks. When you've invested all of your money in buying stock, you don't have much left for other essentials like marketing and branding.
Adjusting your business model to be more financially friendly to you pays off in the long haul.
5. You haven't optimized your online shop for mobile
According to recent statistics, nearly 60% of all website traffic comes from mobile. This means a mobile-responsive website (a website that automatically changes to fit the device you're reading it on) is a must.
Without mobile optimization, you risk losing your customers to the competitor – something that 40% of online shoppers admitted to having done.
To make sure your e-commerce business is optimized for mobile, open your store on a mobile device and pay attention to things like:
Loading speed
Is your store not loading quickly? Why not? Use free tools like Google's Page Speed Insights to check how your website is performing and identify the problems.
The layout
Is everything positioned properly, or are some bits of information overlapping? Make sure you check this on different devices, screen sizes, and browsers.
Font size
Ensuring that font is both legible in design and in size is crucial for mobile design. Additionally, make sure that font doesn't appear so large that it's an eyesore.
Visibility of CTAs
People won't buy from you if they can't find or access the "add to cart" button. Again, remember that screen sizes differ, so make sure your buttons stay visible to click no matter how small the screen is.
Popups and slide-ins
Have you created too many distractions? Too many popups on mobile make your website feel pushy and difficult to use. It might be best to disable popups on mobile altogether.
Take our advice
Lack of success can feel alarming, especially for those with an e-commerce website. Cross these 5 major mistakes off your list, and you're very likely to see your e-commerce business prosper and succeed.
Need some inspiration? Take a look at some of these e-commerce business ideas before downloading our roundup of the top e-commerce stats in the market today!