There's no denying that Chicago has a lot of big events this summer.
From a long list of music festivals to a steady stream of sporting events, there's always something big happening just around the corner that you simply can't miss. The latest event added to that list? REACH 2019, G2's first-ever, one-day-only conference taking place on Wednesday, September 11.
It's designed specifically for people who sell and market software, but even if you don't necessarily fall into those categories, REACH needs to be on your calendar this September.
Need some convincing? Just keep reading for reasons why you should head over to Chicago and make REACH 2019 a priority.
Why you should attend REACH 2019
There's more to REACH than meets the eye. Here are six reasons why you should be attending our one-day-only conference.
1. Amazing list of speakers
Whether you're attending for the sales side or the marketing side of REACH, the list of speakers will cover all of the bases.
Neil Patel is a can't-miss speaker. He's the co-founder of Crazy Egg and Neil Patel Digital, a New York Times best-selling author, and his blog centered around marketing generates a staggering 3 million monthly visitors. Meghan Keaney Andersen, Vice President of Marketing at Hubspot, will also be at REACH, discussing how her projects attract a combined 7 million people each month. She'll explain the "wait, we're doing it wrong" moments that led her team to success.
#REACH2019 Don't miss Neil Patel, founder of @CrazyEgg and Neil Patel Digital, break down his top 10 tactics for driving more high-quality traffic to your website!

Learn from Neil and other #Sales and #Marketing thought leaders this September in Chicago: https://t.co/i4c94mypny pic.twitter.com/AcqdJHAXeC

— G2 (@G2dotcom) August 13, 2019

On the sales side, make sure you see Sydney Sloan, the Chief Marketing Officer of leading sales engagement platform, SalesLoft. She's also held leadership roles at Marketo and Adobe Systems. Sloan will be discussing how to use intent signals to convert your "hidden" leads into revenue. Steven Galanis, CEO of Cameo, will also be speaking at REACH. Cameo was named one of the "50 Genius Companies of 2018" by Time magazine.
Bit by the health and fitness bug? Then you have to see Melissa Hartwig, Co-founder and CEO of Whole30. In 2018, she ranked #19 on the Top 100 Most Influential People in the Health & Fitness list on Greatest.com. She's also a six-time New York Times bestselling author.
@REACH2019: Don't miss our keynote speaker, @Whole30 founder and NYT best selling author, @MelissaHartwig_ , explain how to use your brand to create a movement!

Learn from Melissa and other #Sales and #Marketing thought leaders this September in Chicago: https://t.co/i4c94mypny pic.twitter.com/uweoBP7nMA

— G2 (@G2dotcom) August 14, 2019

And, for the sports enthusiasts at REACH, there's Jeremy Bloom, CEO of Integrate Inc. Did I mention he's also a three-time World Champion skier, a two-time Olympian, and an 11-time World Cup Gold Medalist? Or how about that he was drafted by the Philadelphia Eagles in 2006? Well, he was.
In addition to the highly actionable advice and guidance you'll receive from each speaker, this is your chance to connect with them on a variety of issues and ideas. This is just the tip of the REACH iceberg, as there are a ton more insightful speakers lined up to share their knowledge and experience come September 11th.
2. Prime Chicago location
REACH is being held at Revel Fulton Market, which is an urban-chic warehouse in the former meat-packing district of Chicago. It's situated right in the middle of a fast-growing food scene that is also full of energy once the sun sets. Revel's 30,000 square feet will be transformed to feature the best of G2's branding, mixed with industrial details and modern amenities.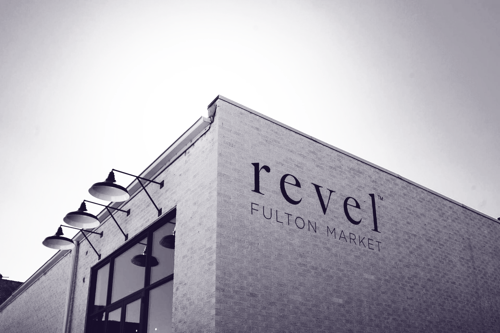 If you're visiting Chicago from out of town, or even if you're a Chicago local who is still unsure what Fulton Market has to offer, we're here to help. Check out our guide with everything there is to do, from happy hours to the trendiest bars and even a music venue, there is sure to be something that will pique your interest.
3. The price is right
While some conferences set you back a significant amount of money to attend, REACH is the opposite. Even though our Early Bird special has ended, we still want to make sure that everyone who's interested is able to attend.
If you'd like to save money on your ticket to REACH, all you need to do is subscribe to the Learning Hub to be sent a promotional code. It's as easy as that!
Save 50% on your ticket to Reach 2019!
Subscribe to The Learning Hub. Save 50%. Reach your potential.
4. Networking opportunities
In addition to its speaker list and hot Chicago location, attending REACH is a prime networking opportunity for all of its attendees.
Not only is our speaker list diverse, but the list of attendees also bring a variety of different skills and levels of expertise across varying industries. We have people registered to attend from here in the continental United States, as well as Canada, Spain, Hawaii, and more!
Even with REACH being an intimate event, its high-profile guest list includes executives from CDW, LinkedIn, Yext, Reputation.com, HubSpot, Drift, Sprout Social, Integrate, and of course, G2. In addition to a long list of C-level executives, REACH will also have a variety of Vice Presidents and Directors that you'll be able to network with.
Who's coming to Chicago with me for the first #G2Reach conference next month? https://t.co/7KJIbwydfY

— Christian Lowery (@clowerycontent) August 9, 2019

At the end of the day, this combination of talent and celebrity intertwined with the small venue size makes this the ultimate networking event.
Have your business cards ready, make sure your phone is fully charged, update your LinkedIn profile, and get ready to mingle!
5. Actionable takeaways
While some conferences are all fluff and only talk about things that went according to plan, REACH is different.
With each of our speakers bringing something new and different to our conference, you'll learn how to build up your sales strategies, enhance your marketing tactics, and boost revenue for your organization in ways you never thought of before.
For instance, Sangram Vajre will go into detail about Why B2B Marketing and Sales is Broken, and How to Fix it. REACH will also feature Mark Roberge breaking down his Step-by-Step Guide to Revenue Growth. And, for the 10 Commandments of Modern Marketing, you can't miss Dave Gerhardt's time on stage.
Whether you're interested in driving awareness around your business and its product, discovering a cutting-edge marketing play, or finding new ways to bring your company into 2020, you are sure to leave REACH with action items to apply to your business.
6. Meet members of G2
Get ready, because I'm about to toot my own horn, or at least, the horn of the company I work for. If you somehow still aren't convinced that attending REACH is in your best interest, then consider the draw of meeting the hard-working and forward-thinking team here at G2.
Pick the brains of those who grew the Learning Hub's organic traffic from zero to over 1 million monthly visitors in under a year. Ask questions about G2 Track and how you can use it to optimize your entire tech stack and eliminate wasted SaaS spend. Learn more about G2 Gives and how we're giving back to the community. Find out how you can become an expert contributor in our content partnership network. Or, come talk to us about how to make smarter decisions about the software your company uses. The possibilities are endless.
We call ourselves a rocketship for a reason, and I promise we don't bite.
Get your tickets today!
REACH will be here before you know it. Don't miss out on the chance to attend G2's first-ever, one-day-only conference. We're looking forward to seeing you there on September 11th!