In the past decade, social media has risen to be an integral part of the online experience, providing people ways to connect with each other globally.
With the rise of this culture, there has also been a rise in businesses learning to harness this culture to help them advertise, expand and grow their influence, and connect with their customers.
This existing and constantly developing model has become a necessity for any business, big or small, to learn to use in order to remain relevant and competitive in the field. But before you dive headfirst into social media marketing, you'll need to understand what a social media strategy is and why it's important for your business.
What is a social media strategy?
Because social media is a network of websites online which people can use to ultimately share information with each other, it's important to have a strategy in place to share the information out into the world. This information can be personal, it can be global, it can be an opinion or idea, a well-researched factual article, artwork, humorous content, and much more.
Social media provides a unique way for people to connect with one another that hasn't been available to previous generations. People are able to connect with others halfway around the world at the blink of an eye via messaging features offered by many sites, including the post/reply model, instant messaging via text, voice calls/messaging, and video calling.
What are some of the most popular social media platforms?
Facebook
Instagram
Snapchat
Twitter
Pinterest
Reddit
TikTok
Line
Tumblr
WhatsApp
Social media may have started as a commodity, but it's quickly become the most vital part of any marketing strategy. As a marketer, it's important to understand the necessity of harnessing the power of these networks to use for your business and have the right types of tools in place to help your social media strategy.
Here are five reasons marketers should be using social media in their content strategy:
1. It's the way of the future
As technology has advanced, it has become more accessible around the world and increasingly cemented into everyday life. Children born from the late 1980s through the 1990s have famously been referred to as digital natives due to the fact that they have grown up in a culture completely saturated with technology in a way that previous generations had never seen.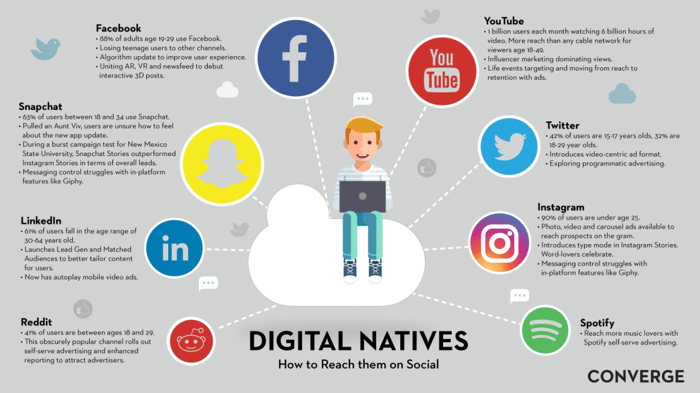 Image courtesy of Converge
This is the environment and lens through which business owners must view their existing and potential customers. The world is run by technology, and with technology came the internet, laptops and smartphones, and social media platforms where people have carved their own online spaces and habitats.
Trends have already begun to show many different aspects of life are favoring online spaces easily accessible through these devices. Young people are using the internet as a source for many things that had previously been key advertising spaces for businesses, like TV and paper news sources.
Most companies have already begun effectively using this new world to their advantage in many ways to develop and expand their business models to be as effective and efficient as possible, making it extremely necessary for any new company to incorporate it into their marketing strategy as well.
2. It transcends borders
Technological developments have allowed smart devices to become more affordable and accessible, and thus the use of social media has become a widespread, worldwide phenomenon. It's used by all people in every corner of the world: in advanced countries and developing ones, every age group, every cultural and religious group, across levels of income, and all levels of education.
The wide-reaching nature of this kind of network makes it a unique and invaluable source for companies looking to reach, advertise, and connect with their customers everywhere.
3. It's an effective way to advertise your business
As social media has expanded across the world, its relevance to companies looking to advertise has not gone unnoticed. Social media and other internet tools have the potential to reach the greatest number of target potential customers in a precise manner, which are the keys to any effective advertising strategy.
Simply developing a company account and posting about your company, encouraging customers to follow and/or like your page, and finding key places online to place advertisements for your company can increase word-of-mouth and build references in the mind of the general public.
Social media has the power to be the ultimate word-of-mouth vehicle. With a single click of a mouse, a single person can share a post with hundreds of others within the space in seconds. By choosing advertising that best speaks to your target customers, finding the ideal websites to advertise on, and encouraging sharing in the most effective ways possible, you can work the social media system to your advantage.
TIP: Learn how your brand can use a social media calendar to promote your business and download our FREE social media calendar template.
By using social media to tune into the lives of your customers, you can learn about social and cultural trends to help you construct more effective advertising strategies and campaigns to reach them. Let your customers hear you and what you'd like them to know about you, but make sure you're also listening to them and what they would like. For example, some companies have already successfully capitalized on online viral memes for fast, funny, simple, and public-friendly advertising campaigns.
4. It allows you to communicate directly with your customers
Thanks to reply and messaging features, by creating social media pages and using them resourcefully, you can see what your customers are saying about your company in real time. You can have immediate feedback on products, services, and general thoughts about the perception of your company to the general public. You can use this feedback to ensure that you are constantly evolving your business to be the best it can be for your customers.
You can also connect with your customers directly. Use feedback as an opportunity to speak with your customers in online spaces. Reply to them and message them about their experiences with your company, positive or negative.
Social media can tarnish the image of a company quickly if missteps happen, but it can also be an equally quick way to regain favor in the public eye via public shows of concern and development for the world to see. Utilizing this unique means of communication with your customers makes your business feel more personal to customers and can help boost customer morale and loyalty in the long run.
5. It can be used by anyone
Right now, the field for social media usage in marketing on the business end is a pretty even playing field. Fees for advertising on most sites are the same for any potential advertisers looking to post, and some are very affordable.
The reason social media is such a popular form of marketing is because anyone can learn how to use it. Whether you teach yourself from YouTube videos, HubSpot certification programs, or reading blogs like this, it doesn't take much effort to learn the basics.
Get ahead by getting social
Whether you decide to create a full blown paid social strategy or you're just launching your first Instagram account, social media can work for you. Start small and make continued learning a priority for your marketing strategy moving forward.