Having a strong presence on social media is a necessity for real estate agents.
While many might argue that direct mail marketing and outdoor ads are still effective, it's becoming increasingly clear that real estate buyers and sellers are going digital. In the same way that brands target consumers through social, real estate agents have the same opportunity to engage with prospective clients through Facebook, Instagram, and even LinkedIn.
Although it might seem as easy as setting up new profiles for your real estate business and posting a status here and there, establishing a social media presence is a lot more work than it appears.
For this article, we turned to ten leading real estate and marketing experts to ask for their best advice on real estate social media strategy.
Let's hear what they had to say.
Tips for building a real estate social media following
There's no one-size-fits-all social media marketing strategy that is proven to work for everyone. It's a process of trial-and-error that will take time to perfect. When it comes to a niche audience such as real estate buyers and sellers, there's no better way to learn the ropes than by seeking advice from people who have already had experience.

So, we did exactly that. We asked ten real estate and marketing experts to share their best advice for building and maintaining a social media following.
Tip 1: Make your message about your audience, not yourself
"The essence of social media marketing is about communication - yet I see so many people who only post about themselves. It's a typical 'look at me' post that offers practically nothing to your audience and simply becomes filler for your social efforts. The real key to social media marketing is communicating directly to those you are trying to reach. Figure out how to provide value, and connect with those who are looking for the solutions you can provide. In fact, do not promote your service at all. Simply give something of value and expect nothing in return. Make it about them and you will see your true, genuine connections grow."

- Pete Garian, Author of The Real Estate Agent's Guide to Property Management

Tip 2: Stay hyper-local in your approach
"A strong social media strategy for real estate agents is to heavily engage with your local community. Make sure you're using local hashtags to be more searchable, and always be sure to tag your location when posting. Put yourself in the shoes of the people you're targeting and think of what kind of content they want to see. This is the first step in building engagement."

- Mike Kawula, Head of Growth at LendSimpli

Tip 3: Be relatable and authentic
"People hire agents based on referrals. Showcase your personality and who you are on your social media channels. Be sure to leverage what makes you the best in your market and translate that personality online so prospects can get an understanding of who you are and what it would be like to work with you."
- Aalap Shah, Founder of 1o8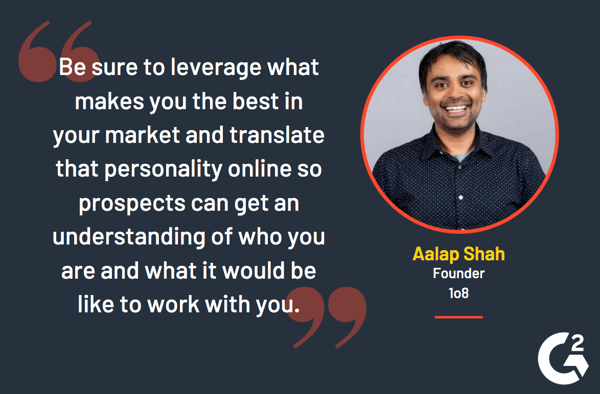 Tip 4: Consistency is key
"The most important social media tip is consistency. You need to promote your content on all applicable social media channels consistently and on time. My advice is to build a schedule, create your content beforehand, and post consistently. Following a schedule allows you to have pre-planned posts going out periodically, with the option of adding ad hoc content during the week that reinforces your brand without missing a beat!"
- Donna Castillo, Realtor at Keller Williams
Juggling different social media platforms can get tricky. To keep better tabs on your social media content schedule, check out social media management software.
Tip 5: Take your content to the next level with video
"A great social media strategy for real estate agents is creating a wide variety of video content. Make videos that are entertaining, informative, and educational. For example, a video for buyers where you share 'things to look for before you hire an agent.' This kind of content is useful to prospective clients and positions yourself as an expert on the subject."

- Khabeer Rockley, Founder of The 5% Institute

Tip 6: Use hashtags to your advantage
"Many people who are looking for a property want to see pictures of the listings before making a decision. Post high-quality visuals on social media and don't forget to include relevant hashtags. You can use hashtags to narrow down your audience and get in front of active prospects. Using location hashtags is an easy way to get found by people who are seeking listings in your area. Additionally, property status hashtags such as #forsale #newlisting and house style hashtags such as #beachfront #victorian help you to appear in even more searches."

- Jose Gomez, Co-Founder at Evinex

Tip 7: Build social media into your daily routine to foster engagement
"Growing an audience takes more than just posting when you have a listing. Building social media strategy into a daily practice will get you much closer to the large following that you want and need to support your business. It's also not enough to simply post and like. That's a hit-and-run approach that does not build trust, a community, or long-term benefits. Engagement means that you post comments to others' relevant posts, answer questions, respond to those who comment on your posts, and share others' creative content."

- Julia Angelen Joy, PR Consultant at Z Group PR
Tip 8: Pick the right platform for your audience
"Start by clearly defining your goals for social media, your target audience, and identifying the best platforms to choose that will meet those criteria. You might choose to be on multiple platforms, but as a general rule, don't bite off more than you can chew. If you find yourself trying to juggle too many social media channels, you can end up doing none of them effectively. You need to understand the underlying purpose of each social media platform to know how you could use it to meet your business goals. Just because a platform is popular, doesn't mean it will be a good fit."

- Danny Peavey, CEO at One Week Website

Tip 9: Find balance between paid and organic
"Building organic followers on social media is getting harder, and this is why investing in paid ads is no longer a luxury, but a necessity for real estate agents. The issue here is obviously cost - a paid ad will virtually guarantee instant results (if you have the money to spend). On the other hand, building an organic following can be very affordable if not totally free, but will take a significant amount of time. The key here is finding the right balance between cost vs time."

- Steve Kurniawan, Marketing Strategist at We Know SEO

Tip 10: Create varied content that provides value
"Mixing the right amount of homes for sale with things to do in the community, buying tips, selling tips, community amenities, community sponsorships, testimonials, and the real estate agent's personality is the key to social media marketing. The more authentic, educational, humorous, and fun the better. This type of strategy excites the consumer into liking or following your page."

- Dannet Botkin, President at Designs Group Consulting

Posting on social media is easy
...getting engagement is the hard part. Your social media channels likely won't gain momentum right away, but if you stay committed to posting high-quality content and connecting with your audience, social media has the potential to become a major avenue for generating leads.
Do you have additional real estate social media tips you want to add? Share your expertise with the 1.5 million monthly readers on the G2 Learn Hub.